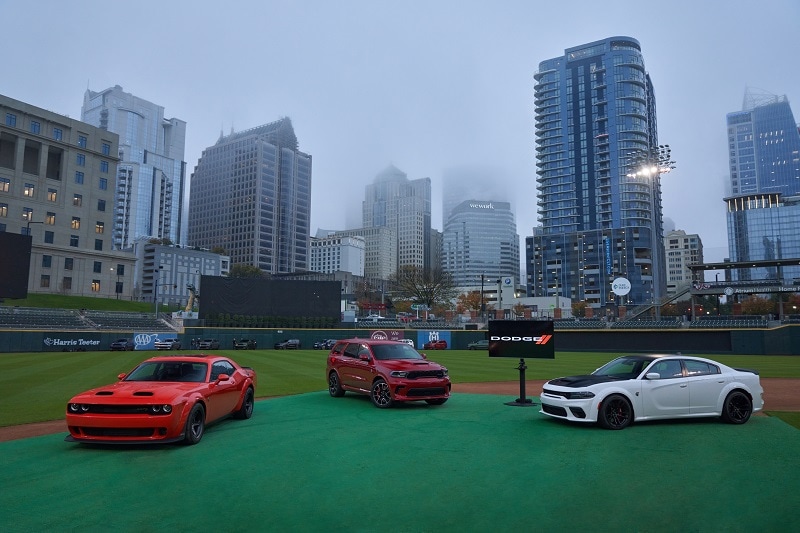 When Dodge built the 707-horsepower supercharged Hellcat V8 and put it in its 2015 Challenger and Charger models, it created the most powerful factory-produced muscle cars the enthusiast community had ever seen. But those weren't one-off concepts or SEMA specials. They were the beginning of a family of Hellcat models with hardware and features designed to make the most out of that staggering power. Those include Launch Control to keep wheel spin to a minimum at the start of a blast down the drag strip, Line Lock to expose fresh rubber on the rear tires, and Torque Reserve to prime the supercharger for take-off.
Now the Hellcat family spans three automakers and 10 vehicles in a variety of body styles. These are the 2021 Hellcat-powered coupes, sedans, SUVs, and pickups you can find in AutoNation dealerships.
---
Dodge
Challenger SRT Hellcat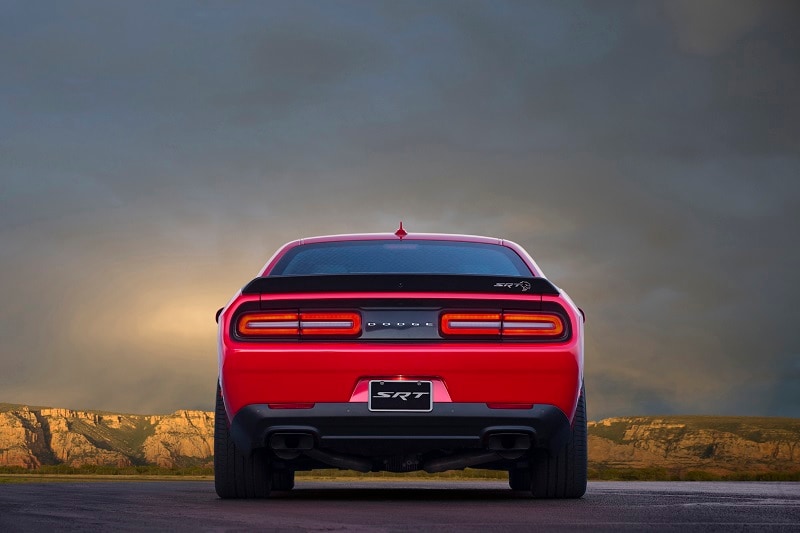 One of the monsters that started it all is now just the entry-level (what an understatement!) Challenger Hellcat, which means its supercharged 6.2-liter V8 produces "only" 717 horsepower and 656 lb-ft of torque. That's still enough to turn heads, whether you're starting it up or letting all of those horses run wild down a back road.
---
Challenger SRT Hellcat Widebody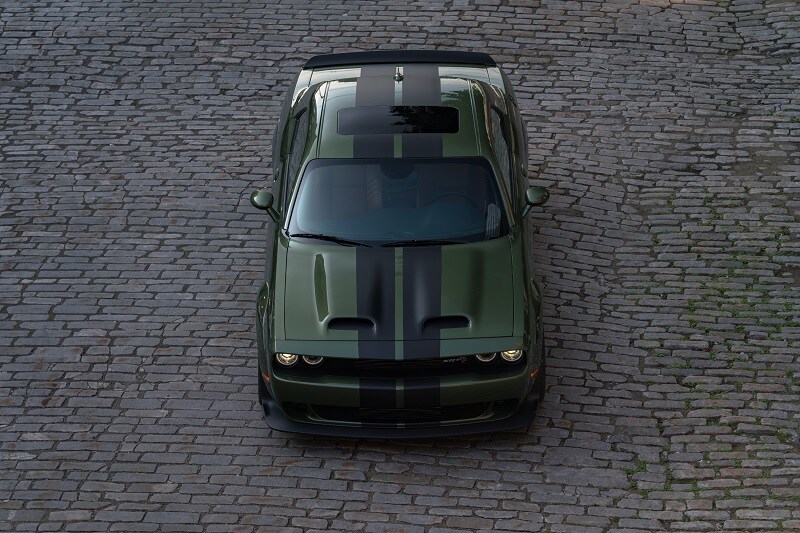 When you're trying to unload the kind of firepower the Hellcat engine shoots out, the more rubber you have touching the ground, the better. The Widebody treatment adds bold fender flares that broaden the Challenger Hellcat by 3.5 inches and fills the wheel wells with a set of 20s wrapped in 305/35ZR20 Pirelli rubber.
---
Challenger SRT Hellcat Redeye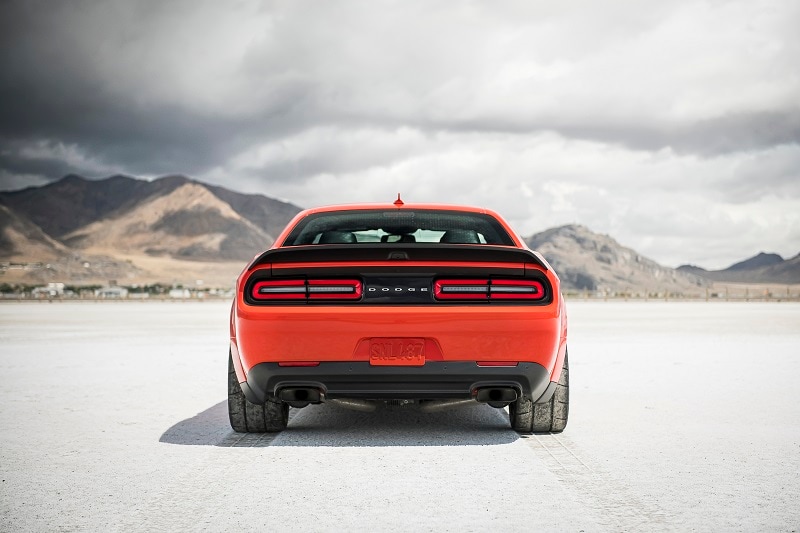 There are two basic paths to making a powerful car even better: subtract weight or add power. Dodge stayed true to the Hellcat's nature and added power. They incorporated several performance upgrades, including a larger 2.7-liter supercharger, more boost (14.5 psi), and an air box that draws in more air from multiple sources. Those mods add up to a face-flattening 797 horsepower and 707 lb-ft of torque. Flat out, the Challenger Redeye can tear through the quarter mile in 11.1 seconds at a trap speed of 131 mph.
---
Challenger SRT Hellcat Redeye Widebody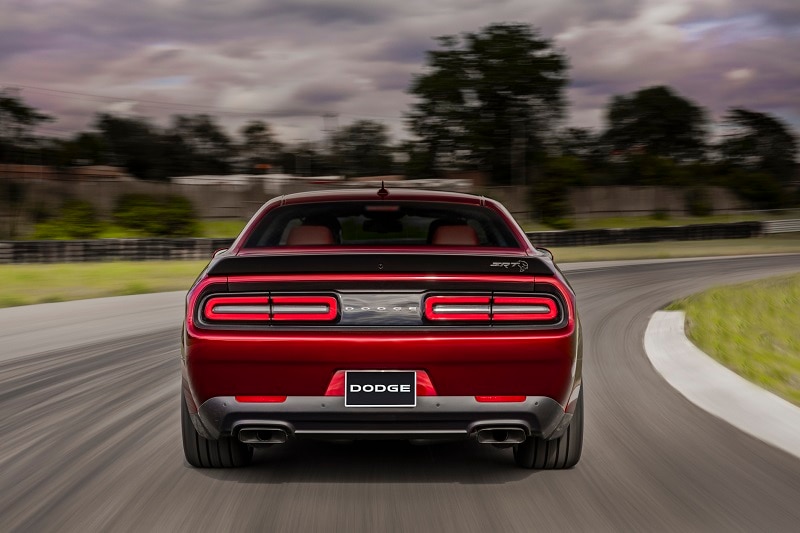 This best-of-both-worlds machine is not just a member of the 700-horsepower club, it's also a member of the 200-mph club because it tops out at 203.
---
Challenger SRT Super Stock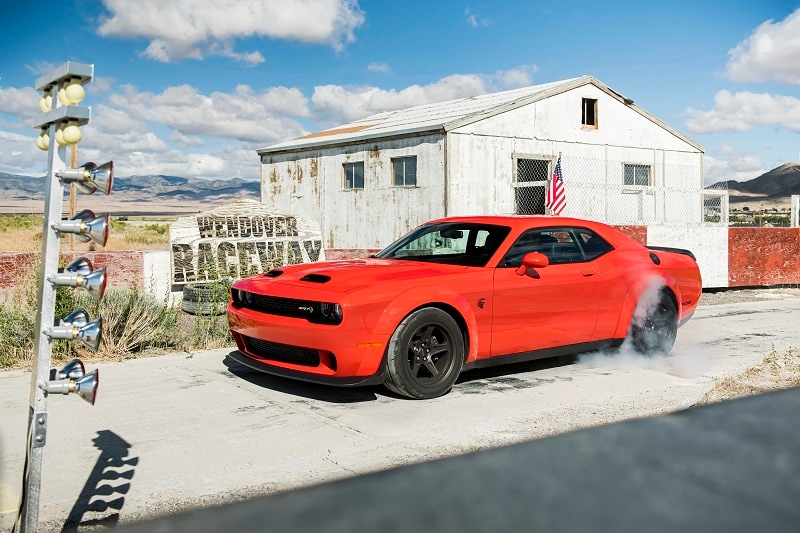 Consider this the spiritual successor to the 2018 Demon, a street-legal drag racer with up to 840 horsepower (when running on 100 octane) and the ability to pop a wheelie before flashing through the quarter mile in 9.65 seconds at 140 mph. Like its sinister ancestor, the Super Stock can be driven on public roads, but its most natural environment is the drag strip. Dodge bumped its output up to 807 horsepower and 707 lb-ft of torque. The Super Stock puts that to the pavement through 315/40R18 Nitto Nt05R drag radials at all four corners and a 3.09:1 rear axle ratio. With the perfect launch, the Super Stock can rampage its way to 60 mph in just 3.25 seconds and finish the quarter mile in 10.5 seconds with its speedo needle showing 131 mph.
---
Charger SRT Hellcat Widebody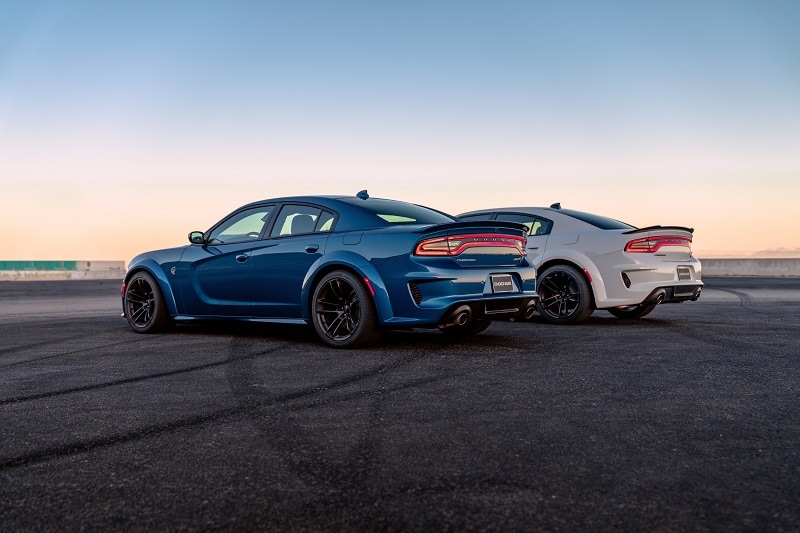 Dodge keeps things simple with its most powerful muscle sedans. If you opt for either version of the Hellcat engine, you automatically get the Widebody package and its performance front fascia, distinctive "mail slot" front air inlet, and, of course, pronounced fender flares. Behind the Charger Hellcat's muscular body work, 20-inch wheels, and 305/35ZR20 tires is a competition suspension designed to handle the Hellcat's 717 horsepower and 650 lb-ft of torque on a track…or an empty canyon road.
---
Charger SRT Hellcat Redeye Widebody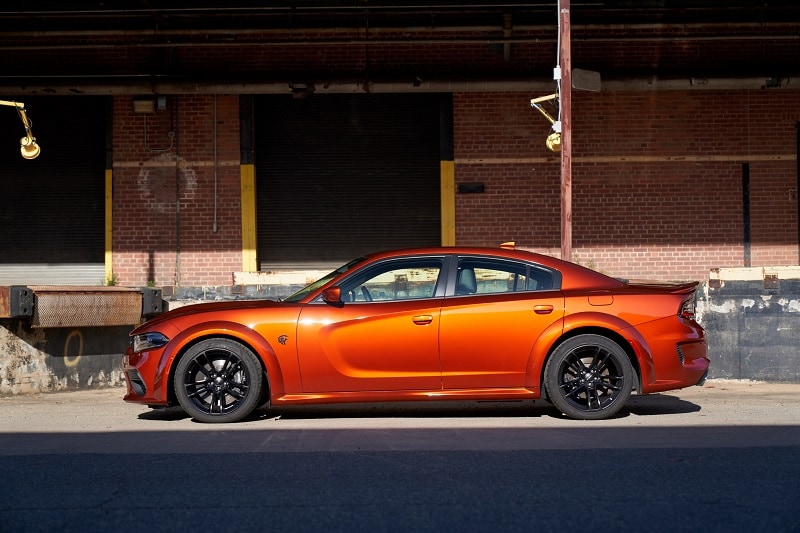 Family road trips will never be the same in this monster. With 797 horsepower and 707 lb-ft of torque under its vented hood, the Charger Hellcat Redeye only needs 3.6 seconds to get up to 60 mph. If there's enough road ahead, it can reach a top speed of 203. I don't recommend doing that on public roads, but I will say that it's hard for someone to ask "Are we there yet?" if they're flattened against their seat.
---
Durango SRT Hellcat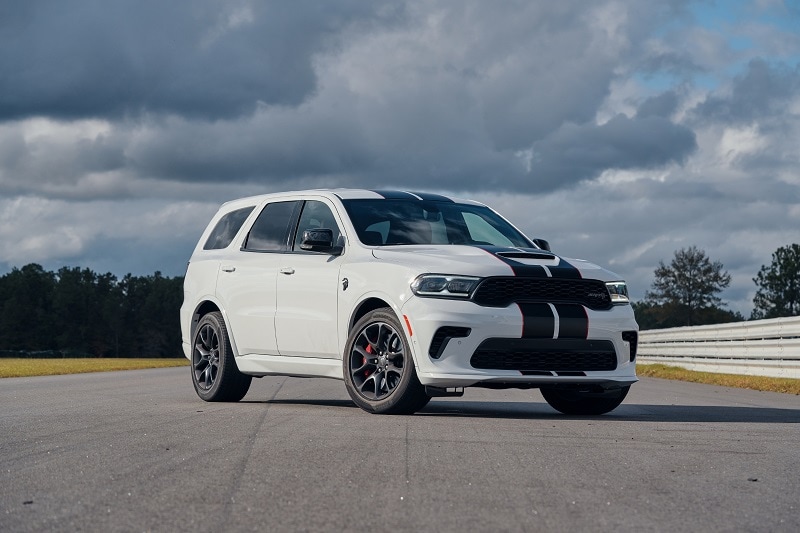 It took several years, but Dodge finally put a Hellcat in the Durango. Its all-wheel drive system with variable torque distribution, 710 horsepower, and 645 lb-ft enable it to haul three rows of people around town in record time and tow up to 8,700 pounds in what we're guessing is also an impressively short amount of time.
---
Jeep
---
Grand Cherokee Trackhawk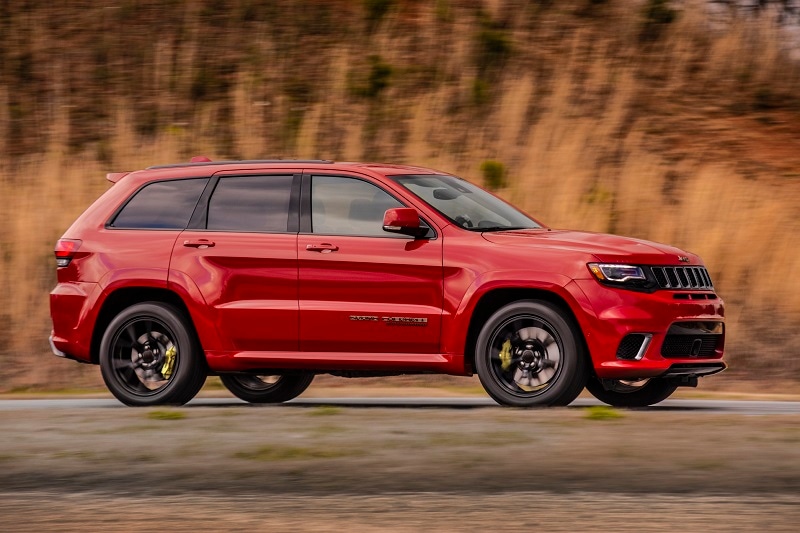 Jeep has plenty of SUVs that can conquer the outdoors. This one is meant to dominate the streets. Like the Durango Hellcat, the Trackhawk routes its Hellcat fury (707 horsepower and 645 lb-ft of torque) through all four of its 20-inch wheels. The Trackhawk's 15.75-inch slotted front brake rotors with six-piston Brembo calipers and 13.78-inch slotted rear rotors with four-piston Brembo calipers keep it from becoming an endangered species.
---
RAM
1500 TRX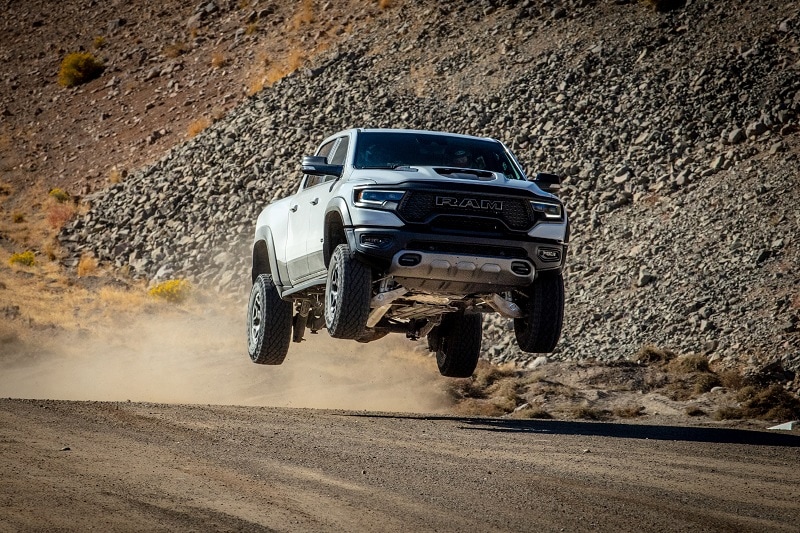 RAM went all in on its Ford Raptor fighter. The TRX (T-Rex is also perfectly acceptable, for obvious reasons) is eight inches wider than a regular 1500, rolls on 35-inch off-road tires, and has an advanced adaptive suspension that absorbs the impact of 55-mph jumps (ask us how we know). The 702 horsepower behind its air-devouring grille makes it ridiculously easy to get airborne in this 6,300-pound apex predator.
---
Looking for more performance vehicles? Check out our Classic Car and Performance Vehicle research sections, or head to your local AutoNation dealership to test drive one of these bad boys for yourself.
---
Derek Shiekhi | Apr 06, 2021