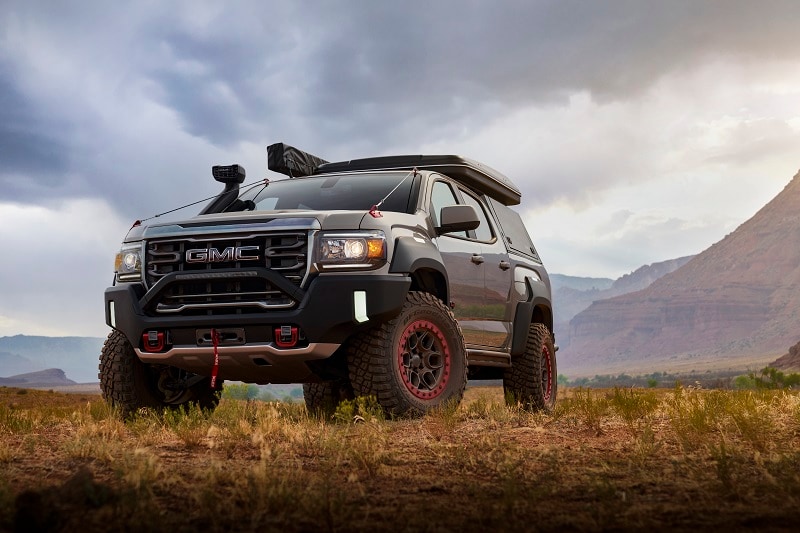 Every year, off-roading and overlanding enthusiasts make the journey to the Overland Expo in different parts of the U.S. to take classes, listen to experts and trainers, buy gear for their vehicles and motorcycles, and, of course, go wheeling. Vehicle manufacturers get in on the action by modifying some of their vehicles to make them more capable over rough terrain and more comfortable off the grid. For Overland Expo Mountain West 2021 in Colorado, GMC created a hardcore concept rig known as the Canyon AT4 OVRLANDX. Until the
2022 Hummer EV
hits showrooms, this is the most hardcore vehicle wearing a GMC badge.
As its name implies, the OVRLANDX is based on the
Canyon AT4
midsize truck. As the most rugged model in the Canyon lineup, the AT4 is equipped with a two-speed transfer case for its four-wheel drive system, a locking rear differential, an off-road suspension, and 31-inch Goodyear Wrangler Duratrac tires. Its Advanced Hill Descent Control technology handles the throttle and braking during the trip down the other side of a high peak.
---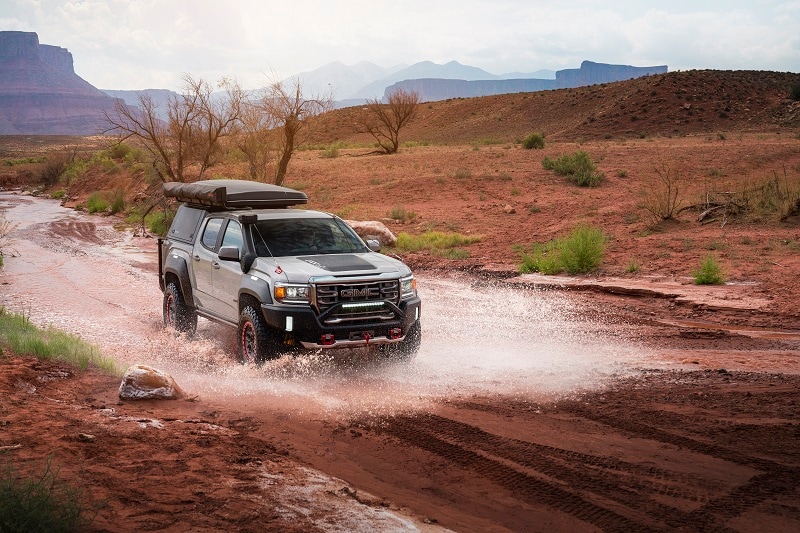 Overlanding requires more than just suspension and tire mods to get over challenging natural obstacles. It also necessitates the equipment that makes camping far away from civilization possible. GMC gave the Canyon AT4 OVRLANDX plenty of all three.
You don't have to go 100 mph to damage a vehicle. Even when you're crawling along at low speeds you can significantly harm its suspension, oil pan and body. That's why it's important to guard vulnerable areas against the outdoors. The Canyon AT4 OVRLANDX is ready to take it on from all angles. Guy lines keep tree limbs from smacking into its windshield. A factory lift and skid plates under the wide off-road chassis prevent jagged rocks from turning the OVRLANDX into a cautionary tale about the dangers of inadequate protection. A pair of rock sliders guard the rocker panels. Even when the OVRLANDX fords 32.1 inches of water, its 3.6-liter V6 can breathe easily because its intake is connected to a snorkel with an elevated air inlet.
It's no mystery that the GMC Canyon AT4 and
Colorado ZR2
are related. GMC strengthened that family connection by giving the OVRLANDX a set of Multimatic DSSV (Dynamic Suspensions Spool Valve) dampers that can respond more precisely to inputs from rough terrain.
---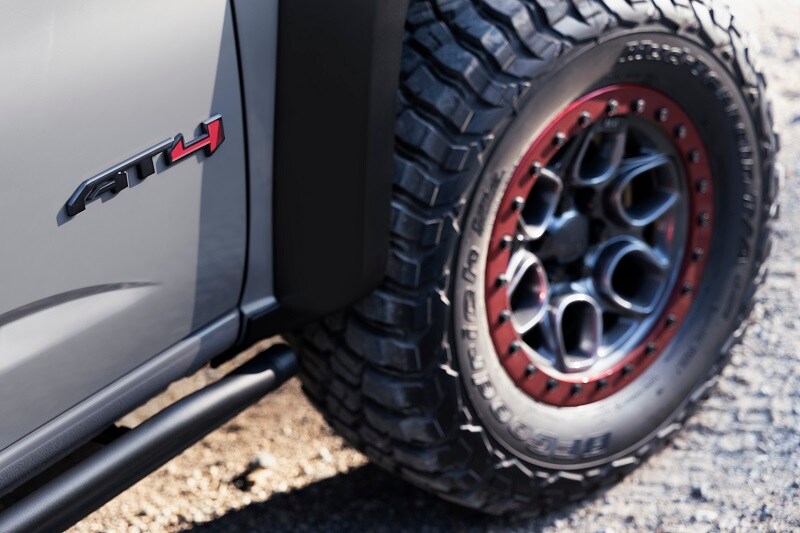 No overlanding vehicle would be complete without an upgraded wheel and tire combo. GMC removed the Canyon AT4's stock rolling hardware and installed 17-inch AEV (American Expedition Vehicles) Crestone wheels and 33-inch BFGoodrich KM3 Mud-Terrain tires under the OVRLANDX's chunky fender flares. There's even a matching wheel and tire on the swivel carrier mounted behind the tailgate.
All adventure vehicles, no matter how tough they look, eventually get stuck. The OVRLANDX is prepared to get out of those situations. Locking front and rear differentials keep the wheels on each axle turning at the same speed to power the OVRLANDX over, through and around whatever stands in its way. It's equipped with an off-road jack in case a sharp rock punctures a tire. Under the stainless steel bed cap is a pair of traction boards designed to give the tires something to grab onto in slippery conditions. If all of that's not enough, another vehicle can pull the OVRLANDX out using the recovery points integrated into its heavy-duty front bumper. That'll get the job done, but it's not nearly as cool as the OVRLANDX making its exit with its own front winch. Jerry cans for water and gasoline ensure it (and any thirsty passengers) can reach the next destination.
---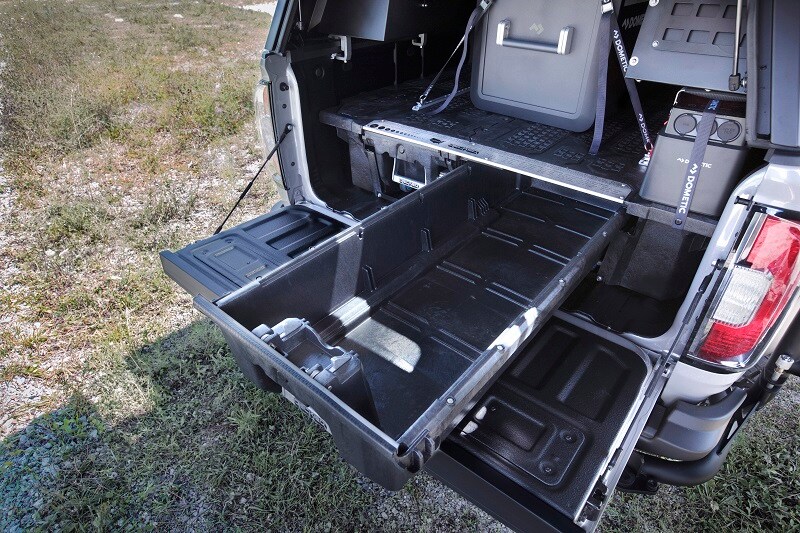 The fun doesn't have to end once the trail is completed. In fact, when it comes to overlanding, that's when even more fun, whether it's drinks by a campfire or a full-on cookout (with s'mores, of course), begins. A retractable 270-degree awning provides shade while an onboard cooler supplies chilled drinks. When it's time to eat, a built-in kitchenette with utensils and burners can help make "roughing it" a little smoother. Once the party is over and the campfire has died down, it's easy to get away from it all - literally - and catch some sleep in the roof-mounted tent.
Given that the Canyon AT4 OVRLANDX is a concept, don't expect to see a truck just like it in AutoNation GMC showrooms any time soon. But there's good news. According to GMC, "The Canyon AT4 OVRLANDX is the perfect concept vehicle to show how GMC envisions the future of Canyon and how the brand is looking ahead to serve its growing customer base of off-roading and overlanding enthusiasts."
---
Derek Shiekhi
| Sep 15, 2021