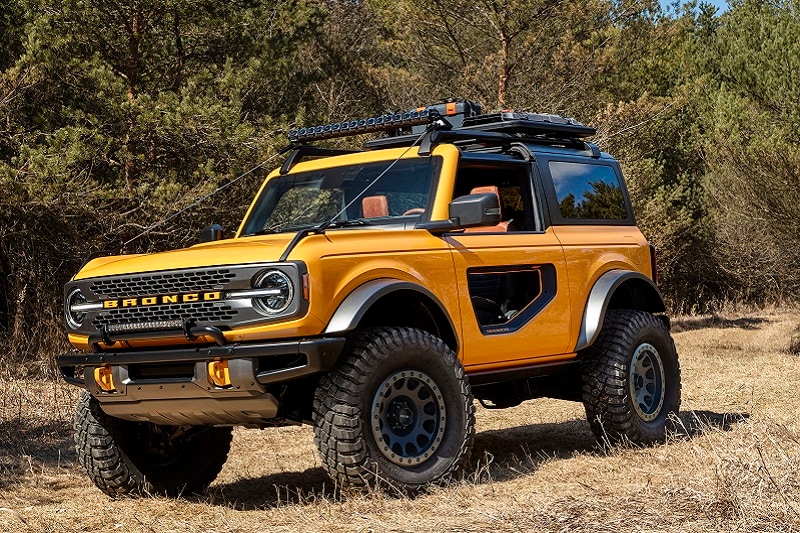 The Ford Bronco is back. Or, almost back, as the 2021 model isn't slated to arrive at dealerships until this summer. But the Blue Oval's rugged off-roader already has future classic written all over it. Because when the long-teased machine made its official debut in July of 2020, the response was ecstatic.
That said, industry observers didn't need tea leaves or a crystal ball to predict that the next-gen Bronco was going to generate this much excitement.
Across the board, the off-road segment is white-hot, and over the past decade, prices for classic Broncos have spiralled toward the stratosphere. While the popularity of the first-gen rigs was undoubtably goosed along by restomod virtuoso Jonathan Ward and the ICON crew, the original Bronco's boxy good looks and versatile platform have long made it a gearhead favorite. Given how much money Ford was leaving on the table, the most surprising thing about the latest Bronco might be just how long it took to arrive.       
Of course, the 11th generation Thunderbird is proof that past popularity and retro styling isn't a guarantee of future success. So if Ford was going to bring back something as iconic as the Bronco, the company had to hit it out of the park. There's too much value in the nameplate to simply slap it on a soft-roader, as crosstown rival Chevrolet did with the Blazer. The latest Bronco had to deliver hardcore capability, and be able to go toe-to-toe with its only real competitor in the segment - the Jeep Wrangler.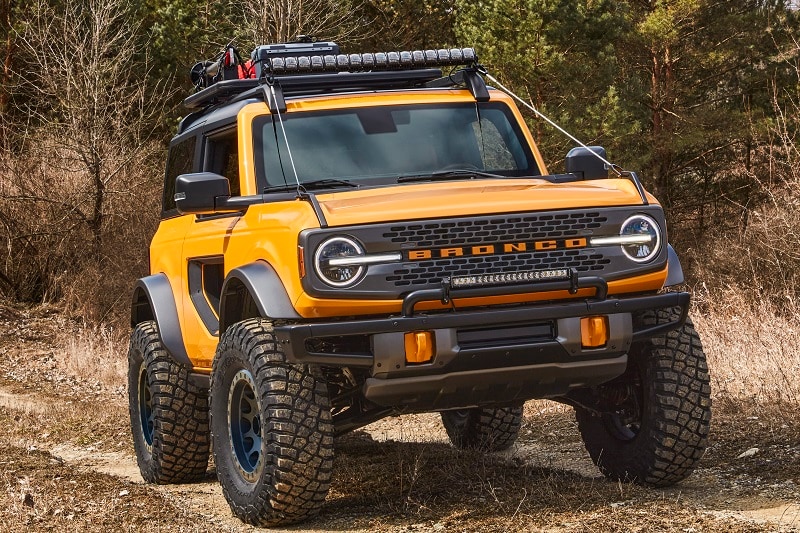 And while nobody outside Ford has driven the Bronco quite yet, the specs indicate it should be a formidable contender to Ma Mopar's Moab-tested battle wagon.
For purists, the presence of a two-door version in the lineup was proof that Ford listened to their pleas. But perhaps the most important feature of the Bronco's body-on-frame design is that the roof and the doors will be removable. Unlike the Jeep, however, there's onboard storage for the excess bodywork, so you won't have to leave it behind when you hit the trail. Also, since the mirrors are mounted to the frame, not the doors, drivers won't have to sacrifice rear visibility when driving a stripped-down Bronco. 
As you'd expect, every Bronco is four-wheel drive. Base models come with a turbocharged 2.3-liter four cylinder good for 270 horsepower and 310 lb-ft of torque, and buyers can also opt for a twin-turbo V6 which pumps out 310 horsepower and 400 lb-ft of twist. Two transmissions are on the options list, a ten-speed automatic, and - in another nod to the old guard - a seven-speed manual. Unfortunately, the stick will only be available with the smaller mill.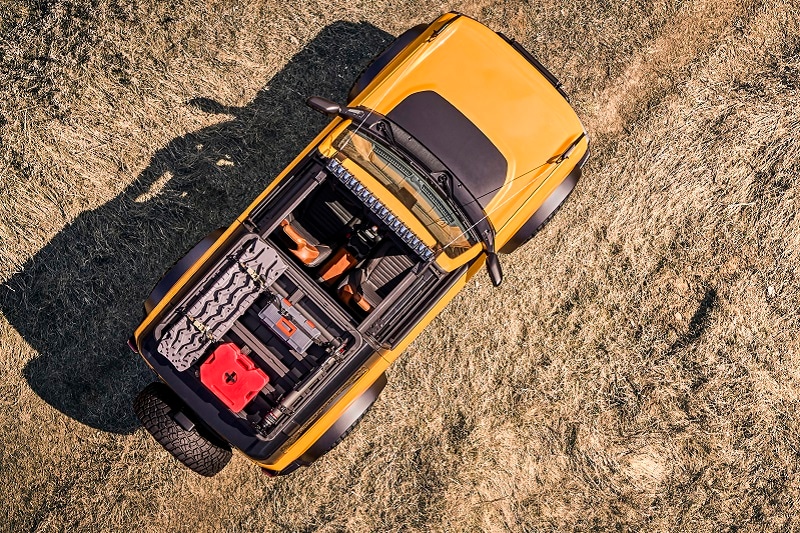 Along with options for brawny bits like bash plates, rock rails, and heavy-duty bumpers, the Bronco also features a ton of driver aids, named GOAT modes, to help drivers navigate any rough patch they decide to tackle. GOAT stands for "Goes Over Any Terrain," and includes settings for up to seven surfaces, including Slippery and Sand, Baja, Mud/Ruts and Rock Crawl.  
The Bronco also features a ton of driver aids, named G.O.A.T. modes, to help drivers navigate any rough patch they decide to tackle.
Of all the options available for the Bronco, the Sasquatch Package is undoubtedly the coolest. Check that box, and you'll get locking front and rear axles, performance Bilstein shocks, an electromechanical transfer case, and 17-inch beadlock-compatible wheels wearing massive 35-inch mud tires. At launch, there will be 11 exterior color choices, including basics like black, two shades of red, silver, and gray. More interesting options include Cyber Orange (as bright as it sounds), Cactus Gray (a milky gray-green), and Area51 (a steely blue).       
We know that a Raptor-style Bronco designed for high-speed desert runs is already in the mail, and should arrive sometime in 2022. But currently, Ford is giving buyers seven different trim levels to choose from, not including the Bronco Sport, which is its own model in the new Bronco family.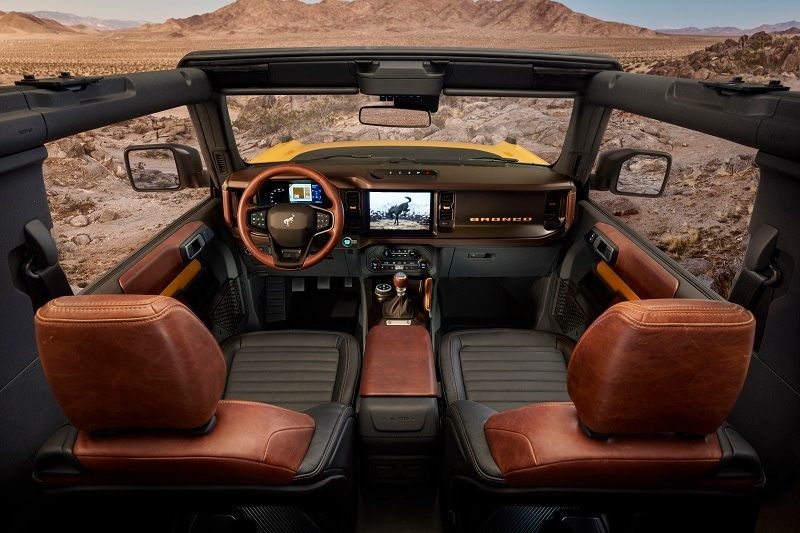 For 2021, the range-topping model is the Bronco First Edition, which is limited to just 2,500 units. This is a kitchen-sink version, which features basically every bit of luxury and off-road kit you can throw at the Bronco, along with some unique badging and a contrasting hardtop. Other versions, like the Badlands, shed some luxury touches in favor of features like a front stabilizer bar disconnect, built-in auxiliary switches, and an interior that can be hosed out. 
Now, any first-year Bronco is likely going to be worth some coin down the line. But given how manual transmissions are disappearing, the smart money is on models with a bold color, the 2.3-liter motor, the stick shift, and the Sasquatch Package to command the highest future prices. Of course, there's no guarantee Ford will keep the three-pedal option on the table if it doesn't prove popular with buyers, so if you want to score a new-school Bronco that features old-school, row-your-own fun, the time to act is now.
---
John Coyle  | Mar 18, 2021