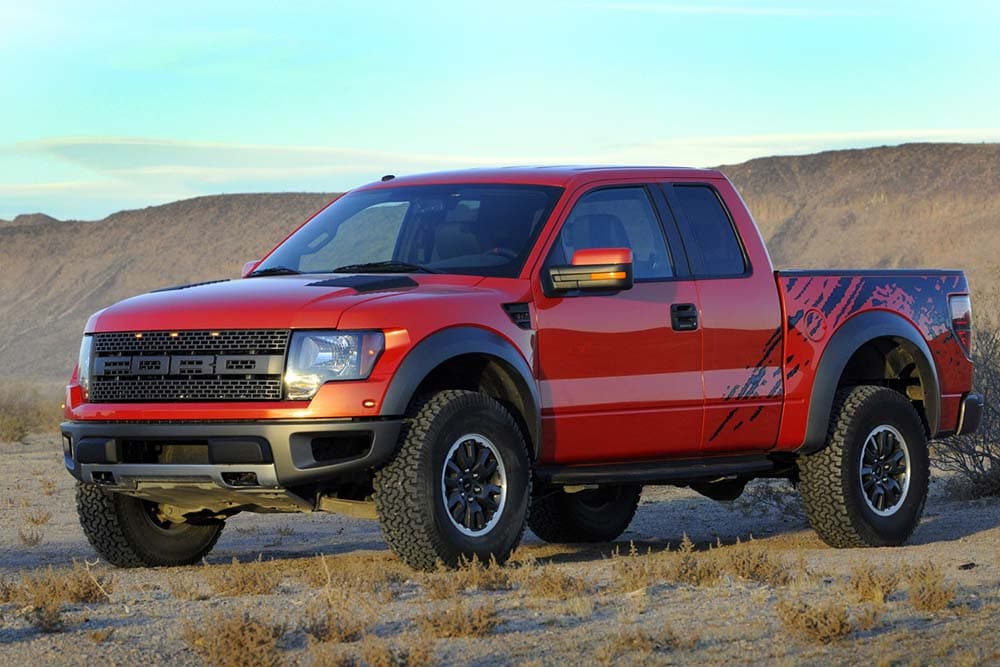 Do any research on the Ford F-150 Raptor, and you'll likely come across the phrase "factory trophy truck." That bit of shorthand is the 4x4 equivalent of "race car for the road," and obviously, it's as inaccurate as it is overused.
Because the Raptor isn't a 900-horsepower tube-frame bruiser with a sequential gearbox, a fresh air system, and an MSRP north of the national median home price. Nope. That said, It's an absolutely wicked off-road rig built to tackle tough terrain at speeds which would turn other stock trucks into a pile of parts. It's truly unlike anything ever mass-produced by an OEM, and with its unique FORD grille, vented hood, and massive fender flares, there's no mistaking a Raptor for a standard Blue Oval pickup.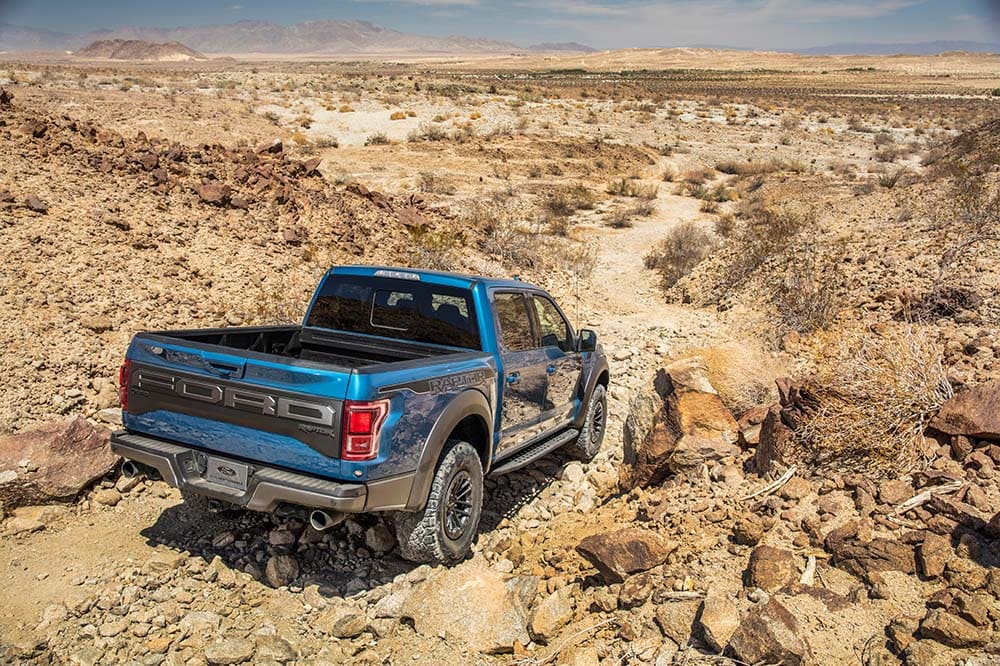 Shop Ford F-150 Raptor Inventory
While there are notable differences between the first and second generation Raptors, neither is a simple shock and sticker package. Far from it. The original was launched in 2010, as a product of Ford's Special Vehicle Team, the same crew responsible for 1990s heavyweights like the SVT Mustang Cobra and SVT F-150 Lightning. To turn the F-150 into a proper off-road beast, the SVT engineers redesigned the front and rear suspension, raised the ride height by two inches, and widened the truck's track by a whopping seven inches. To soak up bumps, they also fitted Fox Racing internal bypass shocks with external reservoirs, which increased suspension travel to 11 inches up front, and 12 inches in the rear. The beefy 35-inch tires came courtesy of off-road legend BF Goodrich.      
All first-generation Raptors came with six-speed automatic transmissions, but initially, buyers could choose between a pair of V8 engines. The standard mill was a 5.4-liter unit offering 310 horsepower and 365 lb-ft of torque, while the 6.2-liter option pumped out a more robust 411 horsepower and 434 lb-ft. Since most Raptor buyers wanted to go all in, the smaller engine was dropped for the 2011 model year. The second year also saw the availability of a four-door SuperCrew cab Raptor, whereas 2010 models only came with the SuperCab's sleeker profile and smaller rear-hinged doors.         

The original was launched in 2010, as a product of Ford's Special Vehicle Team, the same crew responsible for 1990s heavyweights like the SVT Mustang Cobra and SVT F-150 Lightning.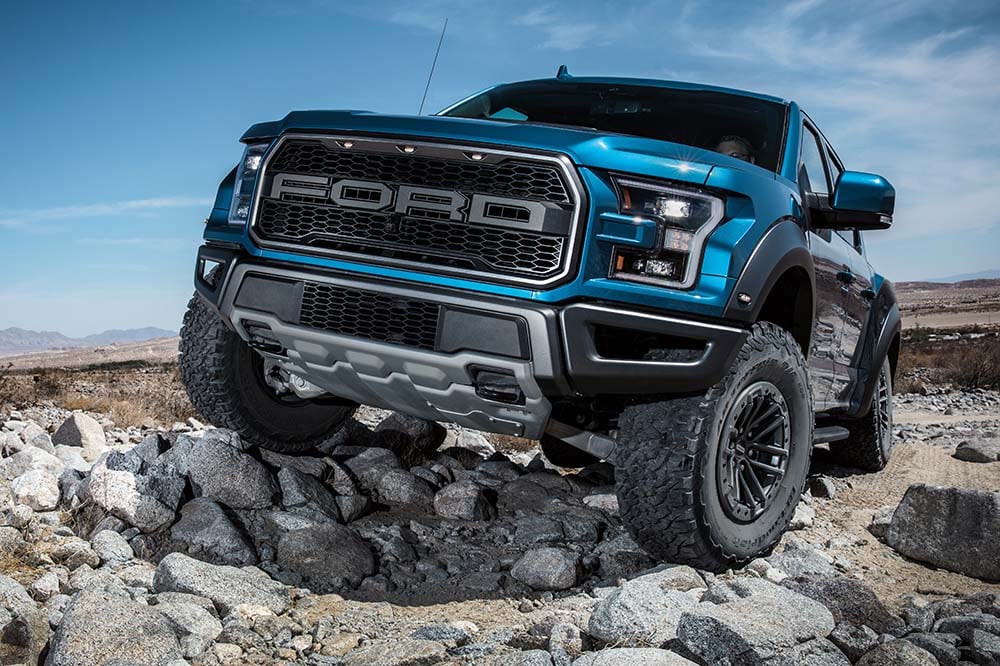 Shop Ford F-150 Raptor Inventory
After a two-year break, the Raptor returned to the order books in 2017, and reflected all the changes made to the brand-new F-150. That meant it got a weight-saving aluminum body, along with a laundry list of creature comforts and safety features. Unfortunately, it also meant saying goodbye to the naturally aspirated V8. For motivation, the latest Raptors have a 3.5-liter EcoBoost V6, which makes 450-horsepower and 510 lb-ft of torque, which is mated to Ford's trick ten-speed automatic transmission. Eagle-eyed Blue Oval fans will also note that new Raptors are no longer SVTs, but are now branded as Ford Performance models. There's improved fuel economy too, though you can probably count the Raptor buyers who care on one hand.  
While it might not sound as good as the old eight-pot model, EcoBoost Raptors have a host of other improvements designed to perform even better when the going gets tough. For starters, there's an additional two inches of ground clearance, and two more inches of suspension travel front and rear. The shocks are still Fox Racing equipment, but are now electronically controlled, and automatically adapt to changing terrain. There are also a host of new drive settings for everything from rock crawling, to snow and sand, to slippery conditions, to towing and hauling. Notably, there's also a Baja mode for high-speed desert running, and a Sport setting to take advantage of all the traction available on dry pavement. So along with the brawn, there are brains too.
In the future, early SVT-branded models with the big V8 and the SuperCab will likely command the highest prices, and given the nature of the truck, finding a cream puff will be tough. Now, it's worth noting that right now, Ma Mopar is readying a Raptor competitor, which will be packing Hellcat power. But even if we see an arms race in the off-road performance segment, the groundbreaking Raptor will always have been first, which makes classic status a solid bet.