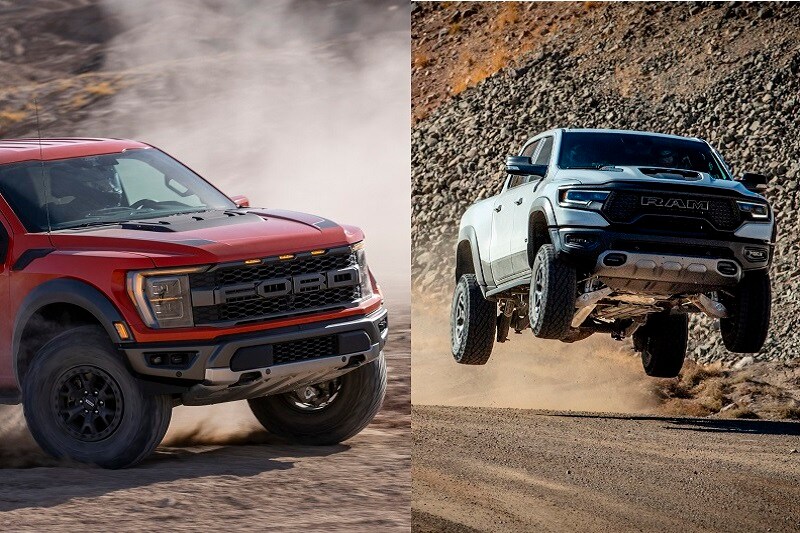 When it came out, the 2010
Ford SVT Raptor
 was a sensation. Off-roaders could fly across the desert in a factory-produced truck with comfortable seats, airbags, and a comprehensive warranty. The Raptor's full-size dimensions, special hardware, and impressive capabilities also made it a rare breed in the automotive world. It roamed the wilderness as a singularity throughout its first and second generations. 
That all changed with the 2021 model year. It was no longer alone. RAM had created its own dinosaur-themed desert runner, an apex predator genetically engineered to hunt the Raptor. They called it the
1500 TRX
. Let's take a closer look at these two beasts in this breakdown.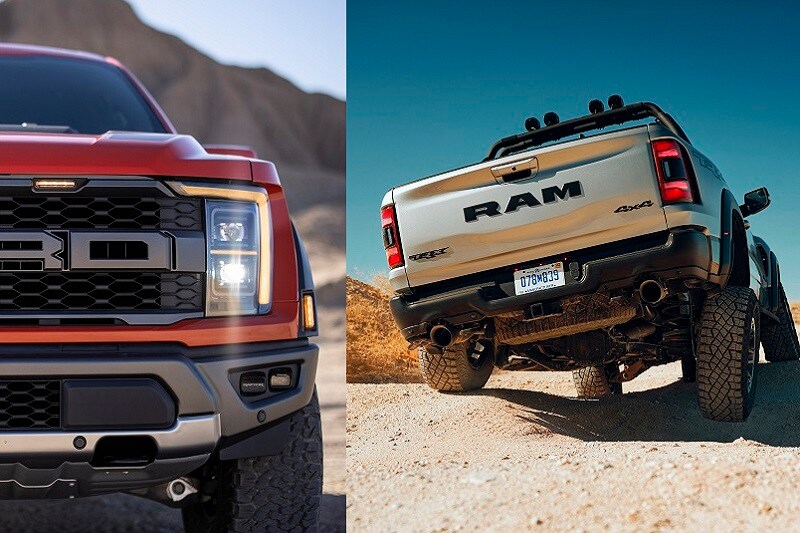 Don't Be Afraid to Bring the Kids
Have no fear - these carnivores only want to take a bite out of each other. Up until the 2020 model year, the F-150 Raptor was available in the SuperCab and SuperCrew body styles, but the all-new 2021 Raptor is a SuperCrew with a 5.5-foot bed only. It's a similar story with the RAM 1500 TRX, which comes exclusively with the CrewCab and a 5-foot-7-inch bed.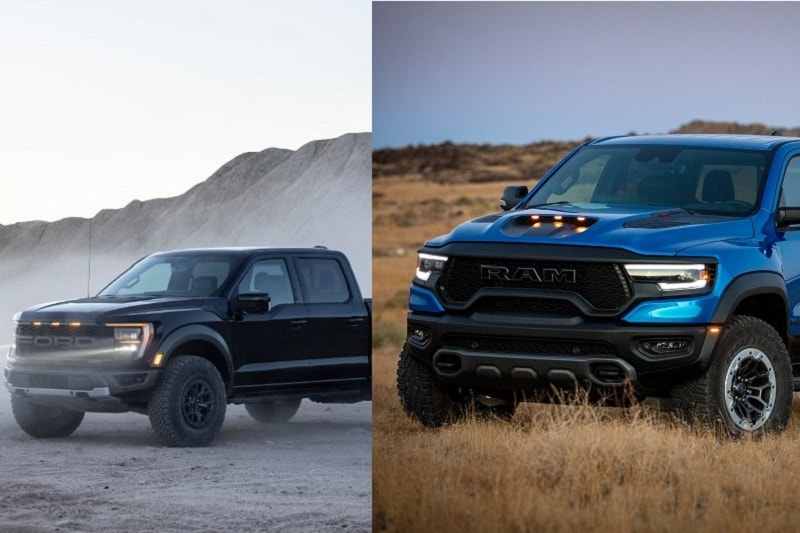 Jurassic Parking
The Raptor and TRX may not be animatronic Hollywood creatures, but they're cool in their own ways. They exist outside of the world of movies. In fact, you can see them up close in AutoNation dealerships (which don't have any pesky electrified fencing around them). They'll be easy to tell apart from their more sedate siblings. The biggest giveaway is their width. Both trucks have significantly broader tracks and the bodywork to go with it to help keep them stable during their WOT blasts through the desert. 
You can't miss their grilles, either. The massive lettering on the Raptor's grille makes it clear who created it. Its integrated amber lights not only look cool, but function as a warning that the truck they're attached to is over 80 inches wide. The letters in the TRX's grille aren't quite as big and bold, but RAM's Raptor hunter has its own party piece: a functional hood scoop decked out with its own set of amber lights.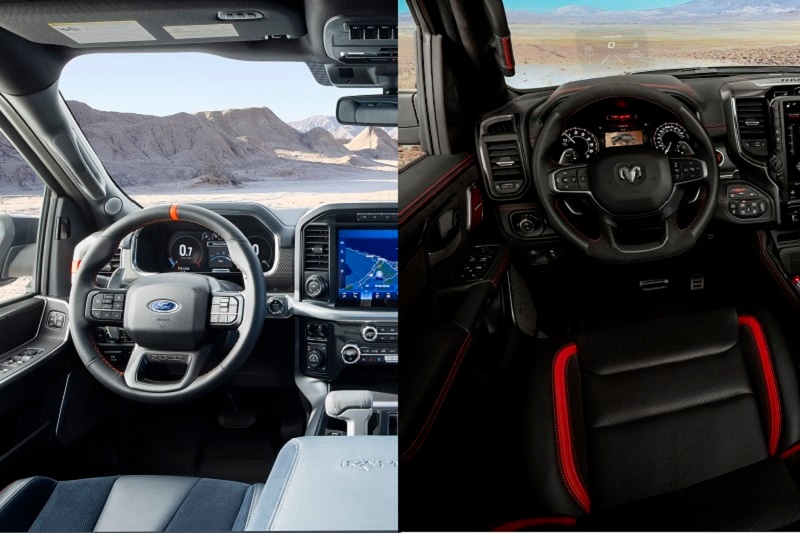 Not So Scary Inside
Believe it or not, being in the belly of these beasts is great. We've spent hours driving the TRX on- and off-road and found it surprisingly comfortable. All TRXs come standard with a sporty flat-bottom steering wheel, paddle shifters, and a 12-inch touchscreen for the Uconnect 4C infotainment system with navigation. The truck we drove during the TRX's media launch program was equipped with the top-of-the-line TR2 Equipment Group, which adds heated and ventilated front and rear leather seats, a heated steering wheel, wireless phone charging, and much more. 
We haven't had a chance to drive the third-generation Raptor yet, but based on how smooth the last one was and how nice the 2021 F-150s we've tested have been, we expect it to provide a pleasant on-road experience. Its list of standard equipment includes a 12-inch digital gauge cluster, SYNC 4 infotainment running on a 12-inch touchscreen, and heated and ventilated front seats. The 801A High package upgrades the cabin with a power tilting/telescoping and heated steering wheel, heated rear seats, wireless charging, an 18-speaker B&O sound system, and other features.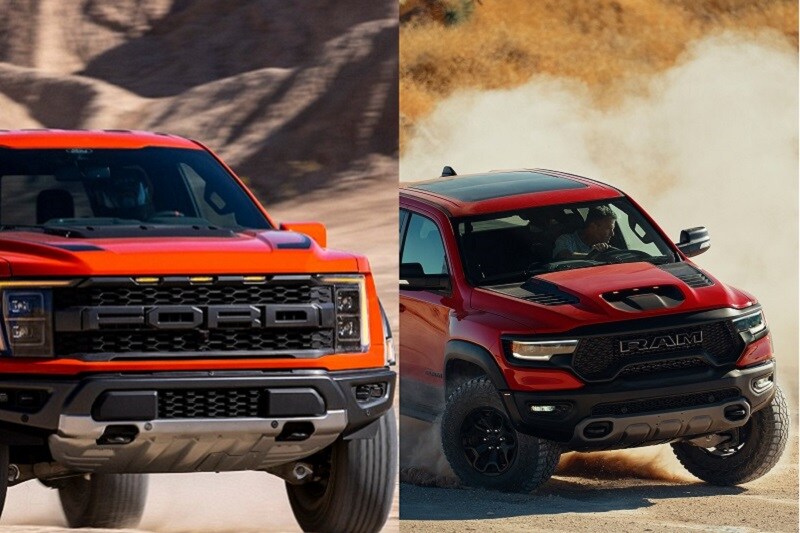 No Wings Required
The Raptor and TRX don't have wings, but they can still fly. They just use their "feet" to get airborne. The Raptor takes off on a set of 17-inch wheels wrapped in meaty LT315/70R17 all-terrain tires. For the ultimate grip (and bragging rights),
Ford
offers massive 37-inch BFGoodrich All Terrain T/A KO2 tires. 
The Raptor's natural rival from
RAM
takes to the sky on 18s and 35-inch Goodyear Wrangler Territory 325/65/R18 all-terrain rubber. Both trucks are available with beadlock-capable wheels so they can keep going through sand even when their tires are aired down.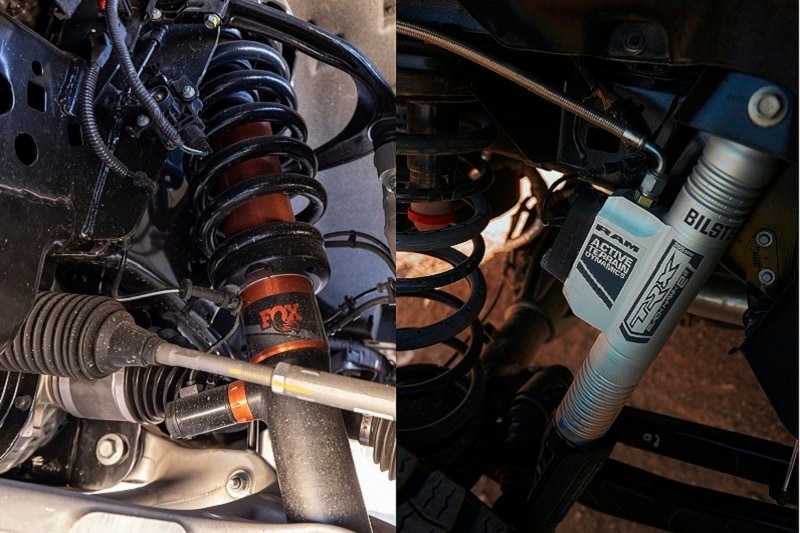 Extinction Proof
Flying over uneven surfaces at 80+ mph during the middle of summer can destroy a regular suspension. Luckily, there's nothing regular about the Raptor and TRX. The Blue Oval rig's 3.1-inch-diameter internal-bypass Fox shocks were designed to change the damping rate at each corner 500 times per second and resist the heat that builds up during high-speed desert runs. 
RAM equips the TRX with 2.6-inch Bilstein Black Hawk e2 adaptive performance shocks which provide independent compression and rebound damping. A Jounce Cut Off in each shock enables it to bottom out progressively during high-impact jumps.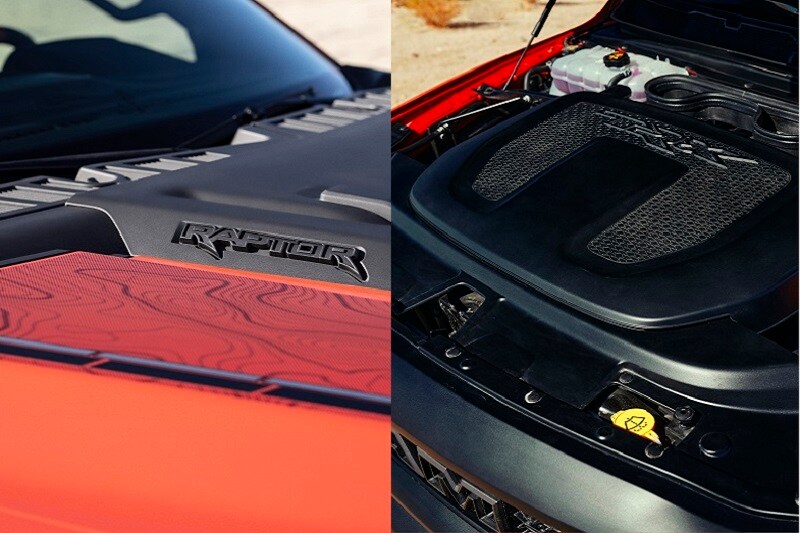 Hot-Blooded Insanity
As of right now, the TRX can roar louder and run faster than the Raptor. It's the only RAM truck powered by the supercharged 6.2-liter Hellcat V8. Under the TRX's menacing hood, that generates 702 horsepower and 650 lb-ft of torque. An eight-speed automatic and full-time four-wheel drive let that rage loose. 
The 2021 Raptor carries on with the high-output 3.5-liter EcoBoost V6 and 10-speed automatic that its predecessor had. Output remains at 450 horsepower and 510 lb-ft of torque. A two-speed Torque-on-Demand four-wheel drive system converts those numbers into forward motion through mud, across rocks, and, of course, over sand dunes. 
Next year, the Raptor will be breathing down the TRX's neck. Official specs aren't out yet, but don't be surprised if the 2022 Raptor R comes with a supercharged 5.2-liter V8 that pumps out more than 700 horsepower. We won't be. We'll just be excited.