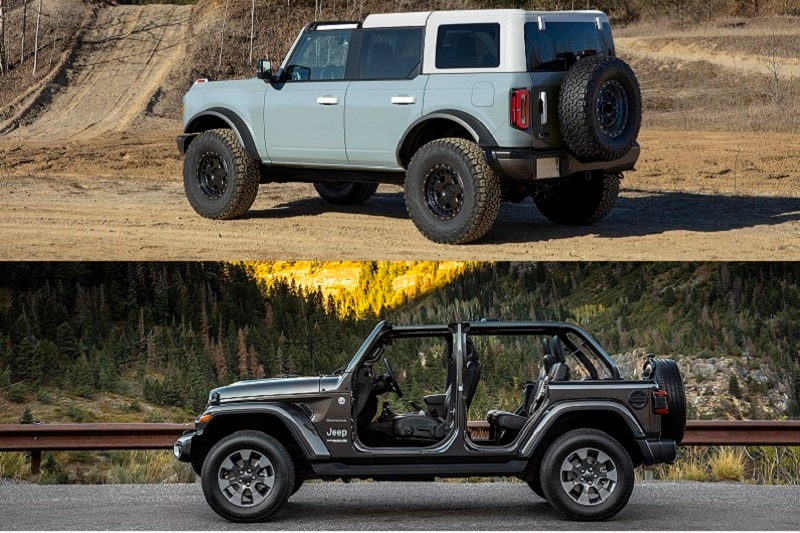 For years, if you wanted a body-on-frame SUV with four-wheel drive and a removable roof, you only had one choice: the Jeep Wrangler. Not anymore. After a quarter of a century, the Ford Bronco is coming back to take on Jeep's iconic off-roader. Fundamentally, both rigs are similar. The Bronco and Wrangler are available in two- and four-door body styles with removable doors and a variety of hard and soft top choices. Only $25 separates the 2021 Wrangler's $28,475 base price from the 2021 Bronco's $28,500 MSRP. From there, just as they will out in the wilderness, they take different paths.
---
Approach, Breakover, and Departure Angles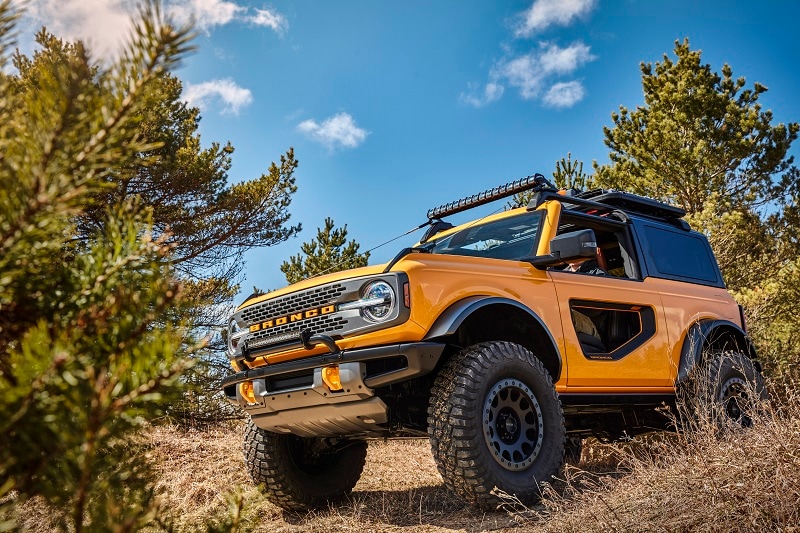 When a vehicle goes off-road, Mother Nature constantly gives it geometry tests. Does it have enough approach angle to start climbing up a steep slope without scraping its chin? Will it tear up its rear bumper when coming down the other side? How likely is it to get high-centered on a big rock? Those are the reasons why an off-road vehicle's approach, departure, and breakover angles are so important.
In its basic forms, the Wrangler beats the Bronco's approach angle. The Jeep's Sport models offer a minimum of 41.4 degrees of clearance; the two-door Rubicon with 33-inch all-terrain tires provides 44 flat. The Bronco comes close, though. According to Ford, when equipped with available 35-inch tires, the two- and four-door models have an approach angle of 43.2 degrees.
The Bronco lineup has the widest span of departure angles, which range from 29.7 degrees for the base model to 37.2 degrees for the two-door on 35s. The Wrangler's departure angles go from a minimum of 35.9 degrees for the two-door Sport to a maximum of 37 degrees for Wrangler Rubicons.
The blue oval has an edge in terms of breakover angle. A properly equipped two-door Bronco with 35s has 29 degrees of belly scraping avoidance; its two-door Wrangler Rubicon rival tops out at 27.8 degrees.
There is one asterisk to these measurements. Jeep calls it the Wrangler Rubicon 392, a special high-performance model with a 470-horsepower 6.4-liter V8 and better approach, departure, and breakover angles of 44.5, 37.5, and 22.6 degrees, respectively - and a significantly higher base price of $73,745.
---
Ground Clearance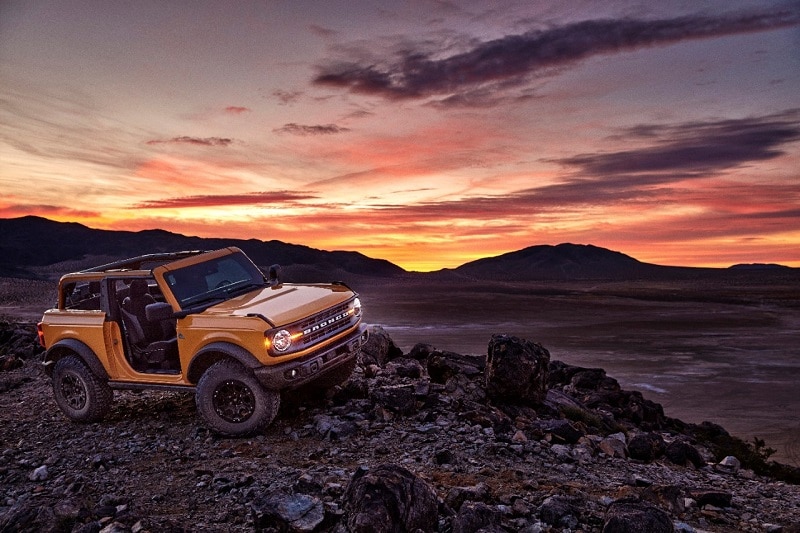 ​
The Bronco's available 35-inch tires not only look cool, but give it a Wrangler-topping 11.6 inches of ground clearance. Surprisingly, the regular Wrangler Rubicon, not the 392 model, is capable of putting up to 10.8 inches of space between itself and the trail below.
---
Water Fording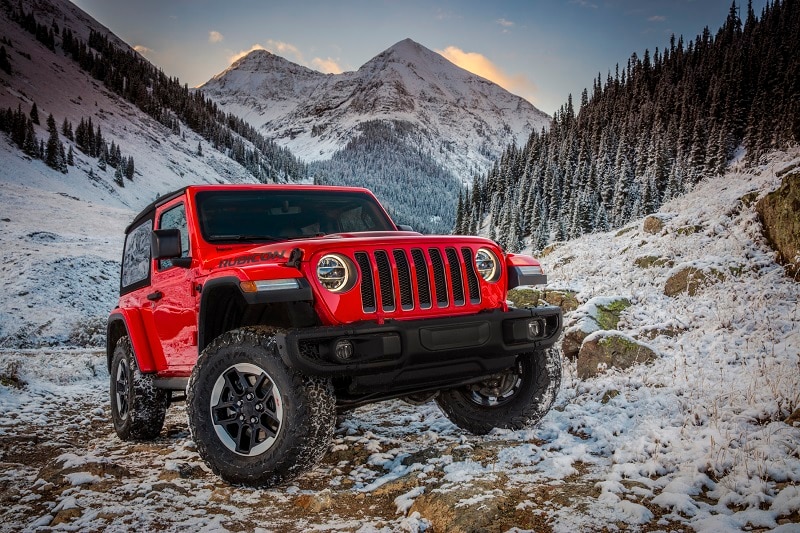 It's not always a boulder that brings an adventure to a stop. In fact, it's not always even a solid. Sometimes a stream that's too deep can force you to turn around or call it a day entirely. Luckily, the Wrangler Rubicon 392 can charge through 32.5 inches of water. The Bronco can handle depths of 33.5 inches.
---
​Engines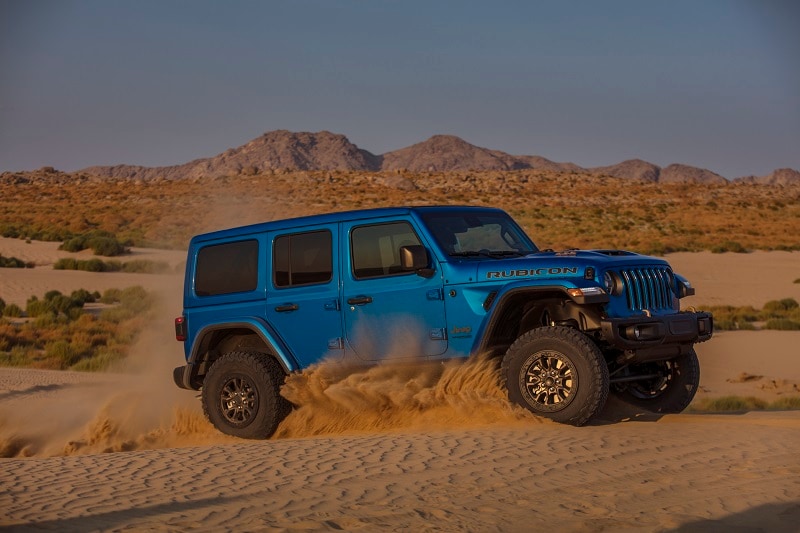 Ford went with a two-engine approach for the new Bronco. The base unit is a turbocharged 2.3-liter EcoBoost I4 that generates 270 horsepower and 310 lb-ft of torque. The most powerful Bronco engine is a turbocharged 2.7-liter EcoBoost V6 with 310 horsepower and 400 lb-ft. Both are available with a 10-speed automatic; only the smaller engine can be paired with a seven-speed manual that includes a special "crawler" gear for taking on rocky terrain.
Jeep covers every base with the Wrangler's powertrain options. There's a turbocharged 2.0-liter four-cylinder engine with Electronic Start Stop (ESS) that produces 270 horsepower and 295 lb-ft, 3.6-liter Pentastar V6 with the eTorque mild hybrid system, 3.6-liter Pentastar V6 with ESS, 3.0-liter EcoDiesel V6 that cranks out 260 horsepower and 442 lb-ft, and the 392 HEMI, which packs 470 horsepower and the same amount of mud-slinging torque. There's even a 4xe hybrid model which combines the turbo I4 with an electric motor and battery pack. Most Wrangler models and configurations get an eight-speed automatic transmission. Only Wranglers with the Pentastar V6 are available with a six-speed manual gearbox.
---
4WD Systems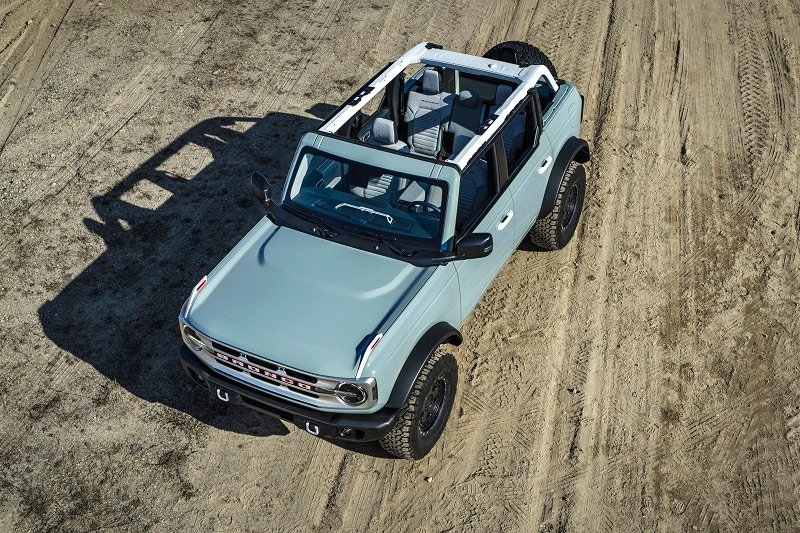 ​
Depending on how you spec the Bronco, it'll either have a two-speed unit with shift-on-the-fly capability and a 2.72:1 low ratio or two-speed electromechanical setup with a 3.06:1 low ratio and an automatic mode that allows you to choose between 2H and 4H while you're on the move. Up front, the Bronco is equipped with a Dana AdvanTEK independent front suspension; out back, there's a Dana 44 AdvanTEK solid rear axle. Certain Broncos can be upgraded with Spicer Performa-TraK electronic locking differentials. Combining the two-speed electromechanical with the seven-speed manual yields the best crawl ratio of 94.75:1.
Jeep offers a trio of four-wheel drive systems in the Wrangler. Command-Trac is a part-time setup with 2.72:1 low range gearing. The full-time Selec-Trac system can automatically switch between two- and four-wheel drive, depending on road conditions. The Rubicon comes standard with the Rock-Trac package. The standard version of it is part-time. An available full-time version can instantly engage two- or four-wheel drive to suit the terrain under it. Both have a 4:1 low range ratio. Tru-Lok electronic locking diffs at both ends and an electronic sway bar disconnect feature help the Wrangler Rubicon get over the toughest obstacles.
To learn even more about the differences between the 2021 Bronco and 2021 Wrangler, and which off-roader is right for you, head to an AutoNation Ford or Jeep dealership for a test drive today.
---
Derek Shiekhi | Apr 07, 2021