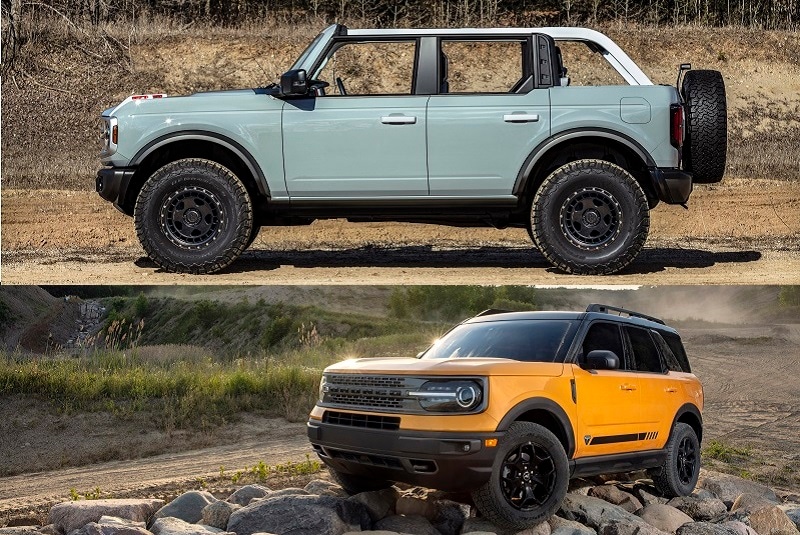 For 25 years, if you were a Ford fan, the biggest problem you had was the absence of a new Bronco from the market. Now you have to decide which Bronco you want. Ford made up for the long hiatus by bringing out the
2021 Bronco
and the smaller
2021 Bronco Sport
Let's take a look at both of them in this breakdown. To saddle up a Bronco Sport or Bronco (or both), head over to your closest AutoNation Ford dealership.
---

Body Styles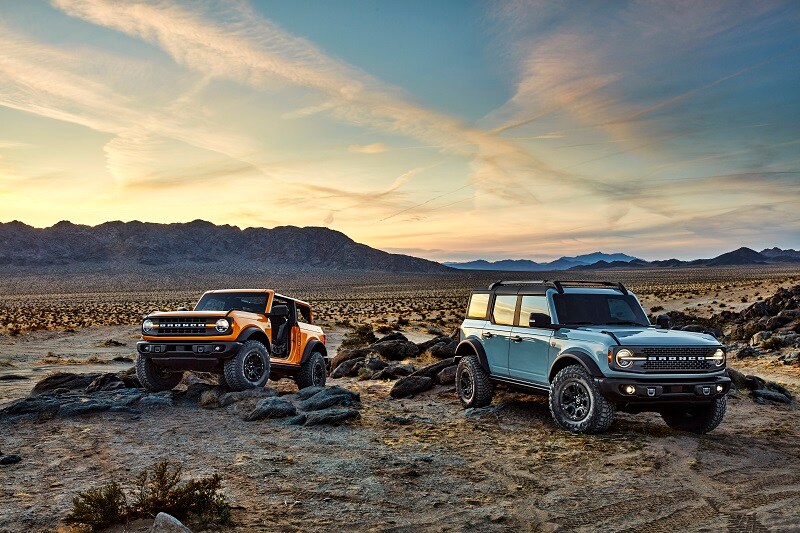 The Bronco Sport shares the same underpinnings as the Escape, so the two vehicles' basic exterior dimensions are close to the same, although the Bronco Sport is nearly eight inches shorter overall. It's available strictly as a two-row SUV with four doors and a rear liftgate. 
For the first time ever, the Bronco is available with four doors. Don't worry, if you don't need the extra room inside and prefer a shorter wheelbase for getting through tight trails, you can also get it with two doors. No matter which configuration you go with, expect a lot of attention from everyone you pass, especially
Jeep Wrangler
drivers. For a thorough  comparison between the Bronco and the Jeep Wrangler,
check out our handy guide
Of course, it'll be easier to see them because you can remove the Bronco's doors and roof. The two-door is exclusively a hard top with removable front-row roof panels. The four-door model comes standard with a black soft top that can be tilted to ease access to the rear cargo area, but is available with a hard top.
---

Wheels and Tires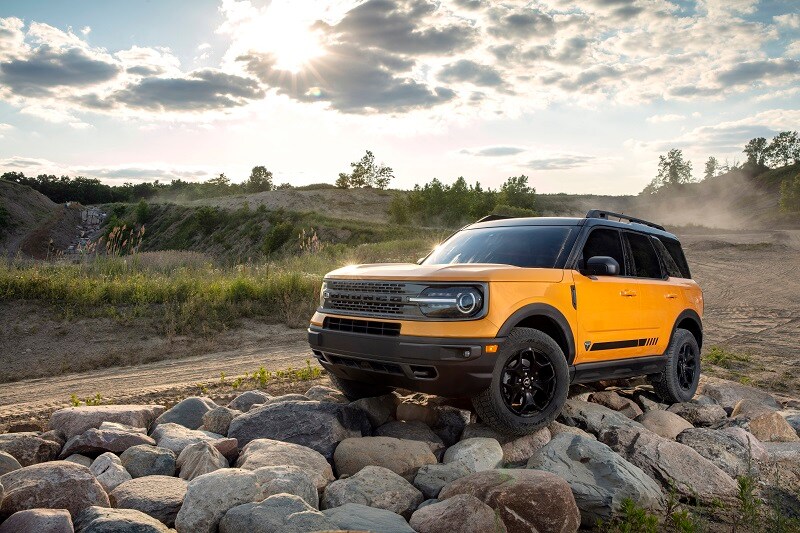 Ford offers the Bronco Sport in Base, Big Bend, Outer Banks, Badlands, and MY2021-only First Edition trim. How you configure it determines whether it comes with 17- or 18-inch wheels. All-season tires are standard on most grades, but the Badlands comes with 28.5-inch Pirelli Scorpion all-terrain rubber and can be upgraded to 29-inch Falken Wildpeak A/Ts. The First Edition gets those by default. 
The Bronco range of Base, Big Bend, Black Diamond, Outer Banks, Badlands, Wildtrak, and First Edition models starts off with 16-inch wheels wrapped in 30-inch all-season rubber. Beyond that are various combinations of 17- or 18-inch wheels and 32- or 33-inch all-terrain tires. Bronco Wildtrak and Bronco First Edition come standard with the Sasquatch Package, which adds 17-inch beadlock-capable wheels inside of 35-inch mud-terrain tires, and more features designed to turn mountains into molehills. On all other Bronco models, it's available as an option.
---

Suspension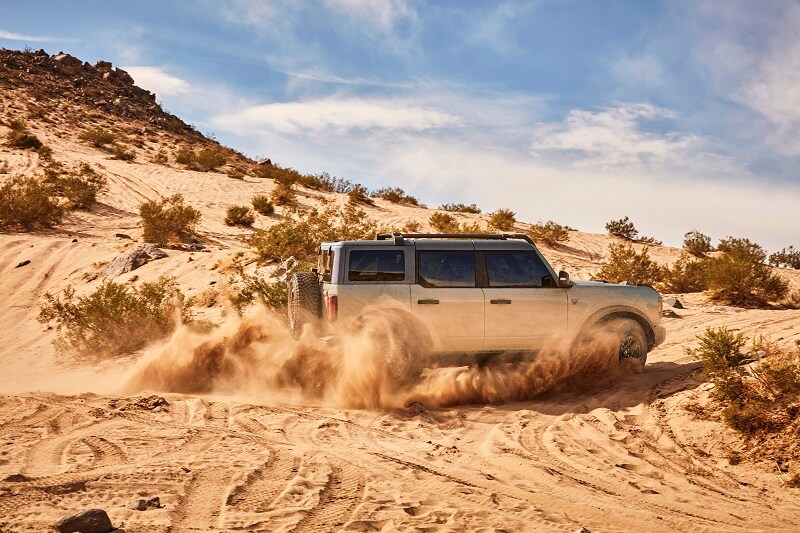 Ford calls the standard suspension setup for the Bronco Sport and Bronco HOSS, which stands for High-Performance Off-Road Stability Suspension. On the Bronco Sport, that setup includes softer springs and anti-roll bars for better articulation over uneven terrain, specially tuned front struts with hydraulic rebound stops that make wheeling over obstacles less jarring, and responsive 46-mm monotube rear shocks.
Unlike its Jeep rival, the Bronco has an independent front suspension with coilovers and HOSS-tuned dampers. In the back, it's equipped with a five-link solid rear axle, coilovers, and HOSS-ified dampers. Broncos with the Sasquatch Package come with the Advanced HOSS system's Bilstein position-sensitive dampers and locking differentials at both ends. Badlands models also get a front stabilizer bar disconnect feature that improves the wheels' ability to articulate over challenges. 
---

Engines and Transmissions
There are two tiers to the Bronco Sport's engine lineup. The Base, Big Bend, and Outer Banks models have the entry-level 1.5-liter EcoBoost three-cylinder engine that generates 181 horsepower and 190 lb-ft of torque. The Badlands and First Edition get down the road and to the tops of trails with the help of their EcoBoost 2.0-liter four-cylinder engine's 250 horsepower and 277 lb-ft of torque. Both power plants are connected to an eight-speed automatic.
Ford uses a two-engine approach to the Bronco as well. The base unit is a 2.3-liter EcoBoost four-cylinder that produces 275 horsepower and 315 lb-ft on regular fuel. With premium fuel, those numbers increase to 300 and 325, respectively. The same goes for the top-of-the-line 2.7-liter EcoBoost V6. That cranks out a minimum of 315 horsepower and 410 lb-ft; premium gas bumps those respective figures up to 330 and 415. The tradeoff to the smaller engine's lower output is that it's the only one available with a seven-speed manual transmission that includes a special "crawler" gear for low-speed rock crawling. It's also available with a 10-speed automatic, which is the exclusive gearbox for the EcoBoost V6.
---

4WD Systems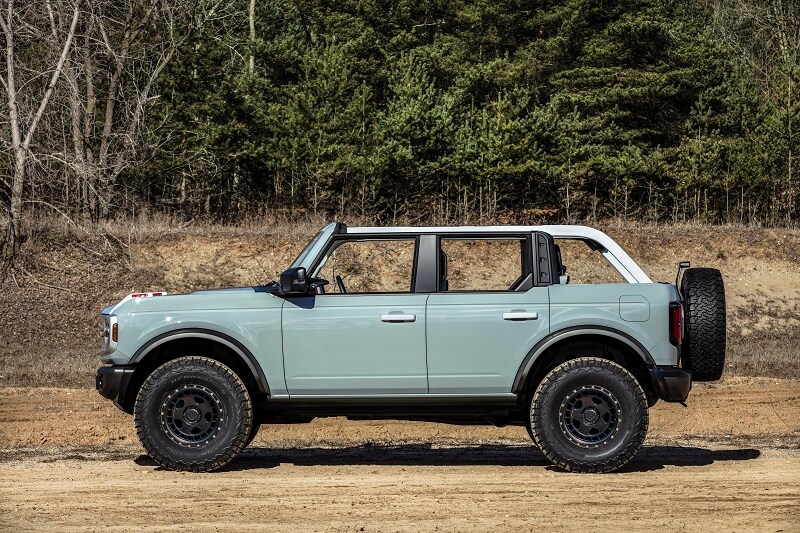 All Bronco Sports are 4X4s. The difference between them is the setup they use. The three lower trim levels have a basic system. Badlands and First Edition models get more advanced four-wheel drive with a twin-clutch rear drive unit and rear differential lock that can route engine torque to an individual back wheel to keep the Bronco Sport moving ahead.
A part-time 4X4 system with a two-speed electronic transfer case and shift-on-the-fly capability is the baseline of the Bronco's off-road hardware. For maximum performance, Ford offers a two-speed electromechanical transfer case with an auto mode (4A) that can switch between 2H and 4H as conditions require.
---

Off-Road Tech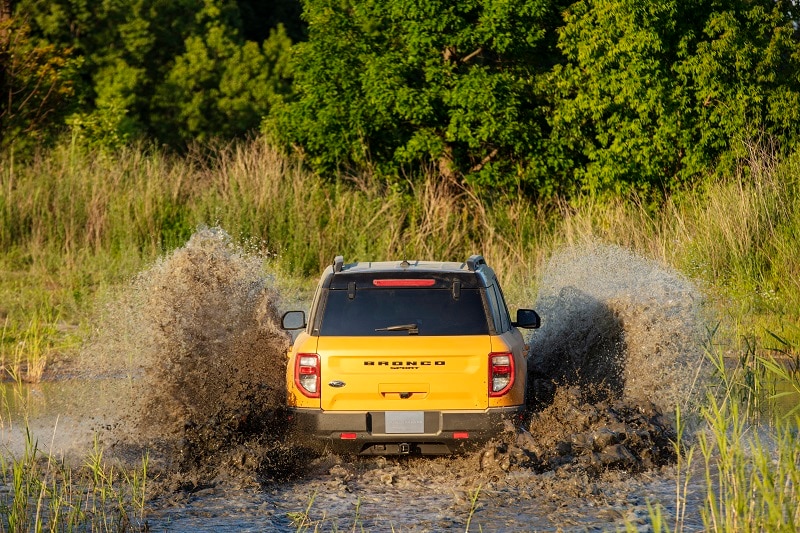 In the Bronco family of vehicles, G.O.A.T. doesn't mean Greatest of All Time. In Ford speak, it stands for Goes Over Any Type of Terrain. Just turn the Terrain Management System's dial to select which kind you want to get across. Properly equipped, the Bronco Sport offers up to seven G.O.A.T. modes: Eco, Normal, Sport, Sand, Slippery, Mud/Ruts, and Rock Crawl. It's the same for the Bronco, which is available with a Baja mode that takes the place of one of the other settings depending on the trim level selected. 
---
Derek Shiekhi
| September 15, 2021