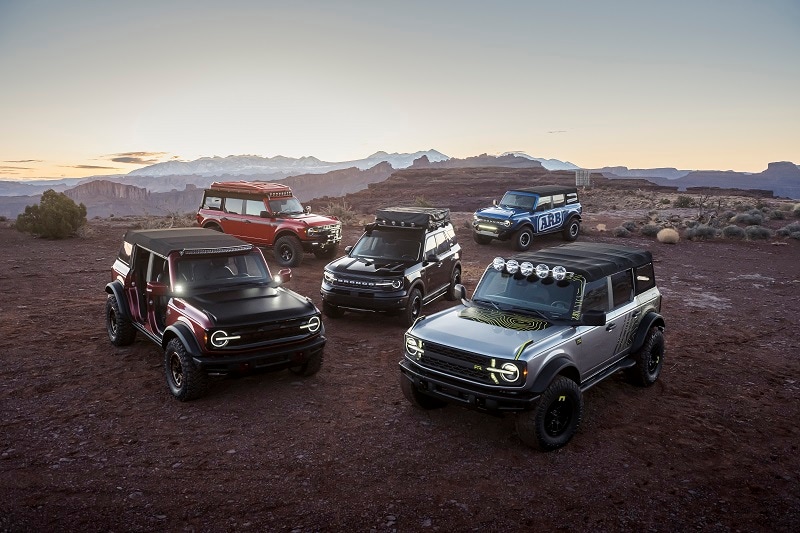 The Easter Jeep Safari in Moab, Utah is an annual get-together where Jeep owners and enthusiasts go wheeling together over the rugged terrain. It's also a chance for Jeep to showcase its newest concept vehicles. This year, Jeep brought four new one-offs, including an all-electric Wrangler, aka Magneto. They had some unexpected company, though.
Ford went to the same general remote area with some highly modified rigs of its own. They teamed up with RTR, a specialty parts and vehicle company that collaborates with Ford, Australian parts manufacturer ARB 4X4 Accessories, and off-road components retailer 4 Wheel Parts to outfit four Broncos (and a Bronco Sport) with some serious hardware that will soon be available for purchase. You can find the all-new 2021 Ford Bronco at AutoNation Ford dealerships this summer.
---
Bronco Outer Banks with Sasquatch Package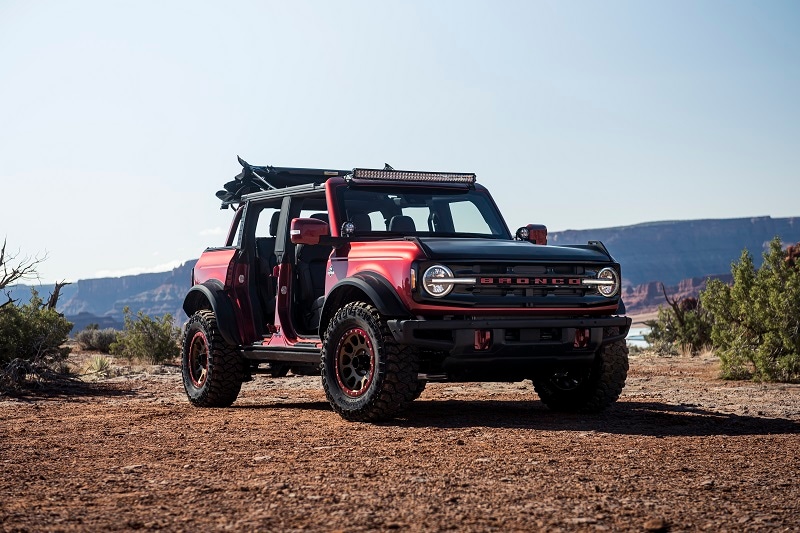 This was already a serious machine the second it left Ford's factory because it had the Sasquatch Package, which includes 17-inch beadlock-capable wheels, 35-inch mud tires, and front and rear locking differentials for maximum traction. That was just the starting point for what Ford had in mind. To protect the Bronco's handsome body work, it installed Lund's Trail Armor rocker panel covers and a pair of JAC Products rock rails. A matte black wrap on the hood and a Covercraft windshield sunscreen cut glare so the driver can focus more on the trail ahead. After the sun goes down, the Bronco's 40-inch Rigid LED lightbar is ready to provide plenty of its own light. A set of Air Design fender flares and a full-length retractable soft top from Bestop add some attractive form to the modified Bronco's undeniable function.
This wild horse may be able to go anywhere it pleases, but its cargo can't. Its Tufty MOLLE (Modular Lightweight Load-carrying Equipment) straps and security drawer, compact Console Vault safe, and DC Safety rear cargo organizer make sure whatever is put in the Bronco stays in the Bronco.
---
Bronco Badlands by RTR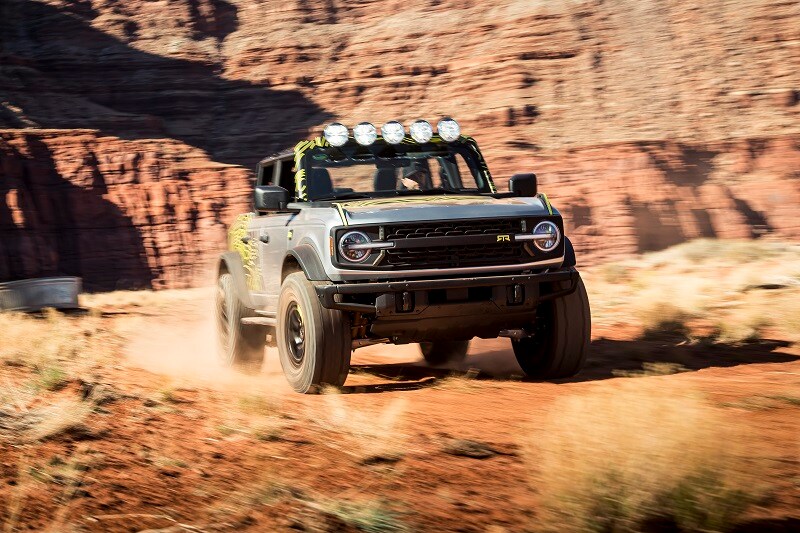 RTR Vehicles, founded by "Professional Fun-Haver" Vaughn Gittin Jr., has made performance parts for Ford vehicles and created its own special versions of Ford vehicles for years, so it was only natural that they would go wild on the newest version of the blue oval's iconic off-roader.
They literally went from the ground up. RTR swapped out the factory wheels for a set of their own Tech-6 wheels and wrapped them in 35-inch Nitto Ridge Grappler rubber. To protect the Bronco from any uppercuts Mother Nature may throw at it, they installed RTR rock sliders and an RTR rear bumper.
RTR swapped out the factory wheels for a set of their own Tech-6 wheels and wrapped them in 35-inch Nitto Ridge Grappler rubber.
Accent lights make the 3D-printed grille even more distinctive. There's additional lighting, in the form of Project X FF 7.0 round lights, on the roof-mounted RTR light bar. RTR also made sure to look after the driver and any passengers they may bring with them by equipping their build with a 12-volt Type S Blizzard Box refrigerator/freezer to keep post-wheeling refreshments nice and cool.
---
Bronco Badlands by ARB 4X4 Accessories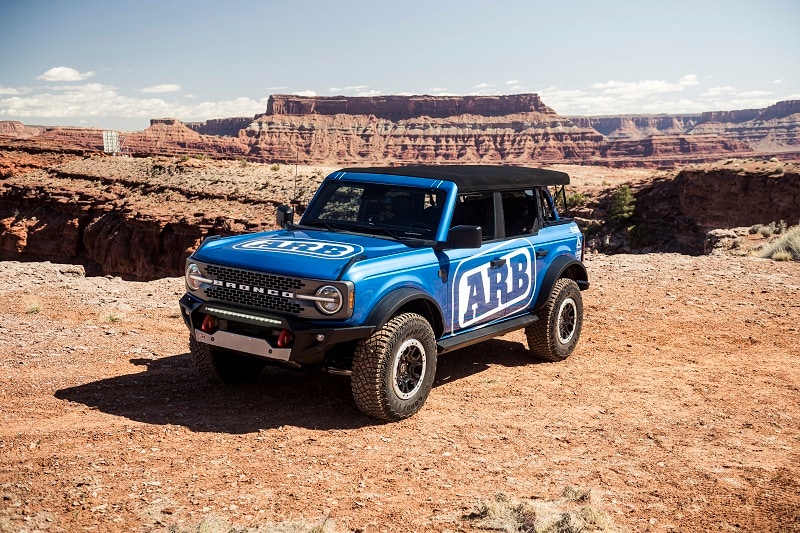 Off-roading can do more than just leave a few dents and scratches on a vehicle. It can also be dangerous for the driver if they don't watch where they're putting their wheels. ARB's Bronco mods watch out for the horse and the human who saddles it up. The replacement bumpers are compliant with the factory airbags. Heavy-duty rock sliders help keep the rocker panels from looking like crumpled paper while a differential cover prevents the "pumpkin" from being turned into pie filling. If the ARB-modified Bronco happens to get a sharp rock stuck in one of its hooves, an on-board compressor and jack are there to help it get back on the trail.
---
Bronco Black Diamond by 4 Wheel Parts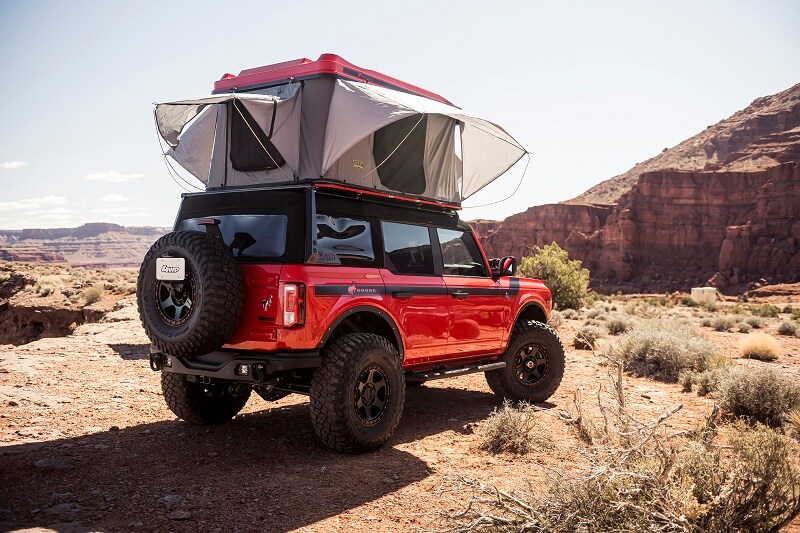 You can get away from it all in a regular Bronco. 4 Wheel Parts built their special Bronco so you can stay there. It has a heavy-duty suspension, 17-inch Method wheels, and 37-inch BFGoodrich mud-terrain tires so it can climb over challenging obstacles. If the going gets too tough, the front winch can pull the Bronco to more solid ground.
Thanks to its other add-ons, the 4WP Bronco doubles as a home away from highways. There's a deployable awning and refrigerator for relaxing after a long day of rock crawling. When the campfire dies down and it's time to go to sleep, the convenient comfort of the Smittybilt overhead tent is only a few ladder steps away.
---
Derek Shiekhi | Apr 07, 2021