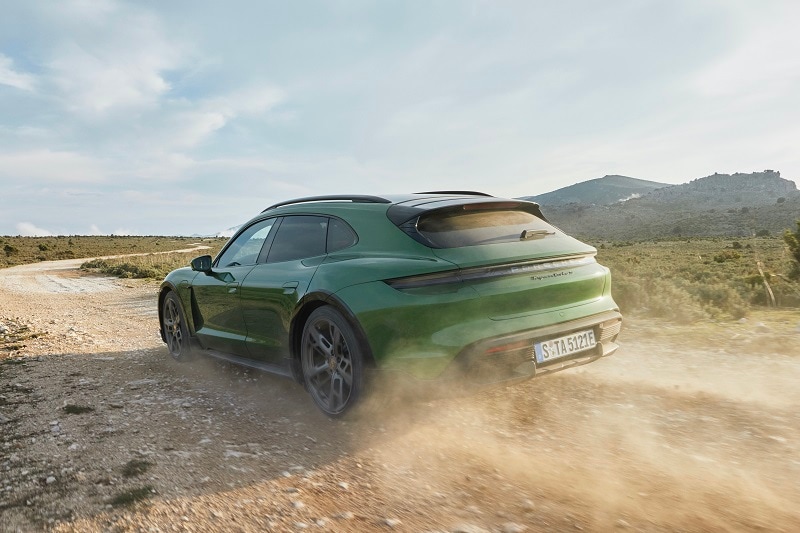 When you get older, you realize one of the coolest things about being an adult is that your toys are bigger and better - especially when you make the move from diecast models to full-size cars. Electric vehicles (EVs) make being a grownup even better because the phrase "Batteries not included" doesn't apply to them. Battery packs and electric motors are becoming integral parts of more and more vehicles. These are just some of the 2021 and 2022 model year EVs you'll be able to find in AutoNation dealerships.
---
Porsche Taycan Cross Turismo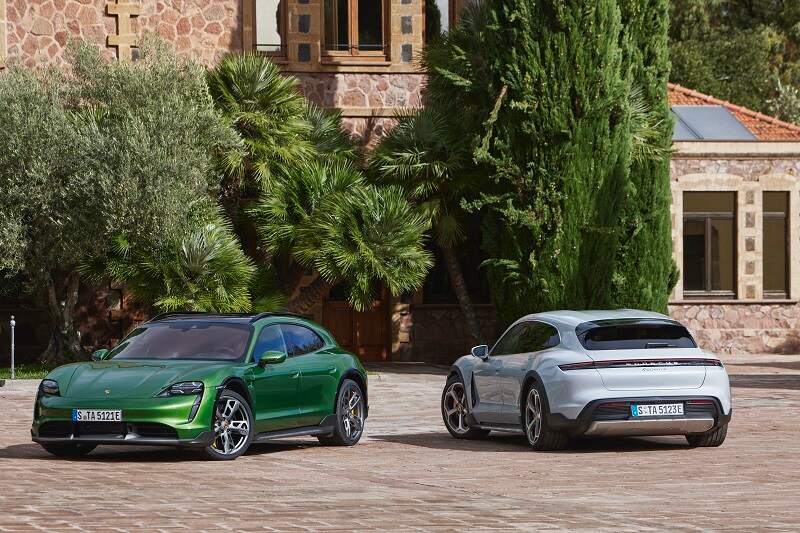 The newest variant of the all-electric Taycan is a lot of things at once. It's an all-wheel-drive EV from a sports car manufacturer that's shaped like a wagon (Cross Turismo in Porsche speak) and available with an Off-road Design Package that adds rugged body cladding and nearly half an inch of ride height. Whether you take it on the street, track or off-road trail, it's got the power to turn your surroundings into a blur. The Turbo S model has 616 horsepower, but with Overboost Power mode and Launch Control engaged, it can rocket away from a stop with the force of 750 horsepower and hit 60 mph in 2.7 seconds.
---
Volkswagen ID.4
As of right now, the ID.4 is VW's only EV. Beneath its flowing good looks is an electric powertrain that can build up 60 miles of range in only 10 minutes (when connected to a DC fast charger) and provide up to 250 miles of driving range. But it'll have a lot of company in the coming years. VW plans to use the ID.4's MEB platform as the foundation for 20 million EVs by 2029.
Shop Volkswagen ID.4 Inventory
---
Audi e-tron GT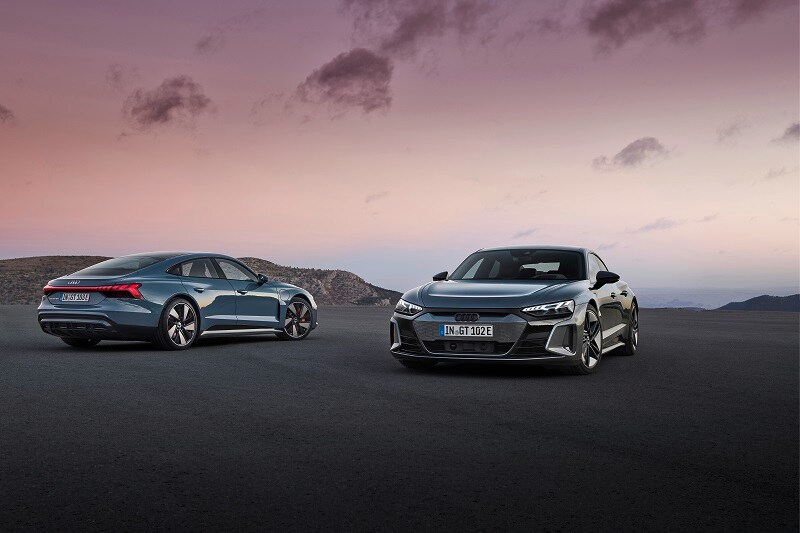 The Porsche Taycan's Audi cousin is officially super car quick. The base model generates 469 net horsepower and 464 lb-ft of torque by default. When launch control and overboost mode are activated, the e-tron GT can zap down the road with 522 horsepower and 472 lb-ft. Under those same circumstances, the more aggressive RS e-tron GT delivers a maximum output of 637 horsepower and 612 lb-ft. According to Audi, "That places the acceleration of RS e-tron GT on par with the V10-powered Audi R8." Fortunately, that speed extends to the e-tron GT's charging capabilities. Its 93.4-kWh lithium-ion battery pack can take in up to 270 kW on a DC fast charger and go from five to 80 percent full in just 22.5 minutes.
---
BMW iX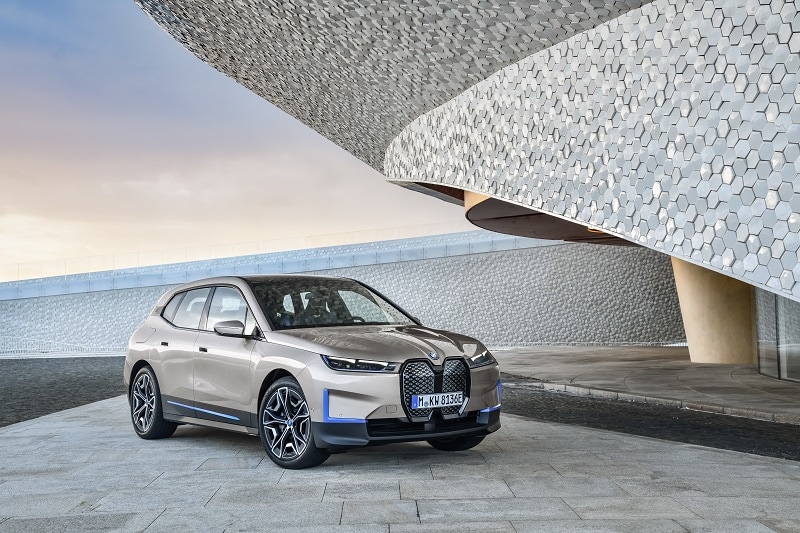 The iX's prominent front grille isn't the only thing that makes it stand out from other BMWs. It's the company's first all-electric Sports Activity Vehicle (aka SUV). With a full charge in its 113-kWh battery pack, the roughly 500-horsepower iX can hit 60 mph in under five seconds or, with more restrained footwork, cover approximately 300 miles. You can get 80 percent of that range back in only 40 minutes when you hook up to a DC fast charger. Only have 10 minutes? That's enough for more than 75 miles.
---
GMC Hummer EV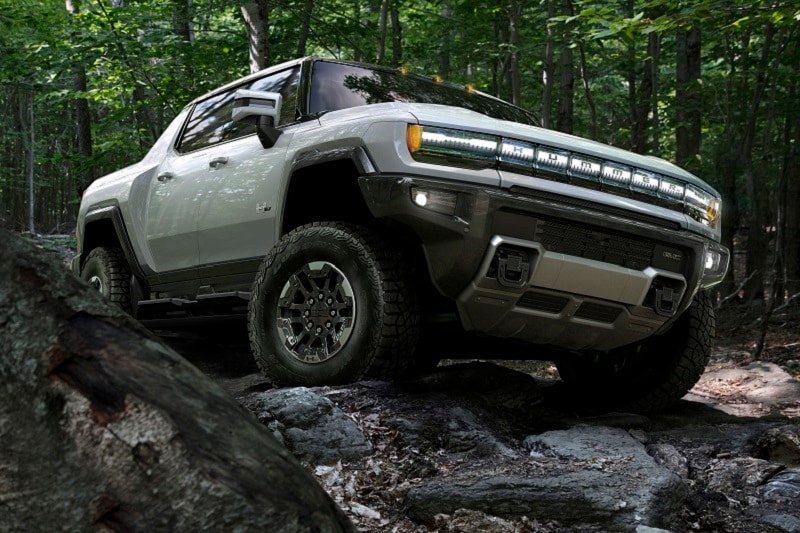 The Hummer nameplate returns as a high-end GMC truck with removable roof panels and a maximum of 1,000 horsepower from up to three electric motors and two drive units. While the Hummer EV's powertrain and body style are significantly different than they used to be back in the 2000s, its off-road capabilities are still intact. Correction: They're even better than before. The Hummer EV's available Adaptive Air Suspension and 35-inch Goodyear Wrangler Territory tires help it scale 18-inch verticals and ford streams that are more than two feet deep. If the going gets especially tough, the suspension's Extract Mode can raise the Hummer EV up six inches to help it get back to civilization. Four-wheel steering enables it to get through tight trails - and CrabWalk through them, if necessary.
---
Hyundai Ioniq 5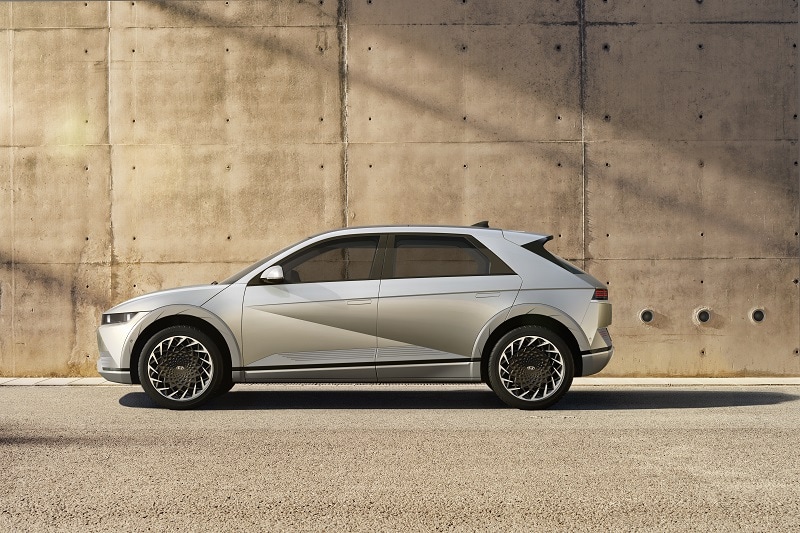 Hyundai is kicking off its electric IONIQ sub-brand with the 5, a midsize CUV with distinctive hot hatch looks. It's available with a 58- or 72.6-kWh battery pack and one or two electric motors, giving you the choice between all-out performance (0-62 mph in 5.2 seconds) or maximum range (nearly 300 miles). It only takes a 350-kW charger 18 minutes to juice up the battery from 10 to 80 percent. The 5 can also function as a charger itself and provide up to 3.6 kW of power to things such as electric bicycles or scooters.
---
Nissan Ariya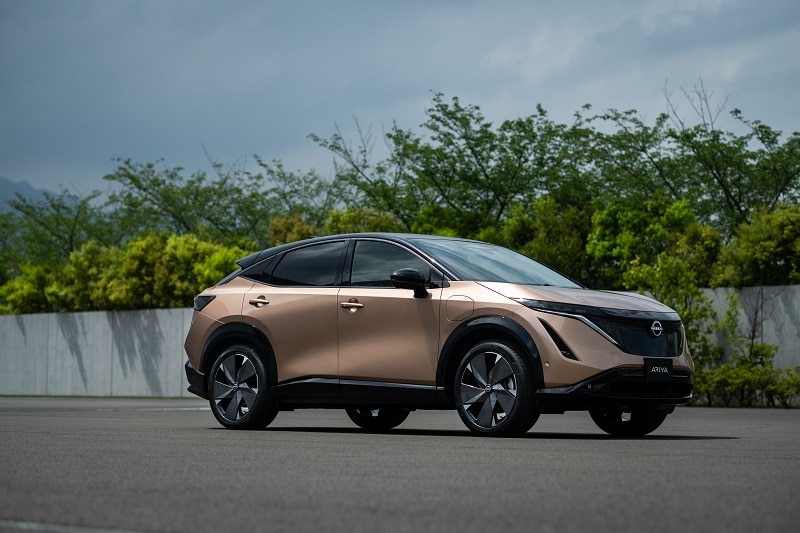 The Ariya marks the debut of Nissan's new design philosophy, which it based on what it calls "Timeless Japanese Futurism." In other words: sleek, sexy, and seamless. The Ariya's dramatic exterior is wrapped around a 63- or 87-kWh battery pack and one or two electric motors. The most potent Ariya features front and rear electric motors that route their power to all four wheels, a setup Nissan calls "e-4ORCE" (pronounced "ee force"). Going with the front motor and the largest battery gets you a Nissan-estimated range of 300 miles.
---
Volvo C40 Recharge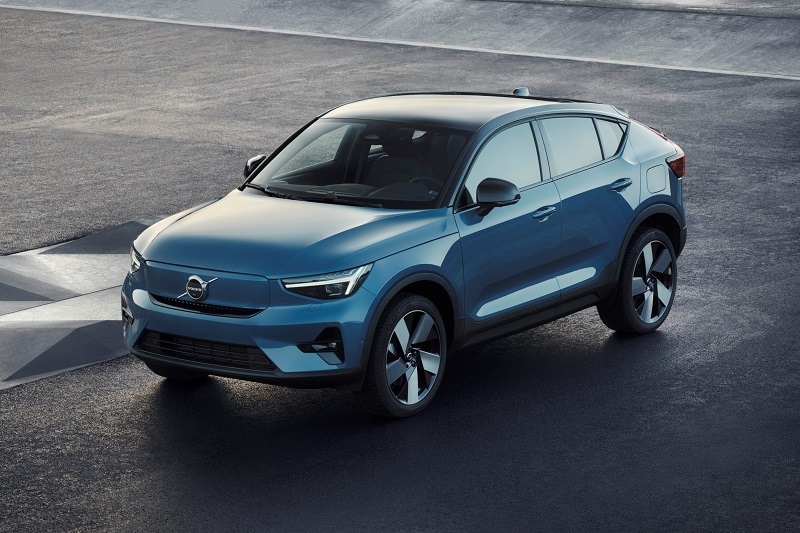 Volvo's new coupe-like electric SUV is a major step in the brand's path toward a completely gas-free vehicle lineup by 2030. Each axle gets its own electric motor, both of which draw power from a 78-kWh battery. On a full charge, that provides a driving range of roughly 260 miles. Pumping 80 percent of that back into the battery only takes 40 minutes of DC fast charging. *Prices do not include destination, taxes, title, other options, and dealer charges. **Prices do not include deductions for available tax credits.
---
Derek Shiekhi | Mar 12, 2021