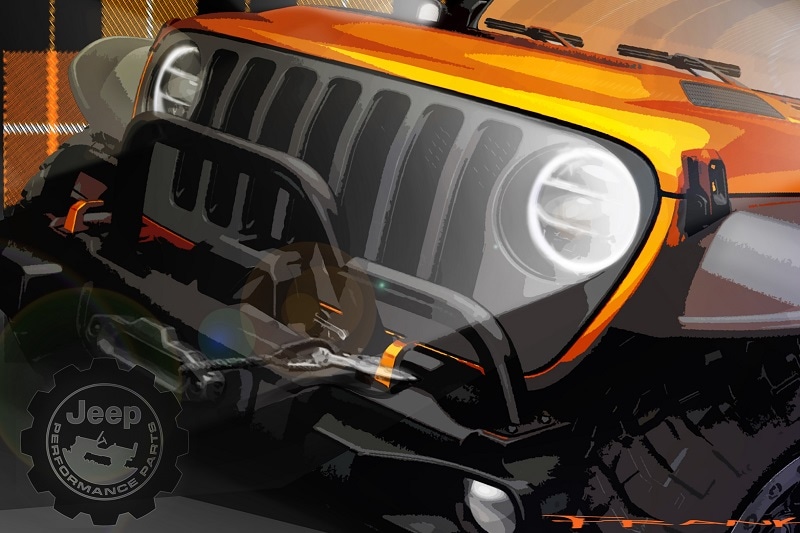 Every spring, Jeep owners and enthusiasts roll into Moab, Utah for the Easter Jeep Safari, a nine-day event full of off-roading in a variety of the automaker's current and former models.
The Jeep brand always shows up with some rigs of its own, but they're not production vehicles, as there are plenty of those out on the trails. So instead, Jeep brings one-of-a-kind concepts. Some combine vintage design with modern hardware, others are wildly modified current Jeeps equipped with a blend of prototype, custom, Jeep Performance Parts, and/or Mopar upgrades.
For the 2021 Easter Jeep Safari, Jeep built four new concepts, including one that looks almost ready for production.
---
Magneto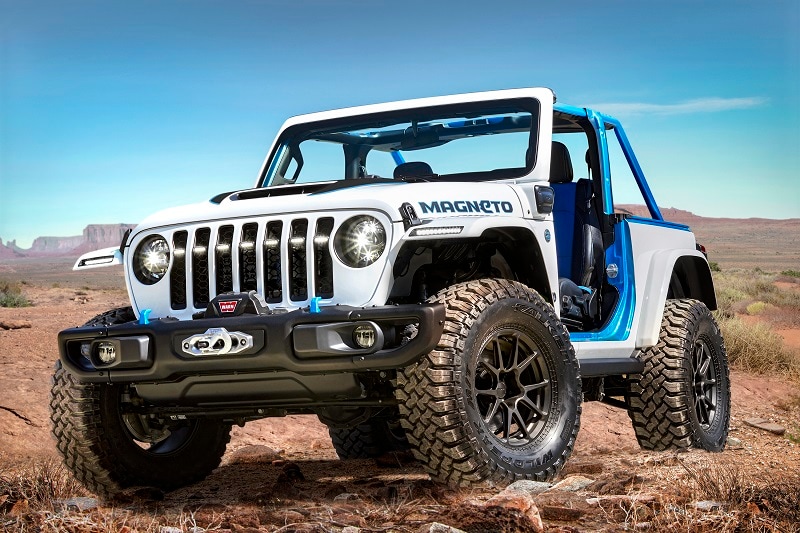 Several years ago, Jeep stuffed a Hellcat engine under the hood of the Wrangler Trailcat concept. This year, it went in the completely opposite direction and created a fully electric version of the Wrangler.
The Magneto is based on a two-door 2020 Rubicon model and powered by a custom-built electric motor and four lithium-ion battery packs that run on an 800-volt electrical system and generate a combined 70 kWh. Total output is 285 horsepower and 273 lb-ft of torque, which makes it more powerful than the Wrangler's gas 3.6-liter Pentastar V6. Another cool twist is that instead of a continuously variable transmission, the Magneto uses a six-speed manual gearbox with a real clutch!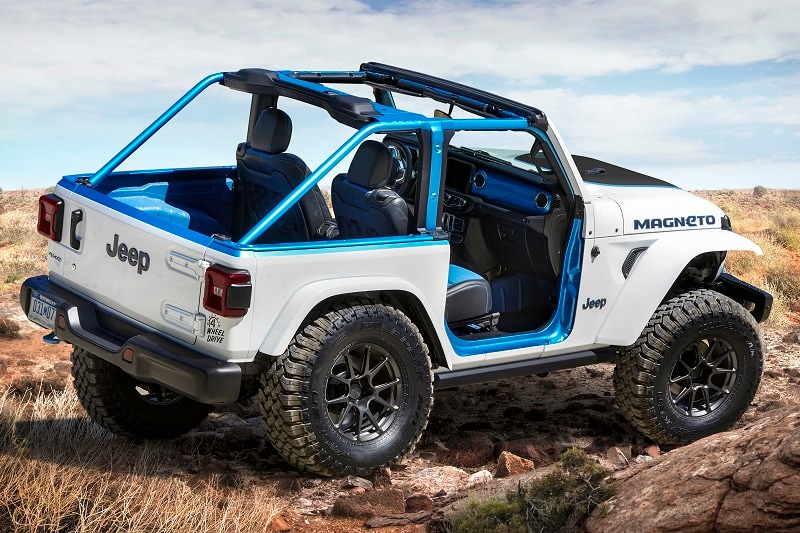 Jeep made sure to shield the batteries with waterproof enclosures and custom skid plates so that the Magneto can ford 30 inches of water and climb over rocks just like a Wrangler should. To make the Magneto even more capable, Jeep equipped it with purpose-built hardware such as a winch, two-inch lift, 35-inch tires, and rock rails.
At this point, the Magneto is just a concept, but don't be surprised if it heavily influences a future all-electric version of the Wrangler.
---
Jeepster Beach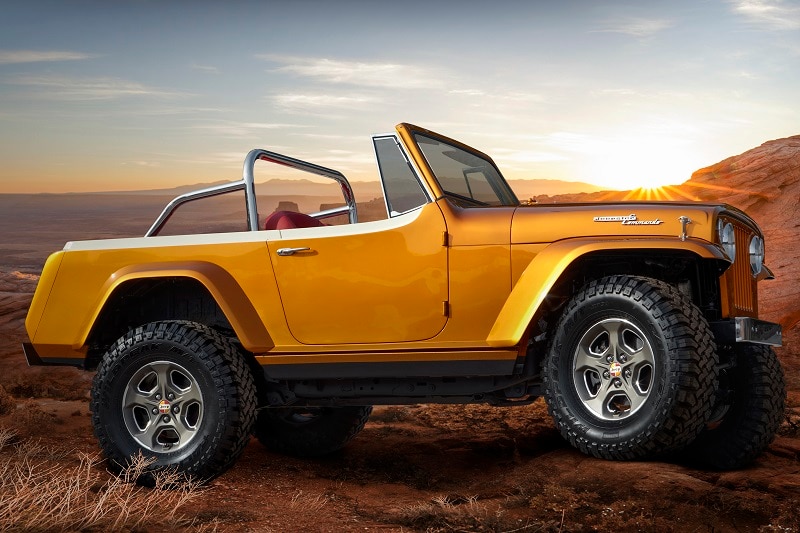 This fun little one-off's Jeepster Commando body may be straight out of 1968, but the hardware attached to it is thoroughly modern. Jeep coated the Beach's compact body with a summery combo of Zinc Oxide (an ingredient in sunscreen) and Hazy IPA (which sounds like a beer you can find in many beachside coolers).
The open-air interior is just as eye-popping and features red low-back bucket front seats. A chrome, four-point safety cage replaces the rear seats. There's no carpeting in the cabin, which makes getting sand out of it a lot easier. That's an especially good feature because the Beach's 35-inch tires and souped-up engine will send plenty of sand flying up. Jeep modified the 2.0-liter turbocharged four-cylinder engine to produce 340 horsepower and 369 lb-ft of torque - a 25-percent increase.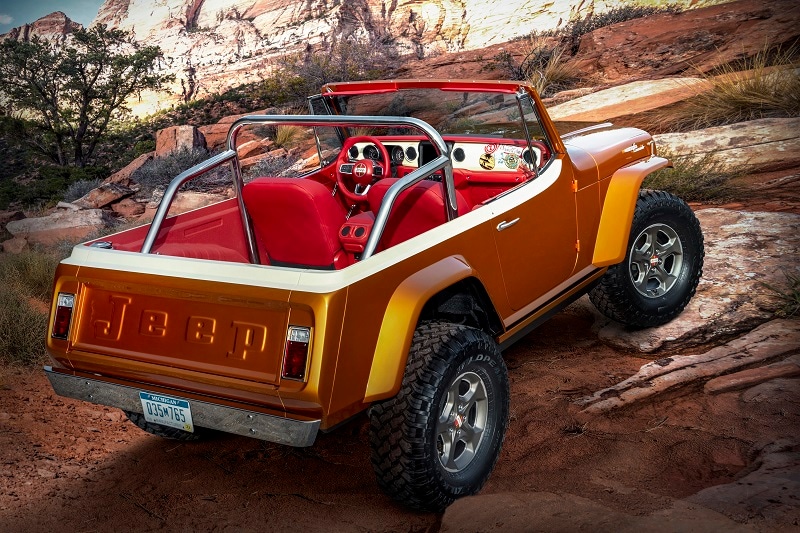 In the coming years, Jeep will more than likely refresh the Wrangler's turbo I4 and give it more power. They probably won't take it to the same level as the Beach's engine, but any movement toward that will be a step in the right direction.
---
Red Bare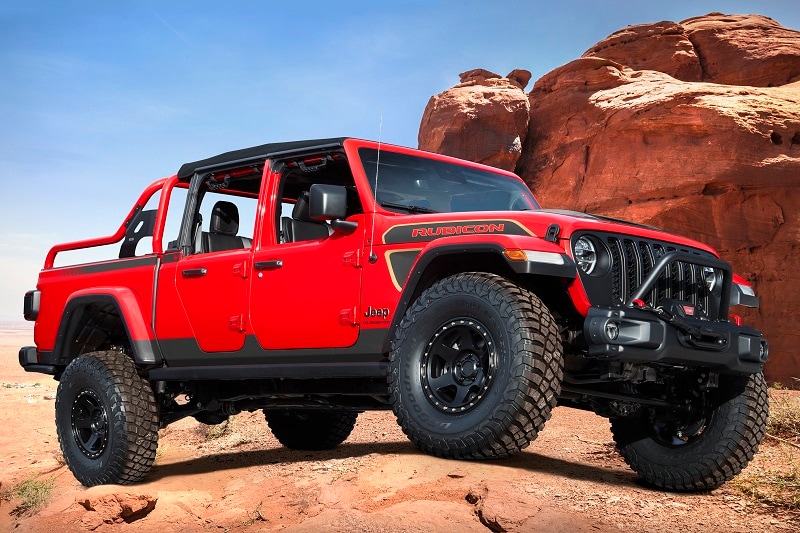 Think of this Gladiator Rubicon-based build as the automotive equivalent of a lumberjack: rugged, capable, and dressed in red and black. Jeep covered the outside in a color it calls Fire Cracker Red and trimmed it with Matte Black and gold accents. It kept things simple and functional by opting for half doors and a soft top. Inside, there's red and black flannel on the instrument panel and black leather seats.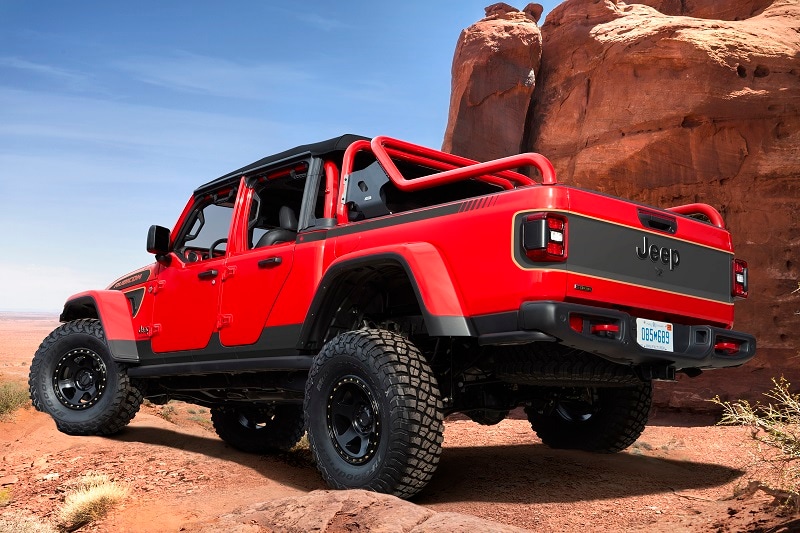 Jeep decided to keep the 3.0-liter EcoDiesel V6 stock, so it still produces 260 horsepower and 442 lb-ft of torque. But they upgraded the off-road components around it. There are steel bumpers at both ends. Just in case the going gets a little too rough, a grille guard and rock sliders are there to protect the Red Bare's bodywork. Whatever the Red Bare can't get over, it can get out of, thanks to its front winch and 37-inch mud-terrain tires. The front and rear Dana 44 heavy-duty axles have special 4.88 ratios, which contribute to the Red Bare's impressive 91:1 crawl ratio.
---
Orange Peelz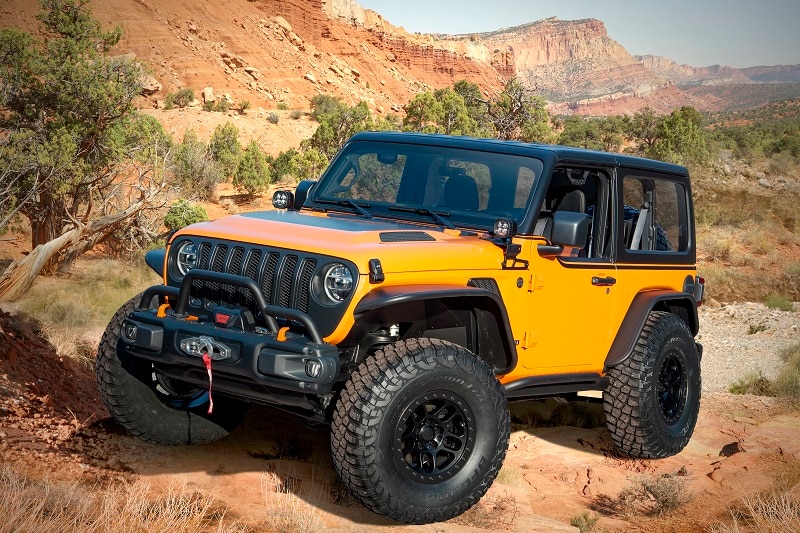 Named after its special citrusy paint color, the Orange Peelz is a concept, but it's also familiar because it has so many of the kinds of modifications we've seen on Wranglers. Jeep swapped out the regular fender flares for a set with a "high top" look. Those arch over 17-inch beadlock-capable wheels wrapped in 37-inch mud-terrain rubber. Of course, the Orange Peelz also has a two-inch lift and upgraded shocks that add to its ground clearance. If that's not enough, it can pull itself to solid ground with its 8,000-pound front winch.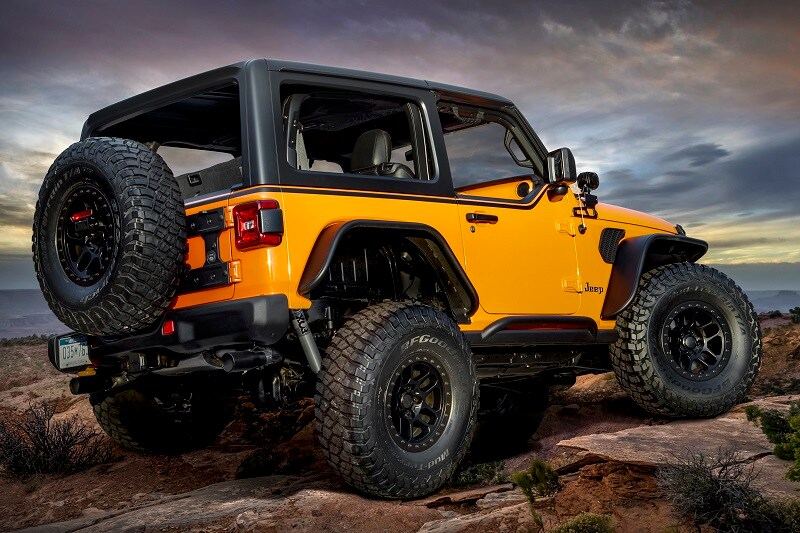 A special hood with black latches covers a 3.6-liter Pentastar V6, which is equipped with a cold-air intake and cat-back exhaust. Like so many of its production-grade siblings out on the road, the Orange Peelz has a lot of protective gear, including a steel front bumper, grille guard, and rock rails. The Orange Peelz takes things a step further with its hardcore Gorilla Glass windshield, which sits behind a pair of five-inch LED off-road lights. Up top, there's a custom removable one-piece glass sunroof.
The cockpit continues the exterior's orange and black theme with its orange instrument panel and two-tone armrests and seat inserts. Deep all-weather floor mats with drain plugs (in the front row) help make cleaning up after a day of crossing streams and flinging up mud a little easier. 
The only thing cooler than a concept Jeep is the one that you can buy and drive. You can find the production-grade rig that's just right for you at an AutoNation Jeep dealership.
---
Derek Shiekhi | Apr 05, 2021