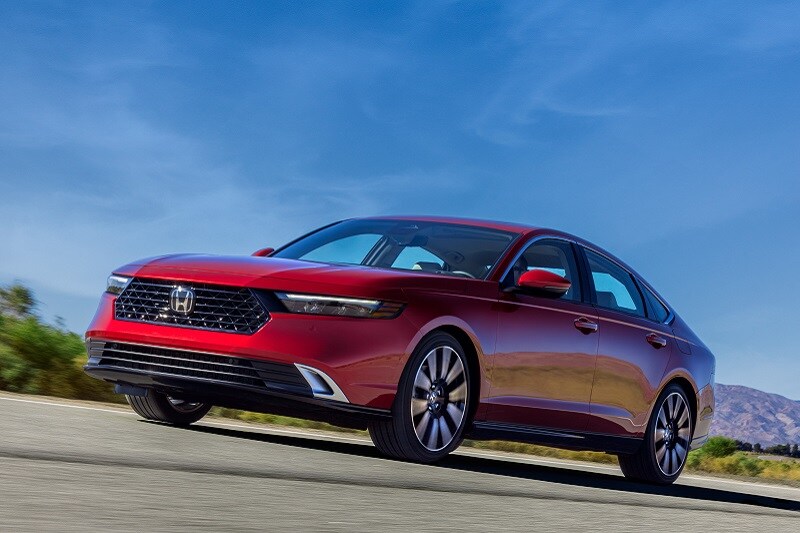 The Honda Accord has been a best-seller for more than 30 years, and the all-new 2023 model aims to continue that streak with a fresh design, an advanced hybrid-electric system, and seamless integration with today's top technologies. 
According to Honda, the Accord's more responsive powertrain and efficient electrification will provide a sporty, exhilarating experience, and ultimately re-energize the midsize sedan segment with a combination of style, performance and connectivity.  
Let's meet the all-new 11th-generation 2023 Honda Accord and get a closer look at everything it has to offer. 
---
2023 Honda Accord Models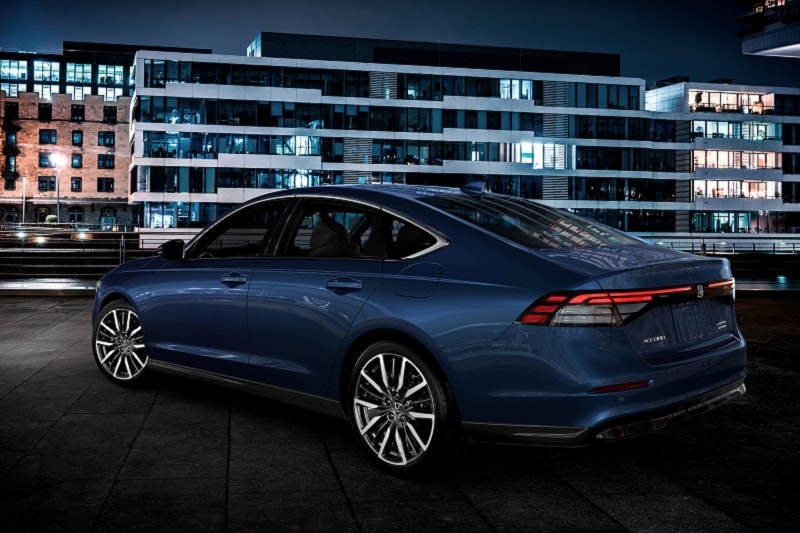 Six unique models will be available for the 2023 Accord, two of which will feature a gasoline-only engine, while the remaining four models at the top of the spectrum will come exclusively with a two-motor hybrid system: 
LX
 EX
Sport (Hybrid)
EX-L (Hybrid)
Sport-L (Hybrid)
Touring (Hybrid)
The LX and EX models offer a core experience for Accord, equipped with a refined 1.5-liter turbocharged engine and a level of luxury that you've come to expect from Honda's vehicles.  
For the Sport models and higher, the powertrain is upgraded to a 2.0-liter engine with a two-motor hybrid system for increased power and efficiency. You'll also find more comfort and luxury amenities as well as enhanced technologies like a larger center touchscreen and Google built-in.  
And in terms of individual popularity, Honda is expecting that the hybrid versions of the 2023 Accord will make up for about 50 percent of model sales.
---
2023 Honda Accord Exterior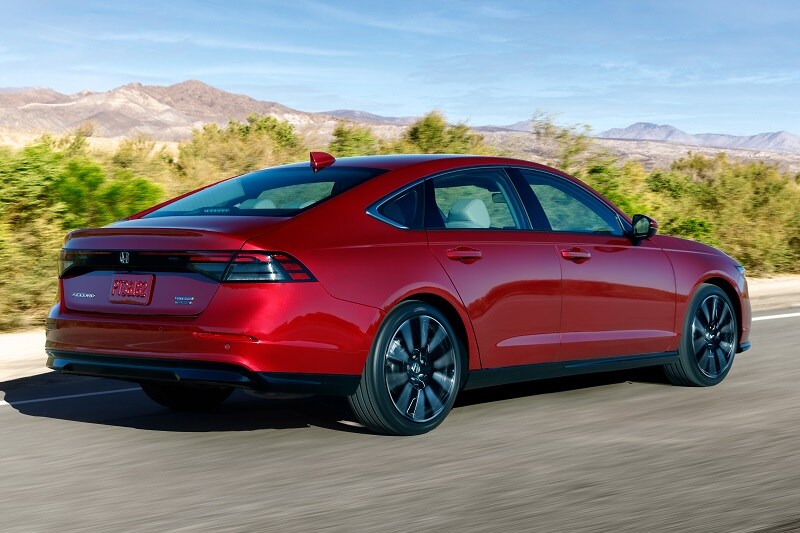 The 2023 Accord boasts a longer and sleeker exterior that shows off its sporty proportions along with a broad stance. This design direction is aligned with Honda's modern aesthetic which features a low horizontal beltline and a visually-extended front end.  
These clean body lines start from a powerful presentation of the Accord's front end that include an upright grille and blacked out LED headlights. An uninterrupted character line spans the entire length of the vehicle's sides, and provides a feeling of forward motion in addition to emphasizing its extended dimensions.  
A longer hood combined with a fastback-style roofline provide an athletic and mature silhouette that's free of structural molding thanks to Honda's laser brazing technology. These smooth surfaces come together at the rear with horizontal LED straight-line taillights that emphasize the Accord's width and presence.  
On the Sport and Sport-L models, you'll find motorsports-inspired elements like black side mirrors, a black rear spoiler, and black 19-inch alloy wheels. The Sport-L takes function and form a step further by offering an exclusive black rear diffuser. At the top end of the model lineup, the Accord Touring comes standard with 19-inch alloy wheels paired with high contrast silver and black exterior trim.  
Eight exterior colors will be available for the 2023 Accord, including three new options: Meteorite Gray Metallic, Urban Gray Pearl and Canyon River Blue Metallic.
---
2023 Honda Accord Interior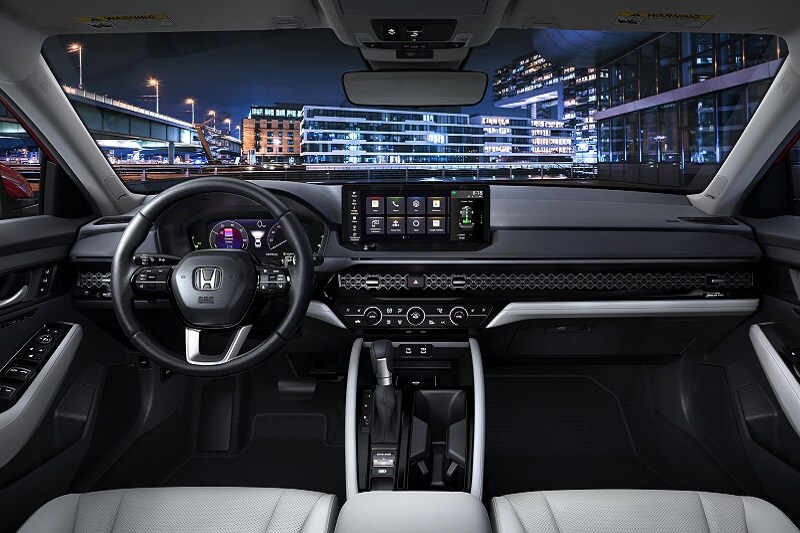 Accord's interior styling and amenities are also all-new for the 2023 model year, featuring clean surfaces, premium materials, and exclusive details that really add a touch of luxury. And in general, Accord offers class-leading passenger room at 105.7 cubic feet, as well as rear seat legroom at 40.8 inches.  
The materials and mechanical elements for Accord were meticulously chosen for both their presentation and feel, which in turn provides us with an upscale experience. Piano Black trim accents the space while a metal mesh spans the dashboard to deliver a seamless presentation in addition to concealing air vents for an uncluttered look.  
Comfort has also been enhanced thanks to all-new front Body Stabilizing Seats that feature a new-generation frame. This new design provides better overall body support and reduces fatigue during long drives.  
Technology has been thoughtfully integrated into all aspects of the 2023 Accord experience, starting with the standard 10.2-inch digital instrument panel. On the Accord Hybrid models, this display is upgraded to 12.3-inches - Honda's largest ever touchscreen - and includes wireless Apple CarPlay and Android Auto compatibility.  
When you opt for the top-line Accord Touring model, the tech really steps up a notch with Honda's first integration of Google built-in. This ecosystem includes native support for Google Assistant, Google Maps, and other helpful apps from Google Play. You can speak naturally to Google Assistant to control key vehicle functions, get live traffic updates from Google Maps, and so much more.  
Accord Touring also features a standard 6-inch head-up display and 12-speaker Bose premium audio system. With Bose Centerpoint technology and Bose SurroundStage processing, every seat in the new Accord is the best seat for listening to clear, immersive music or podcasts.  
Other interior highlights include illuminated USB-C ports, Over the Air (OTA) software updates, and class-leading cargo room in the trunk (16.7 cubic feet). 
---
2023 Honda Accord Performance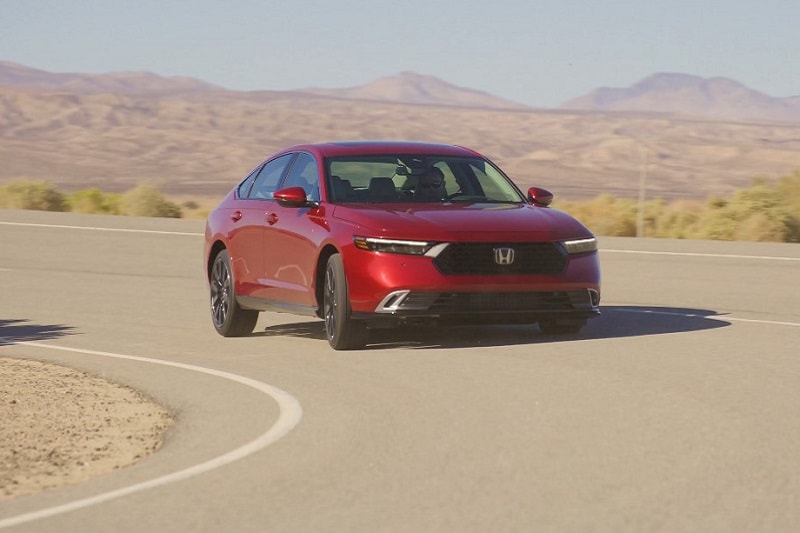 Driving an Accord has always been fun, and the 2023 model ups the excitement thanks to a new engine lineup along with improved chassis rigidity and enhanced architecture.  
Let's start by looking at the all-new 4th-generation hybrid-electric system that's standard on the 2023 Accord Sport, EX-L, Sport-L, and Touring models. A pair of electric motors complement an all-new 2.0-liter Atkinson cycle 4-cylinder engine to produce a combined system output of 204 horsepower and 247 lb-ft of peak torque. The special side-by-side mounting of the electric motors means there's room for a larger propulsion motor, which ultimately increases available torque.  
The hybrid system is now more responsive and refined, especially at highway speeds, thanks to changes in the management of engine and electrical power, which automatically adjust responses according to different driving conditions.  
For the Accord LX and EX models, an updated 1.5-liter turbocharged 4-cylinder engine with VTEC produces 192 horsepower and 192 lb-ft of torque. This enhanced powertrain features an improved direct-injection system and new cold-active catalyst, along with a high-rigidity crankshaft and oil pan. The end result is better emissions performance and reduced engine noise.  
To further tailor your on-road experience, selectable drive modes adjust the Accord's vehicle dynamics, like powertrain response, steering assist level, gauge cluster layout and adaptive cruise-control settings. The hybrid models also offer additional customization via a new Individual mode which allows for independent adjustment of key behaviors.  
---
2023 Honda Accord Safety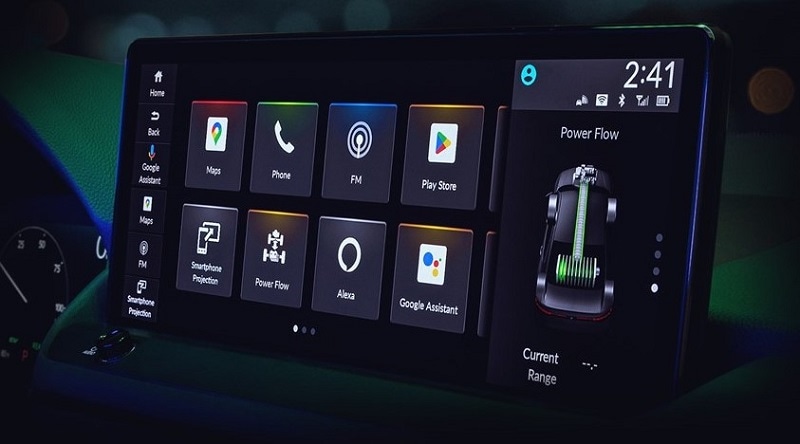 The 2023 Accord continues Honda's trend of leading the midsize sedan segment with advanced active and passive safety technologies, and for the first time, includes standard knee and rear-passenger side impact airbags.  
An updated version of Honda Sensing suite is also standard on the new Accord, featuring enhanced assistive technologies like a wider 90-degree field of view rear camera, wide-angle radar, expanded blind spot information range (82 feet), and Traffic Jam Assist, which is a first for Accord.  
Adaptive Cruise Control and Lane Keeping Assist have also been improved to deliver more natural behaviors when providing steering or throttle assistance. 
---
2023 Honda Accord Overall
This year marks 40 years of the Accord being produced in Ohio, and the 2023 Accord will continue this tradition of being built by Americans, for Americans. And with so many cool features and enhancements along with its sleek new look, the Accord aims to defend its title as America's best-selling car.  
Pricing and sale details will be announced soon for the 2023 Accord, so contact your local AutoNation Honda dealership to be updated as soon as information is available.
---
Andrew Chen
| November 28, 2022