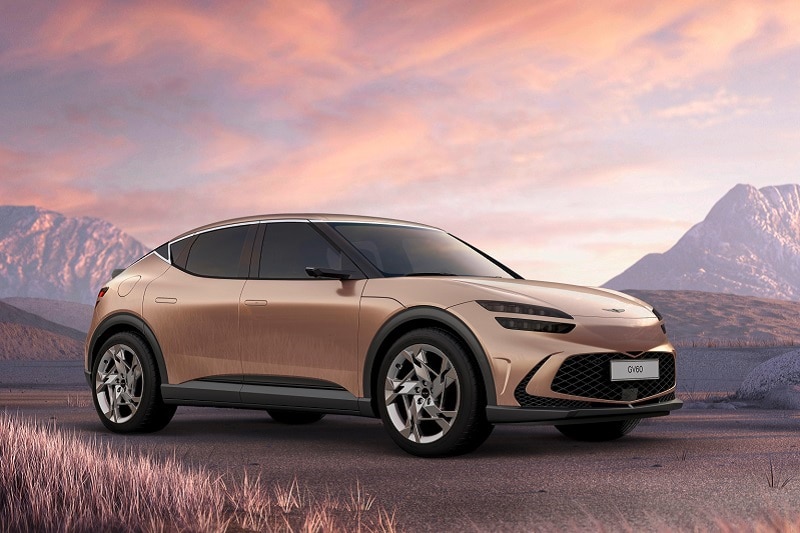 Genesis is making big strides on its voyage towards electrification, and has launched the brand's first-ever dedicated all-electric vehicle, the GV60. 
Presented as a coupe-like crossover, the all-new GV60 is the latest iteration of Genesis' head-turning styling principles, and sets new markers in sustainable luxury design. 
Let's meet the future of luxury electromobility with an in-depth exploration of the 2023 Genesis GV60. 
---
2023 Genesis GV60 Models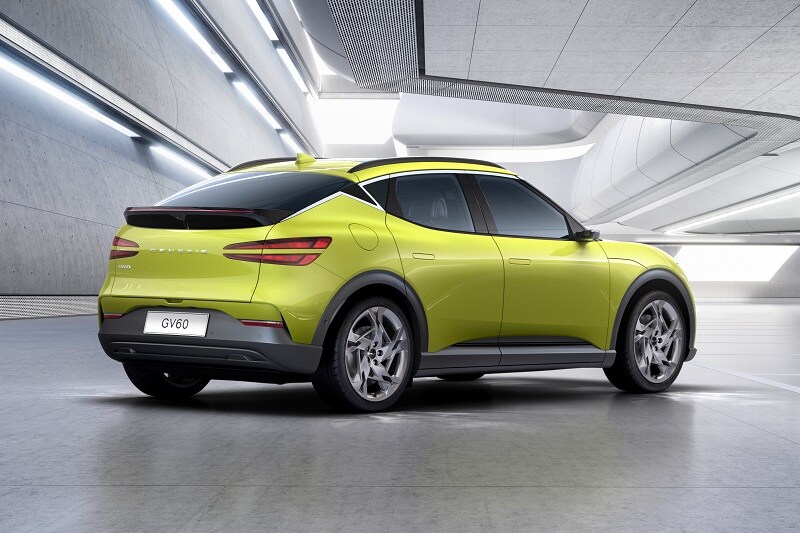 For the 2023 model year, the GV60 will be offered in two models: Advanced AWD and Performance AWD.  
While the core ownership experience is the same between both models, the main differentiator is the potential of the all-electric powertrain. On the GV60 Advanced AWD, you'll have access to 234 kW of energy, which translates to 314 total horsepower. With the GV60 Performance AWD, output is increased to 320 kW, resulting in 429 horsepower on tap.  
There are also small styling differences, like 20-inch alloy wheels on the Advanced AWD and 21-inch alloy wheels for the Performance AWD model.  
A few variations aside, both GV60 models deliver the best in comfort, luxury, safety, and driving dynamics that Genesis has to offer.  
---
2023 Genesis GV60 Exterior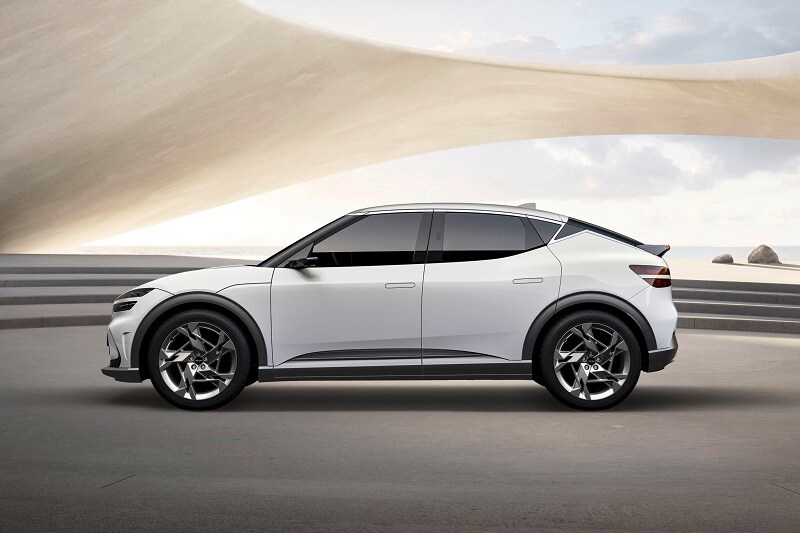 The GV60's aesthetic is sleek, futuristic, and a breath of fresh air in the crossover utility vehicle segment. This design language is an extension of Genesis' "Athletic Elegance" identity which it has been spreading into the sustainable luxury space.  
At the front, the Two-Line lamps and geometric grille create a distinct and iconic face for the brand and model, while the first-for-Genesis clamshell hood provides a seamless visual effect. And both pretty and functional, the grille has been positioned lower on the GV60 to satisfy cooling needs that are specific to the high-performance EV platform.  
Body surfaces are minimal and free of undercuts and character lines, and instead feature muscular forms that provide a streamlined silhouette. This wide, athletic profile showcases short overhangs and a long wheelbase that really give the GV60 an undeniable presence.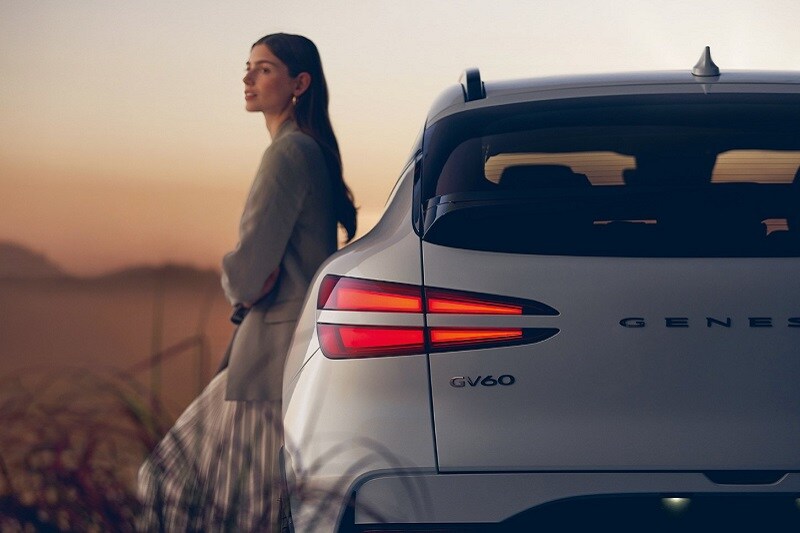 And completing the GV60's form is a fixed wing spoiler atop the coupe roofline, along with signature Two-Line tail lamps. Additional elements that really emphasize the vehicle's future-forward design include digital side mirrors and electric door handles - these flush door handles automatically extend when you approach with the GV60's smart key.  
Up to 10 exterior paint colors are available depending on your model selection, and include a very electrifying Sao Paulo Lime colorway, which is guaranteed to turn heads. 
---
2023 Genesis GV60 Interior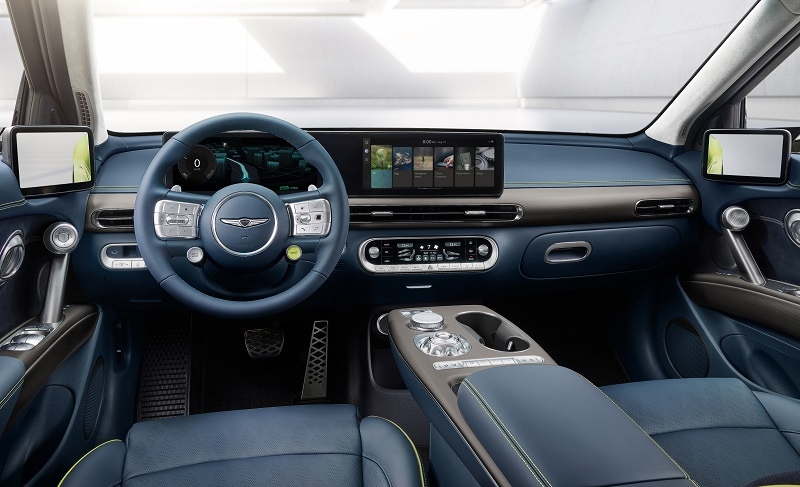 As you step into the passenger area of the 2023 GV60, you're greeted by an atmosphere that exudes Genesis' design philosophy called the "Beauty of White Space." Floating architecture and luxurious details merge to create a spacious and comfortable interior that's also a work of art.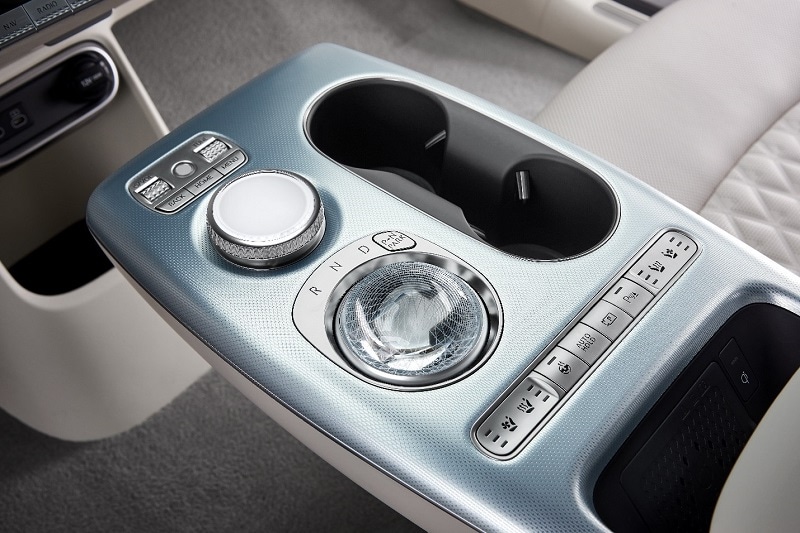 One of the most innovative design elements is the Crystal Sphere. When the vehicle is off, the Crystal Sphere offers mood lighting. But once you're ready to drive, the sphere flips over to reveal the shifty-by-wire gear selector. It really feels like something you'd see in a movie about a futuristic world.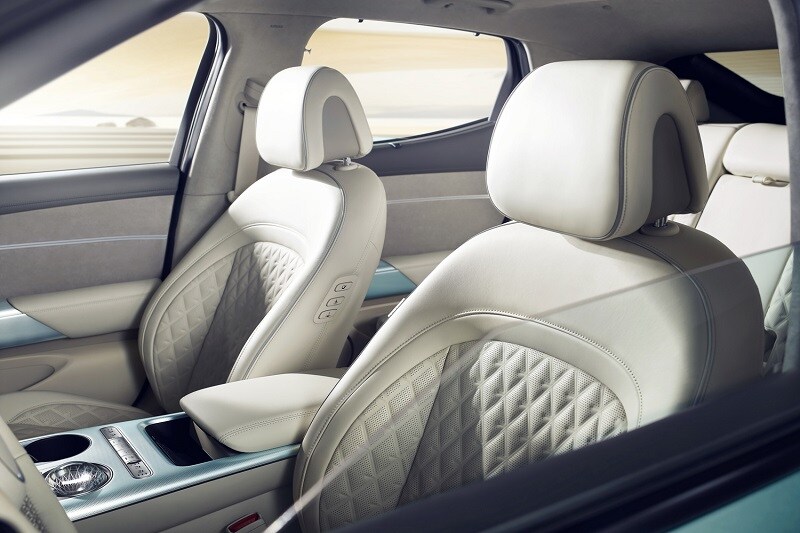 The floating center console, where the Crystal Sphere is hosted, takes advantage of the EV platform to provide a visual mystique as well as a feeling of openness that can only be achieved thanks to the flat floor design of the GV60. And to make the vehicle more sustainable, many components of the cabin area were created using eco-friendly and recycled materials. Plant-based leather can be found on various surfaces, while soft trim details consist of yarns extracted from recycled bottles and fishnets.  
There's also a ton of technologies powering the driver and passenger experience. For instance, the GV60 is the first model in the Genesis family to include a next-generation infotainment system in one panoramic display. The instrument clusters, navigation, and menu controls are seamlessly spread across the dashboard in a floating array for a futuristic feel. 
The GV60 also offers numerous interactive experiences like Face Connect and Fingerprint Authentication System. With Face Connect, you can lock or unlock the doors without a key - simply touch the door handle and look at the camera hidden in the B-pillar. Once your face is recognized, the driver's seat, steering wheel, side mirrors, and more will automatically adjust themselves to your set preferences. When you're ready to go, the Fingerprint Authentication System lets you start the GV60 without a key. You can also authorize in-car payments and release Valet Mode with just a touch.  
And for the first time ever in a Genesis, a standard 17-speaker Bang & Olufsen sound system provides high resolution audio and custom sound mixes.  
---
2023 Genesis GV60 Performance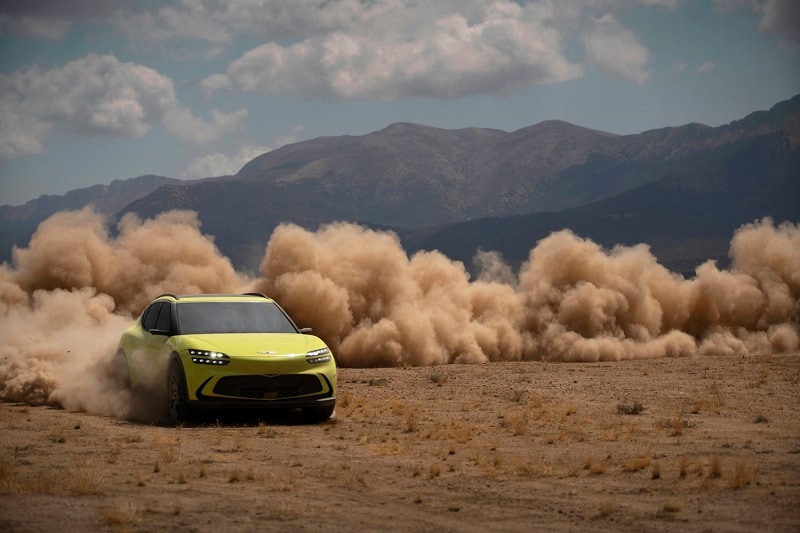 The GV60 is the first Genesis vehicle to be developed on the new Electric-Global Modular Platform (E-GMP), and offers two all-wheel drive powertrain options. Each version features the same 77.4 kWh battery capacity, but output from the front and rear electric motors differ slightly. 
On the Advanced AWD model, a front 74 kW motor is paired with a rear 160 kW motor to deliver a total of 314 system horsepower independently to each axle, and offers up to 248 miles of driving range. For speed enthusiasts, the Performance AWD model features two 160 kW motors that provide 429 system horsepower, and is capable of up to 235 miles of range on a full charge.  
But the difference isn't just about power--the GV60 Performance AWD also comes with an electronically controlled suspension and electronic limited slip differential for enhanced cornering capabilities and driving dynamics. Plus, you can activate Boost Mode to temporarily access 483 horsepower for quick launches and accelerations.   
And since each axle is powered by an independent motor, the GV60 comes standard with Drift Mode, which delivers a rear-wheel drive bias and optimized braking so you can let the tail-end get loose.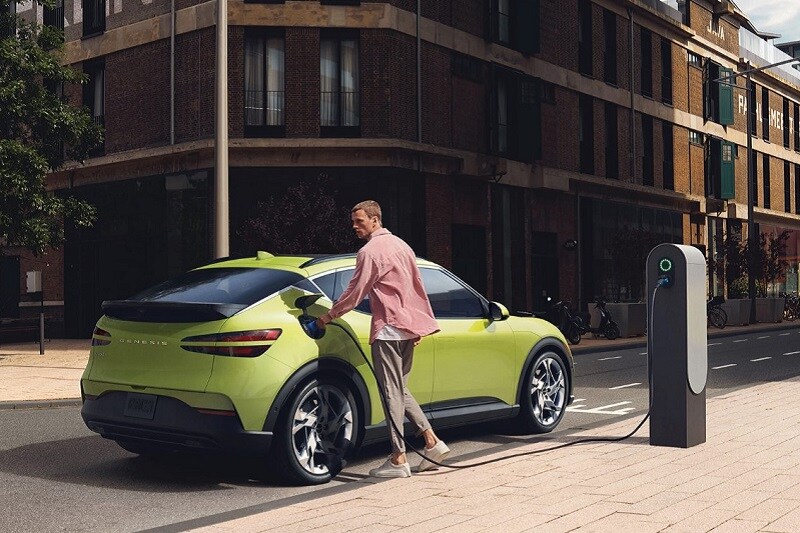 Charging the GV60 is straightforward and easy, and when using a 350kW fast-charging station, the battery can be replenished from 10% to 80% in around 18 minutes. The GV60 can also serve as a mobile power source, providing a 3.6kW power supply for when you're camping or enjoying outdoor events. 
---
2023 Genesis GV60 Safety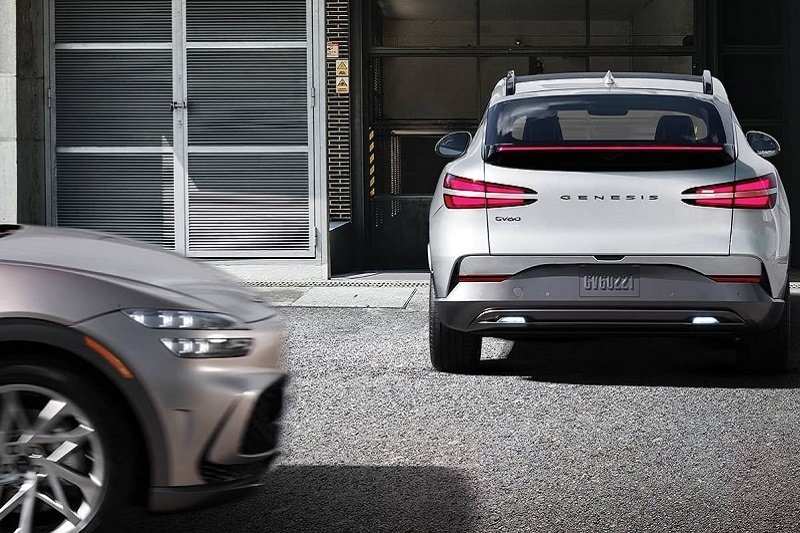 Every 2023 GV60 is loaded with advanced safety technologies, including autonomous and driver assistance systems, and are designed to protect everyone from hazards both inside and outside. 
Highlights of the GV60's safety systems include:
Forward collision-avoidance assist
Lane keeping assist/lane following assist
Blind-spot collision-avoidance assist
Surround view monitor
Highway driving assis
Smart cruise control w/ stop & go
Remote smart parking assist 
It's worth calling special attention to the remote smart parking assist feature. Really helpful in tight situations, this autonomous feature can be activated while outside of the vehicle, and will automatically maneuver the GV60 into a perpendicular or parallel parking space.  
---
2023 Genesis GV60 Overall
There's a lot to love about the first-ever Genesis GV60, and in its short debut period, it has already won awards like the IIHS Top Safety Pick+.  
With its stunning design and intuitive technology, this is a personalized all-electric luxury experience that only Genesis can provide. 
Learn more about the 2023 GV60 SUV by visiting your local AutoNation Genesis dealership today.  
---
Andrew Chen
| March 10, 2023