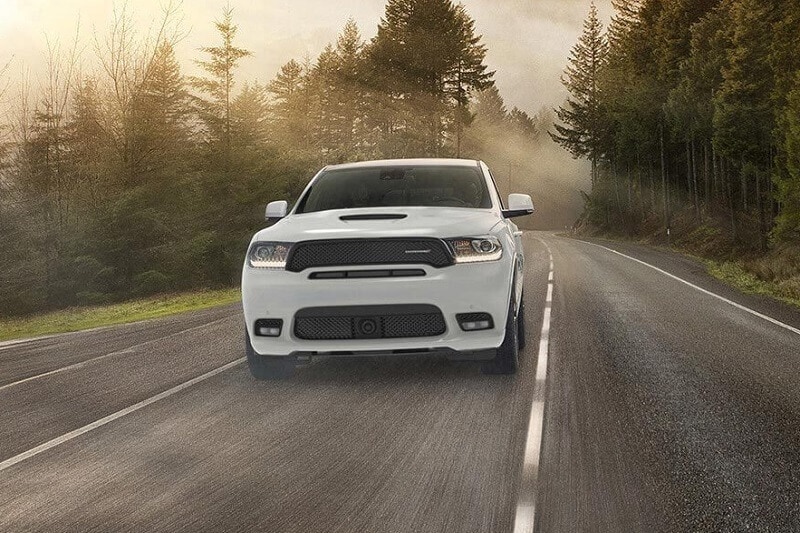 Back in my day (the early '90s) during road trips, if we kids wanted rear-seat entertainment, we'd simply ask "Are we there yet?" 194 times per hour just to see our parents' souls collapse under a torrential downpour of annoyance. It was great fun.
But nowadays, children in need of back-seat amusement simply switch on the rear-seat entertainment and veg out on My Hero Academia, or whatever the heck kids watch these days. As a result, today's millenial and gen-x parents don't have to deal with nearly as much screaming from the devil's peanut gallery in the back seats.
Parents today really do have it better than their baby boomer forebears, as many of 2020's most popular SUVs offer rear-seat entertainment. The technology does a great job of shutting the kids up for a few hours, and gives parents ample time to reflect on happier times ... i.e. the era before the children invaded.
Here are 10 SUVs that can keep kids' minds occupied while you keep from pulling your hair out.
---
Honda Pilot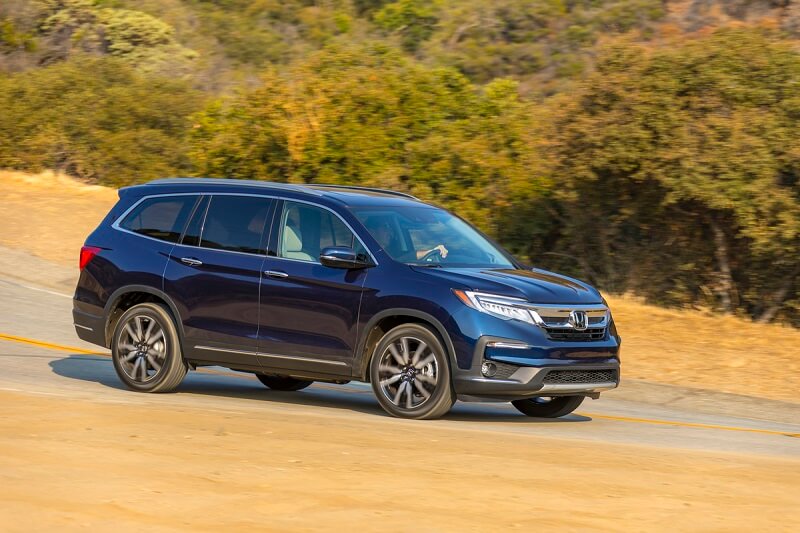 Even at its $32,770* base price in LX trim, the Honda Pilot's interior feels like the place to party as soon as you plant your posterior into its seats. But if you want to take that party vibe to the next level, opt for the better-equipped Pilot EX-L, which starts at $39,080*, and allows you to bundle the Pilot with embedded navigation and a rear entertainment system. That package adds another $2,000 to the Pilot's bottom line, which amounts to $41,080*.
---
Acura MDX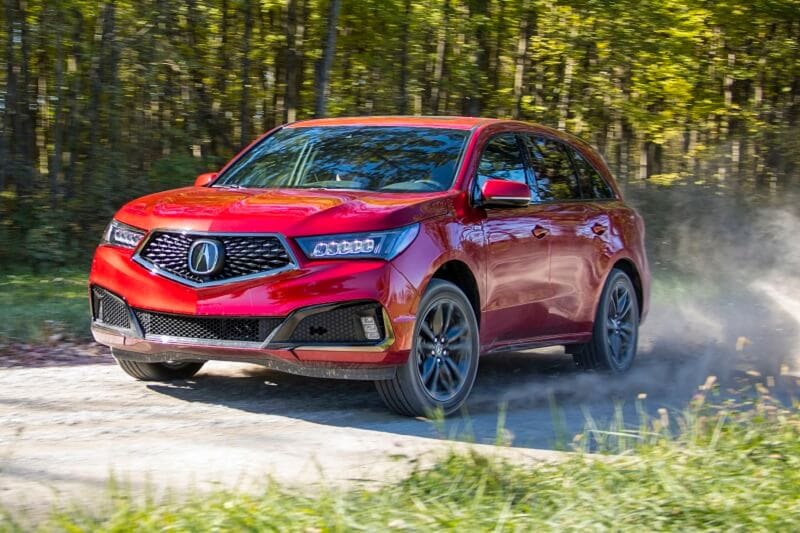 If you like the Honda Pilot, but fancy something fancier, have a look at the Pilot-based Acura MDX. Acura's three-row, midsize luxury crossover SUV starts at $45,525*, but to get rear-seat entertainment for your kids, you have to jump through a couple of hoops. First, you'll need to elect the $2,000 all-wheel-drive option, followed by the $5,000 technology package. Only then can you opt for the $2,000 entertainment package, bringing your grand total to $54,525*.
---
Dodge Durango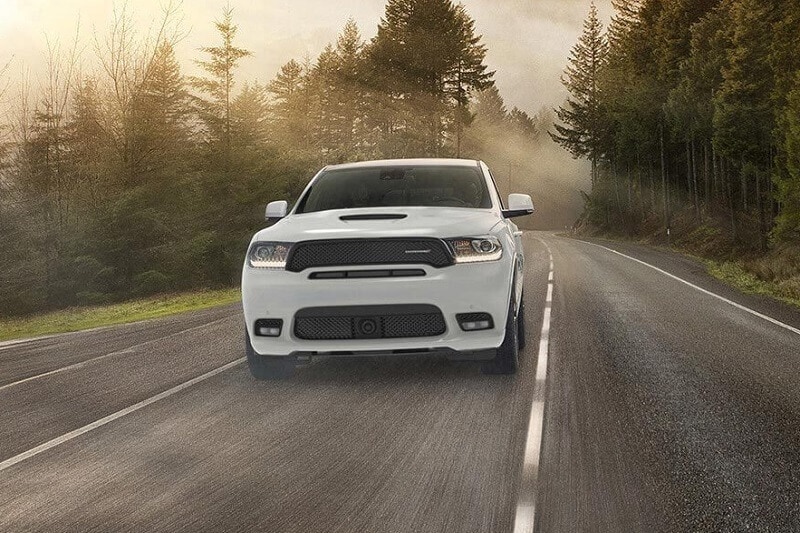 The Dodge Durango is the poster child for configuration bandwidth among three-row SUVs. From the value-packed $31,990* SXT base model to the performance-packed, $64,490* SRT variant with 475 horsepower, there's a Durango for everyone. But what about those who want rear-seat entertainment?
To get there, you have to start at the $40,740* GT Plus model, then elect the $2,495 Premium Group package that includes a sunroof and Alpine premium audio system, as well as embedded navigation. Finally, elect the $1,995 rear DVD/Blu-Ray entertainment center option for a grand total of $45,230*.
---
GMC Acadia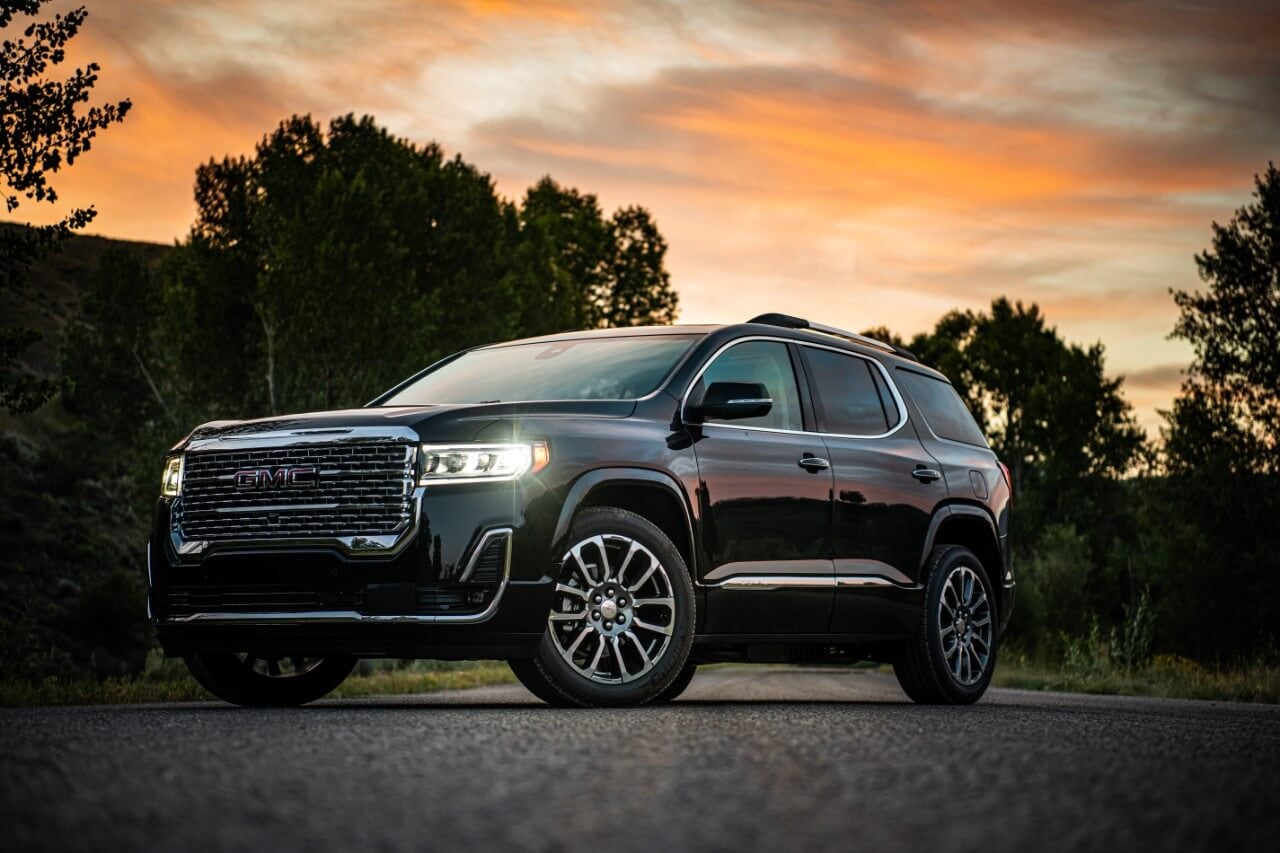 GMC just updated its midsize, three-row Acadia SUV for the model year, and it's now quite fetching, unlike last year's somewhat homely design. The GMC Acadia starts at $30,995 in base SL trim. If you want to keep the kiddies happy with rear-seat entertainment, you'll need to step up one trim level to the $34,995* SLE. Slap down another $1,750 for rear-entertainment without a DVD player or $1,995 for DVD capability, and you'll end up at $36,990*.
---
Nissan Pathfinder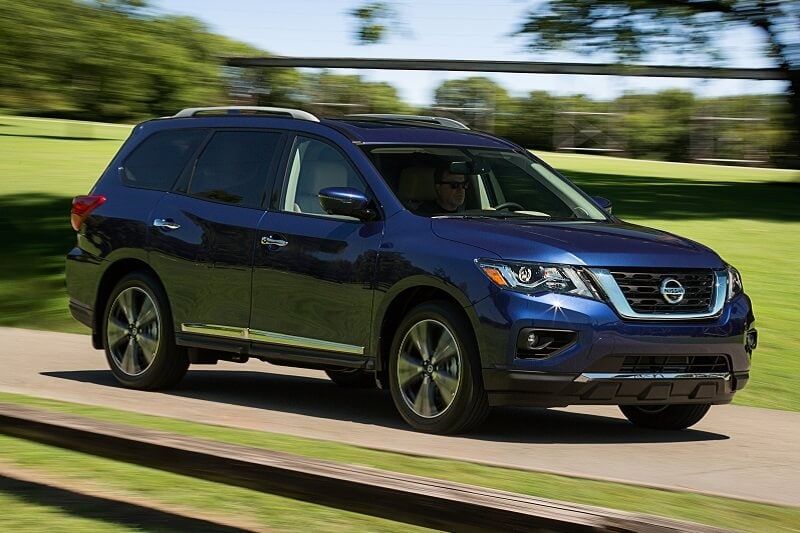 The Nissan Pathfinder is a solid choice among midsize crossover SUVs. The three-row family hauler starts at $32,775* in base S trim, but if you want rear-seat entertainment you'll have to opt for the top-tier Platinum model at $44,015*. After that, select the $1,700 Nissan Mobile Entertainment System package, and you'll end up at $45,715*.
Shop Nissan Pathfinder Inventory
---
INFINITI QX60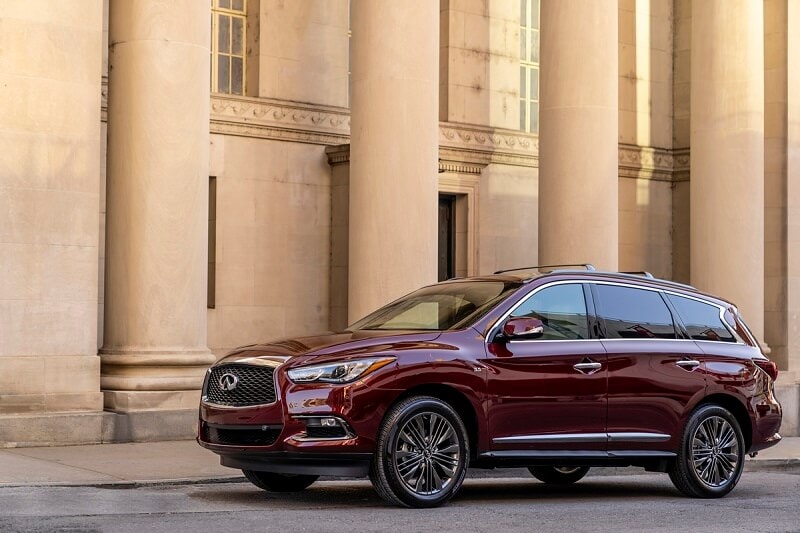 At $45,715, the Nissan Pathfinder begins encroaching on luxury crossover pricing. At that point, it's worth considering the INFINITI QX60, which rides on the Pathfinder's chassis.INFINITI's three-row, luxury crossover SUV starts at $45,375* in base Pure trim. To get rear-seat entertainment, you'll need to step up to the $47,175* Luxe trim and then elect the $2,900 Essential Package, which includes features like embedded navigation and a 360-degree camera. Only then can you elect the $2,150 Theater Package, which brings your QX60 to $52,225*.
---
Chevrolet Tahoe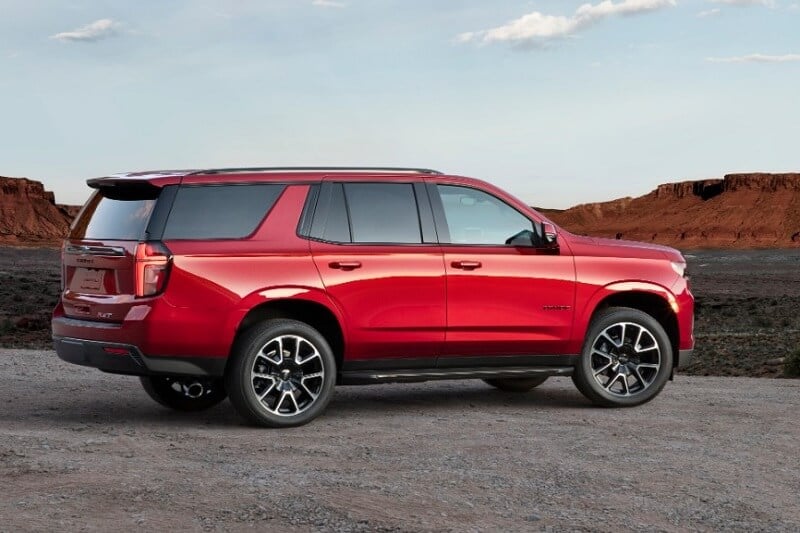 Large families, I haven't forgotten about you. Full-size, truck-based SUVs like the Chevrolet Tahoe have you covered when it comes to rear-seat entertainment, but like all the car-based SUVs we've covered here so far, you'll have to tick a few other option boxes before you can elect the child-silencing tech.
The Tahoe starts at $50,295* in base LS trim. The LT is a spec level above that, and starts at $55,095. From there you can opt for the Sun, Entertainment and Destinations Package which includes rear-seat entertainment, as well as embedded navigation and a sunroof for $2,930. That'll bring your Tahoe to a grand total of $58,025*.
Shop Chevrolet Tahoe Inventory
---
Cadillac Escalade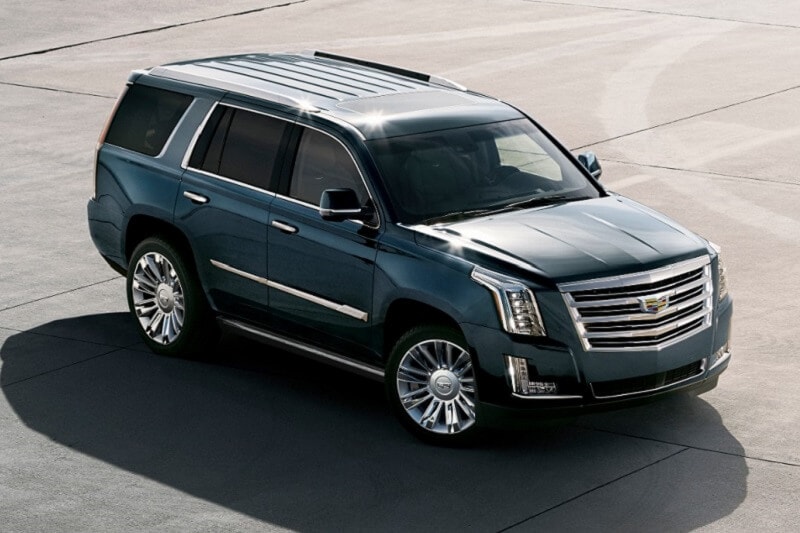 The Tahoe is a great SUV, but for those who dress to impress, the Tahoe-based Cadillac Escalade is a can't-miss candidate. The big Caddy starts at $76,490* in Standard trim, and like the Tahoe, you have to elect one trim level above Standard to get access to rear-seat entertainment. That means beginning at the $82,090* Luxury trim, and then choosing the $1,720 rear-seat entertainment option for a grand total of $83,810*.
Shop Cadillac Escalade Inventory
---
Ford Expedition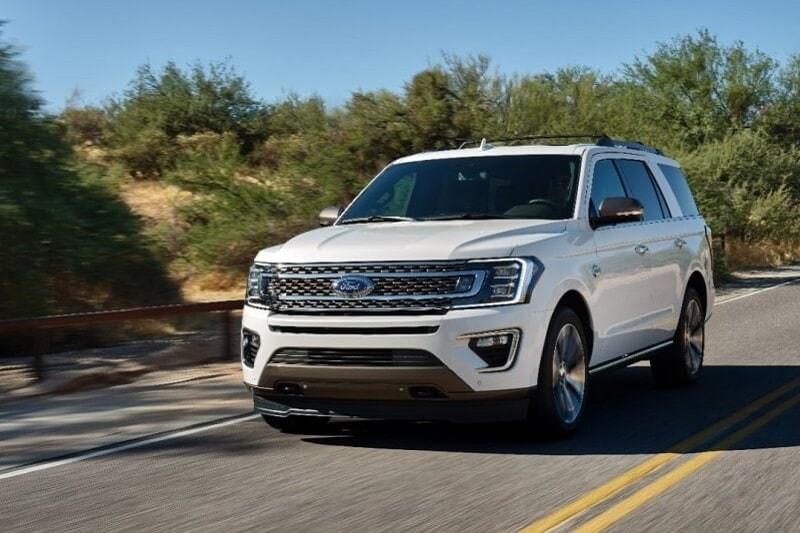 The Chevy Tahoe's cross-town rival starts at $54,850* in base XLT spec. Opting for rear-seat entertainment will set you back $1,995, but requires selection of equipment group 201A (creative "name," right?) at $1,485, which includes power driver and front passenger seats. That leaves you with a final MSRP of $58,330* - $305 more than the Tahoe. For you Ford-versus-Chevy folks keeping score, mark that as a win for Chevy. Barely.
Shop Ford Expedition Inventory
---
Lincoln Navigator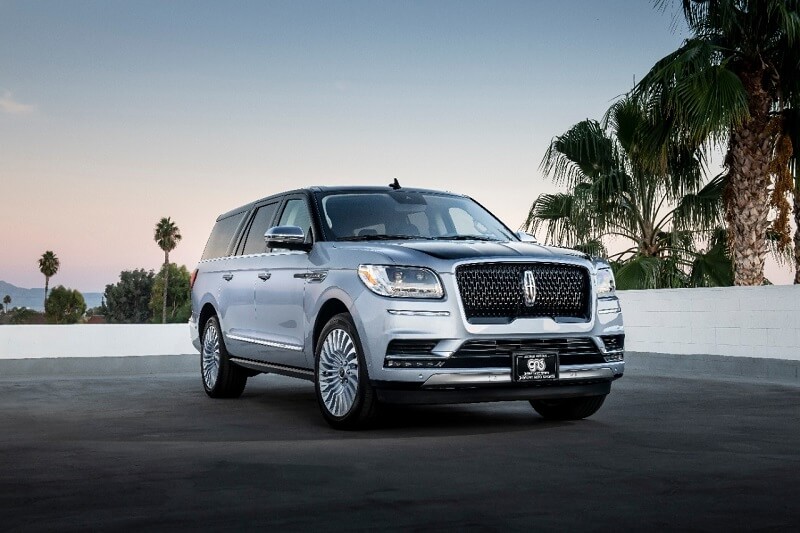 Among full-size luxury SUV's, the Lincoln Navigator is arguably more compelling overall than the Cadillac Escalade, but it's pricier, too, starting at $77,765* in Standard trim. To begin your ascent to being allowed to option rear-seat entertainment, first you've got to step up a trim level to the $83,305 Navigator Reserve. Next, you're required to sweeten the pot with the $1,500 Reserve I package, featuring nifty niceties like a head-up display and an illuminating Lincoln star in the front grille.
Only after that can you opt for the $2,000 Lincoln Play rear-seat entertainment system, bringing your total to $86,805*. Again, for the GM-vs-Ford folk keeping score, that's $2,995 more expensive than a similarly equipped Escalade.
Shop Lincoln Navigator Inventory
---
Manuel Carillo III | Apr 01, 2020