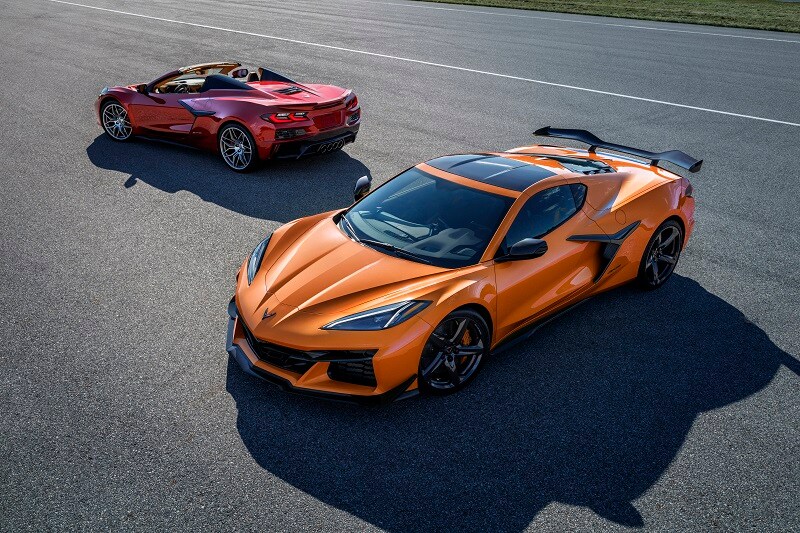 "Z06." Those three little characters instantly excite any Corvette enthusiast, and it's finally time to add this legendary badge to the eighth-generation of Chevrolet's flagship sports car.
The much-anticipated 2023 Chevrolet Corvette Z06 has officially made its debut, and it's everything that we've hoped for. It features a glorious-sounding flat-plane crank V8 engine, race-proven technologies, lots of aero components, and a driving experience that even veteran racers find impressive.
 Possibly having more in common with the Corvette C8.R race car than the standard Corvette Stingray, the new Z06 aims to deliver the ultimate supercar experience. Let's take a closer look at all the reasons why the 2023 Corvette Z06 is in a class of its own. 
Shop Chevrolet Corvette Inventory
---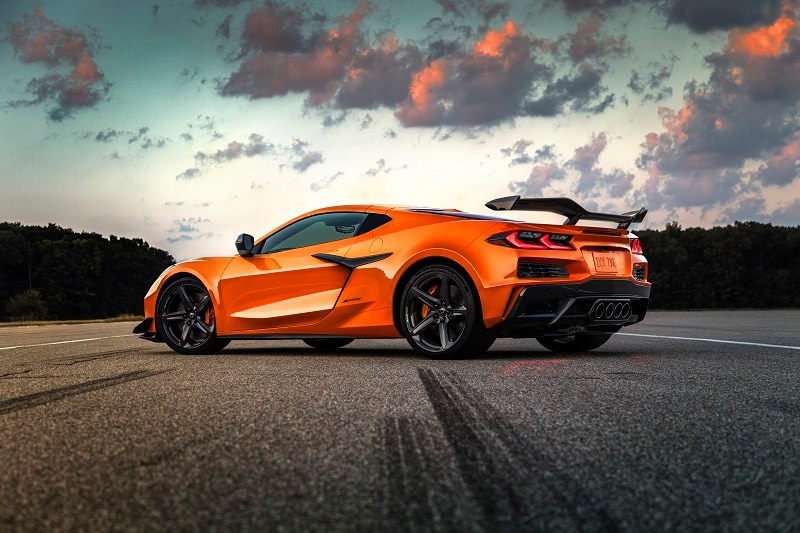 Always Ready for Race Day
When the 2020 Corvette Stingray made its debut back in 2019, it was presented alongside the Corvette C8.R race car. Little did we know, we were already looking at a teaser of the Corvette Z06 because the chassis of the production vehicle that will be rolling into showrooms next year is the same one found in the C8.R.
The technology that's developed on the race track by Corvette Racing has historically found its way into consumer vehicles, but the 2023 Corvette Z06 takes this direct knowledge transfer to new heights. While most manufacturers upgrade road cars for the track, Chevrolet has placed a race car on the streets. 
Here are some of the most exciting details of the new Corvette Z06:
3.6 inches wider stance than Corvette Stingray to accommodate 345-series rear tires
Unique front and rear fascias to integrate five heat exchangers
Standard reconfigurable rear spoiler with adjustable wickerbill elements
Available carbon fiber wheels that reduce unsprung weight by 41 pounds
Specific suspension tuning, 
Larger brakes
Shorter final drive ratio for quicker acceleration
There's also an available Z07 performance package which adds carbon fiber aero elements, chassis tuning, extra sticky Michelin Cup 2 R ZP tires, and Brembo carbon ceramic brakes
Needless to say, the 2023 Corvette Z06 is the quickest, most capable Corvette ever produced.
Shop Chevrolet Corvette Inventory
---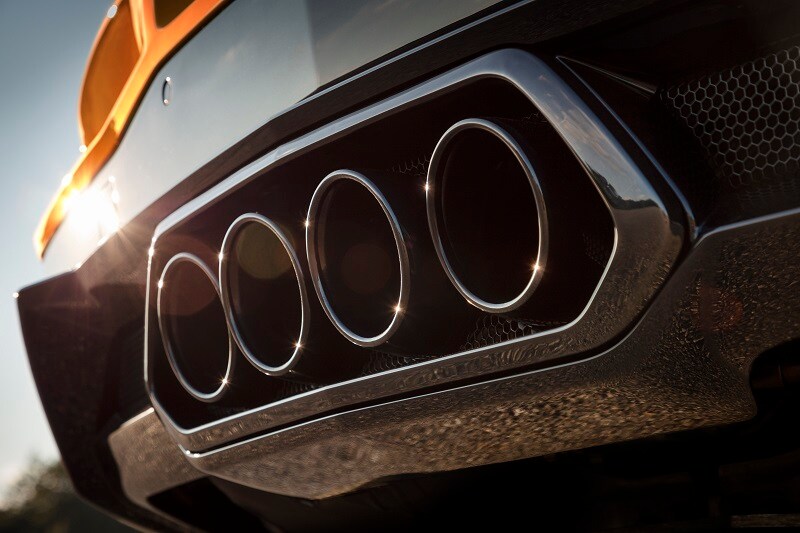 The Heart of the Beast
To achieve the best driving and track experience, Chevrolet went back to the drawing board and developed an all-new 5.5-liter flat-plane crank V8 engine dubbed LT6. This high-revving (8,600-rpm redline) engine marks a return to natural aspiration, and produces a monstrous 670 horsepower--the most ever for a non-turbo production V8 engine found in any car.
With a dry-sump oil system and tailored intake and exhaust systems, every element of the powertrain works to support the responsiveness and trackability of the LT6 engine. Much to our delight, this isn't simply a beefed up model of an off-the-shelf engine--a version of the LT6 has been powering Corvette C8.R race cars since 2019, giving Chevrolet's engineers years of research and refinement opportunities.
Each LT6 engine for the 2023 Corvette Z06 will be hand assembled by master engine builders at the Bowling Green Assembly Plant to Chevrolet's exact specifications. A single person will craft the LT6 from start to finish, and mark their pride with a signed plaque, making each Z06 that much more special.
Shop Chevrolet Corvette Inventory
---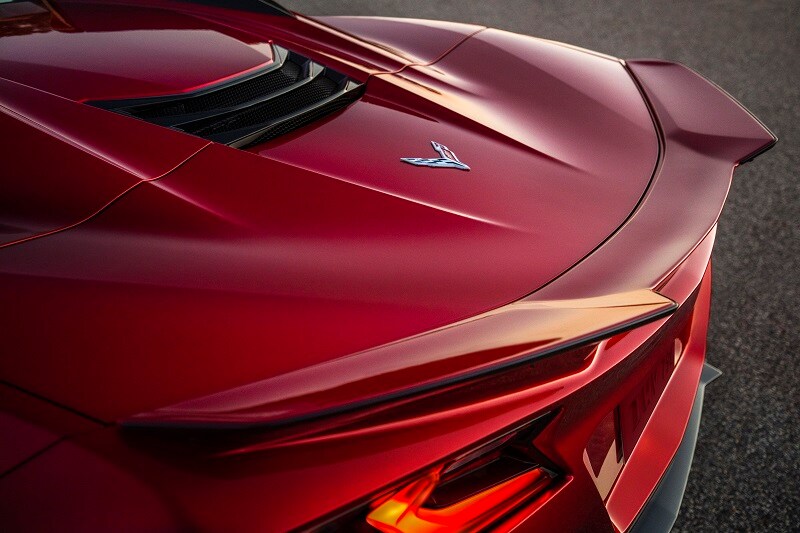 Stylish and Purposeful
Every detail added for the Z06 not only looks stylish, but also has a unique purpose, whether it's better aerodynamics, improved handling or increased cooling.
The exterior dimensions were increased for a wider stance and wider tires, which ultimately delivers more grip and handling prowess. The unique front fascia allows for more cool air to be drawn into the necessary areas while prominent aerodynamic elements increase downforce and grip for more stability at high speeds. Of course, these details also make the Corvette Z06 look flat out awesome and ready to turn heads.
There are also lots of performance-focused details that aren't immediately visible, like the standard Magnetic Selective Ride Control 4.0, which can be adjusted on the fly for comfort or maximum track capability using the Driver Mode Selector.
This same mode selector also manages assistive technologies including launch control, active handling, traction management, and an electronic limited slip differential.
Shop Chevrolet Corvette Inventory
---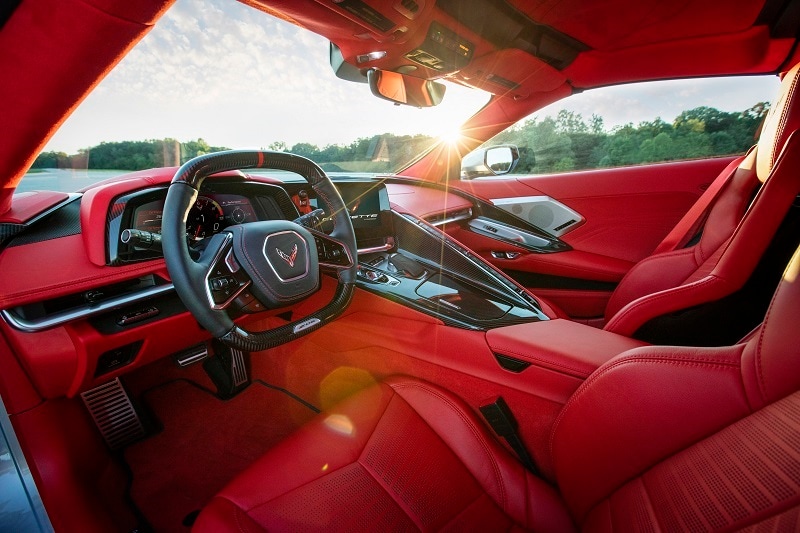 Make It Uniquely Yours
Getting the best of both worlds, the 2023 Corvette Z06 is as luxurious as it is fast, offering premium materials throughout the cabin, including carbon fiber trim.
Just like how the LT6 engine is handbuilt, the interior also carries a high level of craftsmanship and detail. You can choose from a variety of hand-wrapped leather options, including an all-new fully trimmed interior in a stunning Adrenaline Red.
The Z06 will offer the most customization options compared to the rest of the Corvette lineup, including 12 exterior colors, seven wheel packages, seven interior colors, three seat choices with six seat belt options, carbon fiber and Stealth Aluminum trim options, and six available brake caliper colors. You'll be able to express your own unique personality through nearly thousands of combinations.
Shop Chevrolet Corvette Inventory
---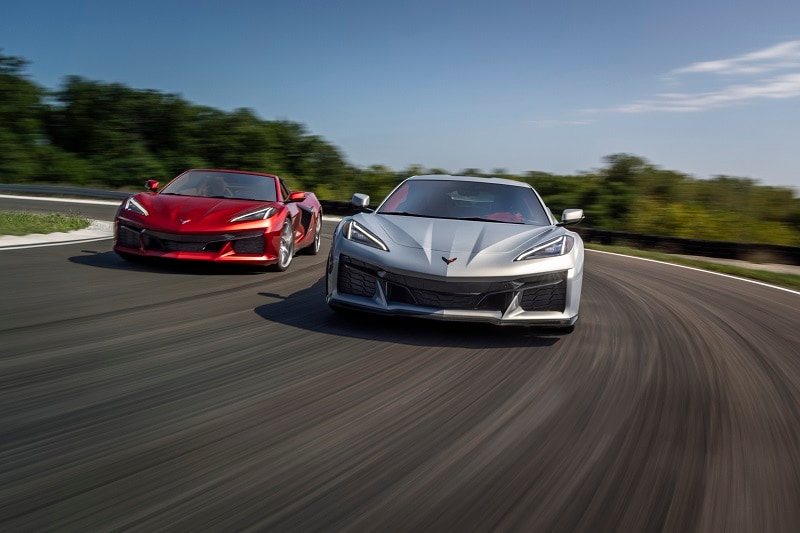 Get Ready for the Best Corvette Ever
Production for the 2023 Corvette Z06 will begin in the summer of 2022 at Chevrolet's Bowling Green Assembly Plant in Kentucky. You can expect models to start rolling into showrooms shortly thereafter.
In the meantime, talk with your local AutoNation Chevrolet dealership to learn how to customize and pre-order your very own Corvette Z06.