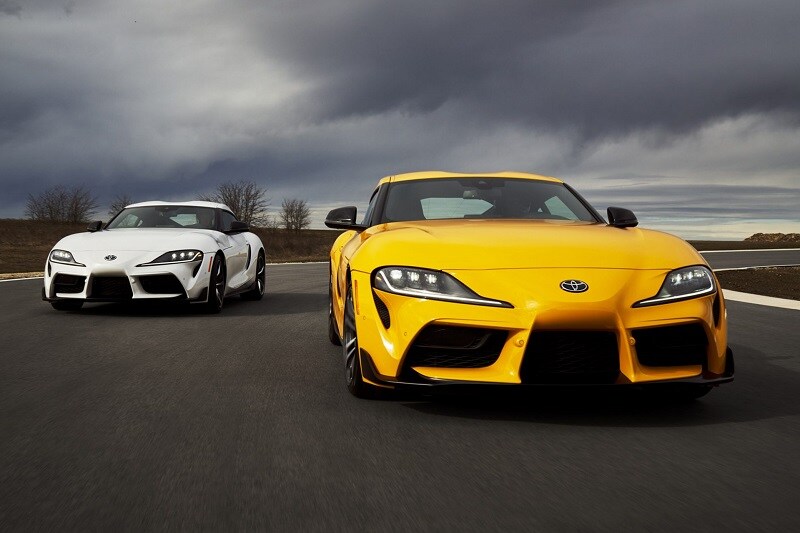 Ever since the Toyota GR Supra started hitting roads about three years ago, it's been this generation's champion and representative for 100% pure driving fun, backed by Toyota's storied history with racing. 
And for the 2022 model year, the GR Supra is really leaning into that philosophy with the limited-production GR Supra A91-CF Edition. Exclusive to North America and with only 600 units set to be produced, the A91-CF Edition features handmade carbon fiber aero components and specific tuning focused on balanced handling and optimal grip. 
The full model lineup also received numerous comfort and technology upgrades, so let's explore further what's new and exciting for the 2022 Toyota GR Supra.
---
2022 Toyota GR Supra Models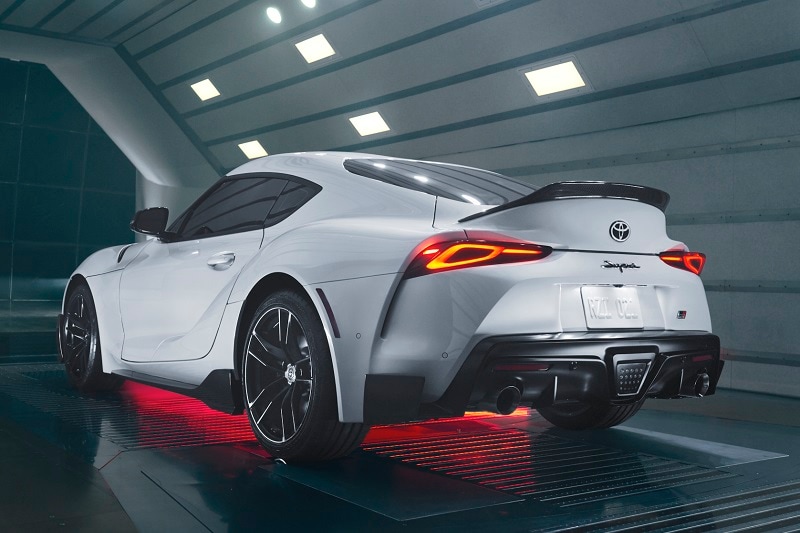 There are four flavors of GR Supra to choose from for the 2022 model year:
GR Supra 2.0
GR Supra 3.0
GR Supra 3.0 Premium
GR Supra A91-CF Edition
The GR Supra's model naming convention is very straight-forward, with the number indicating the size of the engine. The 2.0 model features a 255-horsepower 2.0-liter turbocharged inline four-cylinder engine, while the 3.0 upgrades power to 382 horses from a 3.0-liter turbocharged inline six-cylinder engine.
The 3.0 Premium adds more comfort and convenience amenities without affecting the vehicle's overall performance, and the A91-CF Edition takes things to another level with track-focused components and exclusive racing-inspired details. 
And no matter which model you choose, you can drive with confidence knowing that your Supra is thoroughly tested and refined, earning it the Toyota Gazoo Racing "GR" badge.
---
2022 Toyota GR Supra Exterior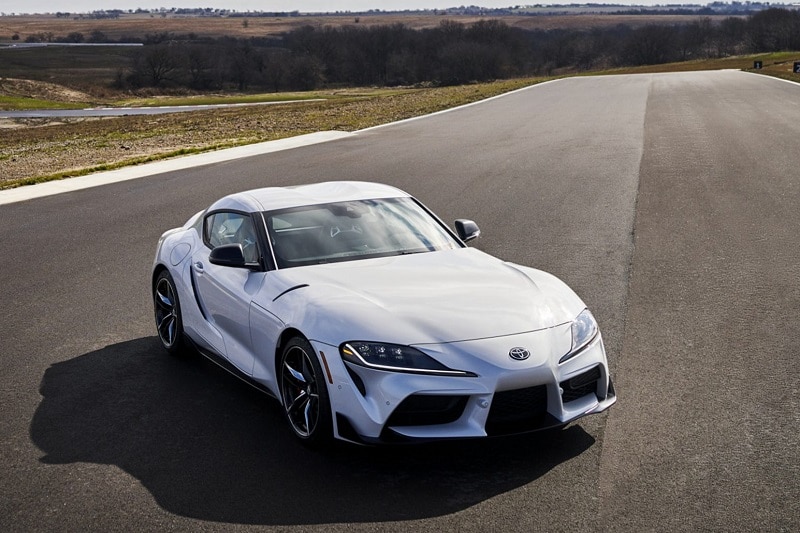 Take just one glance at the GR Supra and you'll know it's all about getting around a race track in the quickest way possible.
Its low, compact form plus flowing body lines were designed to slice through the air with as little resistance as possible, all the while looking incredible with its sports car silhouette and classic "double bubble" roof. This roof design allows for more headroom for driver and passenger, and also optimizes airflow on the outside.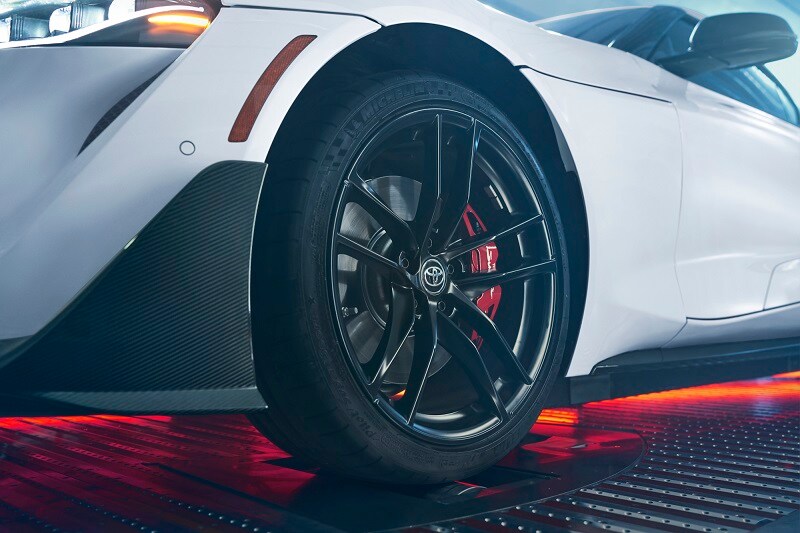 On the A91-CF Edition, "CF" stands for carbon fiber, and you'll find this strong, lightweight material hand-formed into the front splitter, side rocker panels, rear canards and rear lip spoiler. These accents not only enhance the visual styling of the GR Supra, but also provide very real downforce and stability. The A91-CF Edition's 19-inch forged aluminum wheels are also upgraded to a matte black finish for an extra race-y look.
Exterior paint color options for 2022 include:
Absolute Zero
Phantom
Nitro Yellow
Tungsten
Turbulence Gray
Renaissance Red 2.0
Nocturnal
---
2022 Toyota GR Supra Interior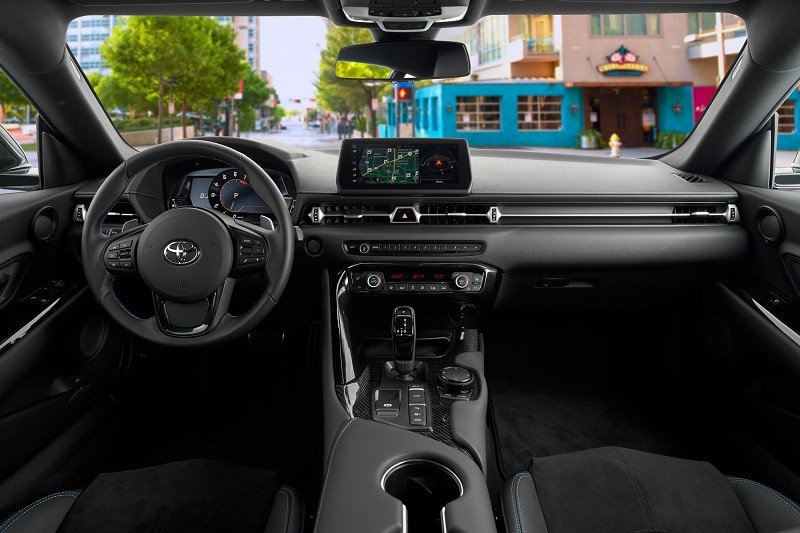 It shouldn't come as a surprise that the interior of the 2022 GR Supra feels like it was lifted straight out of a race car. More of a cockpit than a cabin, everything has been designed for the driver so you can easily and comfortably command all of the performance on tap.
Sport seats with power-adjustable bolstering and console-mounted side knee padding help you stay in place during tight turns, but also offer luxury amenities like 14-way power adjustment and three-stage heating functionality. 
Analog instrument dials have been swapped for an 8.8-inch high-resolution display, and features a 3D tachometer that's surrounded by two customizable display modules. These extra screens can show pertinent info like navigation, current speed, and other performance related data.
For entertainment, a center-mounted 8.8-inch display offers access to satellite radio and USB or Bluetooth connectivity. When you upgrade to the Safety & Technology Package, you'll get a touchscreen display with wireless Apple CarPlay compatibility and a 12-speaker 500-watt JBL Audio System. The cool part about controlling this system is that you can use the touchscreen, voice commands, or the Supra Command dial on the center console that features handwriting recognition and swipe gestures. 
And if you want the full luxury experience, wireless smartphone charging, leather sport seats, sport pedals, and a full-color head-up display are standard and exclusive equipment for the GR Supra 3.0 Premium model.
---
2022 Toyota GR Supra Performance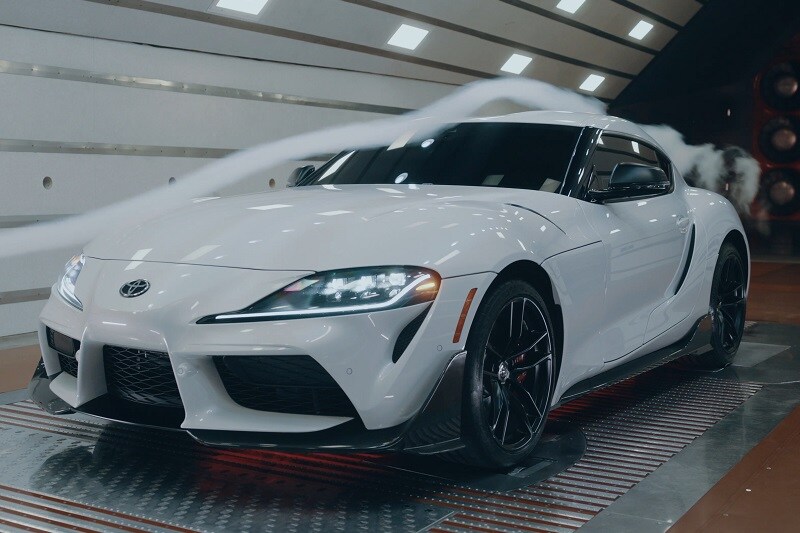 Power for the 2022 GR Supra comes from one of two engines: a 2.0-liter inline 4-cylinder engine or a 3.0-liter inline 6-cylinder engine.
The 2.0-liter engine produces 255 horsepower and is meant to be a middle ground between the Toyota GR86 and GR Supra 3.0, offering accessible fun for everyone. On the highest end of the spectrum, the 382 horsepower 3.0-liter engine is primed for an exciting time on the race track. Both engine types are paired with an 8-speed automatic transmission that features optimized and aggressive tuning.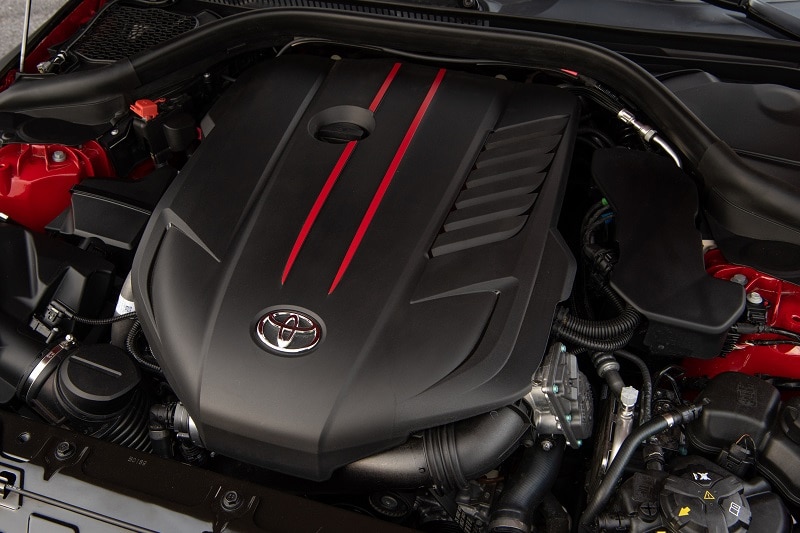 And regardless of engine type, every GR Supra has a seal of approval from Toyota's Gazoo Racing division thanks to track-proven technologies like adaptive variable sport suspension, active rear sport differential, Brembo brakes, and more. 
The GR Supra 3.0's chassis recently underwent some fine tuning too, increasing its lateral rigidity as well as optimizing damper settings. Other active systems were also re-programmed, such as electric power steering, adaptive variable suspension, and active differential, to deliver even more stability through high-speed transitions. 
For the 2022 model year, the A91-CF Edition is the ultimate expression of the GR Team's obsession with breaking performance boundaries.
Fuel economy for the 2022 Toyota GR Supra 2.0 is an EPA-estimated 25 mpg city / 32 mpg hwy, and the GR Supra 3.0 features an EPA-estimated 22 mpg city / 30 mpg hwy.
---
2022 Toyota GR Supra Safety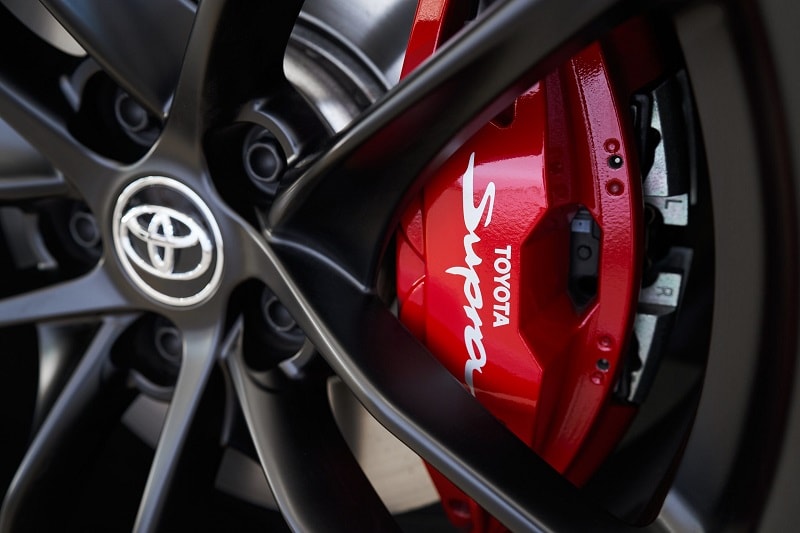 The GR Supra comes standard with numerous intelligent safety features, like a pre-collision system with pedestrian detection, lane departure warning with steering assist, hill start assist, and automatic high beams, to name a few. 
For extra peace of mind, you can upgrade to even more advanced safety systems:
Front and rear parking sensors with emergency braking function
Dynamic radar cruise control
Blind spot monitor
Rear cross traffic alert
---
2022 Toyota GR Supra Overall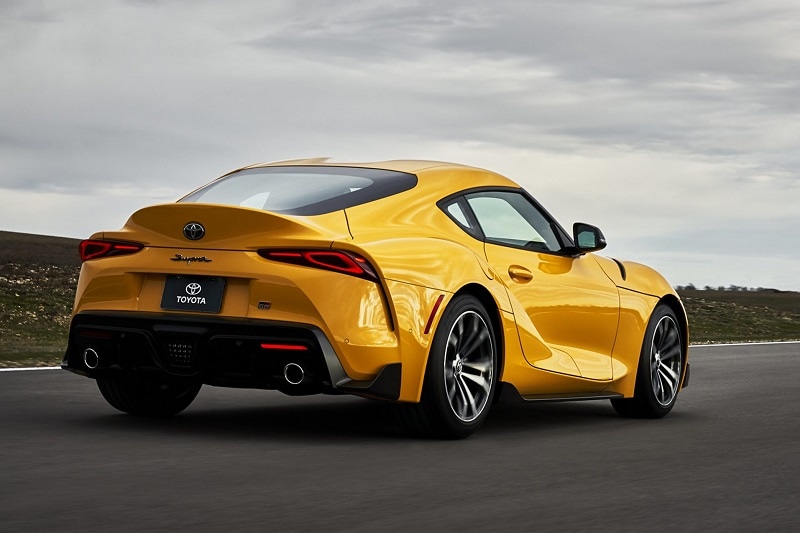 If you want to experience Toyota's rich racing legacy for yourself, there's no better way to do it than with the 2022 GR Supra.
Will you be one of the 600 people to experience the ultimate expression of Gazoo Racing's passion via the A91-CF Edition? You should probably hurry and pay a visit to your local AutoNation Toyota dealership before the opportunity zooms by.
---
Andrew Chen
  | Feb 23, 2022