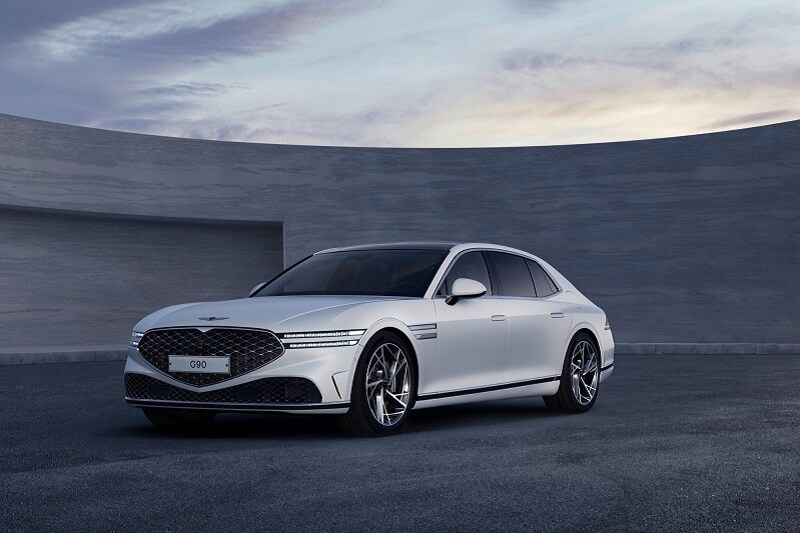 Genesis is a relatively new brand in the luxury vehicle space, but it's been doing an amazing job of making a name for itself and holding its own against the likes of Mercedes-Benz, BMW, and Audi. 
And for the 2022 model year, Genesis has given the vehicle that started it all--the G90--an all-new design that features the most elegant manifestation of the brand's luxury identity. This first full model change for the G90 delivers new advanced technology and automation that elevates your experience to new heights and new levels of premium comfort. 
Please allow me to introduce you to one of the most VIP-level sedans available today--the 2022 Genesis G90. 
---
2022 Genesis G90 Models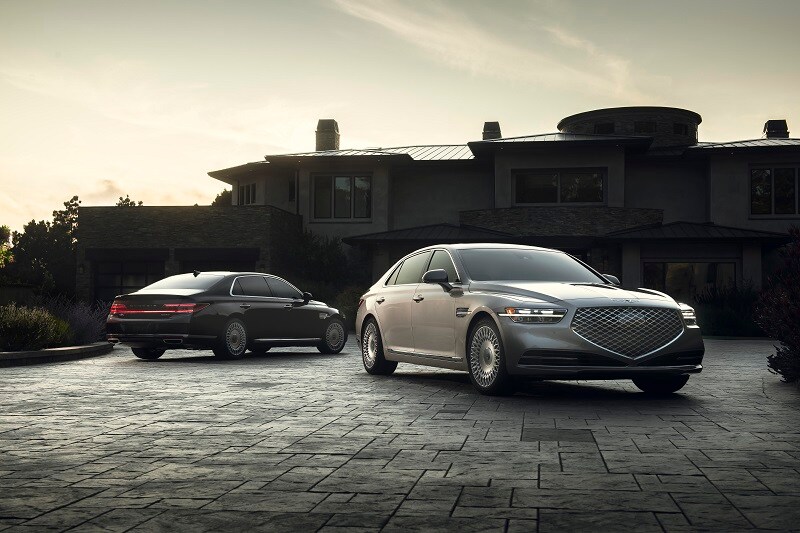 The new Genesis G90 is available in four models, identified by the type of powertrain included:
3.3T RWD
3.3T AWD
5.0 RWD
5.0 AWD
Once you've selected the engine size and either rear-wheel drive or all-wheel drive, everything is pretty straight-forward from there because the G90's core luxury and convenience amenities are consistent throughout all the models.
The 5.0 models do offer a bit more in terms of comfort, though, by adding power adjustable and reclining rear seats for the ultimate lounging opportunities. Plus, the rear seats offer access to in-seat heat and ventilation, one-touch recline, and illuminated vanity mirrors. A 10.3-inch HD rear seat entertainment system is also standard on the 5.0 model, truly making it your home away from home.
---
2022 Genesis G90 Exterior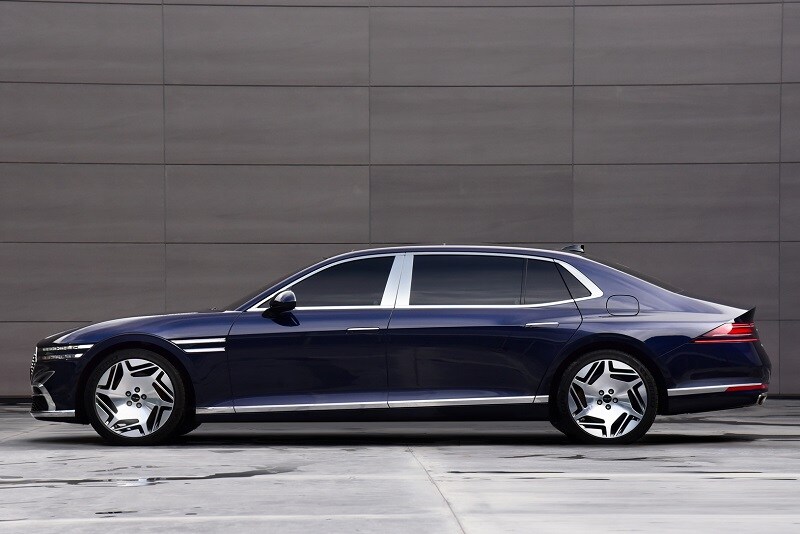 As a product of collaborations between design teams based in Germany, South Korea, and the United States, the exterior of the new G90 is its most elegant version yet. It feels to me both sophisticated and prestigious, and has the makings of an instant collectible for those with an affinity towards executive-style transportation. 
Fitting the role of carrying very important people, the G90 features a flowing and futuristic silhouette that combines smart design with advanced technologies. Its form takes inspiration from the Genesis logo, "where boldness takes flight." 
At the front, a new Crest Grille and slim two-line headlamps set the tone for the G90 as the clamshell hood flows into the front wheel arches, eliminating panel gaps for a sleek overall look. The G90's perceived length and stance exude an athletic confidence that hints at the performance underneath. 
Genesis's signature two-line combination taillights wrap-up the visuals of the rear end, emphasizing the elongated trunk and lowered functional elements for a balanced and clean look. 
Exterior paint colors for the 2022 G90 include:
Savile Silver
Tasman Blue
Uyuni White
Himalayan Gray
Vik Black
Gold Coast Silver
Adriatic Blue
---
2022 Genesis G90 Interior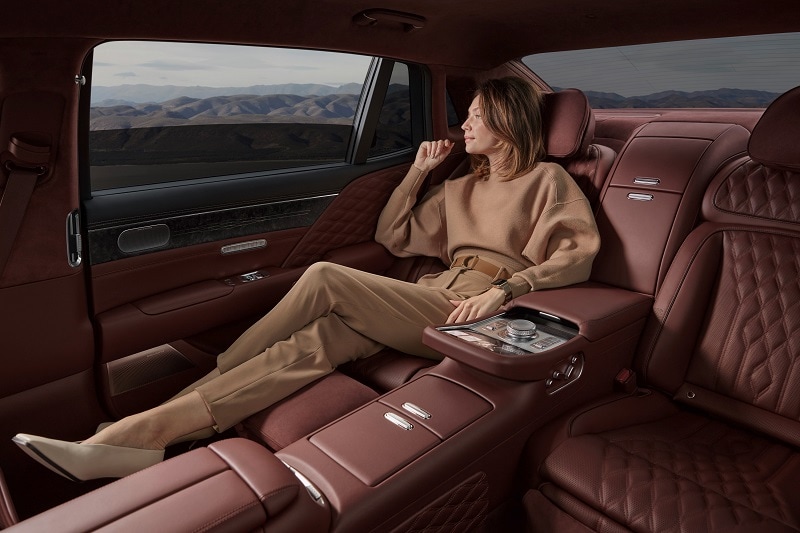 If there was a Business Class designation for vehicle interiors, the G90's cabin area would definitely be the leading example. 
In a world where we're inundated with too much technology, the G90 creates an environment where our analog sensibilities are prioritized, utilizing minimalistic design language and the highest quality materials. You'll find glass, aluminum, ash wood and forged carbon surfaces accenting the Semi-Aniline leather surfaces throughout the vehicle.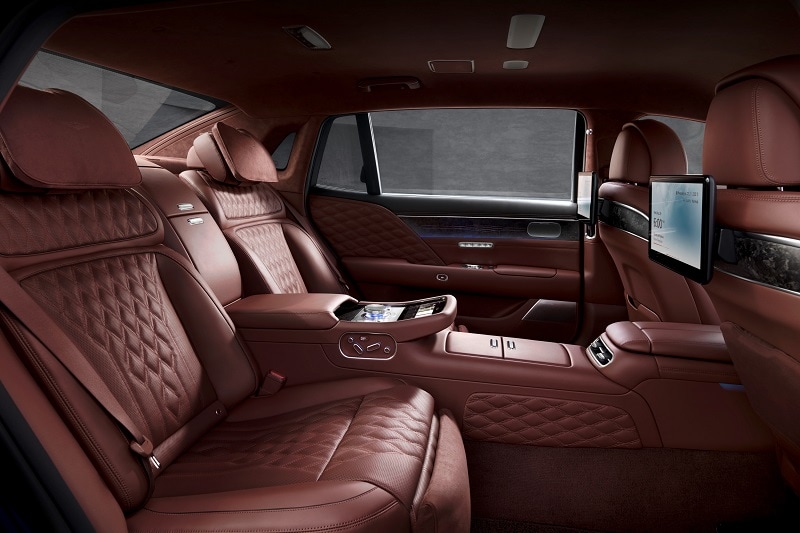 While the G90 is designed for both those who like to drive and those who like to be driven, the rear seating area is truly one of the highlights of the interior thanks to the two reclining seats and thoughtful personal storage spaces. A One-Touch Relax Mode automatically reclines the right rear seat to your preferred position, and both rear seats feature up to 14-way power adjustments.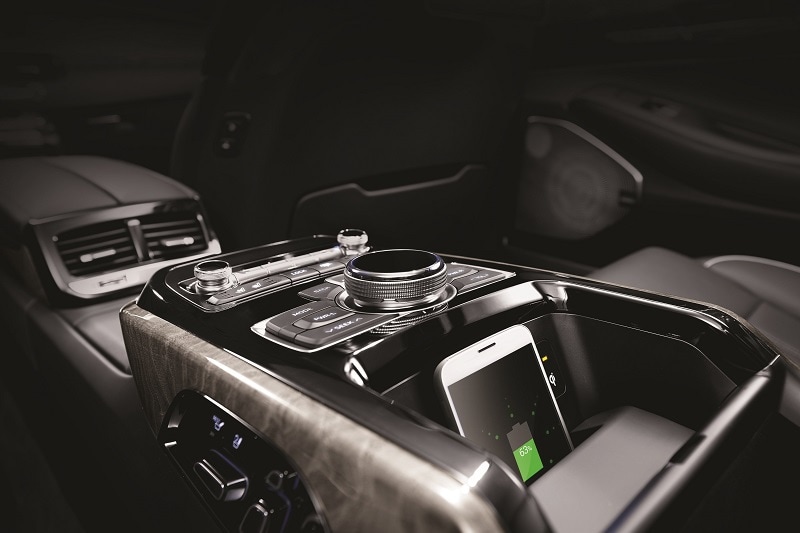 From here, you can enjoy the view through the two panoramic sunroofs, or catch up on your favorite show via the available dual 10.3-inch HD video monitors. Also at your fingertips are controls for the three-zone climate system, power rear and side window sunshades, and automatic door closing function. Actually, all four doors can be closed via buttons conveniently located throughout the vehicle, and the driver's door can be programmed to automatically close when you press the brake pedal. 
And there are a lot more examples of this ingenious use of automation throughout the G90 that really change our concept of what car ownership should be, like fingerprint authentication for driving or in-car payments, automatic trunk opening, and a fragrance system that disperses your choice of three aromas: The Driver's Awakening, The Great Outdoors, or My Favorite Place. 
Like I said earlier, the G90's interior is more than just a means of transportation--it's like a personal ultra lounge for high quality "me time." 
---
2022 Genesis G90 Performance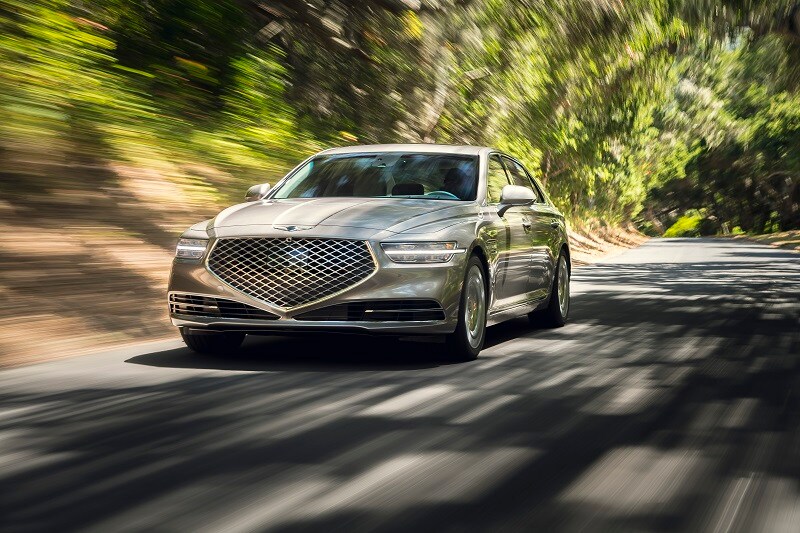 The 2022 G90 is offered with two available engines, a fuel-efficient 365-horsepower twin-turbo V6 or a high performance 420-horsepower 5.0-liter V8. Both of these engines are paired with an 8-speed automatic transmission for optimum power delivery and acceleration. 
With its focus on luxury performance, the G90 includes a rear-wheel drive setup by default, and can be upgraded to an all-wheel drive system that still maintains its rear-wheel bias for sporty dynamics. When more traction is needed, the system instantly sends power to the appropriate wheels for maximum stability. 
Intelligent Drive Mode with Smart Shift is standard on all 2022 G90 models, and features four selectable settings: Comfort, Sport, Eco or Custom. These modes automatically adjust the vehicle's behavior, like transmission mapping, throttle responsiveness, steering, and suspension, to adapt in real-time to your desired driving experience. Custom mode also includes a Rear Comfort setting to ensure that your important passengers are disturbed as little as possible, especially during acceleration.
Fuel economy for the 2022 Genesis G90 is an EPA-estimated 17 mpg city / 24 mpg highway.
---
2022 Genesis G90 Safety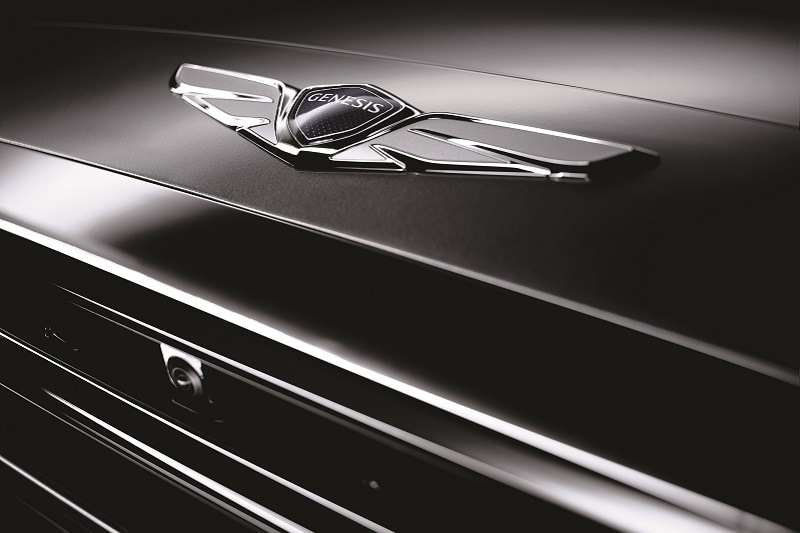 The 2022 G90 comes equipped with an array of advanced sensors, cameras, and radar technologies to help enhance awareness of your surroundings, and can intervene when relevant with automatic steering and braking inputs.
Capabilities like collision avoidance, blind spot monitoring, and rear automatic braking are just some of the G90's many standard safety features. Additional technologies like Highway Driving Assist, Smart Cruise Control, and Highway Auto Curve Zone Slowdown also work together to reduce long distance fatigue and stress. 
And taking safety performance to new levels, the G90 is smart enough to keep you centered in the lane even when road markings aren't clear. It uses advanced programming to create a virtual path based on the movements of the vehicles ahead of you. 
---
2022 Genesis G90 Overall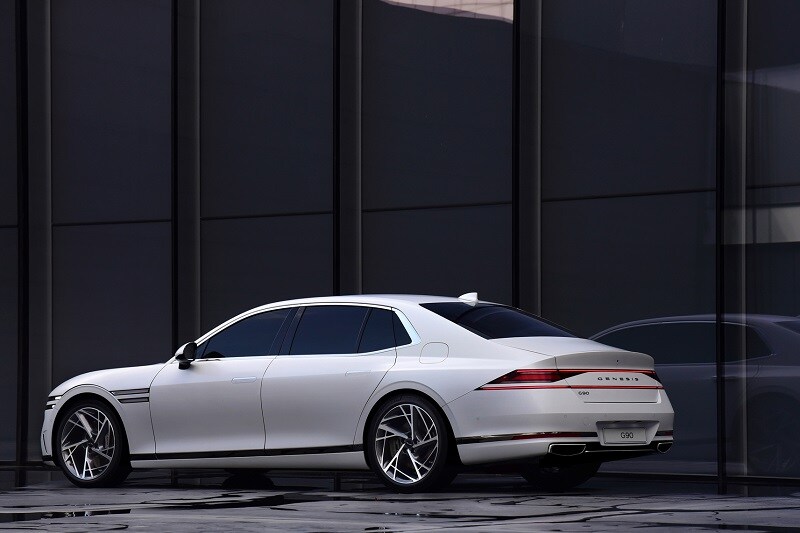 The 2022 G90 goes above and beyond to be more than just a car--it strives to be a meaningful and satisfying personal space that addresses your most important priorities. 
And with unmatched levels of automation from features like EasyClose doors and Remote Smart Parking Assist, the G90 truly is redefining what it means to be a flagship luxury sedan. 
Experience the future of luxury mobility by visiting your local AutoNation Genesis dealership today.
---
Andrew Chen
| June 15, 2022