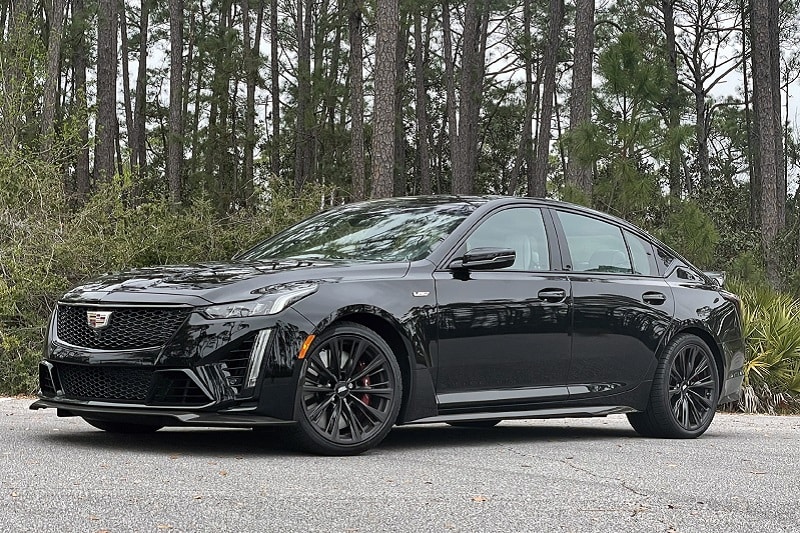 Unquestionably, the automotive world is pivoting toward electric vehicles. But with the brand's fastest and most powerful production vehicle of all time, Cadillac aims to show there's still a place for high-powered performance sedans. Meet the all-new 2022 Cadillac CT5-V Blackwing. 
The roots for this car were planted with the introduction of the CTS-V back in 2004, which was basically a muscle car for the luxury crowd, and the CT5-V Blackwing takes Cadillac performance to world-class level. This is a machine designed to compete against some of the best the world has to offer, like the RS7, Mercedes-AMG E63, and BMW M5. 
Shop Cadillac CT5-V Blackwing Inventory
---
2022 Cadillac CT5-V Blackwing Exterior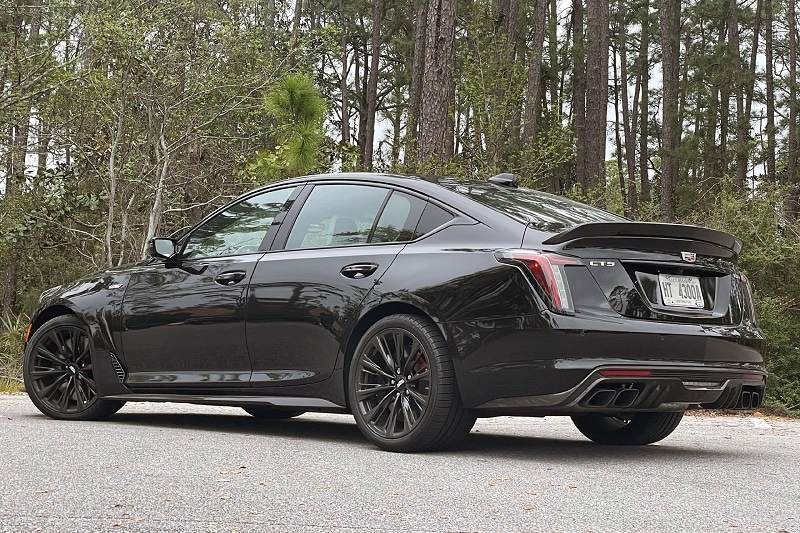 Compared to other luxury sedans, the styling of the base CT5 is a bit generic. But the 2022 Cadillac CT5-V Blackwing definitely looks the part of a 200-mph performance vehicle. 
Up front, the intakes are larger to maximize airflow to the engine compartment, while a sizable rear wing and quad exhaust outlets finish off the sedan's sporty style. Staggered width 19-inch are standard on the Blackwing, and my tester featured optional ($600) wheels with a dark Satin Graphite finish, which better accentuated this car's blacked-out look. 
Now sure, you can get the CT5-V Blackwing in an assortment of high-impact colors including Electric Blue, Blaze Orange and Infrared, but Black Raven gave the sedan a more sinister look. For even more visual impact, this sedan was equipped with a pair of carbon fiber packages totaling $9,330. So there were carbon fiber bits in the grille, and the front splitter, side extensions, rear diffuser, and rear spoiler were also composite. 
Shop Cadillac CT5-V Blackwing Inventory
---
2022 Cadillac CT5-V Blackwing Interior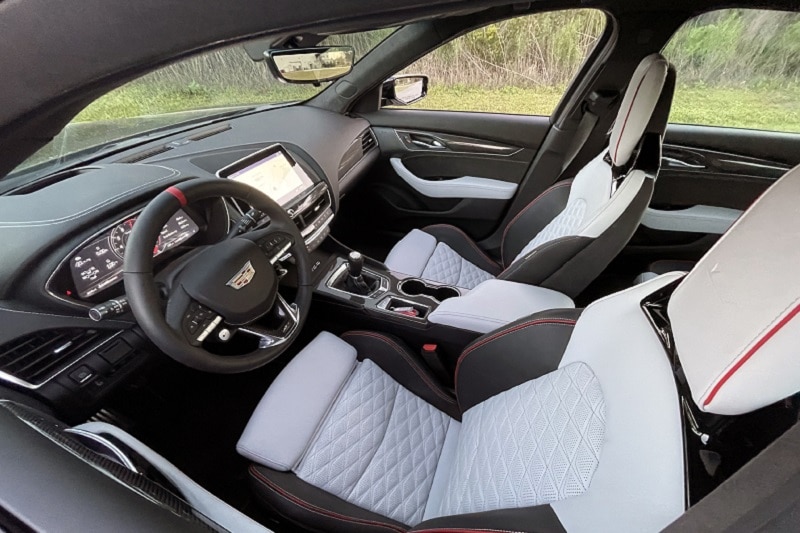 Since it started life as a mid-size luxury sedan, the 2022 Cadillac CT5-V Blackwing offers up plenty of passenger space, and it's stuffed with all of the latest cabin tech. But like the exterior, the interior styling is restrained for such a high-power and high-dollar performance vehicle. 
Don't get me wrong, every inch of this interior is lined with quality touch points, including soft leather, real metal accents, and tons of carbon fiber. But even with the Blackwing-specific steering wheel and optional sport bucket seats, this super-special version of the CT5 isn't all that different from the CT5 and CT5-V models. The Blackwing does come standard with a 10-inch infotainment screen and a 12-inch digital gauge cluster, and that distinctive steering wheel features a V-mode button and traction switch mounted on the steering wheel like a racecar. 
For an extra $6.090, the Blackwing offers racing-style front bucket seats paired with a sueded microfiber-wrapped interior trim package, and these seats are both remarkably comfortable in everyday driving and extremely supportive during high lateral-g turns. Plus, with 11.9 cubic feet of trunk space, the CT5-V Blackwing makes an excellent grocery getter. 
Shop Cadillac CT5-V Blackwing Inventory
---
2022 Cadillac CT5-V Blackwing Powertrain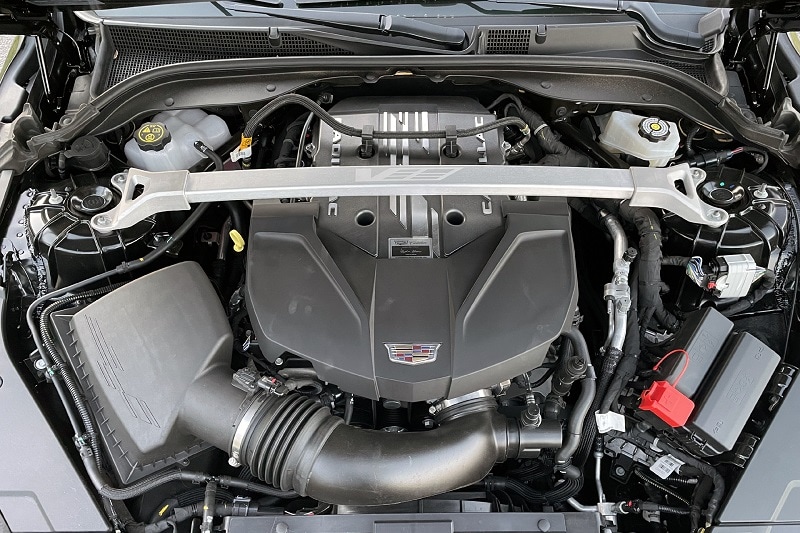 At the heart of the 2022 Cadillac CT5-V Blackwing is a 6.2-liter supercharged LT4 V-8 handcrafted at GM's Performance Build Center in Bowling Green, Kentucky: The same place where the Chevrolet Corvette is built. This engine is shared with the Camaro ZL1 and, most likely, the upcoming 2023 Escalade-V, and living up to the claim of the most powerful production vehicle in Cadillac's history, the supercharged LT4 produces 668 horsepower and 659 lb-ft of torque. For those keeping score, that bests the CTS-V by 28 ponies, and almost triples the output of a base 2022 CT5! 
The power output alone makes the Blackwing a special car in the performance world, but unlike its rivals, Cadillac lets drivers shift their own gears with a Tremec six-speed manual transmission. This gearbox has a heavy clutch and a short-throw shifter as well as modern tech features like rev matching and no-lift shifting. That said, there's still a ten-speed automatic transmission offering marginally better fuel economy and acceleration. With the manual gearbox, the Blackwing accelerates from zero to 60 mph in 3.6 seconds, and returns EPA-rated fuel economy estimates of 13 mpg city and 21 highway. 
The basis for the CT5-V Blackwing starts with an already-sporty chassis derived from the Camaro, to which Cadillac adds features like Magnetic Ride Control 4.0 and an electronic limited-slip rear differential. The Blackwing is fitted with the largest brakes ever fitted to a production Cadillac, which  measure 15.7 inches in the front and 14.7 inches in the rear. Compared to the base CT5, that's an increase of three inches and two inches, respectively. These rotors are squeezed by six-piston Brembo calipers up front and four-piston calipers in the rear, and feature high-performance brake linings. 
For maximum grip, the CT5-V Blackwing comes standard with Michelin Pilot Sport performance tires, but this tester was fitted with Pirelli Sottozero performance winter tires. Even in the warm, Florida March weather, these tires do the Blackwing justice. Although I can only imagine how much better this car could corner with the intended summer tires. All in, the explosive acceleration, 200 mph top speed, and impressive handling capabilities were shockingly impressive, especially for a 4,123-pound sedan!
Shop Cadillac CT5-V Blackwing Inventory
---
2022 Cadillac CT5-V Blackwing Safety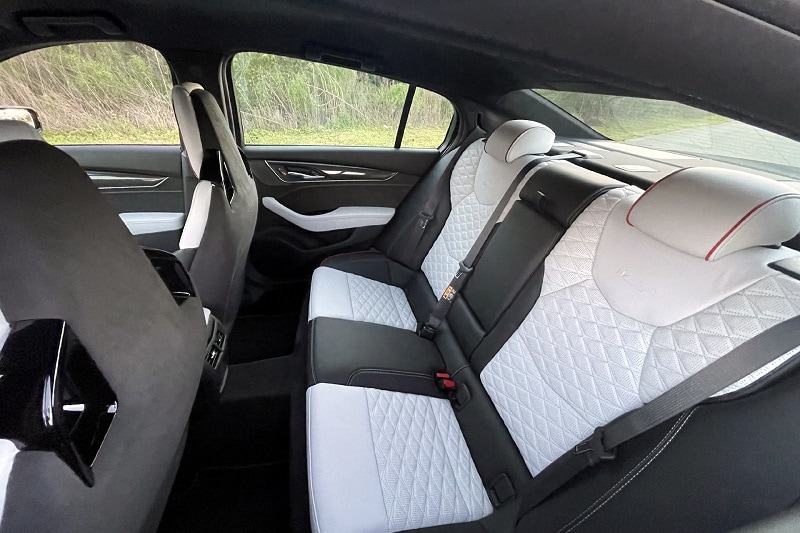 While the CT5-V and CT5-V Blackwing have yet to be tested by the National Highway Traffic Safety Administration, the base 2022 Cadillac CT5 has received a 5-Star overall crash rating. 
There's also a lengthy list of standard safety features, including Automatic Emergency Braking, Forward Collision Alert, Lane Keep Assist and more. But you'll have to pay extra for Adaptive Cruise Control and GM's semi-autonomous Super Cruise is not available on the Blackwing. 
Shop Cadillac CT5-V Blackwing Inventory
---
2022 Cadillac CT5-V Blackwing Overall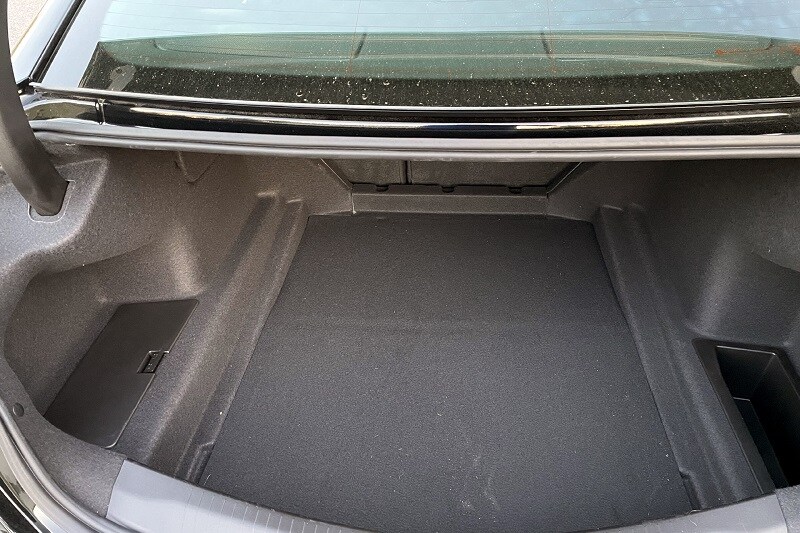 Building on the pedigree of three CTS-V generations, the 2022 Cadillac CT5-V Blackwing delivers world-class performance and handling capabilities. If you're looking for a car that performs like a Corvette without the constraints of a two-passenger seating capacity, this 668-horsepower five-seater is an easy choice. 
All performance vehicles come at a price premium, and the CT5-V Blackwing is no different. The Blackwing's starting price of $83,995 compares to the $37,295 MSRP of a base CT5 and $50,095 for the standard CT5-V, but the good news is that the Cadillac costs about $20,000 to $30,000 less than its German rivals. With all of its optional goodies, this CT5-V Blackwing had an as-tested price of $99,410, but Cadillac says a fully loaded example will run upwards of $125,000.
Shop Cadillac CT5-V Blackwing Inventory
---
Jeffrey N. Ross
| June 10, 2020