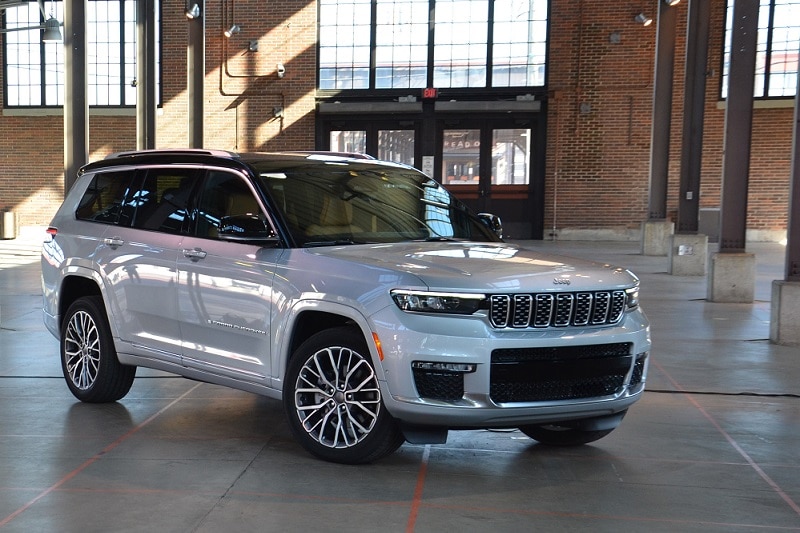 It's early evening toward the beginning of June, and I'm standing inside Jeep's massive Detroit Assembly Complex, just a few short minutes drive from the Motor City's downtown core.
In preparation for the launch of its seven-passenger Grand Cherokee L, Jeep has brought a group of writers here for a first-hand look at production of the rugged new SUV, and the line is humming. To put it mildly, the scale is dizzying, and highlights what a staggeringly complex task assembling a modern vehicle is. In certain areas of the floor, you can smell hot metal, and see stray sparks ricochet from behind barriers, as state-of-the-art robots weld stamped panels into high-strength steel chassis. Above our heads, freshly painted Cherokee unibodies circle like slow motion roller coaster cars, patiently moving toward the station where they'll meet a completed driveline. At one point, I turn and look down the line. But I can't see the end of it.
---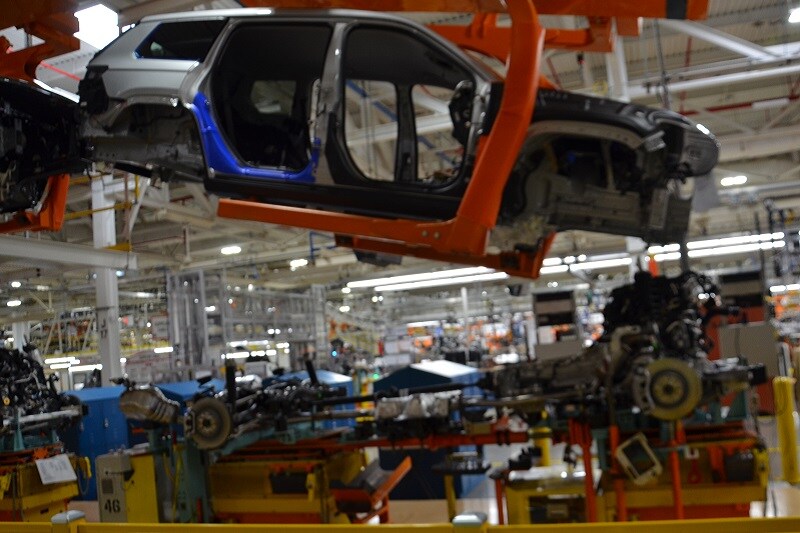 The Cherokee L is an important product for Jeep, and all the employees I talked to were thrilled it's being built in Detroit. While the ground under the Detroit Assembly Complex has been a manufacturing center for over a century, this facility is the city's first new assembly plant in three decades, and brought nearly 4,000 jobs to the region. All told, there's three million square feet of space under the roof, which includes 1,000,000 for General Assembly, and 800,000 for a three-story paint shop, where a team of 124 robots paint bare sheet metal in 11 colors. Before it leaves the factory, every Grand Cherokee L will take a spin down the Buzz, Squeak and Rattle Test Track, a 2,000-foot indoor circuit where it's subjected to potholes, rumble strips, and speed bumps, to ensure everything is screwed together properly. After nearly 20 years in the automotive industry, this tour was, bar none, the most in-depth look at vehicle production I've ever seen, and it was beyond cool.
Of course, while a peak behind the curtain is always interesting, I was obviously looking forward to seeing how all this industry translated to the Jeep's on- and off-road manners. And I wasn't disappointed. The designers and engineers nailed it here, and by the end of my time with the Cherokee L, I was joking that it might be the "most off-road capable money-printing machine ever built." Because unless my gut instinct is totally wrong, Jeep is going to sell a ton of these babies.
---
Following the Twisty Roads to Chelsea Proving Grounds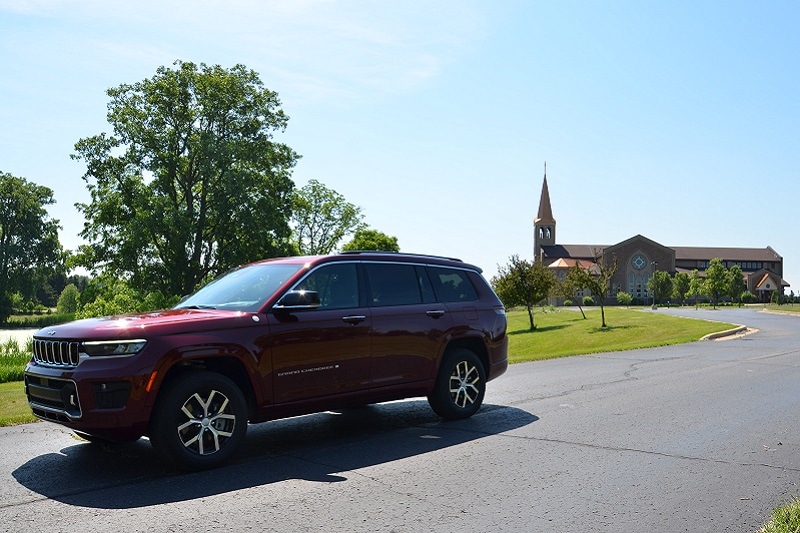 Before the assembled media folks were handed keys and set loose on the backroads of Michigan, we headed to Detroit's beautiful Eastern Market for a brief rundown on the first three-row Jeep.
The standard mill is Ma Mopar's celebrated 3.6-liter Pentastar V6, which is good for 293 horsepower and 260 lb-ft of torque. Buyers will also have the option of stepping up to a 5.7-liter V8, which produces 357 horsepower and 390 lb-ft, and is rated to tow a class-leading 7,200 pounds. Both engines are mated to an eight-speed automatic transmission, and there are three different 4x4 systems available, Quadra-Trac I, Quadra-Trac II and Quadra-Drive II with rear electronic limited slip-differential.
Each system can send up to 100 percent of available torque to the corner where it senses the most grip, and while the Quadra-Trac I package has a single-speed transfer case, the Quadra-Trac II and Quadra-Drive II both have two-speed transfer boxes. Drivers can dial in optimal drivetrain settings for different conditions using Jeep's Selec-Terrain system, which has Auto, Sport, Rock, Snow, Mud/Sand settings. Also, the Jeep's Quadra-Lift suspension system will automatically adjust to provide up to 10.9 inches of ground clearance when you're off-roading, or lower slightly when the vehicle is parked or cruising down the highway.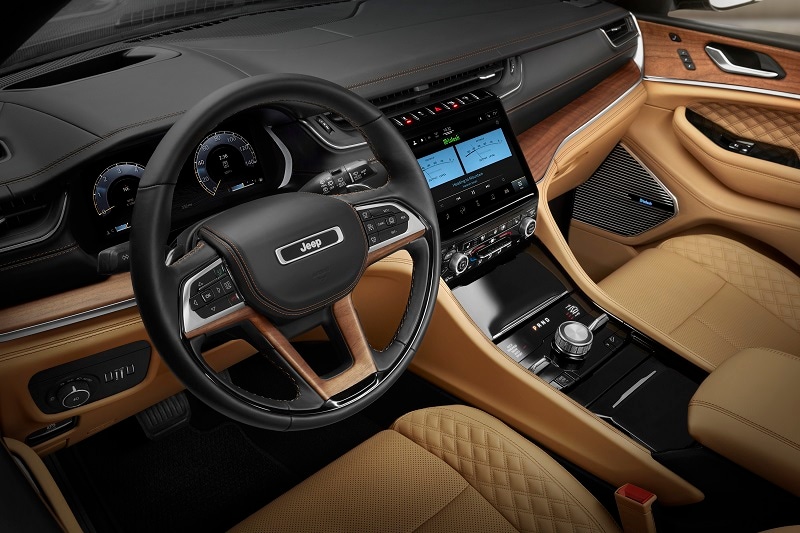 Now obviously, all that kit is impressive. But since this is a Jeep, hardcore, ethusiast-friendly specs like those are too be expected. What I didn't expect was just how well the adaptive suspension would translate to on-road performance. Overall, I was floored by just how capable this machine was when tackling twisty roads. Because honestly, the Cherokee is a huge vehicle. Like, school bus big. The wheelbase is long enough that even at 6'3" tall, I can comfortably sit in the third row, which is pretty rare in the segment. But importantly, it didn't feel massive when I was behind the wheel, and it stayed incredibly composed, even when tasked with rapid deceleration and direction changes that would've unsettled plenty of performance cars a decade ago. In discussing the Jeep's sparkling road manners with some of the other writers on hand, the thing we kept returning to was the fantastic brake performance. Pedal feel is tremendously confidence-inspiring, and hauling this rig down from the upper end of the speedometer is a drama-free affair.
With high-end materials everywhere, the cabin is also an extraordinarily nice place to be. All the materials are soft to the touch, and beveled surfaces on components like the transmission dial reveal that the attention to detail here is world-class. Personally, I was more than a little excited to check out the 19-speaker McIntosh stereo system, as the Binghamton, New York based company has been synonymous with audiophile-grade perfection for over 70 years. To get the most out of the system, Jeep included a flash drive with a dozen high-definition audio tracks, and as someone who's intimately familiar with Dire Straits' classic "Money For Nothing," I don't think I've ever heard it sound so good.
---
A Giant, Comfortable Jeep, Yes. But Still a Proper Jeep.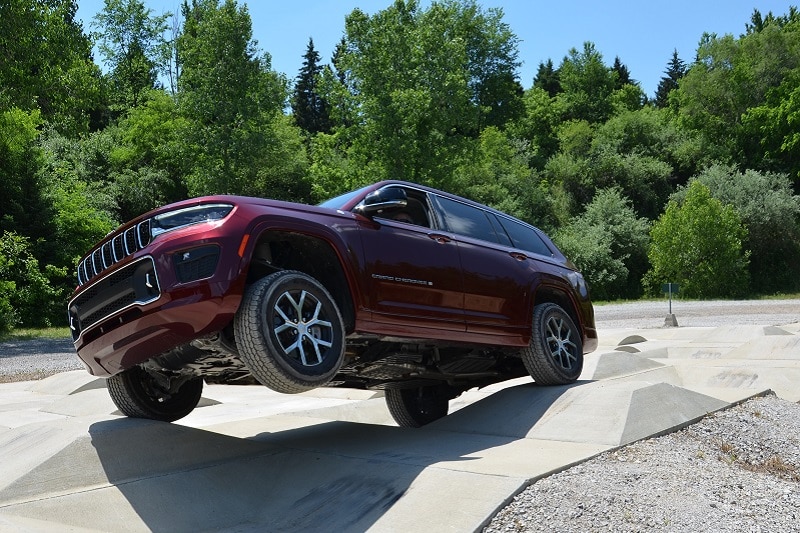 The Chelsea Proving grounds is the place where Jeep engineers test new hardware before they take it to the brand's spiritual home in the deserts of Moab. As a result, the 3,800-acre facility is positively littered with obstacles which would turn most vehicles into a pile of scrap metal.
When I arrived, the first thing I noticed was how Jeep had parked representatives from different Cherokee generations on some rolling hills next to the trail's staging area. It was cool, even if I wished I had more time to check them out. The second thing I noticed? That was a new Cherokee on a cement torture track, happily navigating a system of dips and bumps that alternately put the front and rear tires a solid five feet into the air. Fortunately, the engineers showing off were happy to take me as a passenger, and while the ride was initially a little unnerving, what with the radical articulation and all, it was a non-issue when the Jeep would plant its tires back on the ground. Seriously, for all the fuss the machine made during that exercise, it might as well have been running over parking curbs at Whole Foods.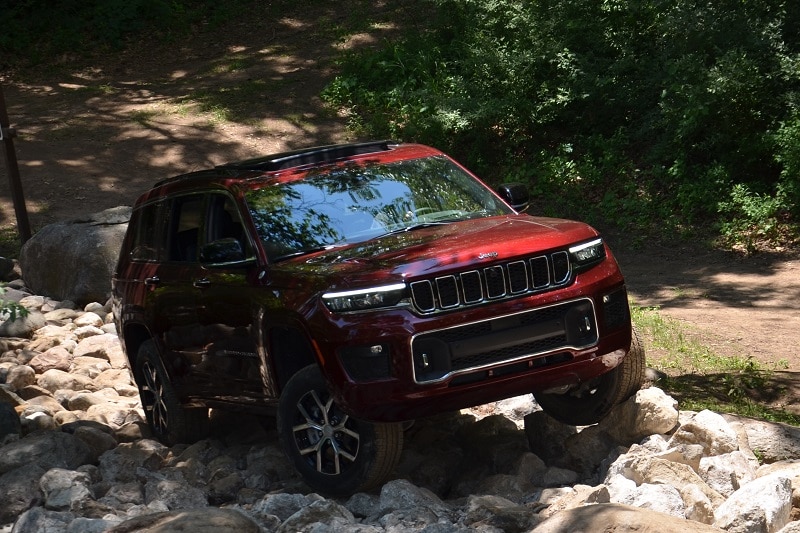 Over the next half hour, I proceeded to drive the Jeep over a slew of obstacles that I would, quite frankly, never attempt to navigate in a vehicle I actually own.
Moments later, I was behind the wheel of my own Cherokee, so I could see for myself just how capable it was when the going gets tough. This model was equipped with the V8 and the range-topping Quadra-Drive II 4x4 setup, and if I had any doubts about its capabilities, they vanished when I selected four-wheel low, and felt the drivetrain snap to attention. It made a thunk that I felt in the bottom of my stomach, and felt wholly removed from the example I'd just flogged on the way to the Proving Grounds..
Over the next half hour, I proceeded to drive the Jeep over a slew of obstacles that I would, quite frankly, never attempt to navigate in a vehicle I actually own. First, there were sets of short, steep little hills which resembled a BMX track. The pitch was aggressive enough that when I was at the top, nothing but sky and treetops was visible through the windshield. But fortunately, the Jeep's front end camera gave me a full view of exactly what was waiting for me on the descent. After that, I followed a tight trail along a series of buried logs, then carefully descended another steep grade, before lining up to take the Cherokee up a fearsome pile of boulders. And while rock crawling is hardly my specialty, some members of the Jeep Jamboree crew were there to direct me to the best lines, which made it feel dead simple. I capped the experience by driving down a trail that tilted the Jeep at a 30-degree angle, which felt surreal.
For what it's worth, I think the percentage of Cherokee L owners who actually choose to submit their vehicles to that kind of treatment will be in the single digits. But wow, is this performance impressive to experience.  
---
2021 Jeep Cherokee L Trims, Pricing, and Availability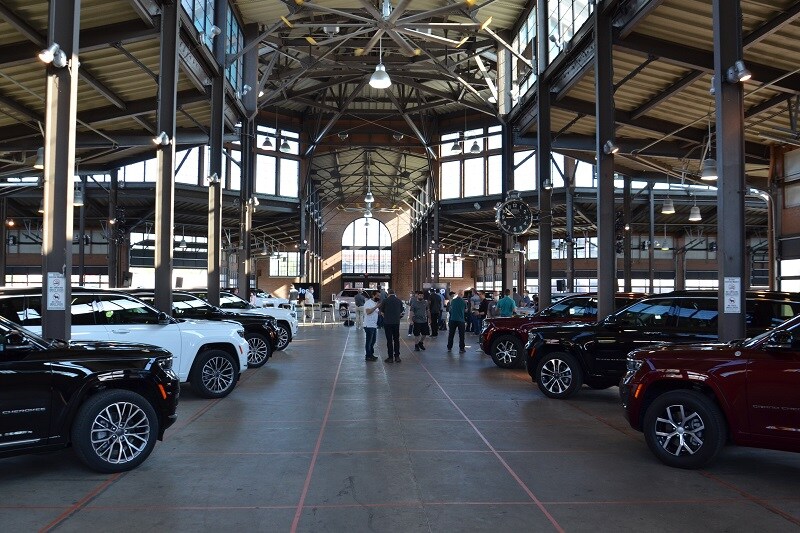 The 2021 Cherokee L will be available in four trims. Laredo, Limited, Overland and Summit. The base Laredo model will start at $36,995, and feature a robust suite of standard safety equipment, along with upscale features like a digital gauge cluster and LED lighting. The Limited model will start at $43,995, and adds creature comforts like heated leather seats, remote start, and a power liftgate.
Next up on the list is the Overland trim, which starts at $52,995. This trim gets heated and ventilated leather seats, adjustable interior LED lighting, and a dual-pane sunroof, along with options for steel skid plates and a limited-slip rear differential. The range-topping Summit Reserve model will come standard with just about everything you can option a Jeep with, from the McIntosh stereo, to the open-pore Waxed Walnut wood trim, to the 21-inch wheels. It starts at $61,995, and seems like one heck of a lot of vehicle for the money.
Expect to see the 2021 Jeep Cherokee L at your local AutoNation dealer toward the end of June, and stay tuned for a full review after it starts hitting press fleets. 
---
John Coyle | Jun 18, 2021