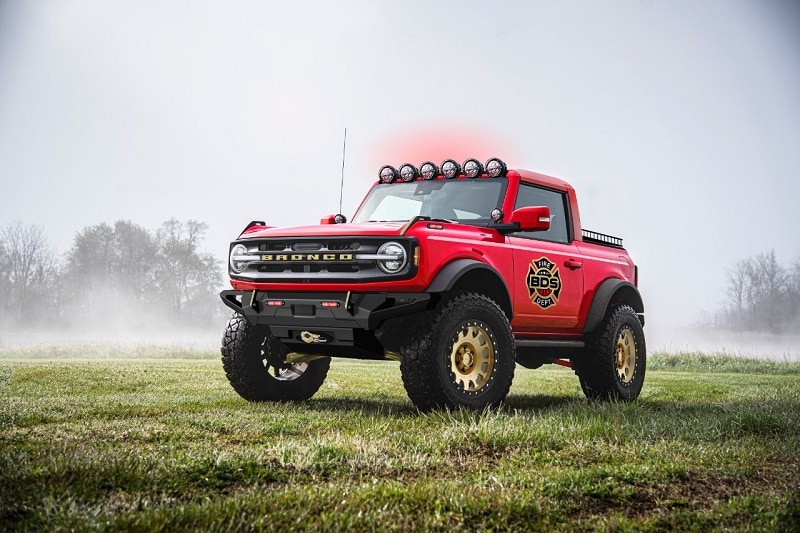 There are car shows, and there is SEMA. This is where OEMs and builders from across the globe come to celebrate all that's wild and wonderful in the automotive world, and the custom creations are second to none. Fittingly, Ford always has a big presence at the week-long event, and the while there will be plenty of modified Mustangs on the floor of the Las Vegas Convention Center, this year, it's all about the Bronco. 
The big show doesn't kick off until next week, but in preparation, the Blue Oval has released some teaser images of the Broncos that'll be on display.  All told, there are four four Broncos and two Bronco Sport models, and they should all prove inspirational for anyone looking to put their personal stamp on Ford's new rugged off-roader. Check out all the pictures below to get a look at how some of the country's top automotive talent has put their own spin on an instant classic!
---
2021 Bronco RTR Fun-Runner by RTR Vehicles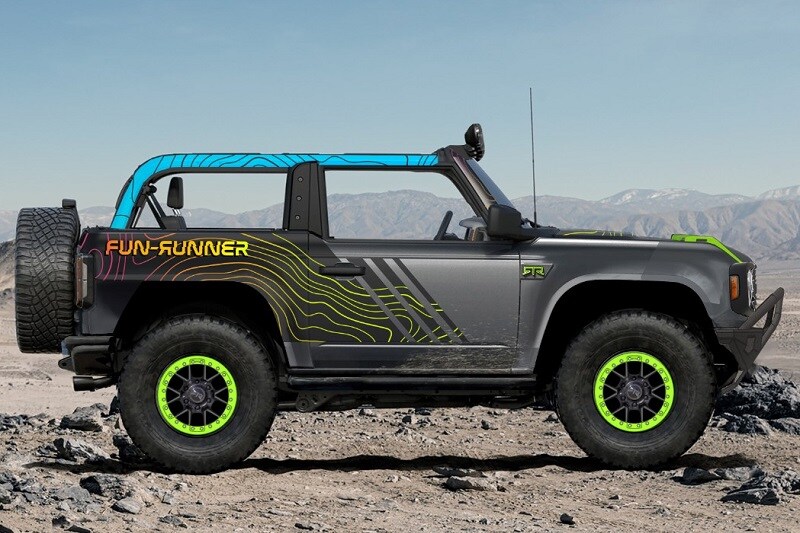 To build the Bronco RTR Fun-Runner, champion drifter Vaughn Gittin Jr. started with a Badlands series, and added a laundry list of trick bits from the Ford Performance catalog. Some notable greasy bits include Dana Axels front and rear, Fox Performance Elite 2.5 coilovers, and RTR Tech 6 forged bead-lock wheels shod with 37-inch off-road rubber.
---
2021 Bronco by BDS Suspensions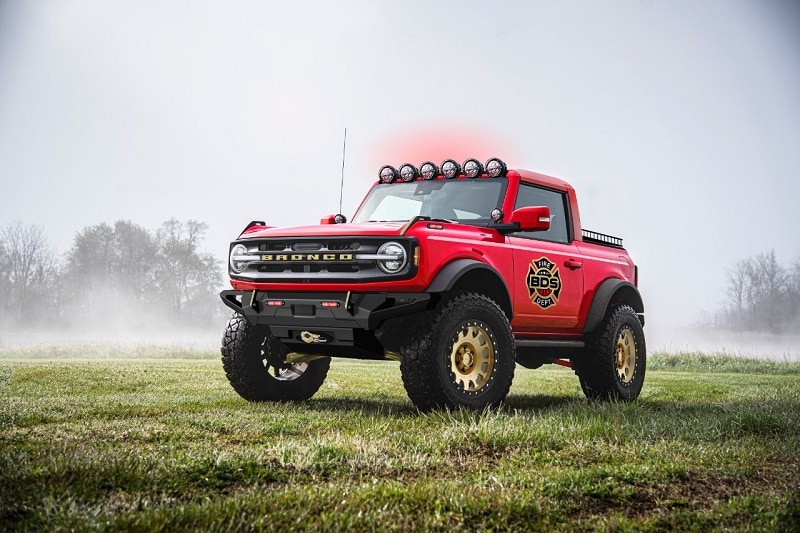 For its build, BDS Suspensions started with a Black Diamond series Bronco. Along with the killer rack of auxiliary lighting above the windshield, the build team added plenty of kit to ensure forward progress will proceed even when the going gets tough, including Fox 2.5 PES coilovers, BDS rear adjustable control arms, and 37-inch BFGoodrich KM3 tires.
---
2021 Bronco by Tucci Hot Rods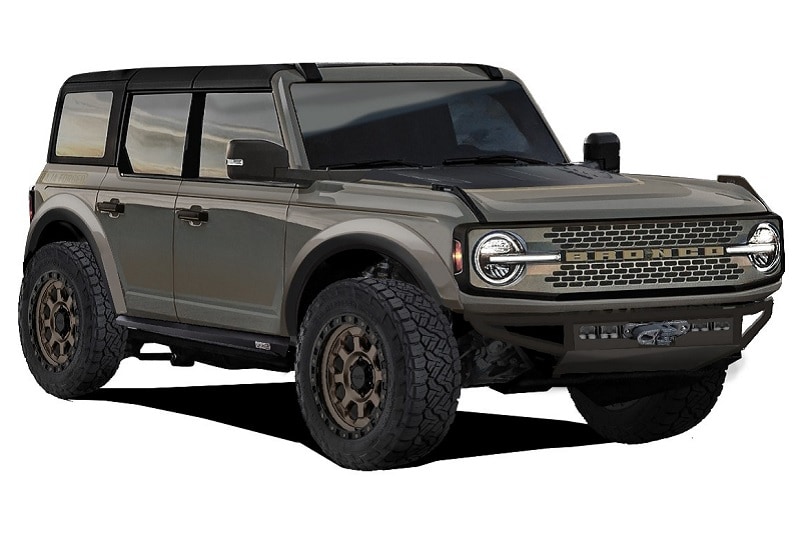 Look close, and eagled-eyed enthusiasts might notice there's been a slight change to Tucci Hot Rods' four-door Bronco. Yup, instead of going with regular old wheels, the crew installed Mattracks 88-Series quad tracks, which provide tank-like looks, and more importantly, tank-like capability on the trail. Is it daily driver material? Nope. But SEMA  for you.
---
2021 Bronco BAJA FORGED by LGE-CTS Motorsports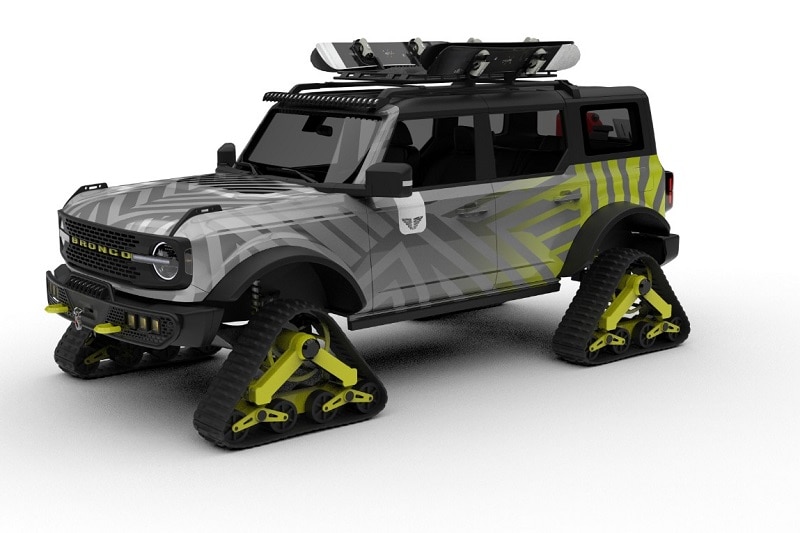 With its understated colorway and squeaky clean lines, the LGE-CTS Motorsport's might be the most understated Bronco of the bunch. But there's lots going on here, as long-time SEMA builder Theresa Contreras and company have beefed up this baby with BAJA FORGED bumpers, an ICON lift kit, and creature comforts like an onboard fridge and thumping sound system.
---
2021 Bronco Sport BAJA FORGED by LGE-CTS Motorsports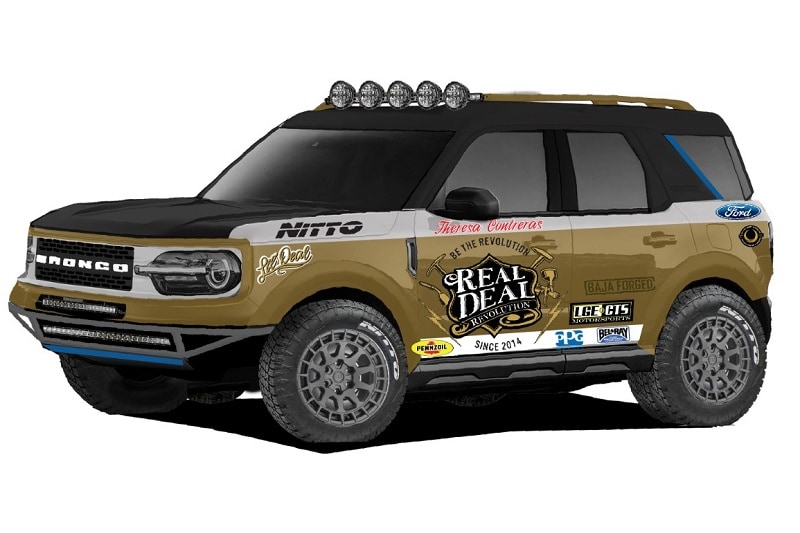 While it might have all the off-road capabilities of its big sibling, the Bronco Sport is still a capable little rig. For proof, look no further than this Bronco Sport Badlands series. It's decked out with Hellwig Suspension Products front and rear sway bars, a two-inch suspension lift, rock sliders, fender flares, and a Borla performance exhaust system, so it'll sound as good as it looks.
---
2021 Bronco Sport by CGS Performance Products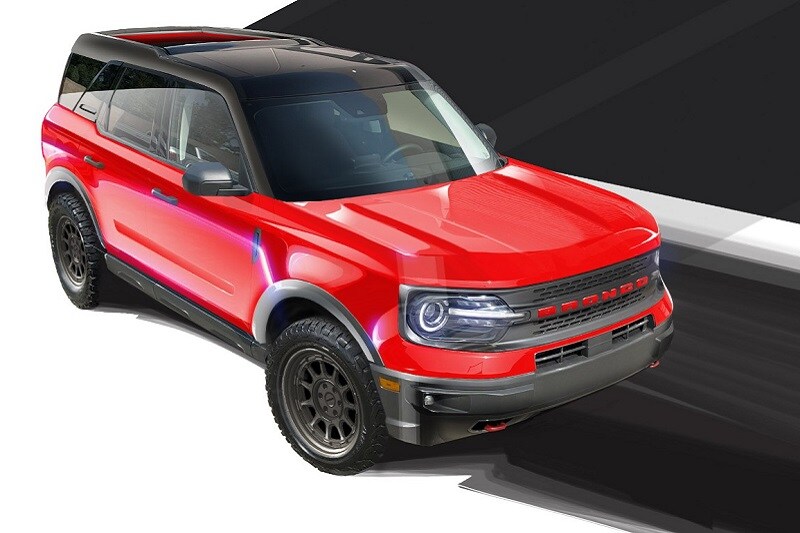 The Bronco Sport Badlands from CGS Performance Products sports custom red paint, Air Design fender flares, Reserve Forged wheels, and exterior lighting from Rigid Light Shop. In the bling department, there's also an underbody light kit, along with an interior safe, to keep any precious cargo nice and secure. Under the hood, there's a cold air intake, and a black ceramic-coated exhaust.
---
AutoNation Drive Editors
| Oct 27, 2021