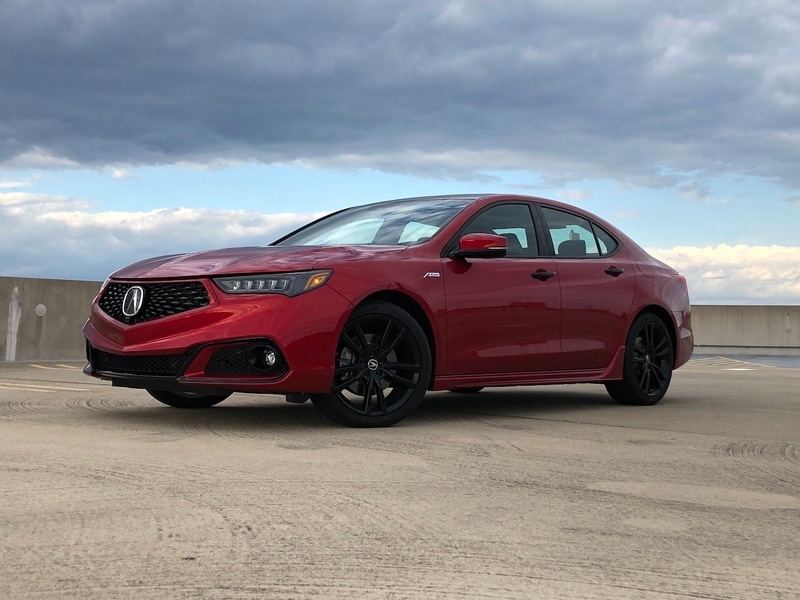 This Edition of the Acura TLX is Assembled by the Techs Who Build the NSX
— by Omar Rana
What you're looking at here isn't just any Acura TLX. Nope, this is a very limited edition of the TLX called the Acura TLX PMC Edition. So what makes the PMC model so special? Well, PMC stands for Performance Manufacturing Center, Acura's 200,000 square foot facility in Marysville, Ohio where the NSX is made.
Like the tech-laden supercar, the TLX PMC is hand-built by the same master technicians that assemble the NSX. Unfortunately, this doesn't mean that this TLX is faster. It still features the 290-horsepower 3.5-liter V6, Super Handling All-Wheel Drive, and the A-Spec's stiffer dampers and quicker steering ratio.
Nevertheless, it's a lot more special, and as a result, costs a little bit more. I'll get into exactly what more special means in a moment. But as a little preview, I'll let you know that the exclusive Valencia Red Pearl paint job seen here takes the technicians a whopping five days to complete — and only 360 units will be made.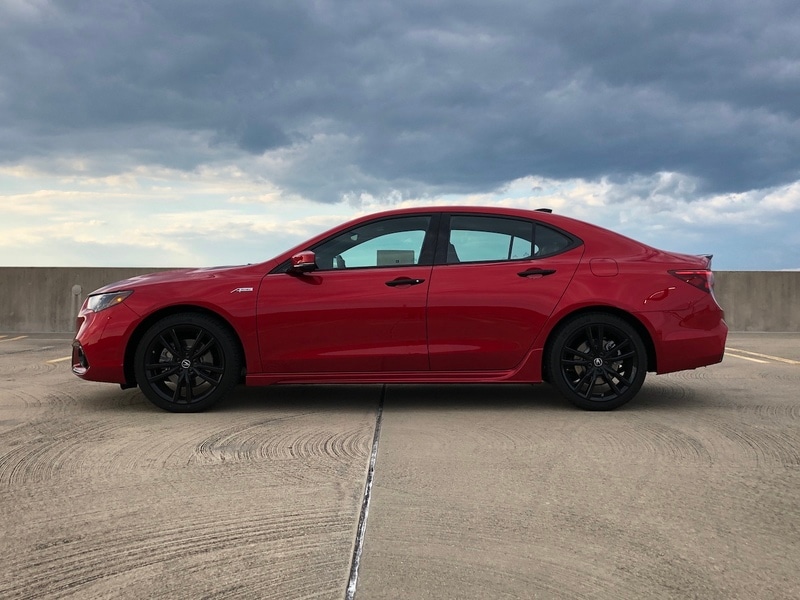 2020 Acura TLX PMC Edition Exterior
Acura has come a long way when it comes to the brand's exterior design language. The current TLX is one of my favorite designs from the Big Three JDM luxury brands, and I'm pretty excited to see what Acura does with the next-generation model, which will be influenced by the Type S Concept. In my opinion, while I think the Infiniti Q50 does the best job of portraying an elegant and dynamic look, the Acura TLX is a close second — especially when it comes to the A-Spec model.
The 2020 Acura TLX PMC Edition gets all the flare and sporty character from the A-Spec, and adds a couple of exclusive details. First and foremost is the Valencia Red Pearl paint job, which was previously only available on the NSX. The paint features nano pigment technology that makes the color pop with high saturation and contrast. The PMC team uses a robotic paint system to apply multiple coats along with two clear coats, a process that Acura says takes five days — which I think can also result in 5 days of agony if you end up scratching it.
Other PMC exclusive elements include 19-inch black alloy wheels, a gloss black diamond pentagon grille, a black roof panel, and dual four-inch black chrome exhaust tips. You also get gloss black door handles along with A-Spec badging.
All in all, keep in mind that an Acura TLX A-Spec SH-AWD starts at $44,800* and looks just as good as the $50,945* Acura TLX PMC. However, only one of them spent time being cared for by the same advanced technicians that build the NSX.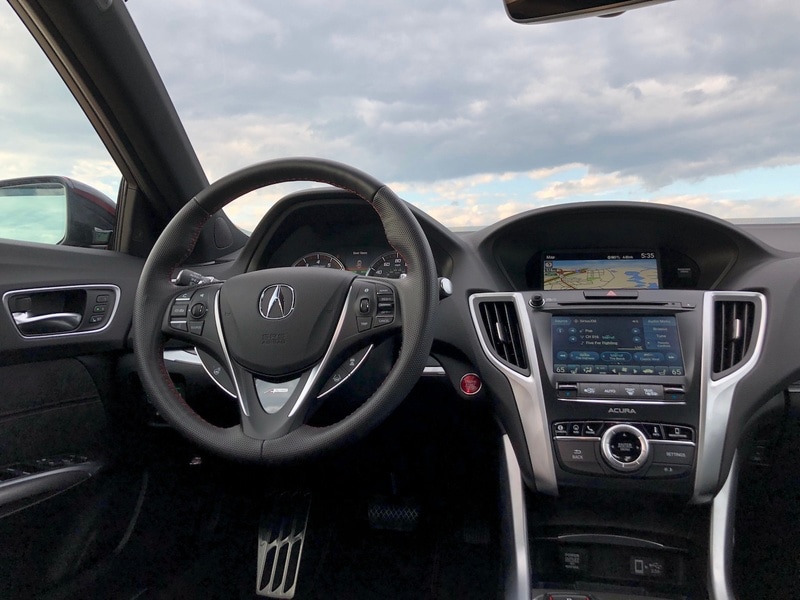 2020 Acura TLX PMC Edition Interior
Since this is a $50,000+ TLX, everything comes standard. Looks and comfort-wise you get heated and cooled black Milano leather seats with Alcantara, heated rear seats, a beefy A-Spec heated steering wheel, metal paddle shifters, dual-zone climate control, black piping, and red stitching all around, and much more.
Tech-wise you get all the upgrades, including an ELS sound system, navigation, Apple CarPlay and Android Auto, wireless phone charging, a surround-view camera, blind-spot monitoring, adaptive cruise control, lane keep assist, and a range of driver-assist tech with AcuraWatch safety suite. Let's not forget, each Acura TLX PMC comes with a numbered serial plaque. My test car was no. 47 out of the 360 that will be made.
Overall, I found lots to love about the interior of the TLX PMC, though the dual-screen setup feels somewhat outdated. What I would like to see is the interior and tech I saw in the Acura RDX A-Spec that I recently reviewed, and I expect to see it in next-gen TLX.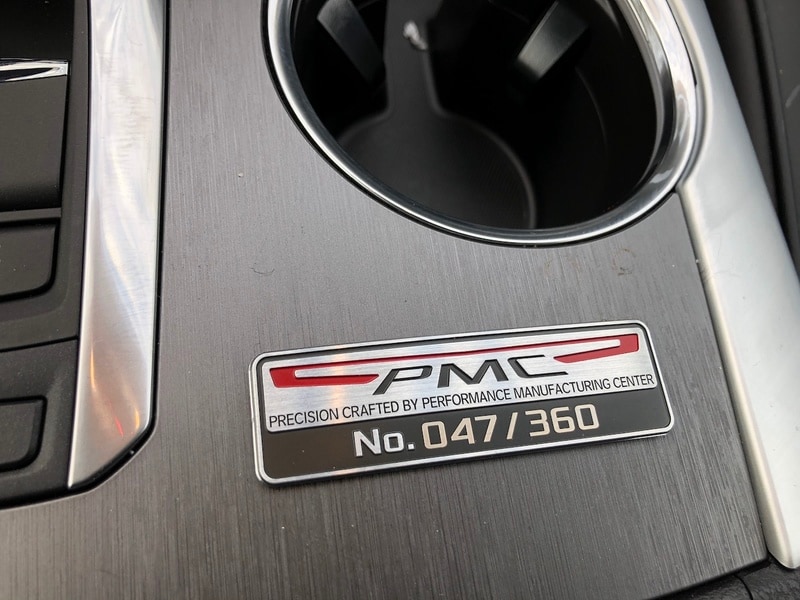 2020 Acura TLX PMC Edition Performance
So let's talk about how the Acura TLX PMC drives. Since it's based on the Acura TLX A-Spec SH-AWD, there's nothing different performance-wise between the two. While the A-Spec adds a tuned electric power steering and stiffer damper settings, everything else is just visual enhancements.
What really makes the TLX shine is the SH-AWD system. Acura took a more advanced approach to the words all-wheel-drive, and instead of just increasing traction, Acura's Super-Handling-AWD system does exactly what it says — it makes handling super. Instead of just transferring power to the front and rear wheels, the SH-AWD also transfers power left and right. So when you pop it into Sport+, throw it into the corners, and mash the gas, the computer will figure out how to distribute power for minimal understeer. Speaking of modes, drivers can select from Econ, Normal, Sport, and Sport+, and the shifts are noticeably faster in Sport+ mode. All in all, I love the way this thing handles when you really push it.
Power comes from a 3.5-liter V6 making 290 horsepower and 267 lb-ft of torque that's mated to a nine-speed automatic. The trip from zero to 60 takes just 5.7 seconds, and if you keep your foot in it, you'll hit a top speed of 126 mph. Fuel-economy wise, the Acura TLX PMC averages 20 city, 29 mpg highway*.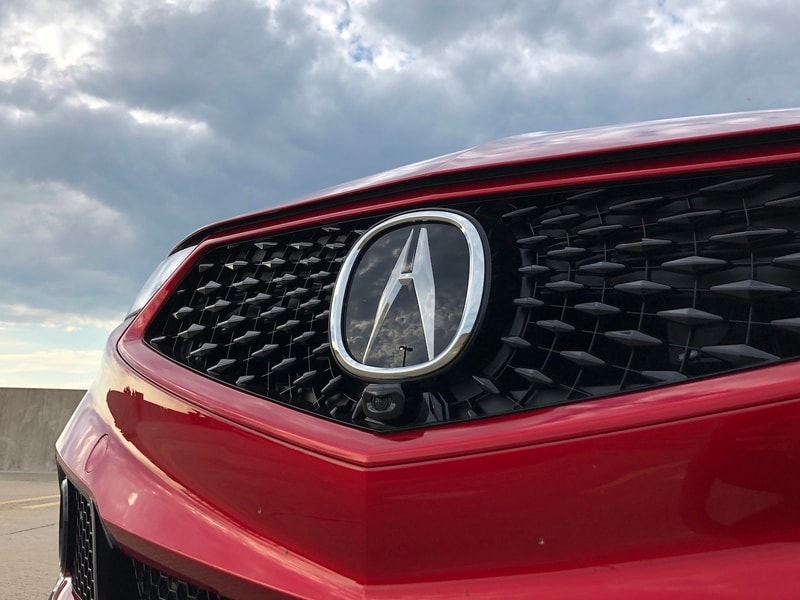 2020 Acura TLX PMC Edition Safety
In testing from the National Highway Traffic Safety Administration, the TLX earned a Five Star rating. It also performed well in Insurance Institute for Highway Safety tests, where it earned an overall, it earned a score of Good (the highest rating).
All TLX models come with a robust set of safety features, including automatic emergency braking, forward collision warning, adaptive cruise, and road departure warning. The PMC edition also features AcuraWatch, an additional package that also includes, blind spot monitoring, a 360-view camera, rear cross traffic alert, and rain sensing wipers.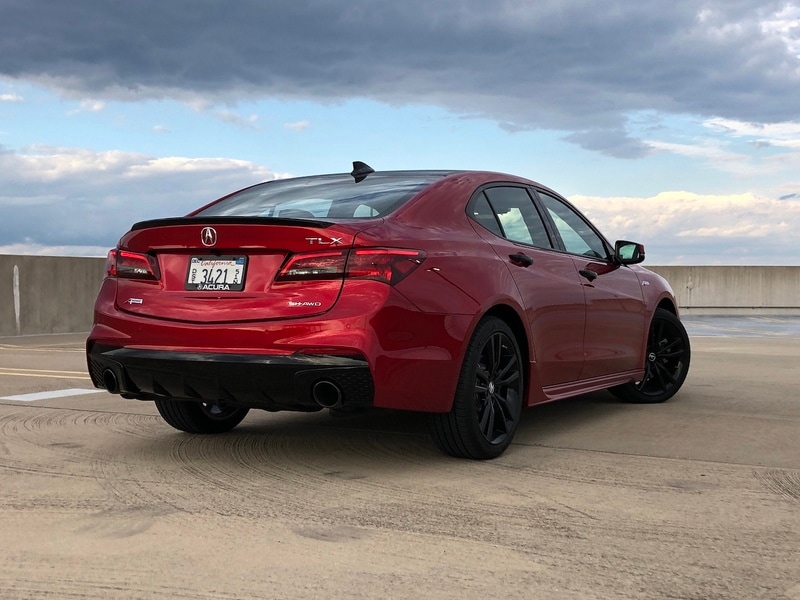 2020 Acura TLX PMC Edition Overall
The last few years have seen Acura make great strides, as evidenced by the immensely successful MDX, TLX, and totally revamped RDX, which is the latest updated model. But what I most appreciate is that Acura is getting noticed for its advanced technologies, like its Super-Handling AWD system. Instead of just being another luxury brand with an all-wheel-drive offering, they decided to dive deeper and improve vehicle dynamics, and the results are clear when you're behind the wheel.
I think the $50,945* Acura TLX PMC here will definitely be for the hardcore Acura fan. But for those that are looking at an Acura TLX and want all the SH-AWD goodness, a regular $33,200* Acura TLX V6 SH-AWD will leave you very satisfied. Personally, I would step up to the $44,800* Acura TLX V6 SH-AWD A-Spec for some extra sharpness. Visit your local AutoNation-affiliated Acura dealership for a test drive today!
*MSRP excludes tax, license, registration, destination charge and options. Dealer prices may vary.
**Based on EPA mileage ratings. Your mileage will vary depending specific vehicle trim, how you drive and maintain your vehicle, driving conditions, and other factors.