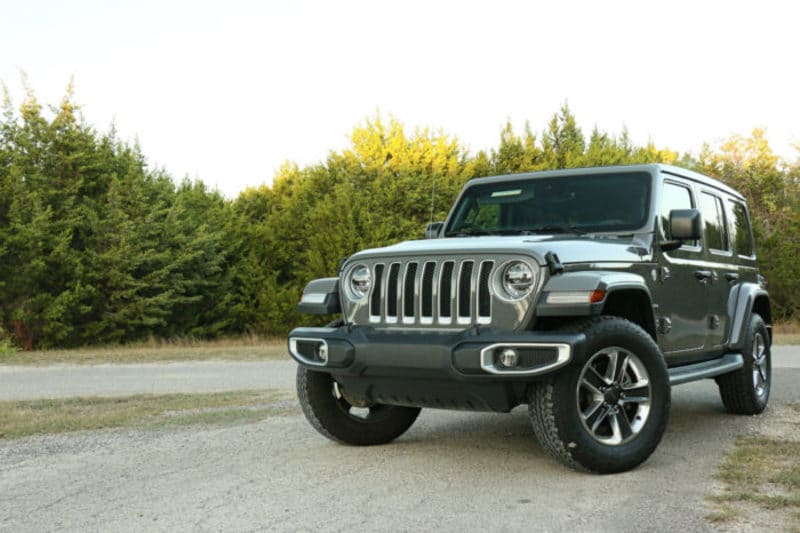 On Road and Off, the Jeep Wrangler Unlimited is an Impressive Rig
— by
Derek Shiekhi
More often than not, when I receive a vehicle to review for this site, I've never driven it or even been a passenger in it before. There are exceptions, of course, such as when I get essentially the same car two model years in a row or spend a few minutes in one at a local press event, but I mostly go into vehicles cold, having no previous in-person exposure to them.
Things didn't go that way with the
Jeep Wrangler Unlimited Sahara
. The week I had the 2019 Chevrolet Silverado Custom Trail Boss, my pal Bryan Grant, the face of the YouTube channel New Car Spin, was testing the Wrangler you see here. He kept telling me how much he loved it and enjoyed the power of its turbocharged four-cylinder engine. I didn't get the chance to drive it myself until a few weeks later, but when I finally got behind the wheel of the Wrangler Unlimited Sahara, I knew exactly what he had been talking about.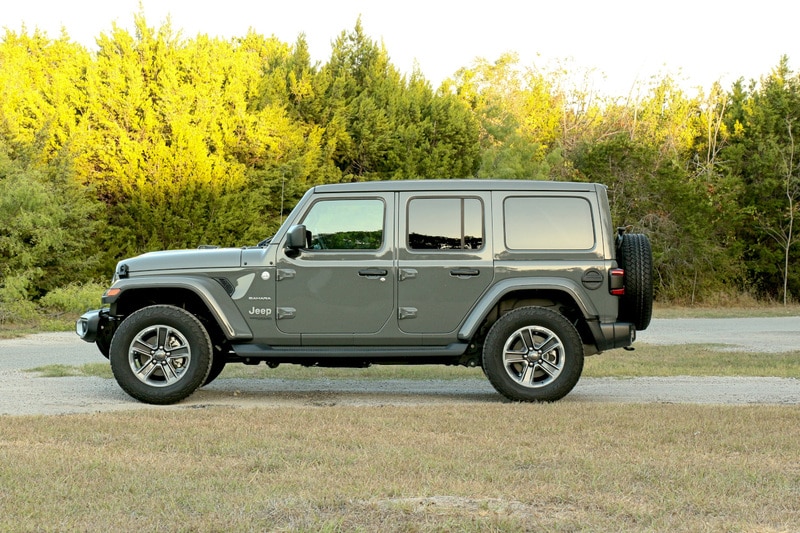 Jeep Wrangler Unlimited Sahara Exterior
No one had to tell me the Wrangler was a looker. I already knew that. Jeep absolutely nailed it. They managed to evolve the outgoing JK's styling into something that's both familiar and fresh at the same time. The JL has all of the Wrangler DNA we've loved for decades — the round headlights, the seven-slot grille, the two-box design — in a slicker, more modern form.
My test vehicle's paint only added to that impression. Jeep calls it Sting-Gray. It's an amusing play on words, but seeing it on the Wrangler didn't make me think of a majestic creature of the deep. Instead, it made the Wrangler look solid, as if it was made out of a huge chunk of marble that had been smoothed by river currents. The paint also coordinated well with the dark gray spokes of the 18-inch wheels.
Jeep equipped my test vehicle with the optional LED Lighting Group. That gave it brilliant LED illumination at both ends, from the headlamps, daytime running lights, and fog lights to the taillights.
Those were eye-catching, but the Wrangler's main attraction was its power retractable fabric roof. With the push of a button, I could let in the infinite sky above me in roughly 20 seconds. One thing I've always loved about the Wrangler is just how old-school and analog it is. I must admit the power top took away the feeling of manual engagement that I've enjoyed with other Wranglers. On the other hand, it was nice not having to get out of the vehicle to lower the top or have my girlfriend help me stow a pair of hard Freedom Panels behind the rear seats. Plus, if I wanted to open up the Wrangler a little more, I could remove the rear quarter windows the old-fashioned way by throwing some latches and lifting them out.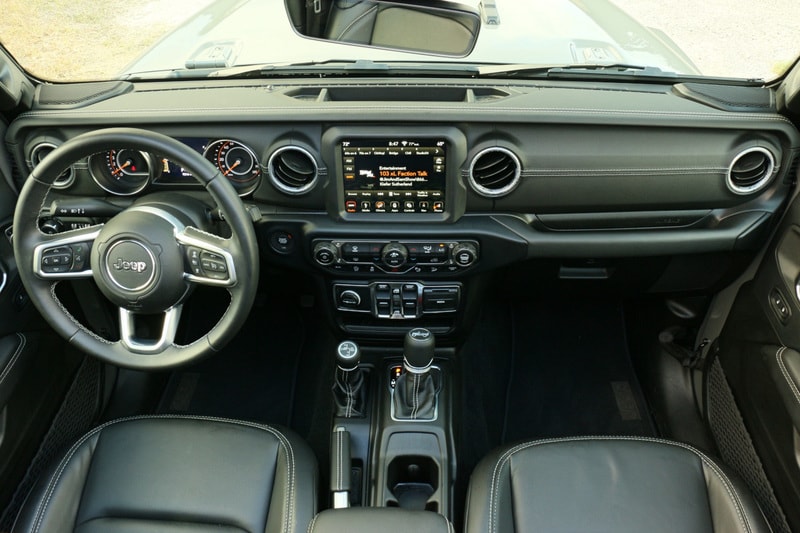 Jeep Wrangler Unlimited Sahara Interior
Jeep positions the Sahara as the sort of "luxury" model in the Wrangler Unlimited lineup. My press loaner certainly felt upscale because it was loaded with options. One package wrapped the seats, shift knob, and parking brake handle with black leather. Another treated me to the Uconnect 4C infotainment system with an 8.4-inch touchscreen, navigation, Apple CarPlay, and Android Auto; a 4G LTE Wi-Fi hotspot; and a nine-speaker Alpine audio system.
The cut of the rear doors made getting into the rear seat area a little tricky, but once I was back there, I found the legroom and headroom to be adequate for someone of my size (5'10"). The coolest part of being in the second row — aside from the HVAC vents between the two front seats — was the overhead speakers, which instantly made any top-back drive feel like a summertime cruise.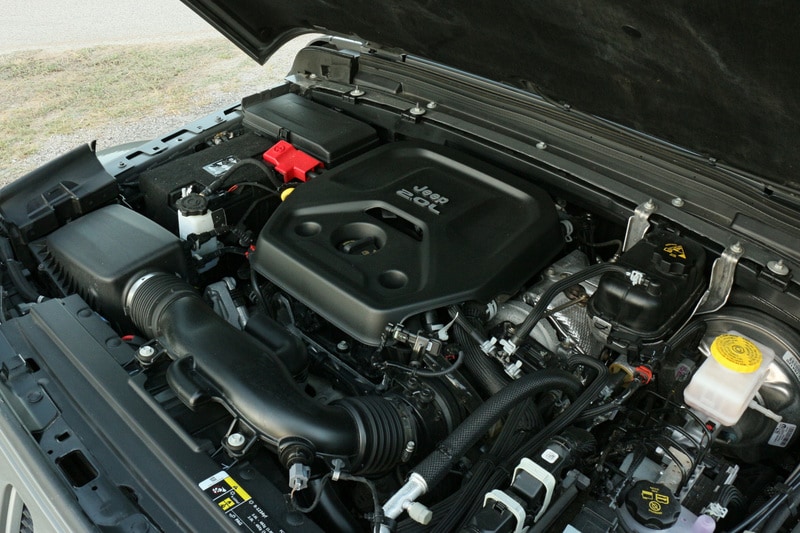 Jeep Wrangler Unlimited Sahara Performance
When Bryan had this particular Wrangler as his media vehicle and I had the Silverado Trail Boss, we drove from Austin to Marble Falls, Texas so we could test both of them off-road at the Hidden Falls Adventure Park. I rode shotgun in the Wrangler and filmed while Bryan drove.
He threw the MP3022 transfer case for the optional Selec-Trac full-time four-wheel drive system into 4H and pointed the Wrangler's nose toward any mud he could find. Despite Bryan's best efforts, the 255/70R18 all-terrain tires had no problem keeping their grip on the slick earth.
A little later, we headed to the mouth of a rocky creek bed. The Wrangler's 74-inch width, ten inches of ground clearance, 4.0:1 low range ratio, and fuel tank, transmission, and transfer case skid plates enabled it to make it through the treacherous pass without any scrapes or leaks.
I spent my week with the Wrangler testing it on paved roads. The JL's ride quality is remarkably better than the JK's, but there's no denying the new Wrangler's body-on-frame underpinnings. The turbocharged 2.0-liter four-cylinder engine with the mild hybrid assistance of Jeep's eTorque system was everything Bryan made it out to be. It routed its 270 horsepower and 295 lb-ft of torque through an optional eight-speed automatic. Throttle response was snappy and acceleration was brisk — not something I expected from a 4,380-pound four-door Wrangler. I must've indulged in the Wrangler's boost a little too much because my average fuel economy of 18.3 mpg over 206 miles was substantially lower than the EPA's estimates of 22 city, 24 highway, and 22 combined mpg.*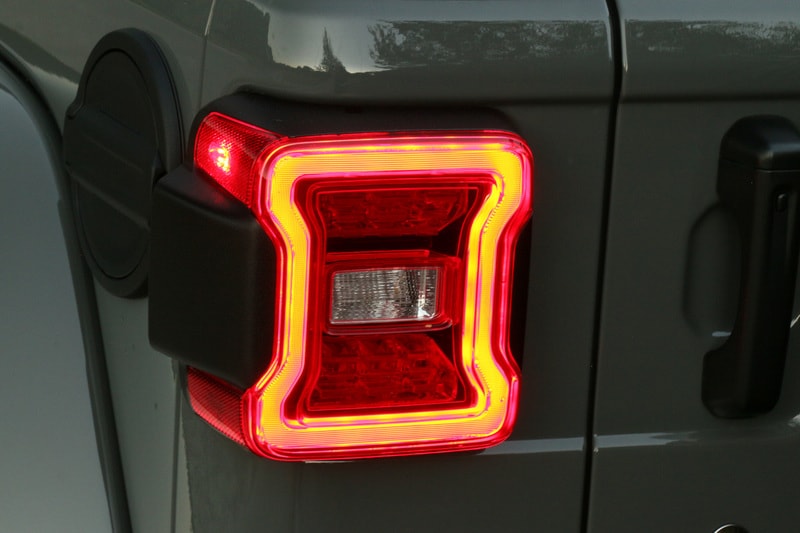 Jeep Wrangler Unlimited Sahara Premium Safety
In addition to its standard front and side airbags, back-up camera, roll mitigation, and stability control, my Wrangler tester had a couple of additional safety packages. The Jeep Active Safety Group contained a rear parking assistance setup as well as blind spot monitoring and cross-path detection. The Adaptive Cruise Control/Forward Collision Warning+ bundle combined its two namesake features (adaptive cruise control with full-stop capability and Full-Speed Forward Collision Warning Plus with automatic emergency braking) with the maximum stopping power of Advanced Brake Assist.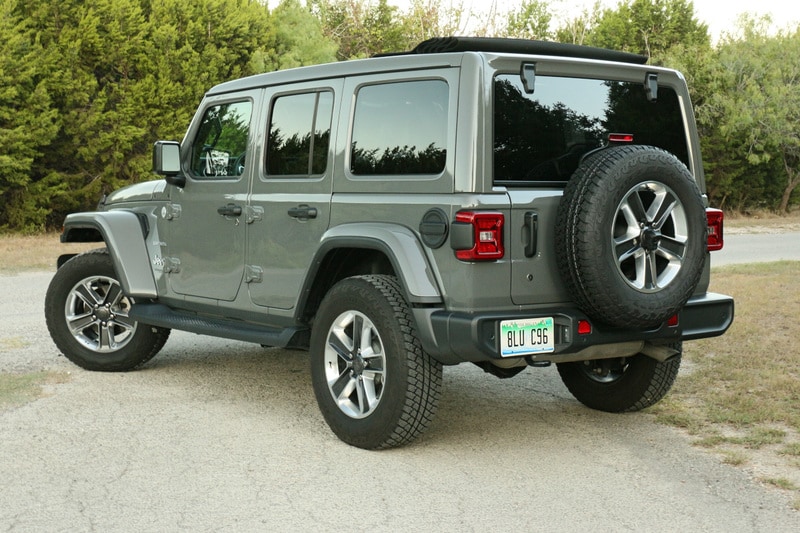 Jeep Wrangler Unlimited Sahara Premium Overall
It didn't matter if I was the driver or the passenger, wheeling off-road or driving on-road — the 2019 Wrangler Unlimited Sahara was an impressive rig. You'll see what I'm talking about when you take a test drive. You can get one around the starting price of $38,395** or one equipped just like my media tester for $54,540.
*Based on EPA mileage ratings. Your mileage will vary depending on specific vehicle trim, how you drive and maintain your vehicle, driving conditions, and other factors.
** MSRP excludes tax, license, registration, destination charge and options. Dealer prices may vary.