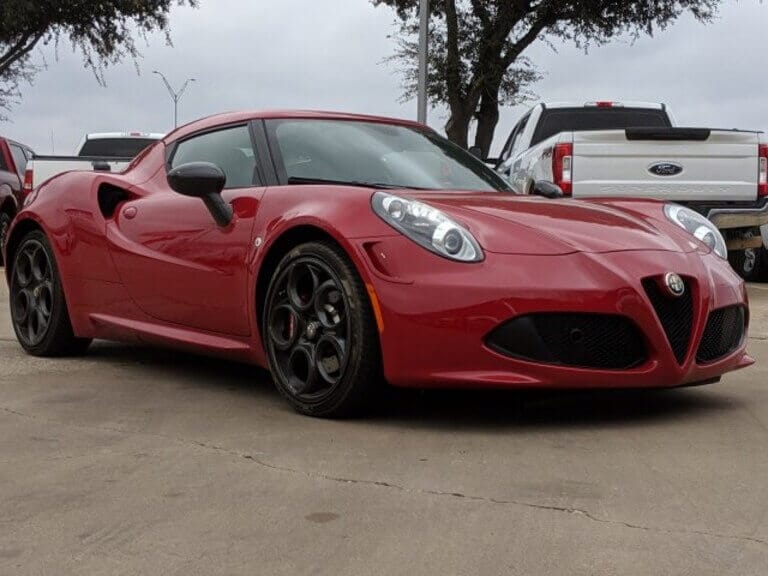 The Alfa Romeo 4C is the Definition of a Minimalist Sports Car
— by Andy Reid
Every once in a while, a manufacturer decides to design a car that, from the very start, is set up to be a future classic. Cars like the Porsche Carrera GT and the Lexus LFA are great examples of born-to-be classics, and sadly, they're both quite expensive.
Fortunately, there's a car which offers a lot of what the aforementioned cars offer, but in a bit smaller package, and with a storried Italian heritage. Meet the Alfa Romeo 4C.
When the Alfa 4C was introduced at the 2013 Geneva Auto Show, it was a revelation. While many compared it to the Porsche Boxster, it's far more than just an entry-level Porsche competitor. With mid-engine architecture and a carbon fiber monocoque tub, the 4C is truly a small-displacement supercar. Quite honestly, I was amazed Alfa had the vision to create a car as fantastic as the 4C, as the company was struggling at the time. But the brass thought the 4C would be the perfect car to relaunch Alfa in America — and I wholeheartedly agreed with them.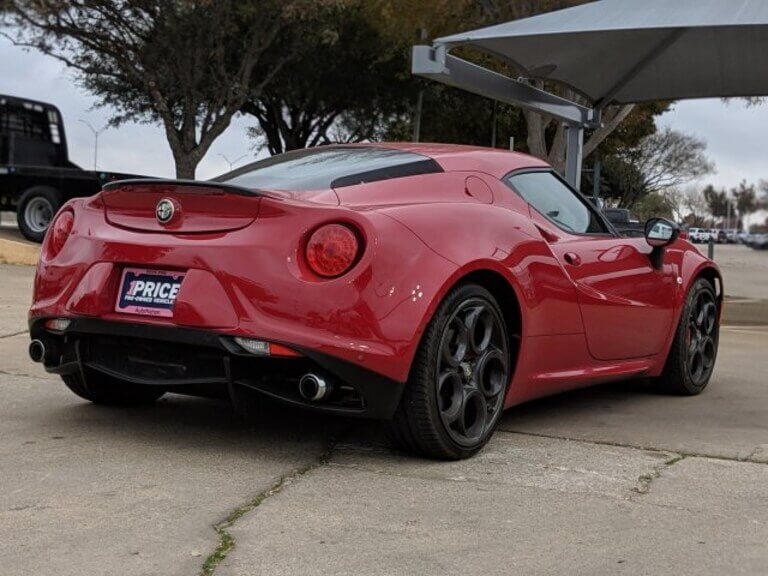 The 4c was designed not by Pininfarina or Bertone, but by Centro Stile Alfa Romeo, Alfa's own internal design department. This is impressive, as the design is as good as any I have seen in years. It's truly a pocket supercar.
The entire carbon-fiber monocoque chassis weighs in at only 143 pounds, and when you add the front and rear aluminum subframes, roof reinforcements, and engine mounting, it's still only 236 pounds. This translates into a completed 4C having a fly weight of only 2,465 pounds, a figure that's virtually unheard of today. For reference, a 2020 Porsche Cayman tips the scales at 3,199 pounds.
With so little weight to move, the 4C doesn't need a huge engine — and it doesn't have one. Power comes from a 1,742cc turbocharged inline-four packing 237 horsepower and 258 pound-feet of torque. While that might not sound like much, it's enough poke to allow the 4C to sprint 60 mph in 4.1 seconds, and hit a top speed of 160 MPH.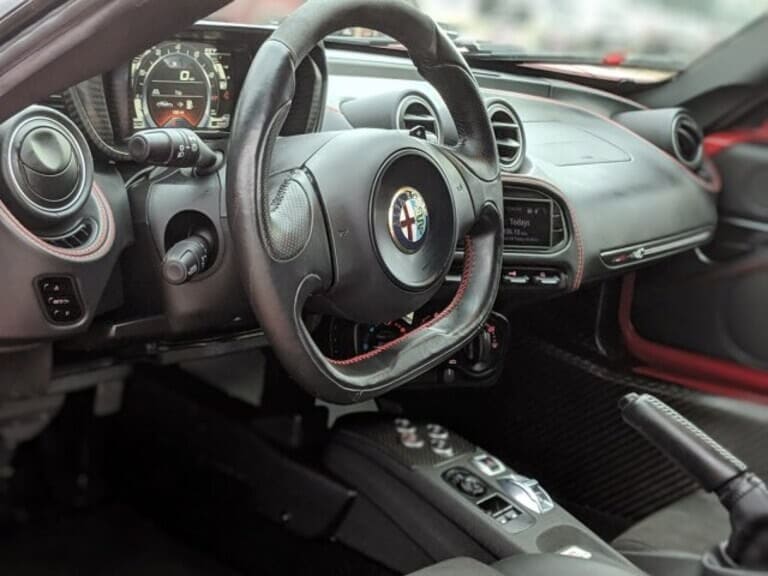 But speed is only half of the fun of the 4C, as it's one of the best handling cars available. Predictably, this comes at a cost, as the 4C is the definition of a minimalist sports car. Though there's a cup holder, there's effectively no infotainment system, no glove box, and virtually no storage. In addition, the 4C rides rough on poor pavement, and the engine always lets you know it's directly behind you. A quiet car, this is not.
Upon its introduction, quite a few journalists complained excessively about everything the 4C lacked. But whining about a lack of creature comforts here misses the point. The 4C is more Lotus Elise than Porsche Cayman, and that's the reason I love it. The 4C is the very definition of a pure and elemental sports car, with all the Italian flare that makes it feel special. It's much like a classic Lotus Elan, offering nothing to get in the way of being a driver's car. This is a car designed for people who love driving, and actually don't answer calls when they are behind the wheel.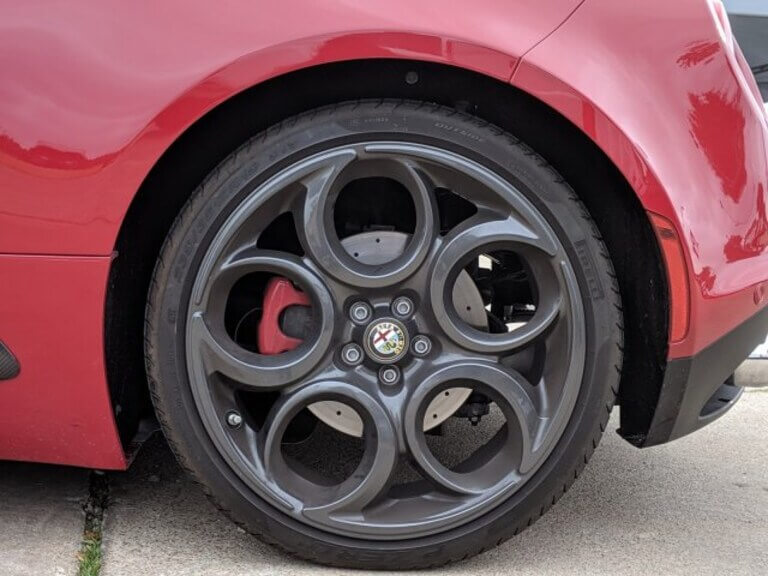 The 4C here is a 2015 Launch edition car, making it one of the first examples to arrive in the States. It's painted in Rosso Alfa paint, features a black interior, and has only covered 4,770 miles from new. Overall, the condition looks perfect.
Alfa Romeo is said to have lost money on every 4C they built, as they cost more to build than they were sold for — a likely reason the 4C coupe is no longer in production. Personally, I think the 4C is a great choice for a future collector car. This example is priced at $41,985, and looks like a great buy, as I expect this car will increase in value in the next five years. So if you've always wanted a true Italian supercar, but have a limited budget, this 4C would make a great choice.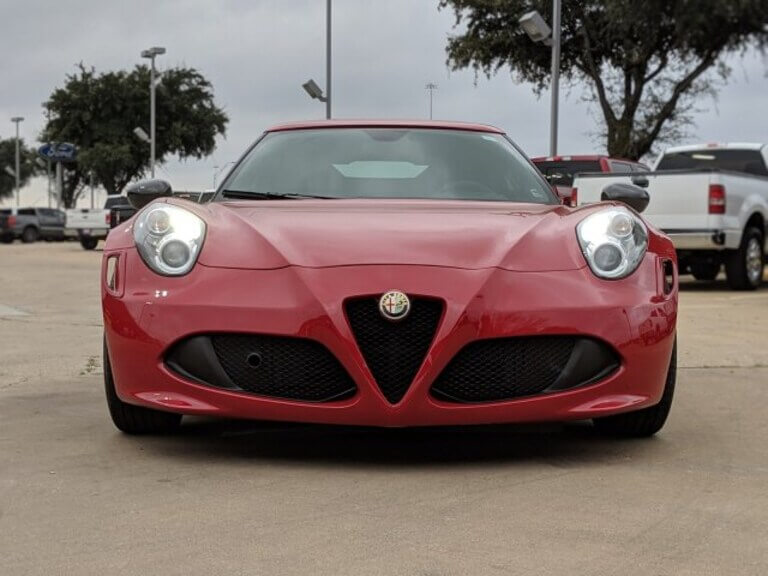 2015 Alfa Romeo 4C Launch Edition
Price: $41,985.00
Bodystyle: Coupe
Int. Color: RED
Engine: I-4 cyl
Odometer: 4770
Transmission: A/T
Stock #: FM134108
Ext. Color: Rosso Alfa
Vin: ZARBAAC46FM134108
CLICK FOR DETAILS