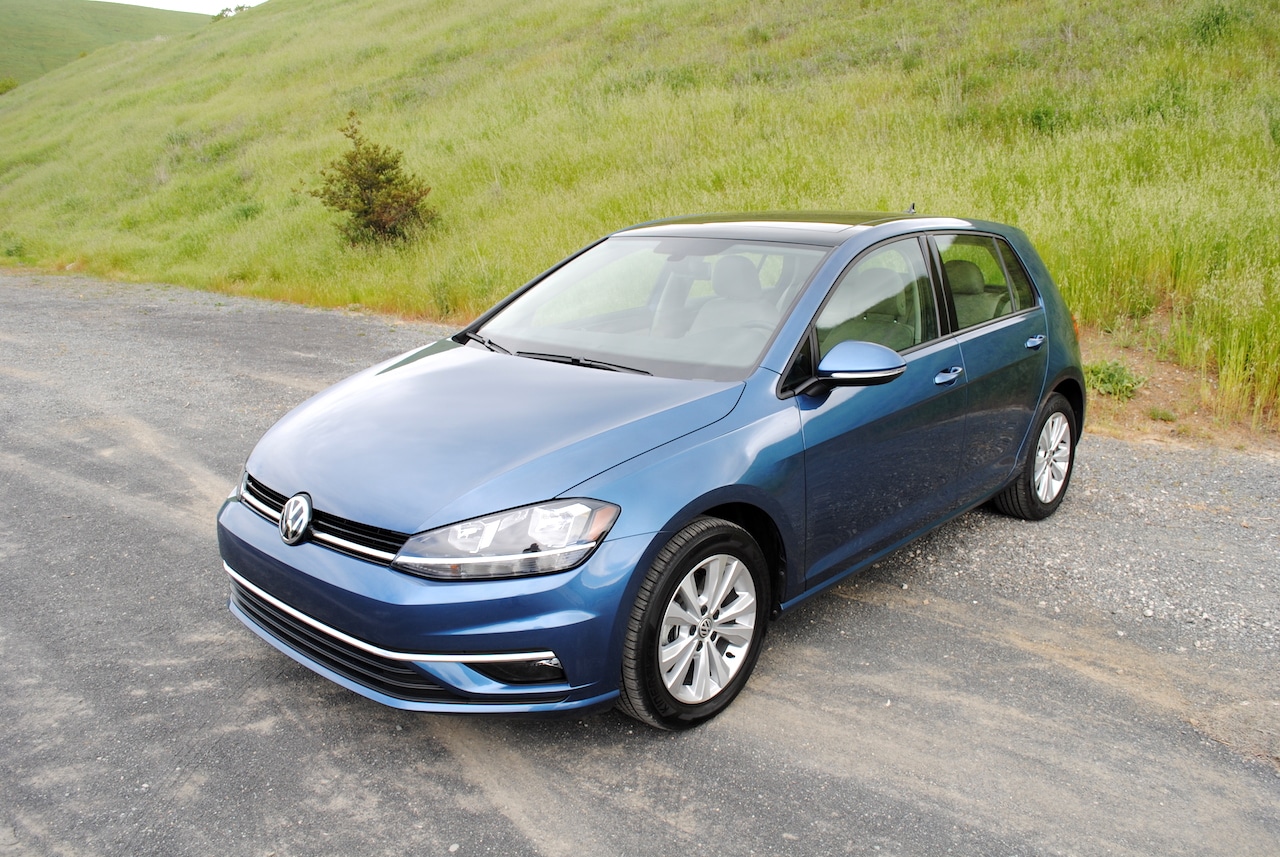 Three pedals, a peaky little engine, and great handling manners – that's the 2019 Volkswagen Golf SE in a nutshell. Uneducated onlookers might dismiss the Golf as a little economy car. However, those in the know, when they peer inside and see that six-speed manual, will realize that whoever owns it, understands that there's a reason the VW Golf has millions upon millions of fans around the globe.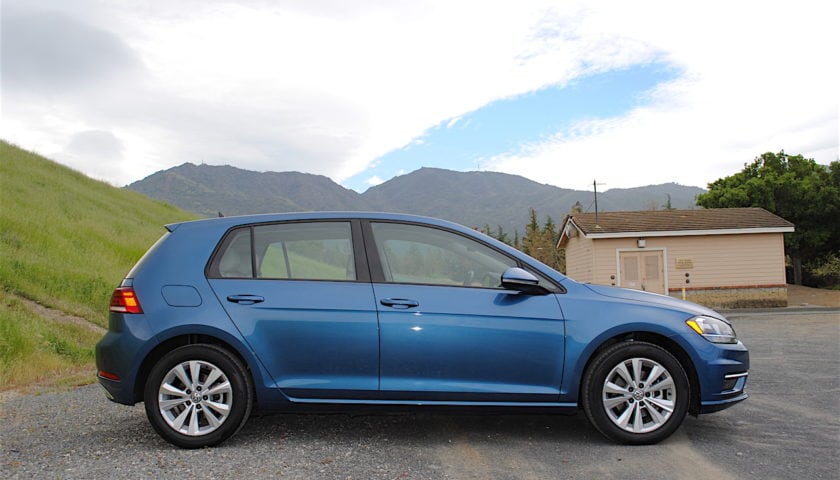 2019 Volkswagen Golf SE Exterior
If you've ever wanted to know what automotive evolution looks like, then just take a gander at the VW Golf. Small, simple and functional, the Golf has been a mainstay in the automotive world for over 40 years. From its inception in 1974, the hatchback design has caused the rest of the world to play catch up, and when VW released the GTI in 1976, the world formerly went on notice that VW was a world player.
This 2019 Golf SE isn't exactly what you'd call a fashion model. However, that doesn't negate the fact that it's actually quite handsome in person. Think of it as the Peter Dinklage of the automotive world, and you'll understand where I'm coming from. Its compact good looks are stylish, and without a hint of gaudiness to be found, the Golf presents itself to the world as a rock solid example of great automotive design.
The short front-end houses stylish sealed beam headlamps with a slim black grill and a polished insert. Our tester came to us wearing Silk Blue Metallic paint and wearing 16-inch wheels with 205/55-series all-season tires. Heading towards the rear, body-colored painted mirrors with embedded turn signals, blacked-out window trim, a small hatch spoiler along with chrome trimmed lower bumper treatment round out the package. Again, there's nothing groundbreaking here, but with that being said, the Golf is quite arguably one of the best looking and most recognized compacts on the road today.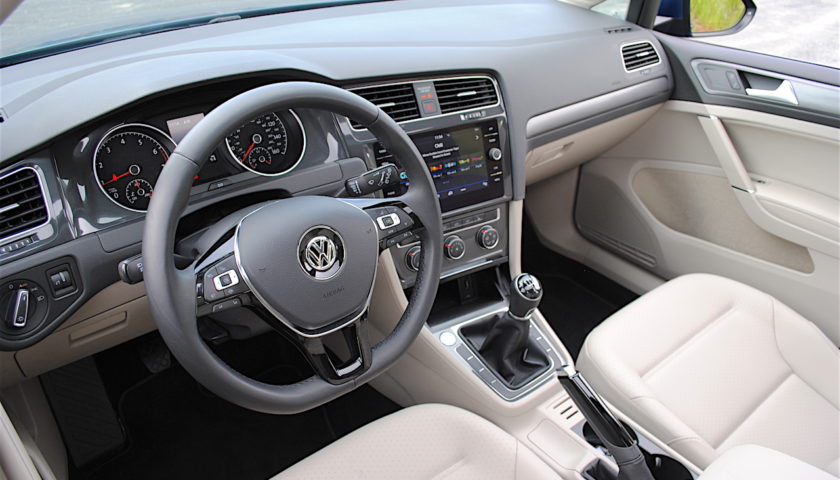 2019 Volkswagen Golf SE Interior
There's is something refreshing about getting into an automobile that's void of superfluous features and add-ons, especially when the materials used are of high quality. The heated beige leatherette front seats, for instance, are not only comfortable but offer a nice combination of manual and electronic adjustability. The steering wheel is leather wrapped, and adorned with piano-black plastic and polished trim, along with inset controls that allow access to the center dash readout for things like the media system, cruise control, on-board trip computer and fuel economy readings. Large analog gauges are also clearly visible, and VW has even seen fit to include a variety of satin and polished trim throughout the cabin.
An 8.0-inch glass touchscreen is the interior focal point, and allows drivers access to further radio controls, standard Bluetooth setup, auxiliary apps, a tire pressure monitoring readout, and even Volkswagen's Think Blue economy trainer, which helps drivers get the most efficiency from their vehicle. Golf SE also comes with the most intuitive HVAC system in existence.
There's no disappointment from a storage perspective either, as the Golf offers up 23 cubic-feet of storage behind the rear seats, and 53 cubic-feet with the seats folded flat. That, combined with the high roofline of a hatchback means that not only is the loading and unloading of cargo a snap, but that larger items fit with ease. At just over $25k**, the interior of the Golf SE, while not luxurious, is well appointed with a build quality that's exceptional.
Taller drivers like myself will have no problem finding a comfortable seating position, while the rear is perfectly suitable for those under six feet. The large retracting glass moonroof on the SE model is a nice touch as well.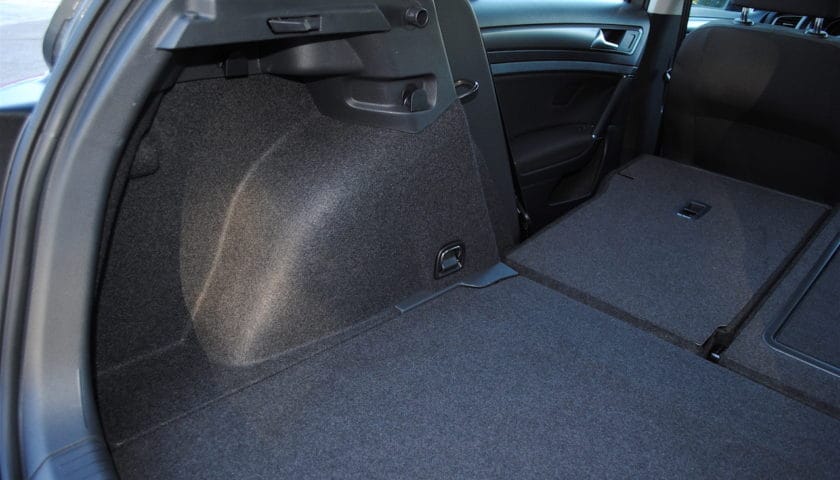 2019 Volkswagen Golf SE Performance
What a hoot this thing is! Small, lightweight — meaning sub-3,000 pounds — and equipped with a six-speed manual transmission, the Golf is a joy to drive. Powered by a 1.4-liter turbocharged four-cylinder that cranks out 147 horsepower and 184 lb-ft of torque, the Golf goes about its business in a very understated fashion. Power delivery is quite good, with the Golf scooting to 60 mph in around 7.5-seconds. The little engine pulls hard all the way to its 6,000-rpm redline, and is more than capable of getting you into trouble if you're not careful. Rowing through the gears is met with a light clutch and an incredibly smooth shifter, so sitting in traffic was a non-issue. My left leg never feeling fatigued.
There is a fun-to-drive factor with the Golf SE that's pretty rare to find in most economy-based vehicles. Part of that is due to the Golf's 103.8-inch wheelbase, fantastic chassis, and the fact that it's so light on its feet. Factor in standard electronic stability control and electronically assisted power steering, and I honestly can't remember when I've had more fun in a $25k car.
Whether piloting the car through traffic, down a twisty bit of road or merging onto an expressway on-ramp, the Golf always seems to impress. Fun factor aside, it also boasts an outstanding EPA fuel economy rating of 29-mpg city, a stellar 37-mpg on the highway and 32-mpg** in combined driving while running on regular fuel.
2019 Volkswagen Golf SE Safety
The 2019 Golf SE comes to us with standard safety features like anti-lock brakes, electronic stability control, electronic brake-pressure distribution, airbags throughout the cabin, automatic post-collision system, forward collision warning, and emergency braking, along with a standard backup camera and more.
Additional safety features can be seen over at VW.com.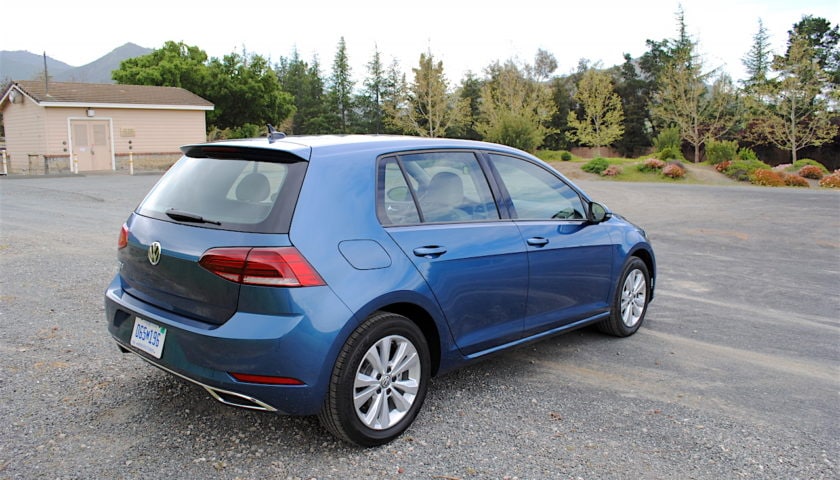 2019 Volkswagen Golf SE Overall
If you enjoy driving, then you will no doubt love the 2019 VW Golf SE. Not only is it great fun on a twisty road, but the great fuel economy and generous cabin make it a cinch to live with on a daily basis. It's also well built, handsome, and perfect for those who live in urban areas. At just over $25,000, the SE is also well appointed, and receives a 5-star overall safety rating from the National Highway Traffic Safety Administration. We drive a lot of cars here at AutoNation, and few have impressed us as much as the 2019 Golf.
Drop by your local AutoNation Volkswagen dealer today to check one out!
*Fuel economy values (mpg) are EPA estimates. Actual mileage will vary and depends on several factors including driving habits and vehicle condition.**Vehicle MSRP of $25,040 excludes taxes, title, transportation, options, and dealer fees.