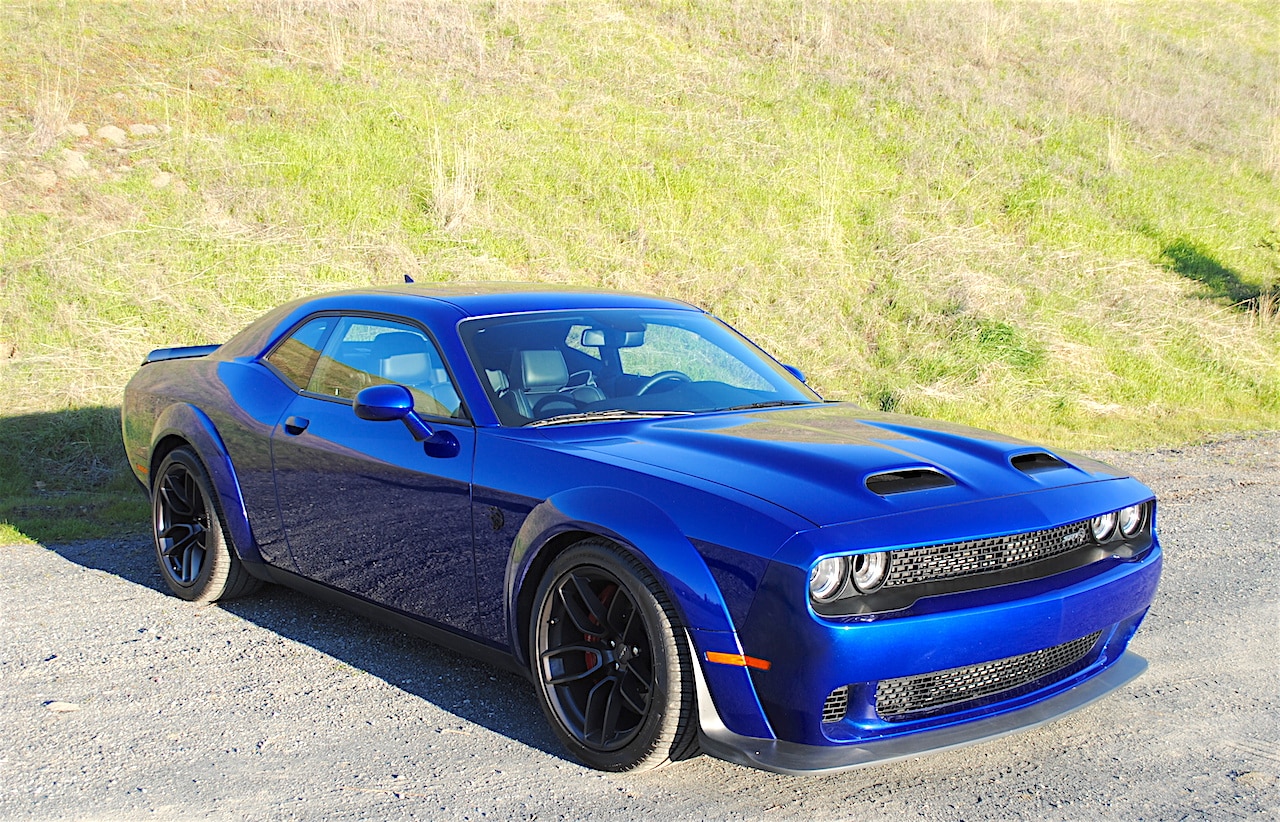 What you are looking at here is the last true American open road car. It packs 797 horsepower, has a top speed of over 200 mph, and if asked, it will carry you from one side of the United States to the other in pure luxury at speeds that will land you in prison if you're not careful. The 2019 Challenger Hellcat Widebody is Dodge's answer to all things muscle, and if you haven't been paying attention, they've not only knocked it out of the park, but they've also left everyone else gasping for air in a cloud of lovely white tire smoke.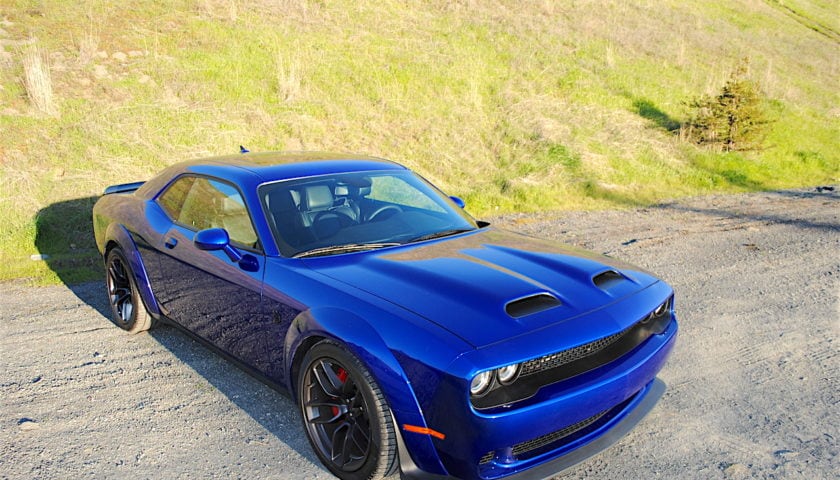 2019 Dodge Challenger Hellcat Redeye Widebody Exterior
Aggressive, masculine and overly mean, the 2019 Challenger Widebody (regardless of the configuration) is the best-looking retro car currently on the market. I'm not saying that the narrow-bodied cars aren't beautiful, it's just that this version, with those big-old hips, is just dead sexy. As a whole, the Dodge Challenger has evolved over the last ten years into what is truly a piece of American muscle car legend.
These are the HEMI 'Cuda's of the new millennia and when equipped out like our 2019 press car, will no doubt stand the test of time. Aesthetics aside though, those flares are functional, and allow the Challenger to sport large 20x11 alloy wheels that run 305/35ZR20 Pirelli performance tires at all four corners. This not only allows for greater grip, but enhanced braking performance as well.
There's also a new (and fully functional) dual-intake hood that's more aerodynamic and allows for increased flow to the Redeye's oversized air box. Opening the hood also reveals a special raised Redeye plaque that sits atop the big 2.7-liter supercharger that's a nod to the 2018 Demon. Dimension-wise, the Challenger sits on a 116.2-inch wheelbase, is 78.6-inches in width, and comes with a curb weight of around 4,500 pounds. What that means is that when parked, this thing has a presence that eclipses just about anything that's near it. Do we wish it were lighter? Eh, maybe, but quite honestly with 797 ponies under the hood, it really doesn't matter…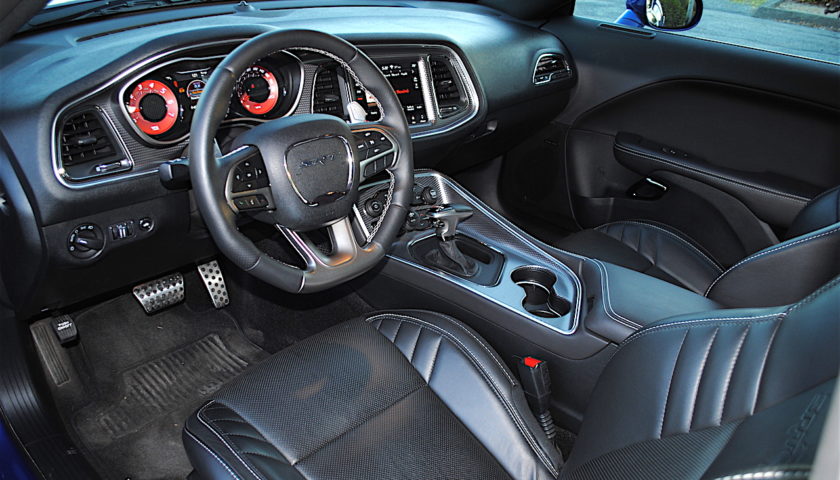 2019 Dodge Challenger Hellcat Redeye Widebody Interior
Covered in black Napa leather and equipped with heat and ventilation, the Dodge Challenger offers some of the most comfortable seats of any production car. In fact, one could cover thousands of miles in this cabin without a hint of fatigue regardless of size or stature. The back seats are also comfortable and offer ample room for both children and adults (although those over six feet may be a bit cramped). The cabin also shines from an ergonomic standpoint, as everything is in arms reach, and is located exactly where you think it should be.
Great technology is also present in the form of Dodge's Uconnect 8.4 infotainment system with its 8.4" touchscreen. It not only handles in-car functions such as navigation, climate, and audio, but it also gives one access to the SRT Performance Pages, launch control settings, drive modes, and overall vehicle diagnostics. Drivers can also configure the transmission and suspension set-up, power output and steering feel here as well. Red-faced gauges with a large tachometer and a special 220-mph speedometer grace the dash and upon startup, while a special Redeye logo illuminates the center screen.
Something else to keep in mind is that while interior trunk space is liberal at 16.5 cubic feet, the opening to the trunk is quite small which makes loading and unloading larger cases or packages tough. Once underway, frontal and side visibility is fine, however with large C-pillars in the rear, rearward visibility can be limited. Then there's the noise — of which there is a lot. Is it tolerable? Sure, and while we do understand it's part of the Redeye's charm, there were a few times a bit more sound insulation would have been welcome.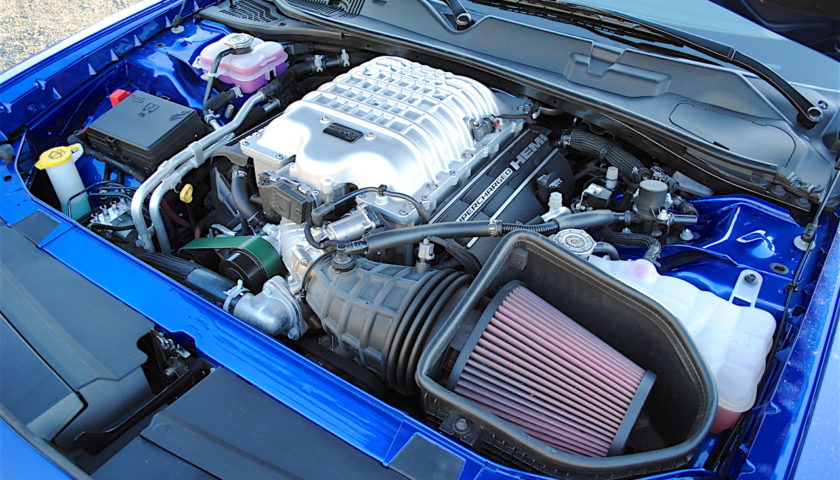 2019 Dodge Challenger Hellcat Redeye Widebody Performance
With 797 horsepower and 707 lb-ft of torque, the new Hellcat Redeye is currently the most powerful muscle car on the market. The 6.2-liter supercharged V8 is identical to that of the 2018 Demon, but it makes 11 horsepower and and ten lb-ft of torque less than the Demon, due to a different air box set up. They also utilize the same eight-speed automatic transmission to get the power down, but where the Demon came stock with a 3.09 rear gear ratio, the 2019 Redeye has the option of a 2.62 rear gear as well.
What's really impressive is how the Challenger Redeye handles for such a large car. Again, we're talking about a vehicle with an overall length of 197.5-inches and the width of a full-size SUV. Hidden underneath that sexy skin is Dodge's Bilstein three-mode adaptive suspension (Street, Sport, Track) with advanced SRT tuning and valving. It utilizes 30-35% more spring rate both front and rear, along with a 34mm hollow front sway bar and a 22mm hollow bar out back. Combine that with the addition of the fender flares and 305/35ZR20 Pirelli performance tires, and the engineers have managed to turn the Redeye into a track-capable grand touring car of the highest order.
A few items such as the Chiller system (utilizes coolant from the air conditioner to cool the supercharger), line-lock, launch control, and torque reserve have all been carried over from the 2018 Dodge Demon. What's hard to translate into words however is just how blisteringly fast this car is. I wouldn't go so far as to categorize it as violent, far from it, but when you put your foot down you'd better take stock of your surroundings, because the Redeye will get you there very quickly. The zero-to- 60 run takes just 3.4 seconds, and it will run the quarter mile in just 10.8 seconds at 131 mph. In case you're wondering, these numbers are straight out of the supercar playbook. For the folks worried about fuel economy, the Challenger Redeye also gets an EPA rated 13 mpg in the city, 22 mpg on the highway and 16 mpg* in combined driving.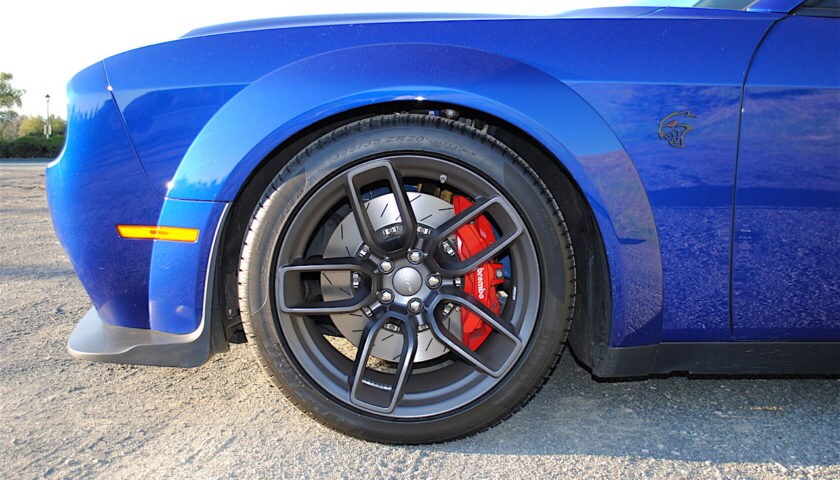 2019 Dodge Challenger Hellcat Redeye Widebody Safety
Crumple zones front and rear, airbags throughout the cabin, active head restraints, anti-lock brakes, electronic stability control, traction control, hill start assist, blind spot monitoring, forward collision warning, along with a host of other safety features, means the 2019 Dodge Challenger Hellcat Redeye is not only the most powerful muscle car currently produced, but safe too.
To learn more about the safety features in the 2019 Dodge Challenger Redeye, click here.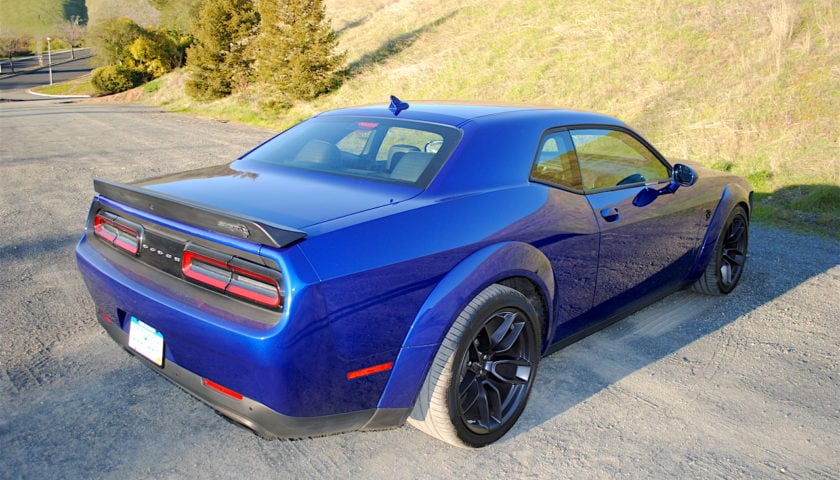 2019 Dodge Challenger Hellcat Redeye Widebody Overall
There's something hilariously fun about having a car with almost 800 horsepower and a top speed of over 200 mph. On the one hand, the numbers themselves are simply ridiculous. On the other, figures like that are what keep muscle car guys true to form. No longer are we burdened with carburetors that don't work, overheating issues, or tuning problems. Instead, for 2019, Dodge has simply given us what we've always yearned for — a full-blown muscle car that's insanely fast with balanced on-road manners that almost anyone can enjoy.
Did I mention it goes over 200-mph?
Drop by your local AutoNation Dodge dealer today to check one out!*Fuel economy values (mpg) are EPA estimates. Actual mileage will vary and depends on several factors including driving habits and vehicle condition.**Vehicle MSRP of $88,855.00 excludes taxes, title, transportation, options, and dealer fees.