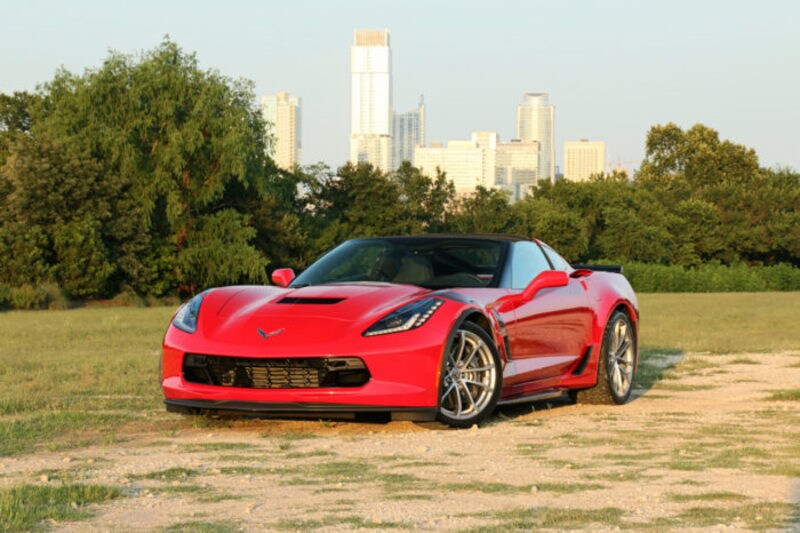 The 2019 Corvette is the Last of its Kind. We're Happy we Got to Give it a Proper Farewell.
— by
Derek Shiekhi
July 18, 2019 was a major moment in automotive history. That was the day Chevrolet revealed its all-new eighth-generation (C8) Corvette. Like its C7 predecessor, the 2020 Stingray has an eye-catching design, a naturally aspirated 6.2-liter V8, and rear-wheel drive. But for the first time since "America's Sports Car" hit the market in 1953, the engine is now in the middle of the car. That means the front-engine 2019 Corvette is the last of its kind.
For more information on the Corvette, head to your local AutoNation Chevrolet dealer, or check out our virtual showroom!
Chevy gave me a chance to say goodbye to the C7 Corvette by sending me a 2019 Grand Sport coupe to review for a week. That name hearkens back to 1963, when Chevy built five lightweight prototype race cars powered by a 377-cubic-inch small block V8 that roared through side exhausts (Chevrolet didn't officially compete with them, but they wound up in the hands of drivers who raced them privately).

The Grand Sport name reappeared on the 1996 Corvette, the last model year of the wedge-shaped C4 model.

Chevrolet brought it back again on the 2010 Corvette; the C6 version was based on the wider Corvette Z06's chassis and packed 430 horsepower under the hood. The automaker used a similar formula for the C7 Grand Sport, which came out as a 2017 model. It combined the naturally aspirated V8 of the Stingray with the chassis tuning, engine cooling, and performance tech of the supercharged Z06.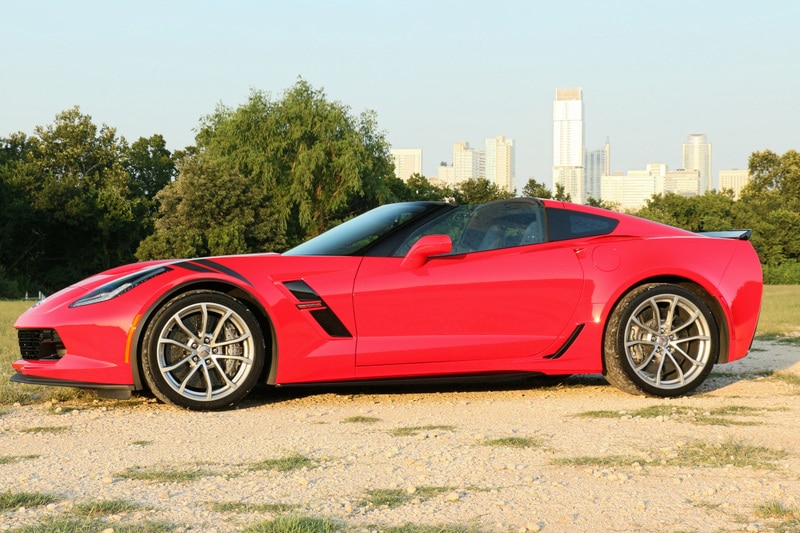 2019 Chevrolet Corvette Grand Sport Exterior
The 2019 Corvette Grand Sport is largely the same as the '17. It might have the same power as the Stingray, but it has a lot more grip and a stronger connection to the road thanks to a wider track and wider 19" X 10" front and 20" X 12" rear wheels wrapped in Michelin Pilot Super Sport summer tires. Those fit under special fenders that give the Grand Sport even more of a broad-shouldered look than the Corvette Stingray.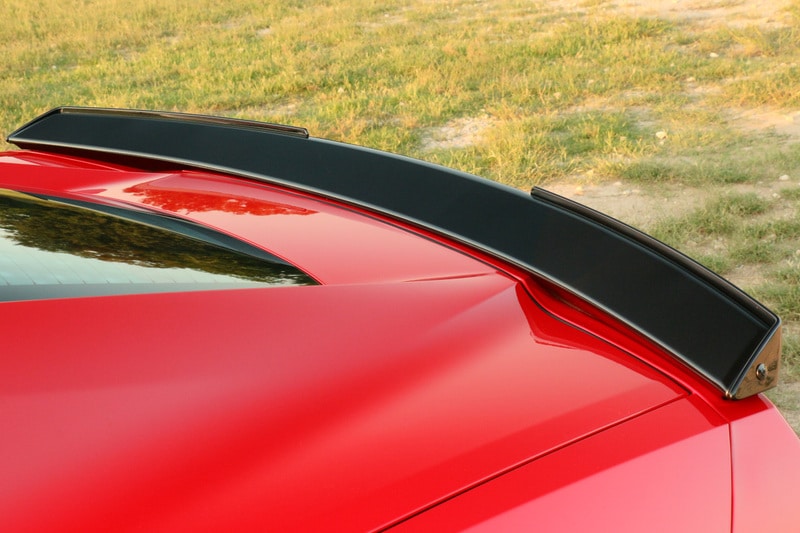 Engineers also concentrated on making the Grand Sport manage the air around it more effectively than its entry-level sibling. To increase airflow, they gave the Grand Sport a Z06-style grille and front fender vents with Grand Sport badges. The Grand Sport is also better at using air to enhance its traction; its Z06-style rear spoiler catches the wind passing over it and converts it into helpful downforce.
Chevrolet upgraded my test car cosmetically and mechanically by ticking the boxes for a couple of options. The Grand Sport Heritage Package added a pair of hash marks on the front fenders that visually connected the C7 GS to its ancestors. The Z07 Ultimate Performance Package further enhanced the Grand Sport's handling and braking with unique suspension tuning, carbon ceramic Brembo brakes (15.5-inch front and 15.3-inch rear rotors), and Michelin Pilot Sport Cup 2 tires.
With its wider bodywork, staggered width tires, pronounced aero, and Torch Red paint, my Grand Sport press loaner appealed to both the adult driver and wide-eyed child in me. On one hand, it looked ready for fast straights and hard turns. On the other hand, it also looked like a giant Hot Wheels car. And I mean that in the best way possible. A Corvette should stand out and have a certain bravado to it. The Grand Sport definitely does.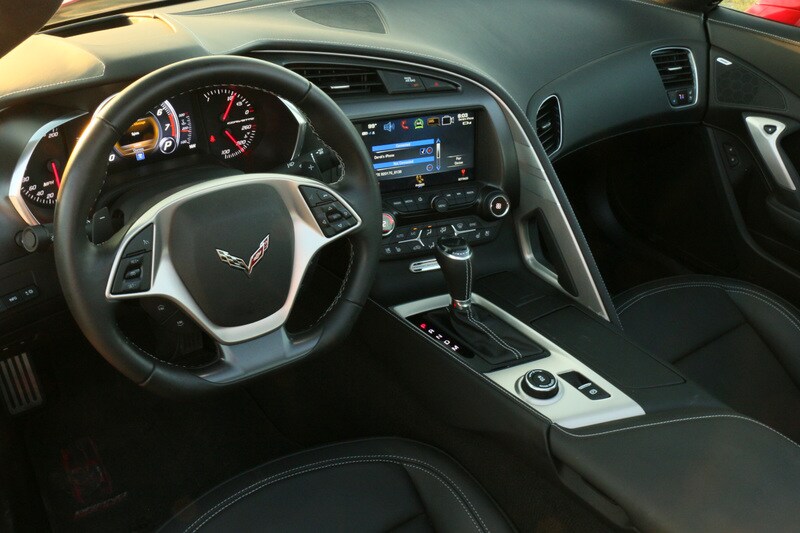 2019 Chevrolet Corvette Grand Sport Interior
Don't let the Grand Sport's racy looks fool you. For a high-performance car with only two seats, it can be surprisingly well-equipped and even spacious. Chevy offers the Grand Sport in three trim levels: 1LT, 2LT, and the top-of-the-line 3LT - the package my test car had. Standard equipment includes Napa leather on the heated and ventilated seats, more leather and sueded microfiber around the cabin, Chevrolet's trick Performance Data Recorder for shooting track day activities, and an eight-inch retractable touchscreen with 3D navigation and Android Auto and Apple CarPlay compatibility.
There were several ways I could use to charge my iPhone XR - I just had to know where to find them. There was a 12-volt plug to the right of the shifter. USB ports were hidden in the cavity behind the touchscreen and under the lid to the shallow center armrest storage compartment.
I didn't have to look hard to see reminders that I was sitting in a Grand Sport. The Grand Sport Heritage Package's hash marks and special floor mats with logos made sure of that.
According to Chevrolet, the Corvette Grand Sport's rear luggage compartment offers 15 cubic feet of space. That was enough for me to use the bright red sports car as a sort of equipment hauler. I had no problem fitting my hard-sided camera and gimbal case, tripod, cleaning supplies, and other gear under the hatch.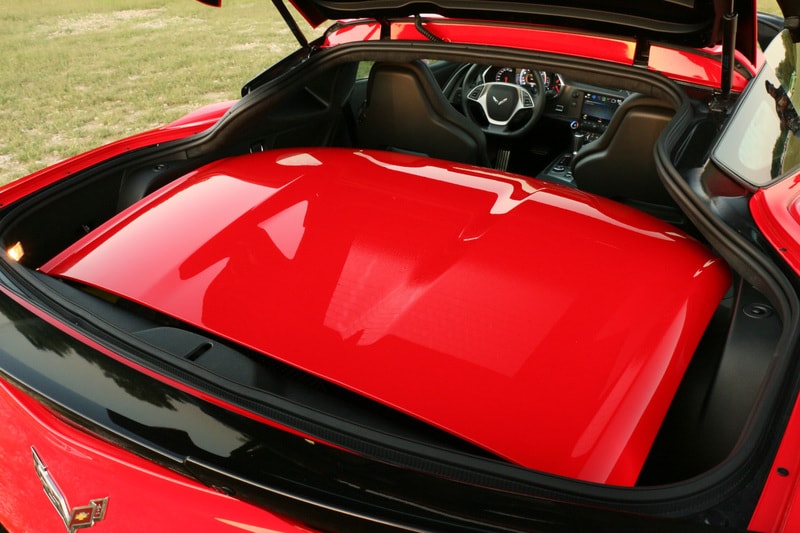 I made sure the area was clear when I wanted to get some wind in my hair, though. Then I just threw a couple of latches, lifted the lightweight (but kind of awkwardly sized) targa roof panel out of the way, and secured it in the cargo bay.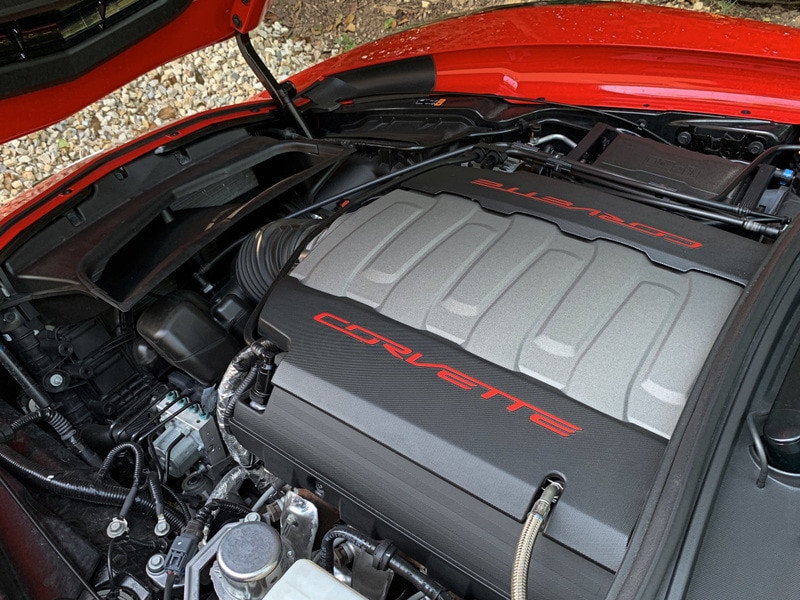 2019 Chevrolet Corvette Grand Sport Performance
You can think of the Corvette Grand Sport as a sort of American Porsche 911 GT3. It has supercharged (or in the case of the Porsche, turbocharged) styling, but naturally aspirated power. Between the Grand Sport's wide front fenders is a 6.2-liter pushrod V8 with direct injection and variable valve timing. Output is 460 horsepower and 465 lb-ft of torque. That's routed through either a rev-matching 7-speed manual gearbox or an 8-speed automatic gearbox with paddle shifters. My media car had the latter of the two.
Before the Grand Sport arrived in my driveway, I asked Chevy if I could take it to the nearby Harris Hill Raceway (H2R) and run some research laps in it. They told me no. However, I was allowed to test out the Grand Sport's launch control function. That enabled me to leave the starting line with as much power and traction as possible. All I had to do was turn the Mode Select dial to engage Track mode and push the traction control button twice to bring up the launch control menu. That gave me the choice of rocketing away from a standstill in Wet/Dry, Sport 1, Sport 2, or Race mode. I made a few runs in Sport 1 and Sport 2 with similar results. After I jammed my left foot down on the brake pedal, I used my right foot to flatten the throttle. Once the revs were up to a certain level, I let go of the brake and the Grand Sport shot forward, propelled by all of the rage under its hood. I didn't hear the tires chirp as they momentarily lost grip or sense the back end squirming around. I just felt myself being thrust down H2R's empty pit lane with precisely engineered efficiency.
On public roads, I tried out the Grand Sport's different driving modes, which altered a variety of settings such as throttle response, steering, Magnetic Selective Ride Control system, and the sound coming out of the active exhaust. Tour had relaxed steering and a sporty firmness to its ride quality. Sport added a substantial amount of weight to the wheel, but didn't make the suspension unbearably stiff. In fast curves, the Grand Sport seemed to suck itself to the ground and find its groove in the pavement. The whole way through, the active exhaust filled the cabin with a roar that only encouraged me to keep my right foot down longer.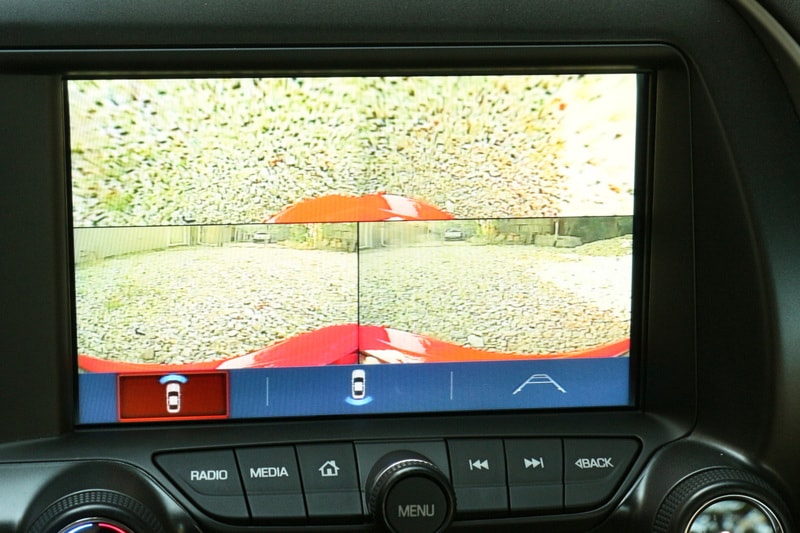 2019 Chevrolet Corvette Grand Sport Safety
I made sure not to over-indulge in the Grand Sport's addictive power and sound. Otherwise, I would've gained an unwanted familiarity with its safety equipment, which included front and side airbags, carbon ceramic brakes that can withstand substantial amounts of heat and high-speed stops, traction and stability control, and front and rearview cameras. The standard head-up display kept me informed of my speed and other readings while my eyes stayed focused on the road.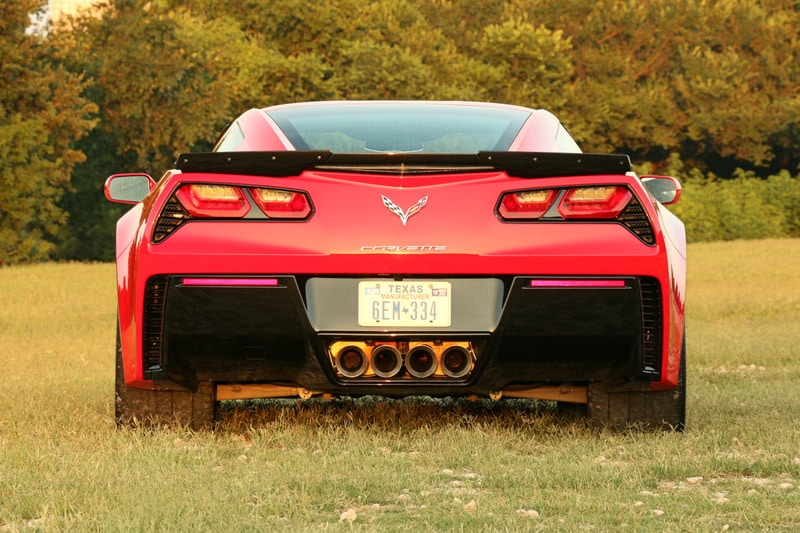 2019 Chevrolet Corvette Grand Sport Overall
This is the end of the line for the front-engine Corvette. What a way to go. Spending a week in the 2019 Grand Sport showed me what Chevy has made its signature performance car into over the past 65+ years. The Grand Sport has the power and handling to match its race-car-for-the-road looks, useful tech, and a livable blend of comfort and space. If you want to get one of the last C7 Corvette Grand Sports, head to your closest AutoNation Chevrolet dealership. Prices start at $65,900*; my well-equipped test car had a total price of $87,525.
*Based on 2019 EPA mileage ratings. Your mileage will vary depending on specific vehicle trim, how you drive and maintain your vehicle, driving conditions, and other factors.
** MSRP excludes tax, license, registration, destination charge and options. Dealer prices may vary.