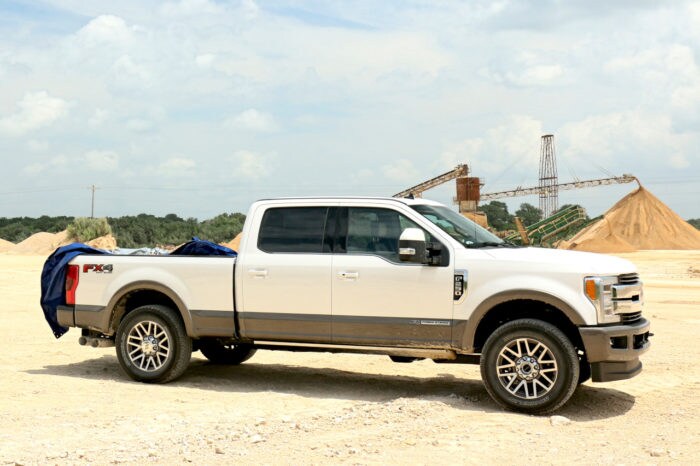 Ford's Super Duty trucks are handsome rigs, but they're not made to sit still and look good. They're meant to get work done, whether that's hauling a crew to a construction site, carrying a bed full of sheetrock, or pulling a landscaping trailer.So when Ford dropped off a
2019 F-250 King Ranch
in my driveway, I knew I had a job to do. I had to figure out something I could do with it that would use some of its immense capabilities. Carrying groceries in it wasn't going to cut it. I could've taken it off-roading because it had the FX4 suspension package, but that wouldn't have been enough, either.I turned to the one man who can always find a reason to put a truck to work: my dad. He's constantly working on a home improvement project of some sort. I told him if he had something on his to-do list that required heavy lifting that I had just the truck to do it with. It didn't take him long to come up with an idea. He had been wanting to cover part of his front yard with road base (crushed rock and sand) to turn it into a sort of informal second driveway. Offer accepted.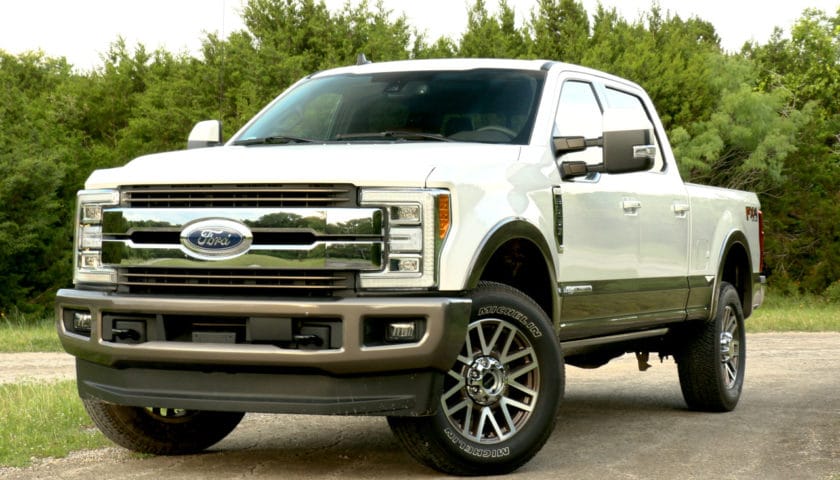 2019 Ford F-250 King Ranch Exterior
My dad and I headed to a local quarry to pick up the road base. After checking in with the site manager, we headed back to the loading area…or what we
thought
was the loading area. We got horribly lost. Luckily, a friendly employee (if I remember correctly, his name was Adam) had us follow him to where we needed to be.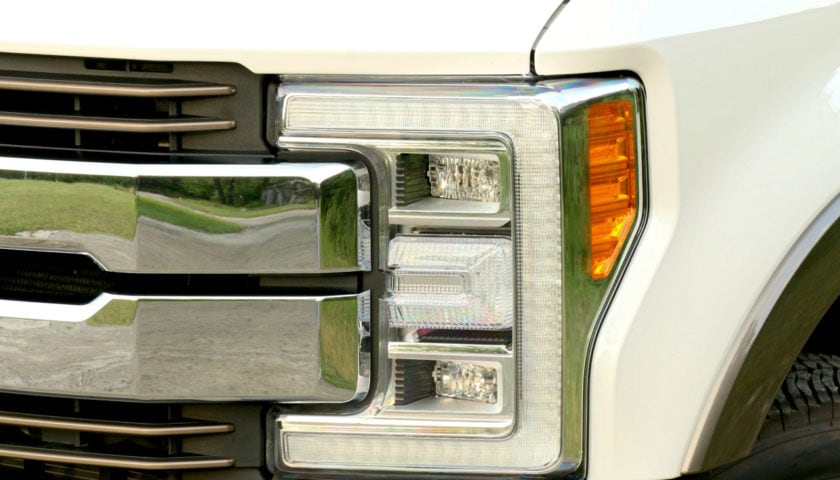 The King Ranch stood out, even though it was surrounded by other trucks. It wasn't a scratched and battered dump truck or a two-wheel-drive fleet special like Adam's last-generation Super Duty. It was a $77,860 luxury pickup with a shiny chrome two-bar grille, two-tone White Platinum/Stone Gray paint, and a $1,420 set of 20-inch wheels. The $3,350 King Ranch Ultimate Package dressed it up even more with quad-beam LED headlights, power-deployable running boards, and a twin-panel moonroof.After we told Adam what we wanted, he went over to the operator of a massive front-end loader nearby, then came back and told us something to the effect of, "I told him to take it easy on you because your truck's so pretty." It certainly was a looker, but it had the credentials and equipment it took to be there. I moved the F-250 into position so that the loader operator could fill its 6.75-foot bed.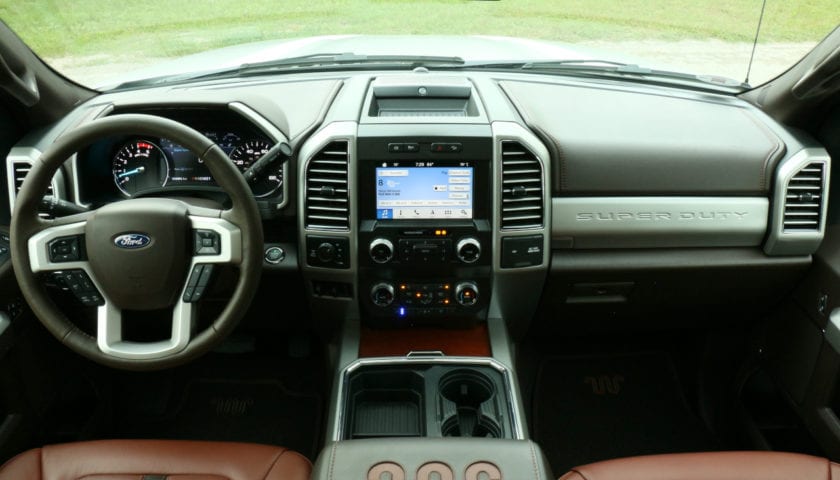 2019 Ford F-250 King Ranch Interior
Before we gave him the go-ahead to do that, my dad and I opened the back doors of the F-250 to pull out a giant blue tarp we had put in the second row. The back of the cab was spacious enough to easily fit either one of us (we're both 5'10"), but we didn't need it to. In fact, we really didn't even need the seats at all. Before we left my dad's property, we had flipped the heated 60/40-split seats up so that we could access the erectable storage bin underneath them, put some bungee straps inside of it, and put the tarp on the flat load floor. Right before the loader deposited the road base into the F-250's bed, we spread the tarp as best as we could over the bed's optional spray-in liner to do our best to make sure it didn't get scratched or discolored.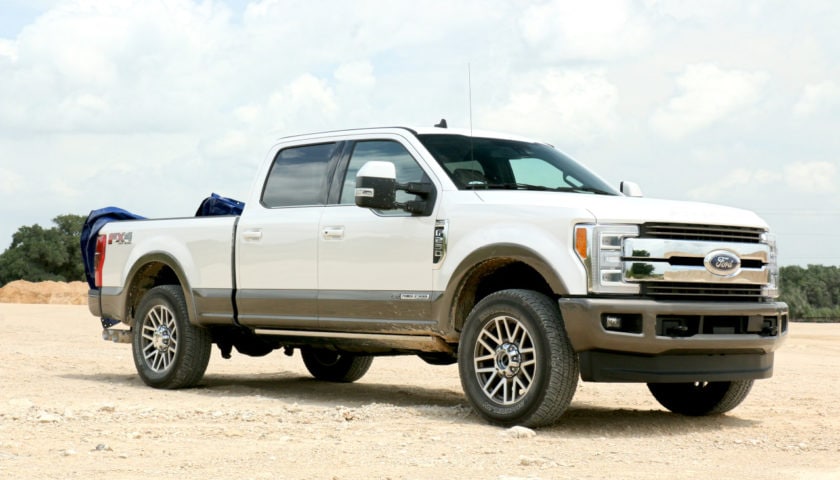 Then it was time for the F-250 to go from show pony to workhorse. The rock and sand came down as a beige waterfall. When the dust cleared, the F-250 seemed unfazed. There didn't seem to be a bit of sag in its rear suspension to imply the bed had anything in it. Clearly, Adam had noticed the same thing. He told me and my dad, "If that was my [work] truck, it would be on its wheels."After placing the excess tarp material over the road base and strapping it down, my dad and I thanked Adam for his help, then followed him out of the loading zone and up to the front of the quarry. Part of the route took us below a bridge and through a large muddy puddle. It was no match for the FX4 package's special shocks and transfer case and fuel tank skid plates, but the muck the Michelin LT275/65R20E all-terrain tires flung up looked great on the F-250's lower bodywork.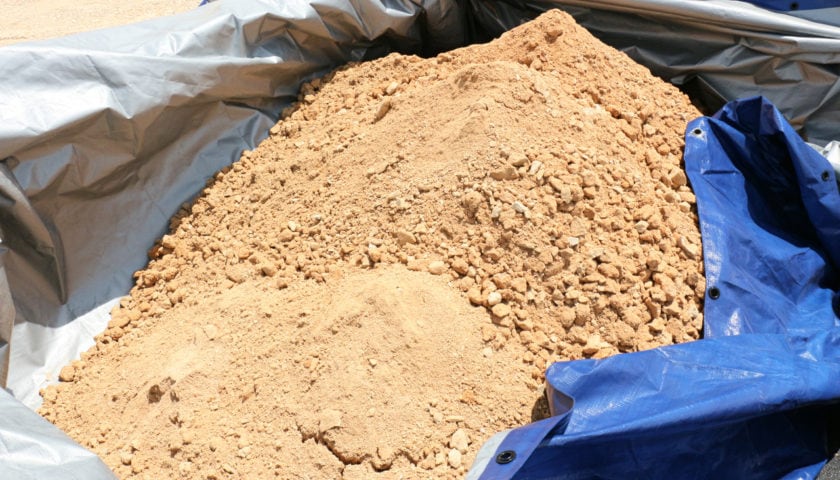 Before my dad and I exited the facility, I drove the F-250 up onto the quarry's truck scale. My dad went inside to get his receipt for the road base, which showed that we were carrying roughly 1.7 tons (3,440 pounds) of the material.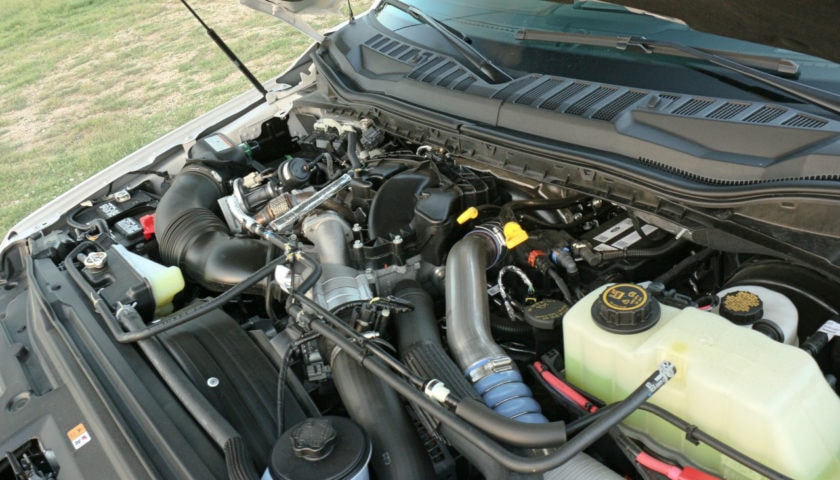 2019 Ford F-250 King Ranch Performance
Then I remembered we were going to have to shovel all of that out of the bed in the stifling humidity of a Texas summer. Thank goodness the F-250 King Ranch's front seats offer three-stage ventilation (as well as three-stage heating). The King Ranch Ultimate Package added two levels of massage intensity. My dad and I were going to need every bit of comfort we could get before it was time to start unloading the truck.My test vehicle was equipped with Ford's 6.7-liter Power Stroke turbodiesel V8, which generates 450 horsepower and 935 lb-ft of torque. The Blue Oval mates that to a heavy duty six-speed automatic. The combination of the Power Stroke diesel, a 160-inch wheelbase, 3.55 gearing, four-wheel drive, and a 10,000-pound GVWR (gross vehicle weight rating) meant that my F-250 loaner was capable of carrying up to 3,480 pounds of payload, conventionally towing 17,500 pounds, and 5th-wheel/gooseneck towing 14,700 pounds.Even with almost all of its payload capacity used up, the F-250 King Ranch didn't break a sweat. The Power Stroke seemed indifferent to the load. The only real signs that my dad and I were carrying nearly two tons in the bed were that the hydraulic steering seemed a little heavier and I had to plan my stops in advance so that the 14.3-inch brakes could safely bring the several tons above them to a stop safely and smoothly.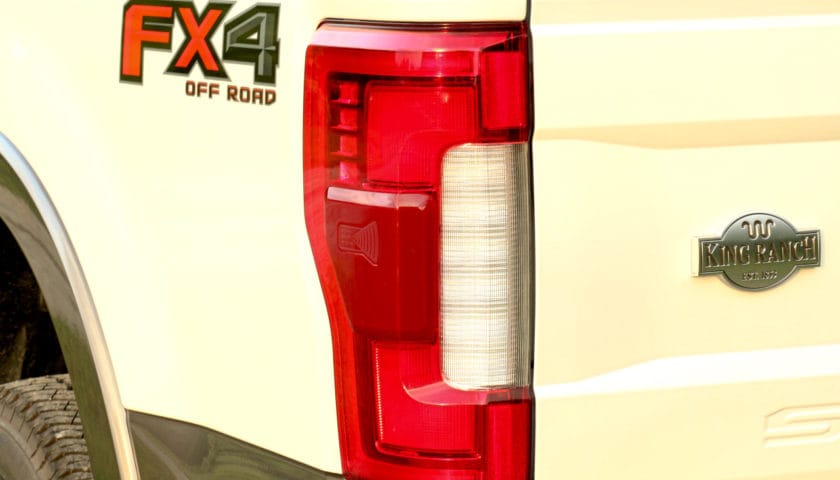 2019 Ford F-250 King Ranch Safety
On the way back to my dad's place, we were surrounded by the safety of the F-250's array of airbags and traction and stability control systems. Thanks to the King Ranch Ultimate Package, we also had extra peace of mind from blind spot monitoring and a cross-traffic alert function. Too bad there was nothing that could save us from all of the sweaty work we had ahead of us.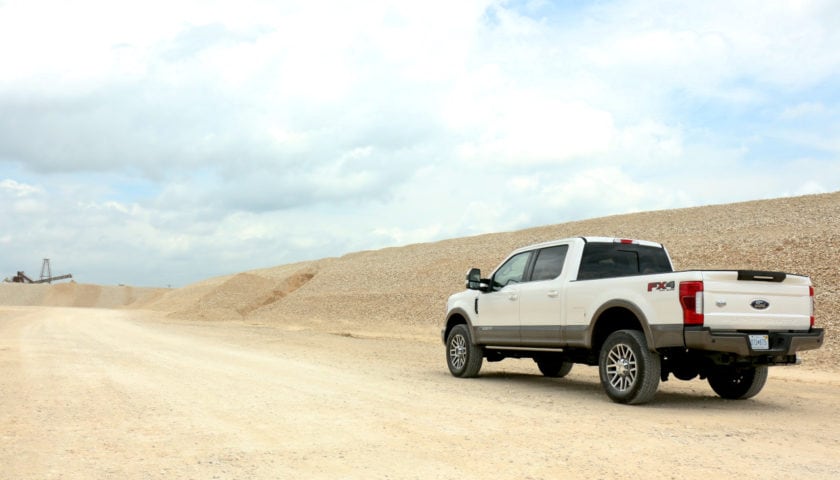 2019 Ford F-250 King Ranch Overall
When it was all over, I was glad – for more than just the obvious reason. I had a fun adventure with my dad doing something neither one of us had ever done before. We legitimately put one of Ford's trucks to work and it got the job done without a hint of a struggle.I only had the 2019 F-250 King Ranch for a week before Ford picked it up and delivered it to another writer. If you want to get an F-250 to keep for as long as you want, you can find it at
an AutoNation Ford dealership
for a starting price of $56,910.*
*MSRP excludes tax, license, registration, destination charge and options. Dealer prices may vary.