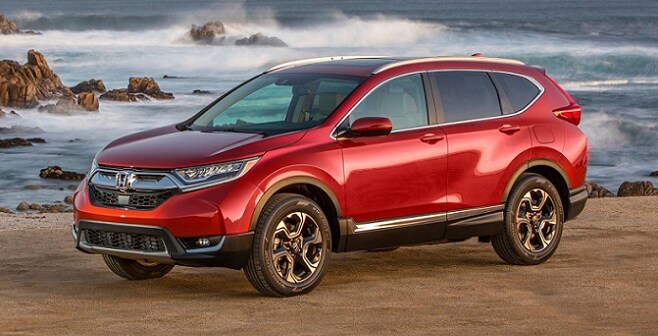 Get your cooler packed and your road songs ready, we're taking a ride through the top five compact SUVs for road trips and off-roading.
Subaru Forester
One of the huge selling points of the 2017 Subaru Forester is it comes standard with
All Wheel Drive
, which makes it a confident choice for trips that take you off road. The Forester also has the leading edge on roominess in a compact SUV, great for packing in extra gear for the road trips of adrenaline sports enthusiasts.
Toyota RAV4 Hybrid
The 2017 Toyota RAV4 is one of only two compact SUVs to offer AWD standard, along with the Subaru Forester. As with all hybrids, fuel economy is strong, which makes the RAV4 a wise choice for long road trips. Throw in a spacious cabin and ample cargo space and the inclusion of popular features like adaptive cruise control and
pre-collision breaking
, and you've got a solid compact SUV for road trips.
Honda CR-V
The turbo-charged engine makes the 2017 Honda CR-V a smart selection in the compact SUV space for road trips. Bring the crew as the CR-V hits
high marks in comfort
and spaciousness in the cabin, as well as in tech-friendliness and in overall safety features. This is a great choice for extended trips on the road where you want to keep your company happy, entertained and uncrowded.
Hyundai Tucson
Safety, comfort and fuel economy all make the 2017 Hyundai Tucson a sure bet in the compact SUV class. You want these qualities in an SUV for hauling around town just as much as you would for a long trek. This crossover is both
sporty and quiet
and has a seven-speed transmission. Drivers at the wheel for hours on end will appreciate the optional eight-way power-adjustable driver's seat, featuring lubar support.
Mazda CX-5
The Mazda CX-5 has responsive steering which makes it a pleasure to take on those long off-road trips with lots of twists and turns in the road. Order yours with All-Wheel-Drive for one of the greatest off-roading experiences possible with a compact SUV. Combine this with a
high-end cabin
, ample and easy-to-use technology and lots of room—and you've got another great compact SUV companion on the road.If you're ready to hit the road and you want to take the next step and try out any of our top five SUVs for road trips and off-roading, simply stop into an
AutoNation dealership
today and line up the perfect ride.