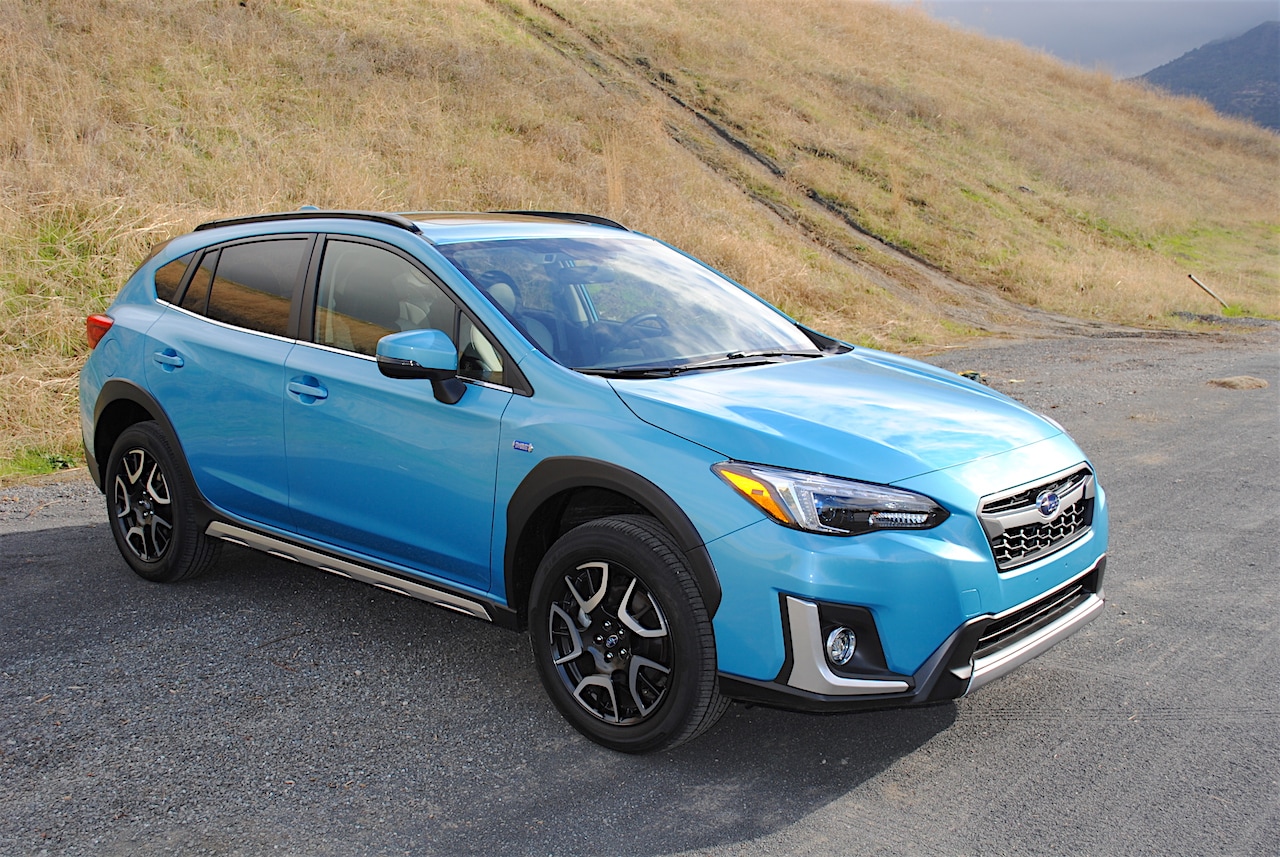 With real world dimensions, all-weather capabilities and great fuel economy, the new 2019 Subaru Crosstrek Hybrid comes to us in a wrapper that's perfect for the real world. Be it a weekend excursion in the hills, or a simple trip to your local market, the combination of economy and utility is something you won't want to miss out on.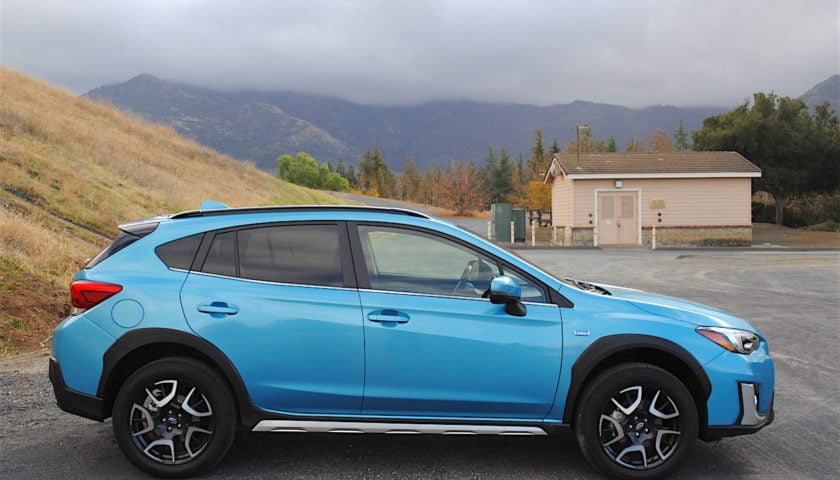 2019 Subaru Crosstrek Hybrid Exterior
With a rough and tumble persona and 8.7 inches of ground clearance, the 2019 Crosstrek Hybrid is almost indistinguishable from its naturally aspirated brother. One look will tell you that it was built for those who like adventure, or at least the thought of it, and after spending time with it we can see why. This is one of those vehicles that makes you want to go out and get into shape. It makes you want to go mountain biking, buy a kayak, and then BBQ in the forest. And while some of these things may or may not actually happen, the Crosstrek gets big points for inspiring thoughts that are outside the norm.Sitting on a 104.9-inch wheelbase and with an overall length of 175.8 inches, the Crosstrek isn't as small as one would think. It comes shod with 18-inch alloys that wear 225/55-series all season rubber, a handsome lower fascia with nicely styled callouts for the driving lights, and some mild flares over the wheel arches. The ruggedness continues with brushed moldings along the rocker panels, an integrated hatch spoiler, roof rails and a body-colored rear bumper. Our tester was covered in Lagoon Blue Pearl paint with Plug-in Hybrid badges on the front fenders and rear hatch. Aside from those however, the only way to tell this apart from a standard Crosstrek is the charging panel on the left rear quarter.For right now the hybrid comes in just four colors; Crystal Black Silica, Cool Gray Khaki, Crystal White Pearl and the aforementioned Blue Pearl. Each color gives the Crosstrek its own distinct persona — but we wish there were a few more to choose from.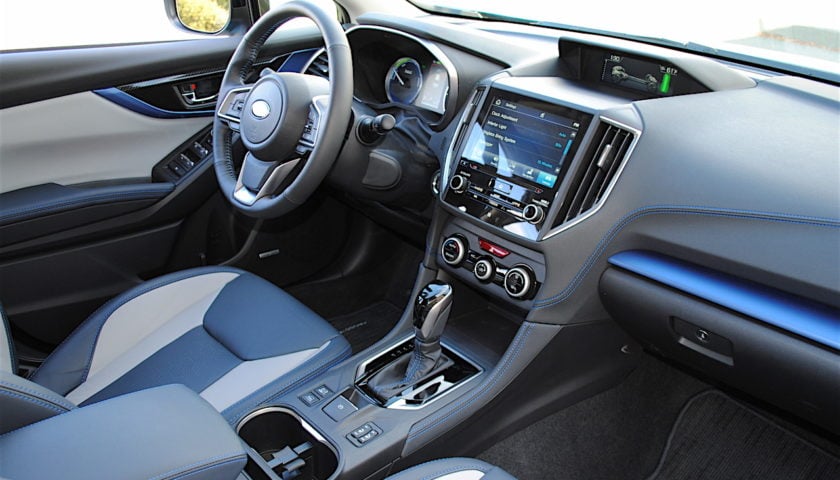 2019 Subaru Crosstrek Hybrid Interior
Heated leather-trimmed seats, a multifunctional touchscreen, and a thick-rimmed leather-wrapped steering wheel with heat greet you when entering the cabin. Now, when most folks think of the Crosstrek, they don't think luxury. Yet the quality of the materials used combined with wonderful panel fitment makes one think otherwise. In fact for a car with an "as tested" price of $38,470.00**, the Crosstrek Hybrid has one of the nicest interiors we've seen in awhile. Materials aside though, it's the intuitiveness of the cabin that makes it work so well. If for instance you were to close your eyes and reach for say, the HVAC controls – you'd be happy to find they where exactly where you'd think they'd be. The same goes for that of the audio dials, window switches and as goofy as it sounds, the shift lever. For some reason hybrid cars of late try to distinguish themselves by incorporating odd buttons, shifters and switches, when all the world really wants is an intuitive ease-of-use factor.An analog speedometer and power gauge are recessed in the dash along with a small screen that provides vehicle information. Subaru's Starlink Multimedia Plus infotainment system with its 8.0-inch touchscreen allows for easy access to hands free smart phone usage, WiFi, navigation, a rear vision camera, Apple CarPlay and Android Auto, along with a list of ancillary apps and vehicle settings. A secondary information screen sits high on the center dash and allows for the vehicles energy settings and readouts to be viewed.The front seats are comfortable and supportive while large windows provide great outward visibility. Rear seating is adequate, but may be tight for anyone over 6' tall. Out back the 60/40-split fold down rear seats allow for 16 cubic-fee of cargo space (five cubic-feet less than the standard Crosstrek due to battery storage). A satchel for the charging cord and mini air compressor can also be found here. Thankfully the lightweight rear hatch also has a high opening which aids in the loading and unloading of cargo.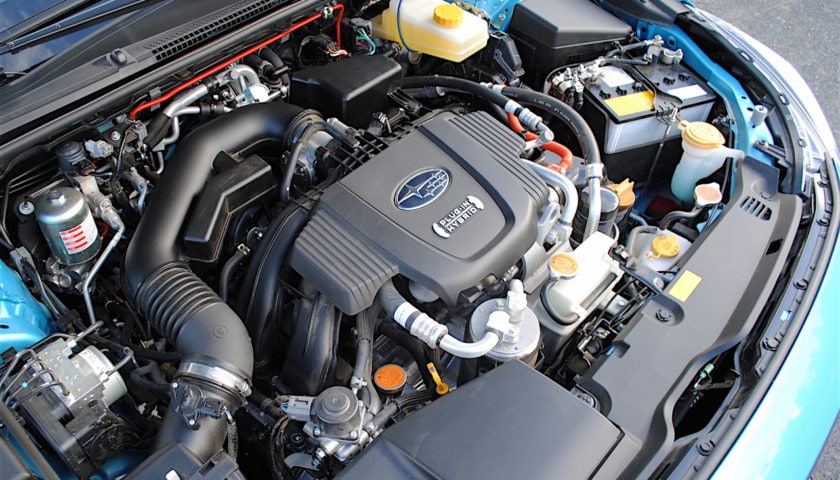 2019 Subaru Crosstrek Hybrid Performance
As one of the few all-wheel drive plug-in hybrids on the market, the Crosstrek comes to us with 17-miles of plug-in range combined with a 13.2-gallon fuel tank to deliver up to 480 miles of total range. It also has an EPA fuel economy rating of 35-mpg and 90-MPGe overall*. Under the hood is Subaru's trusty 2.0-liter Boxer four-cylinder with direct-injection. On its own it produces 137 horsepower and 134 lb-ft of torque, however when combined with the 8kWh Lithium-ion battery hybrid drive system, those numbers get bumped to 148 horsepower and 149 lb-ft of torque.Once on the road the Crosstrek can travel at speeds of up to 65-mph on electric power alone. However there is a power save mode if drivers prefer to store their electric range for around-town usage. Charge time to 100% on a 240v fast charger takes around two hours, where a standard 120v climbs to five. A bonus feature is as a plug-in hybrid; the Crosstrek also qualifies for an HOV permit (High Occupancy Vehicle) in many states.The CVT transmission revs to the moon under hard acceleration and then settles down to a comfortable hum when a desired speed is reached. There's nothing overly sporty here but it must be said that the Crosstrek handles much better than expected. Road imperfections are swallowed with ease and while there is some body roll in the corners, the surefootedness that was displayed inspired nothing but confidence. With an all-wheel drive system that's invisible to the driver, one simply goes about their business regardless of weather or terrain. If there were an item we'd like to see improved upon it would be a boost in power. As it stands the Crosstrek Hybrid will accelerate to 60-mph in just under 9-seconds, and while the hybrid drive does make the Crosstrek seem a little more spirited, another 50-75 horsepower would be a welcome addition.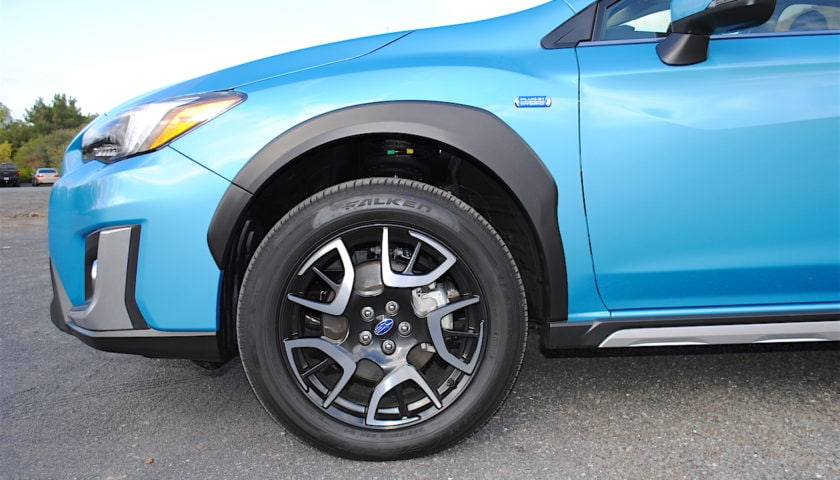 2019 Subaru Crosstrek Hybrid Safety
It goes without saying that the 2019 Subaru Crosstrek Hybrid is one of the safest small cars on the road today. With features like standard all-wheel drive, vehicle dynamics control with active torque vectoring, blind-spot detection and rear cross-traffic alert, anti-lock brakes, airbags, a backup camera, and available
Eyesight Driver Assist Technology
, Subaru has ensured that you'll arrive safe and sound to your destination.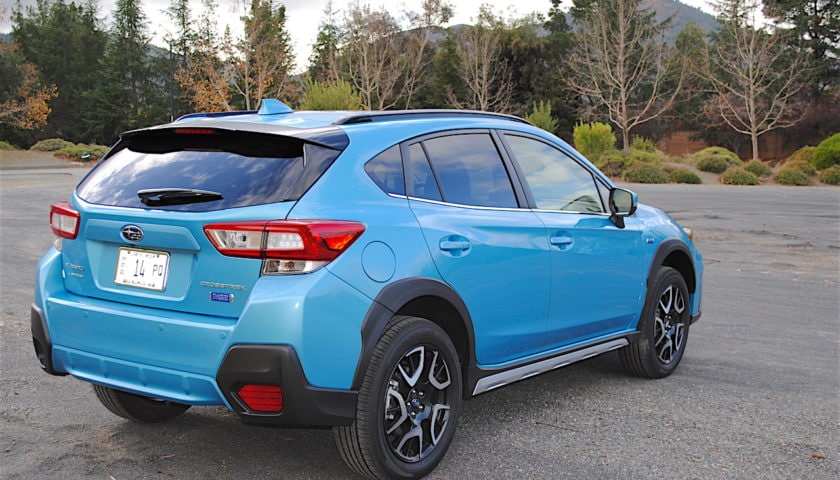 2019 Subaru Crosstrek Hybrid Overall
With great handling manners and fuel economy along with an all-weather pedigree that few vehicles can match, the new 2019 Crosstrek Hybrid is a winner. Sure, the attached power cord means it isn't going to be for everyone. But if an all-wheel-drive plug-in hybrid is calling your name then this little baby is definitely worth checking out.Drop by your local
AutoNation Subaru dealer today
to check one out!
*Fuel economy values (mpg) are EPA estimates. Actual mileage will vary and depends on several factors including driving habits and vehicle condition.**Vehicle MSRP of $38,470.00 (base is $34,995.00) excludes taxes, title, transportation, options, and dealer fees.