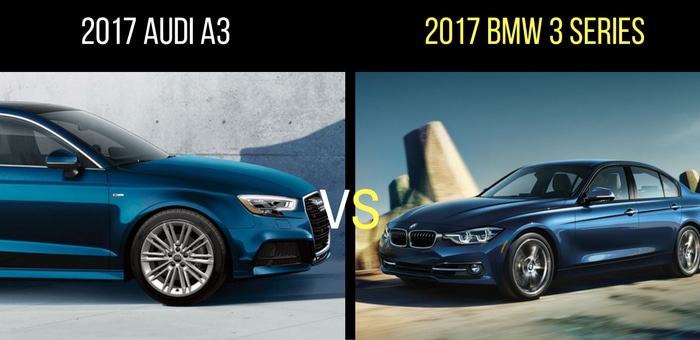 There's a class of luxury sedans that caters to the demands of a loyal fan base and the 2017 models of both BMW and Audi deliver. We're honing our razor sharp focus on the 2017 Audi A3 vs 2017 BMW 3 Series, to task ourselves with the impossible chore of picking a winner between the two. Sure it's a tough job but someone's got to do it and we're up for the challenge. Enjoy this chapter of
Head to Head: 2017 Audi A3 vs 2017 BMW 3 Series.
We'll get started by laying the interior of the Audi and the BMW side-by-side.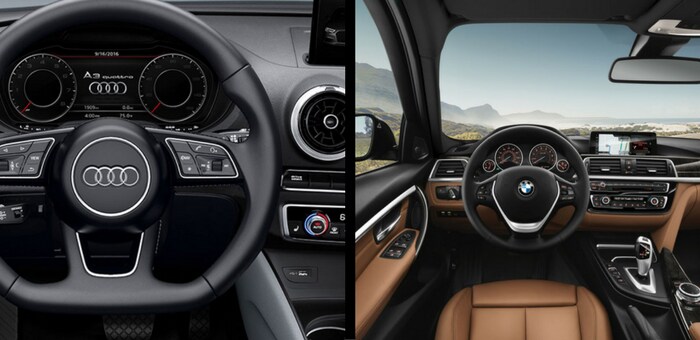 2017 Audi A3 vs. 2017 BMW 3 Series Interior Comparison
The debut of the
Audi Virtual Cockpit in 2016
put Audi on the map in the realm of cars with some of the best technology and comfortable interiors. Audi Virtual Cockpit is available with the Audi A3, (first time for the compact class) and early reviews of its usage suggest drivers are pleased with the rearranged placement of primary controls used while driving. Menus and controls have been re-positioned within the center console for
effortless ease of use
.The ultra-luxurious Venetian Beige trim is a new offering in the 2017 BMW 3 Series, with automatic climate control to keep you comfortable regardless of what climate or season you find yourself in. This BMW can be decked out in a selection of expansive and colorful displays, and there's ample cargo space with comfortable seating, support and legroom. Certain trim levels of the BMW 3 Series seats five comfortably with available upgrades to leather and heated seats available.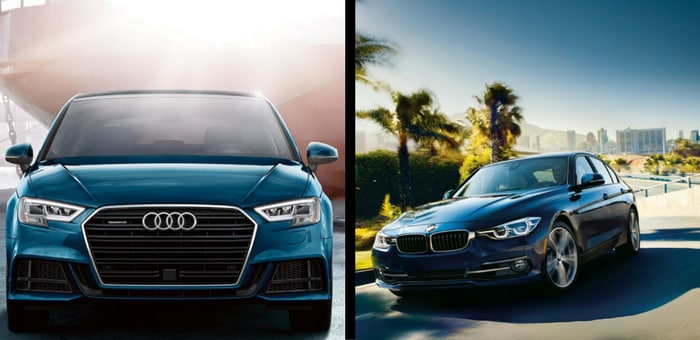 2017 Audi A3 vs. 2017 BMW 3 Series Exterior Comparison
The fresh look and feel they've added to the Audi A3 includes a more refined Singleframe grille and new sleek front and rear fascias. The Audi A3 gets Matrix LED headlights with a new zigzag shape on the bottoms, which lends to the more sporty look overall, with progressive steering. Vents are smaller and deeper. With this Audi, 16-inch wheels come standard, with 17, 18, and 19 inches optional. The tires have also been upgraded for improved performance.
The BMW 3 Series was worth waiting for with its crisper lines and an extended interior and more legroom, with an excess of features incorporated in for maximum comfort. The lower roofline further refines the more contained body design, with sweeping character lines and a longer wheelbase. The headlamps are sleeker and you'll be pleased to see the signature twin-kidney grille remains.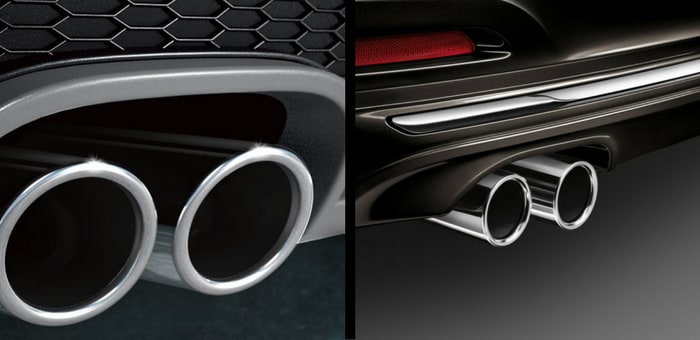 2017 Audi A3 vs. 2017 BMW 3 Series Performance Comparison
Most outstanding in the Audi world is the new 1.0-liter TFSI gas-powered three-cylinder that puts out 115-hp and 147.5 pound-feet of torque. One-upping this is the 2.0-liter TDI that comes with 150-hp and 250.8 pound-feet of torque. Another upgrade will one-up even this: the 2.0—liter TDI delivering 184-hp and 280.3-pound-feet of torque. The 1.6 liter TDI with six-speed manual transmission and the seven-speed S-Tronic with wet clutch, as well as the Quattro AWD, are available with the 2.0-liter TFSI, with 190 horsepower. The handling and balance are enhanced with an optional sport suspension package for the ultimate powerful driving performance.
340i sedans and wagons get the M Sport Package, standard. BMW drivers can choose between the 6 or 8 speed automatic wagon, sedan or the
Gran Turismo hatchback
. Turbocharged four and six cylinder engines along with a diesel four ramp up possible power available. The
M40i kicks out a high-octane 355-hp
!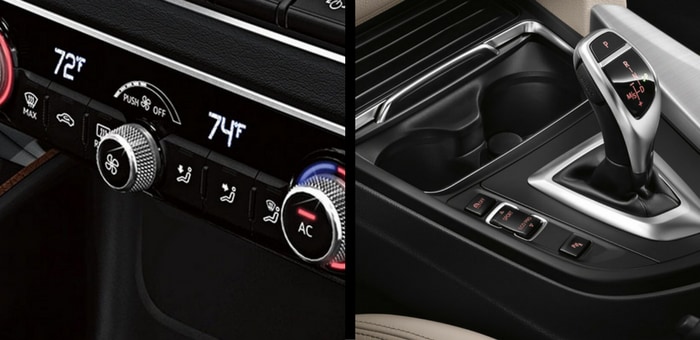 2017 Audi A3 vs. 2017 BMW 3 Series Feature Comparison
Audi is making
six different engines
available with the A3 (in UK, US releases may include more powerful models). This includes three gas and three diesel powered engines with a
hybrid E-Tron and flex-fuel G-Tron model
that runs on natural gas—a first of its kind. There's also another first in a 1.0-liter inline-three. Audi has added multiple Driver's Assist safety features (
new:
Traffic Jam Assist) both as standard and optional features, depending on the trim level of the A3 you select. All your media will have a de-cluttered and streamlined organization display from the redesigned MMI system.The BMW 3-Series for the first time gets a
new four-cylinder engine and a six-cylinder turbo
is available for the 340i Gran Turismo. There's a plug-in hybrid model available, as well. Also new this year: Wi-Fi hot spot availability and wireless phone charging. M3 performance sedan gets a turbo 3.0-liter six cylinder. LED headlights and running lights are standard on the 340 Gran Turismo. It also has a new bumper and LED lights and fog lamps.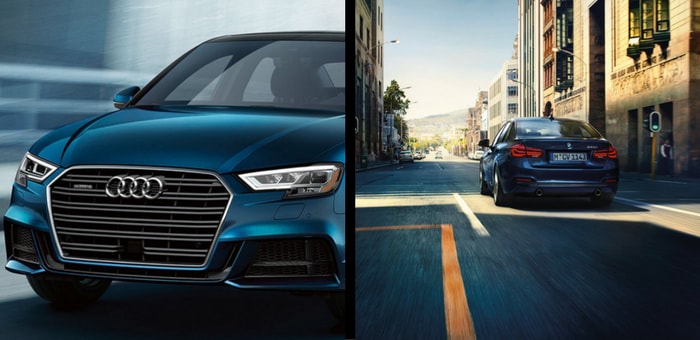 2017 Audi A3 vs. 2017 BMW 3 Series Overall Comparison
The 2017 Audi A3 has been rebuilt to be more powerful than ever with a streamlined interior and refined exterior, for an all-around richer driving experience, more torque, more safety features and a multi-plate clutch.
The BMW 3-Series remains BMW's most popular line. With a new navigation system and intelligent communication of the BMW's systems throughout, BMW wins in innovation (e.g. while driving, the navigation system can "talk to" the transmission, warning it of changes in terrain like steep heels, so the transmission can make adjustments).
The edge: it's a tie. The two vehicles both deliver the goods, and it's truly a matter of preference. Break that tie by visiting your local AutoNation-affiliated Audi dealer or AutoNation-affiliated BMW retailer and see for yourself.
The Audi A3 and BMW 3-Series are joined in their class by: Infiniti Q50, Buick Regal GS, Acura TLX, Lexus IS and Mercedes-Benz C-Class.