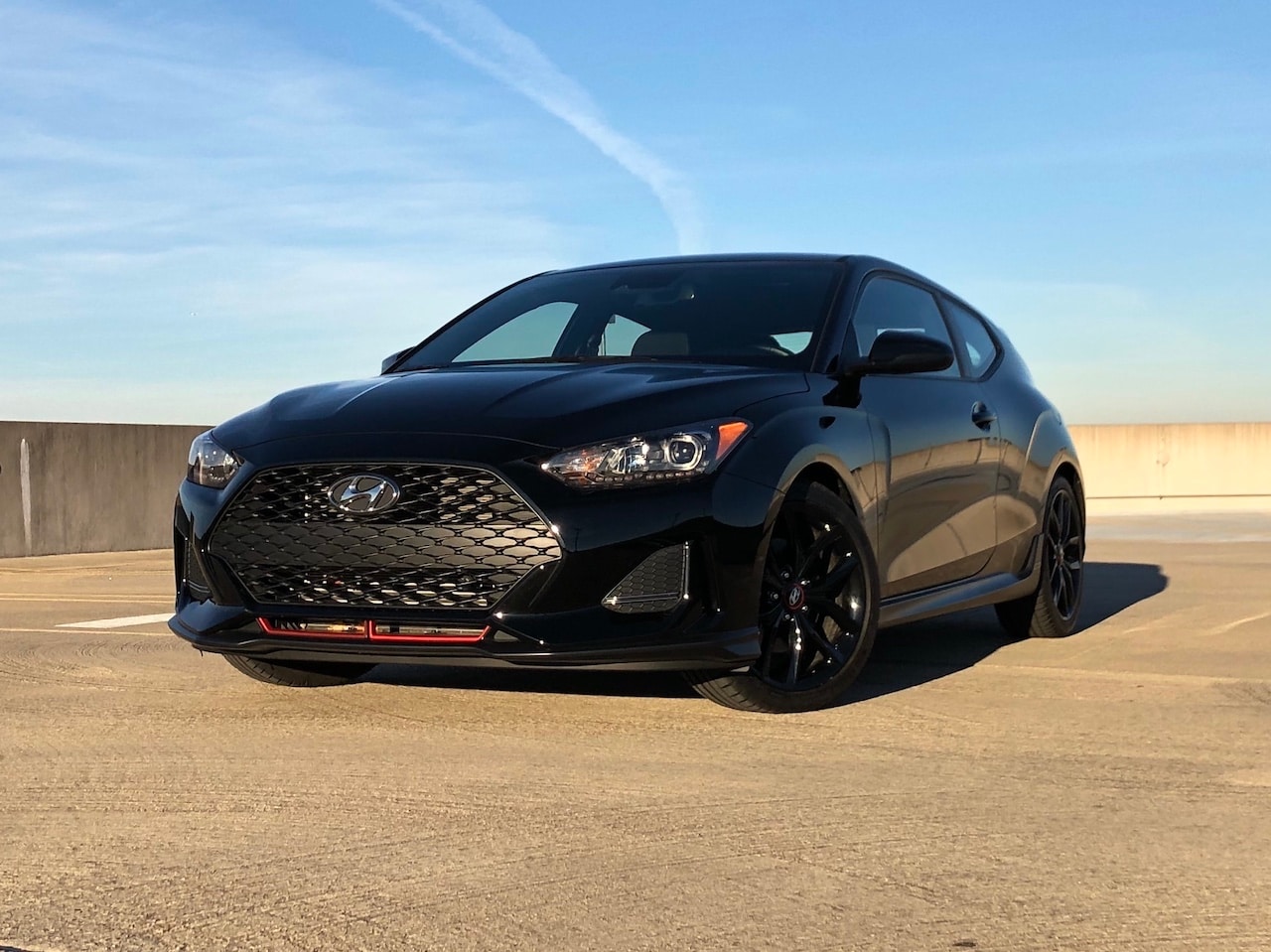 Would you buy a Hyundai Veloster Turbo over a Ford Focus ST, Honda Civic Si, or the Volkswagen GTI?We recently spent some time with the 2019 Hyundai Veloster Turbo R Spec, and it totally took us by surprise. Not to get ahead of ourselves, but we'd recommend this hatchback to anyone shopping for a tiny pocket rocket.So throw everything out that you think you know about the Veloster, and stick with us over the next couple of minutes as we bring you all the facts and interesting details on the 2019 Hyundai Veloster Turbo R Spec.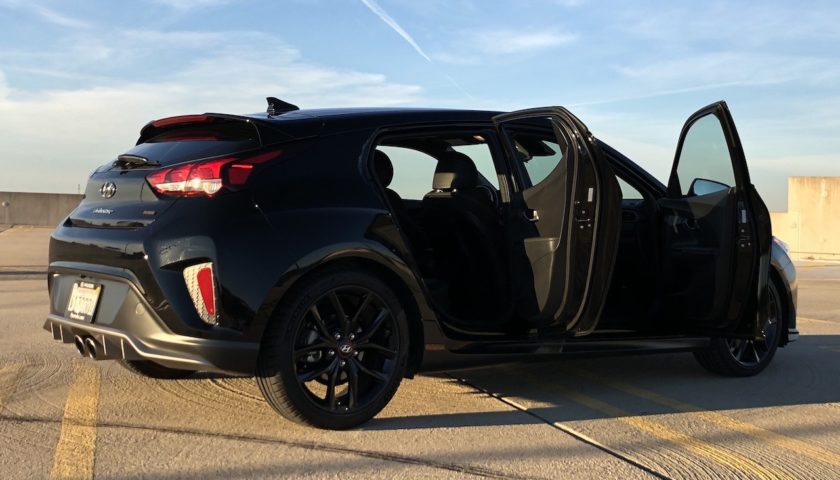 2019 Hyundai Veloster Exterior
When the Hyundai Veloster hit dealerships in 2011, everyone had something to say about its quirky styling and that's not due to the overall Kammaback coupe design. No, it was due to the fact that the Hyundai Veloster featured asymmetrical doors with one-door on the driver side and two doors on the passenger side - kind of older like minivans. Now, say what you will, but the unique door option became the "calling card" or "cool" thing about the Veloster and for the new second-generation 2019 model year, Hyundai kept that layout.Other then that, the new Veloster has been completely redesigned. Our personal favorite touches are the rear LED taillights that feature three "arrow" or "jet" inspired design elements. The 2019 Hyundai Veloster Turbo R Spec comes with hints of red trims and a dual center-mounted exhaust that give it the ability to stand out from the crowd. There is also a unique front grille and a rear spoiler. 18-inch alloy wheels are standard and come wrapped in 225/40 R18 Michelin Pilot Sport 4 Summer Performance tires. Our two favorite colors are the Thunder Gray and the sinister Ultra Black (pictured here).Sure, the design of the new Hyundai Veloster gives the hatch a sportier and more grown-up look. But it's still clearly marketed to the young crowd. We think it looks awesome, and stands out from the "standard" hatchback look.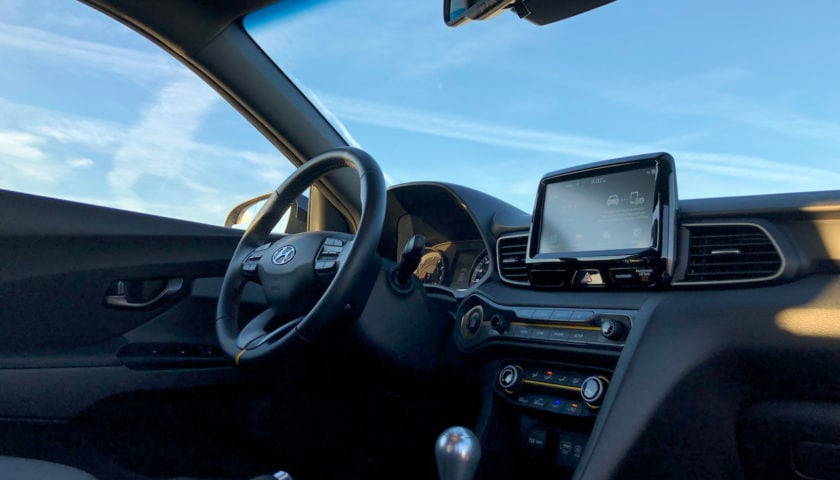 2019 Hyundai Veloster Interior
There are a couple of things we look for when we sit in any car we are testing. First and foremost is comfort. Following that, we look at build quality, the list of standard features, and innovative tech. The Hyundai Veloster Turbo R Spec checks a lot of those boxes. The first thing we noticed were the cloth seats and apparently, leather is not an option. However, these are the most comfortable cloth seats we've had the pleasure of hanging out in. If you want leather seating surfaces you'll have to go for the Veloster Turbo Ultimate which starts at $24,900.There is no doubt that Hyundai has been stepping up the game when it comes to build quality. While it may not be the top-notch materials used by the Volkswagen Golf GTI, they did an awesome job of using materials that don't make the interior look cheap. Next, the Hyundai Veloster Turbo R Spec has a long list of standard features including an 8-inch touchscreen display, an Infinity sound system, Bluetooth, Apple CarPlay/Android Auto, Hyundai's BlueLink system, leather wrapped steering, and a 4.2-inch TFT instrument display. It is everything you need and more and with that in mind, you don't have many choices when it comes to optional features.Space wise, the Hyundai Veloster Turbo R Spec offers 34.1 inches of legroom for rear passengers. Cargo capacity comes in at 20 ft³ with rear seats up and 44.5 ft³ with rear seats folded.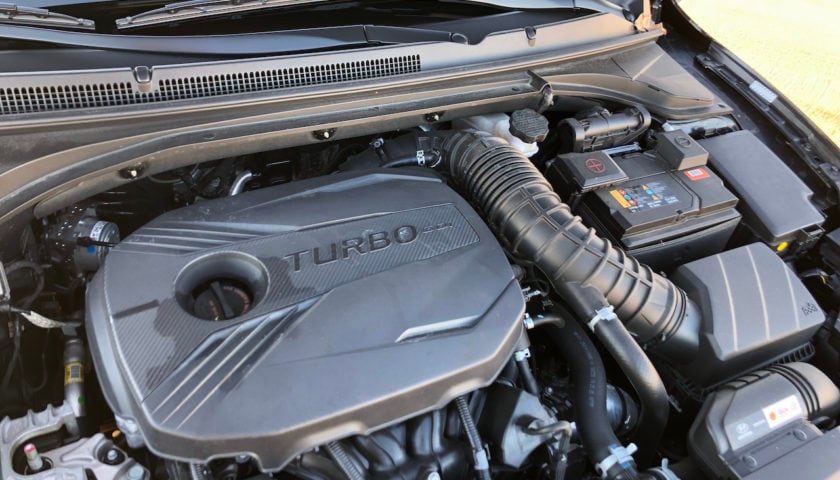 2019 Hyundai Veloster Performance
Power for the 2019 Hyundai Veloster Turbo R Spec comes from a 1.6-liter four-cylinder turbo engine making 201 horsepower with a maximum torque of 195 lb-ft of torque. When mated to a six-speed manual transmission, zero to 60 mph arrives in just 6.2 seconds, and the Veloster will hit a top speed of 145 mph.Here's how the Veloster Turbo R Spec stacks up against competitors:
Volkswagen Golf GTI: 220-hp / 0-60 in 6.0 / $26,415.
Honda Civic Si: 205-hp / 0-60 in 6.5 / $24,300.
Hyundai Elantra GT Sport: 201-hp / 0-60 in 6.3 / $20,750.
Ford Focus ST: 252-hp / 0-60 in 6.3 / $25,170.
There is no doubt that the Hyundai Veloster Turbo R Spec has a more sophisticated driving character than its predecessor. But is it better than its rivals? Having driven all the cars mentioned above, we would put the Hyundai Veloster Turbo R Spec right under the Volkswagen Golf GTI - which is easily the benchmark. Handling is significantly improved thanks to a multilink rear suspension in place of the outgoing model's torsion-beam axle. The rear suspension uses gas-pressurized shock absorbers that increase overall ride quality and provide better control.Keep in mind, to really appreciate the driving dynamics of the Veloster Turbo R Spec you have to hit the "Sport" button located on the left of the gearbox. Honestly, turning on Sport mode makes a huge difference to the driving character of this hatchback and also gives you an exhilarating feeling thanks to the exhaust note. Going through the six-speed manual gearbox (only choice on the R Spec) has a very solid and quick feel.Fuel economy wise, the Hyundai Veloster Turbo R Spec averages an EPA-rated 26/33 mpg** (city/highway)*.If you need more power - you can always move up to the 275-horsepower Hyundai Veloster N. The Veloster N actually goes from zero to 60 mph in just 5.9 seconds with a starting price tag of $27,785**.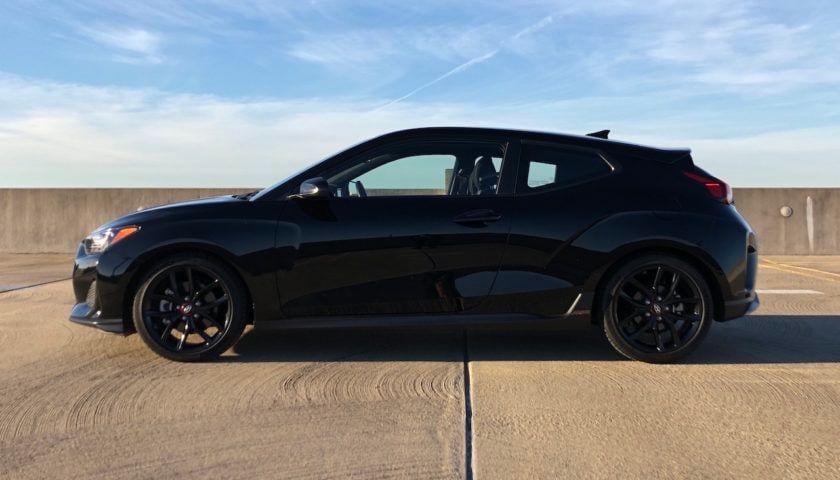 2019 Hyundai Veloster Safety
When it comes to safety, the Hyundai Veloster Turbo R Spec doesn't have any of the crazy bells and whistles you can get in other Veloster trim levels, but you will get a rear view camera.
2019 Hyundai Veloster Overall
After spending a week with the 2019 Hyundai Veloster Turbo R Spec, we have to say that we were pleasantly surprised with how much fun we had with this hot-hatch. We really love this segment and are glad to see more automakers jumping in on the action. While the Volkswagen Golf GTI is clearly the king of this segment, we would seriously consider the Hyundai Veloster Turbo or Turbo R Spec over the rest of the hot hatches. Overall, you can't go wrong with the sporty looks, fun driving dynamics, long list of standard tech features, and that awesome price tag of $22,900**. Visit your local
AutoNation Hyundai dealer
for a test drive today.
*Based on EPA mileage ratings. Your mileage will vary depending specific vehicle trim, how you drive and maintain your vehicle, driving conditions, and other factors.
**MSRP excluding tax, license, registration, destination charge and options. Dealer prices may vary.