This week, we're comparing the Mercedes G550 and the Land Rover HSE! Let's Figure our which luxury Off-Roader is Right for You!
— by John Coyle

In this corner, we have the 2020 Mercedes-Benz G550. With its military roots, this Teutonic tank is a blend of old-school brawn and new-school tech. Next, we have the 2020 Land Rover Range Rover HSE. Long the gold standard for luxurious off-roaders, this is a 4x4 wearing a suit from Savile Row.
Both the Mercedes and Land Rover are excellent competitors in the off-road ready luxury segment, so watch the video to see how they compare in regards to engines, and price. Then take a look at our virtual showrooms for the G550 and the HSE, and contact your local AutoNation-affiliated Mercedes-Benz or Land Rover dealer to arrange a test drive. Full text of the video follows below.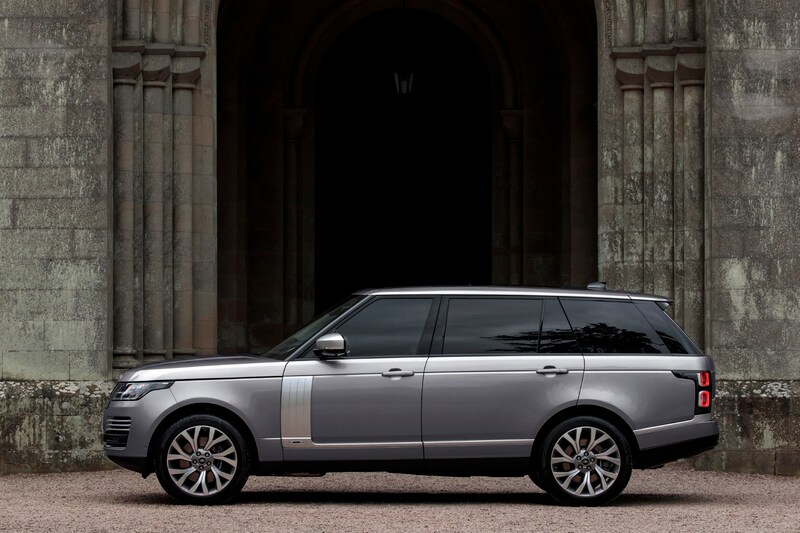 Mercedes-Benz G550 vs. Land Rover HSE: Powertrains
The Mercedes G550 features a 4.0-liter V8 that's packing 416 horsepower and 450 lb-ft of torque. Power is routed to all four wheels via a nine-speed automatic transmission. There's also a two-speed transfer case, and locking differentials at the front, center, and rear. Fuel economy comes in at 13 miles-per-gallon city, and 17 highway. At press time, towing capacity hasn't been released yet.
In comparison, the Range Rover HSE comes with a choice of three powertrains. The base engine is a 3.0-liter straight-six which is good for 395 horsepower and 405 lb-ft of torque, and buyers can upgrade to a 5.0-liter V8 with 518 horsepower and 461 lb-ft of torque. There's also a plug-in hybrid option, which uses a 2.0-liter turbo engine and electric power to provide 398 horsepower and 472 lb-ft of torque. While figures for 2020 haven't been released yet, in 2019 six-cylinder models were rated at 17 city, 23 highway, and V8 models at 16 city and 21 highway. When properly configured, the Range Rover HSE can tow up to 7,716 pounds.
Since the Range Rover, gets better gas mileage and an available hybrid option, we're going to give the win to the Brit here.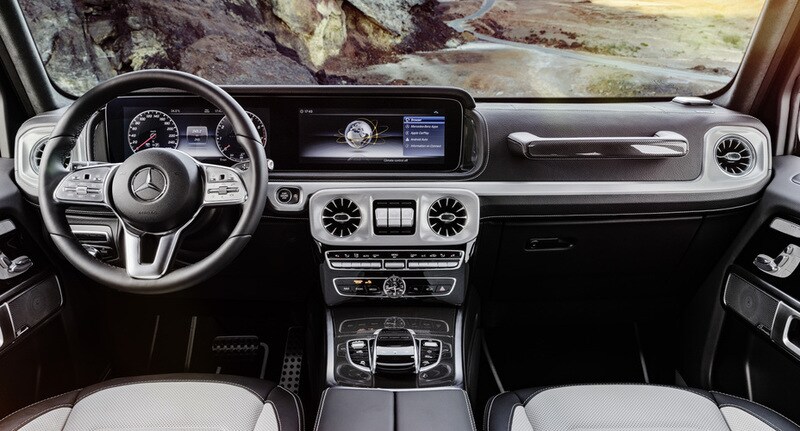 Mercedes-Benz G550 vs. Land Rover HSE: Cabins
In regards to cabins, both the Mercedes and Land Rover are supremely comfortable places to be. As you'd expect from Mercedes, the quality of the materials inside the G550 is exceptional. Every touch point is supple, the seats are well-bolstered, and details like the air vents and speaker grilles are beautifully detailed. The display which runs from the top of the center console into the gauge cluster is particularly stunning. And in regard to cargo space, there's roughly 38 cubic-feet behind the rear seats, and 79 with the seats folded.
Today, having off-road capability is no excuse for skimping on infotainment. Unlike a lot of competitors, the G550 doesn't have a touchscreen. Instead, drivers use the center console's touchpad to make selections in Mercedes' COMAND interface. So there's a learning curve, but overall, the system is fairly intuitive. Apple CarPlay and Android Auto, navigation,Bluetooth connectivity, and a 15-speaker audio system are standard.
The interior of the Land Rover also features excellent materials, comfortable chairs, and crisp, prominent displays. That said, some design choices, like the placement of the window switches, have a quirky English feel. And in comparison to the Mercedes, we think the wide, unadorned sections of the Rover's dashboard give the big Brit a look that's a bit too reserved. With 32 cubic-feet of space with the seats up, and 68.6 cubic-feet with them folded, cargo space is also slightly less generous.
So while both are well appointed, we think the Mercedes' more compelling interior design and better cargo space give it the win here.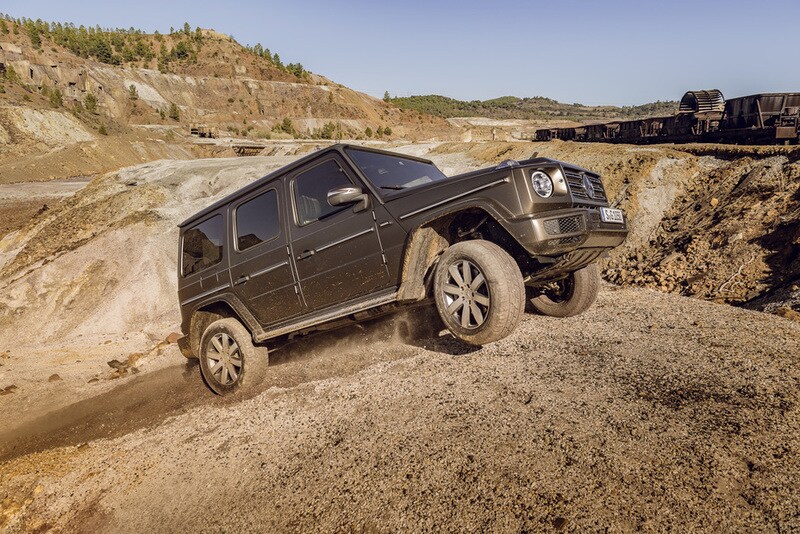 Mercedes-Benz G550 vs. Land Rover HSE: Infotainment
In comparison, the Land Rover has two touch screens, at the upper and lower ends of the center console. The Touch Pro Duo interface, however, is somewhat finicky, with some basic functions requiring multiple inputs to access, and it's also slightly slower to respond than the system in the Mercedes. Apple CarPlay and Android Auto are standard ,along with a WiFi hotspot, Bluetooth connectivity, satellite radio, and a 13-speaker audio system.
From a safety standpoint, neither the G550 or the Range Rover has been tested by the Insurance Institute for Highway Safety or the National Highway Traffic Safety Administration.
While we generally prefer a touchscreen, we think the infotainment set up in the G550 is easier to use, so were going to give the Mercedes the win here.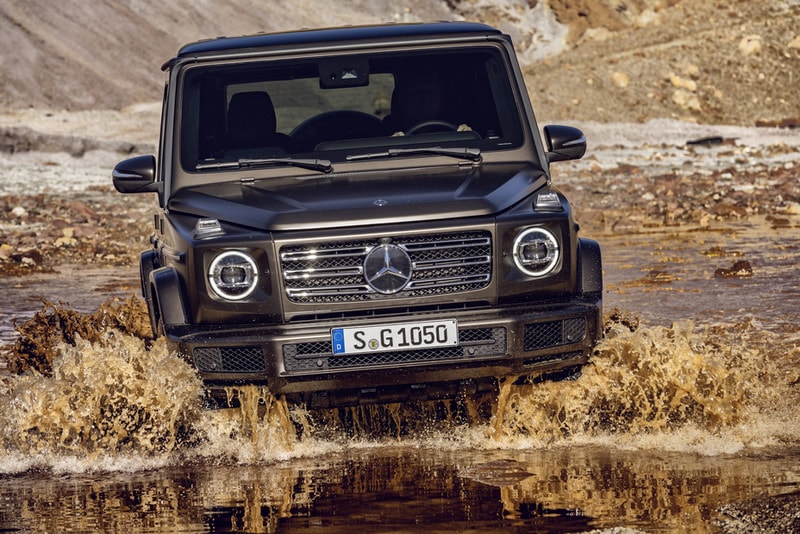 Mercedes-Benz G550 vs. Land Rover HSE: Safety
The Mercedes comes standard with a robust set of safety features, including rear cross traffic alert, forward collision warning, automatic emergency braking, blind spot monitoring, lane departure warning, and adaptive cruise control.
Now, it's time to talk price. The Mercedes-Benz G550 starts at $124,500, though there's plenty of room to go up from there.
And while the Rover comes standard with forward collision warning, automatic emergency braking, and lane departure warning, many of the other features standard on the G550 are optional on the Rover. So we're going to give the win to Mercedes here.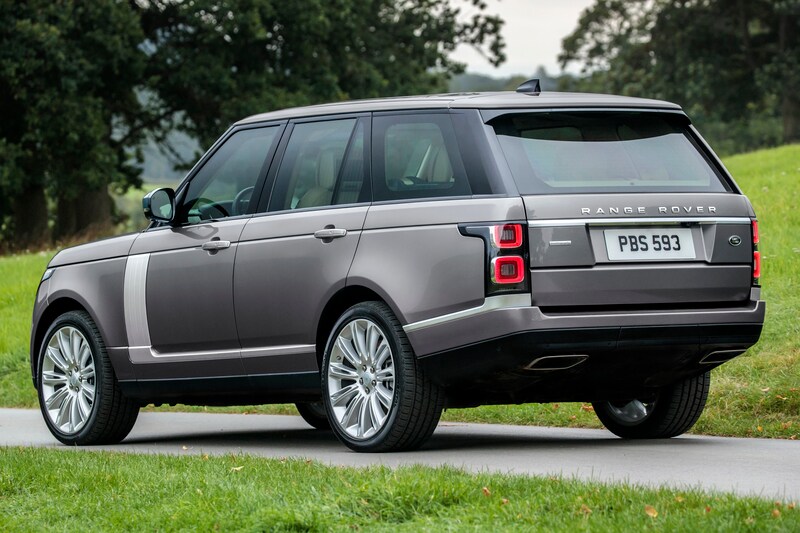 Mercedes-Benz G550 vs. Land Rover HSE: Price
The Ranger Rover Land Rover HSE starts at $95,950, and as with the Mercedes, adding options will quickly cause it to climb.
Overall, this is a very tough choice — particularly given the cost difference. But we think the Mercedes' classic lines, fantastic interior, and legendary off-road capabilities give it the win.
That said, from a cost standpoint, we think buyers will get more bang for the buck from the Range Rover.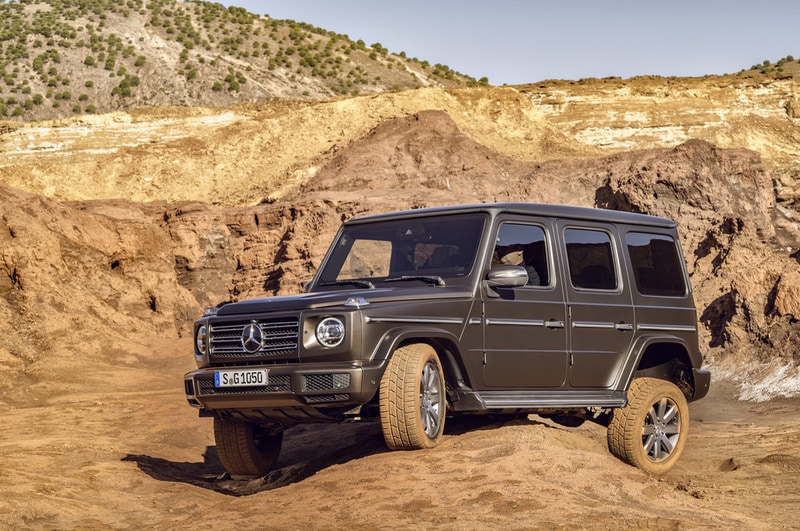 Mercedes-Benz G550 vs. Land Rover HSE: Overall
Of course, you shouldn't buy a truck without a thorough test drive. So if you're deciding between the Mercedes-Benz G550 and the Land Rover HSE, visit AutoNation.com to find a nearby dealer.

*Fuel economy values are EPA estimates. Actual mileage will vary and depends on several factors including driving habits and vehicle condition.
**Vehicle MSRP base prices exclude taxes, title, transportation, options, and dealer fees.