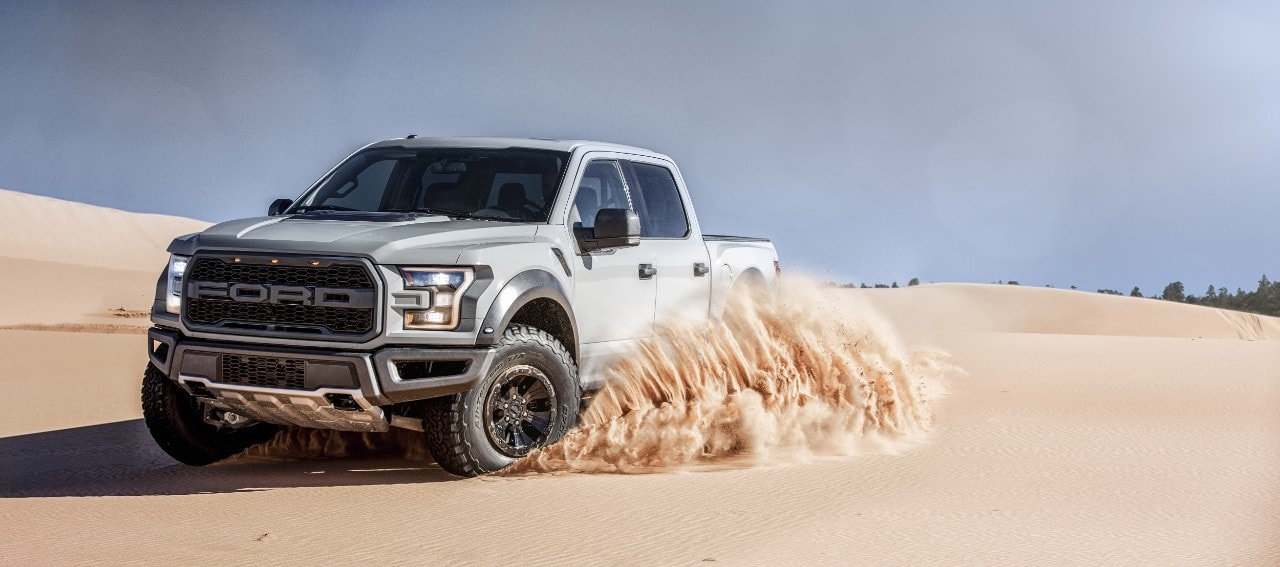 When you're looking for truck tires, there are many options to choose from depending on your region's climate, the kind of driving you like to do, and other variables. While your local AutoNation service center can help you find the perfect tire for you, this handy guide can get you started down the road to understanding truck or SUV tires!
If your vehicle is all-wheel drive or a 4x4, then you'll want to keep the tires the same on all four wheels. However, if you own a single-axle drive vehicle (such as front- or rear-wheel drive) then you can differ tire size, tread, and type between wheels on the front or rear axle, though both tires on the same axle should be the same.
"Truck" Tires
Truck tires can be used on a truck, SUV, or CUV. While offering some heavy-duty or off-road capability, truck tires do come with improved handling, ride, and noise capabilities over off-road, all-terrain, or mud tires.
Truck tires are for truck, SUV, or CUV owners who do more street or highway driving than off-roading, and are good for most climate conditions, as many are all-season tires, too.
Off-Road
Off-Road tires offer supreme performance on sand, gravel, mud, and rocky terrains. They offer larger and deeper sipes (treads) so that they can grip and obtain maximum traction on uneven surfaces. However, off-road tires are much noisier on roads and can have very poor ride quality at highway speeds.
Off-road tires are for drivers who frequently find themselves without pavement or with rocky terrains in their paths. They were designed for uneven or unpaved terrains, include improved puncture resistance, and are often all-season, but aren't great on the paved bits between home and adventuring.
All-Terrain
<
All-terrain tires offer the best of touring and off-road tires. They are quieter and more smooth on highways or paved surfaces than off-road tires and are better at handling wet, rocky, muddy, or sandy situations than normal truck tires. Just as with all-season tires for cars, all-terrain tires are good any time of year and on most driving surfaces.
If you enjoy equal parts off-road and paved surfaces, then the all-terrain tire is for you. It offers a happy balance of off-road tire capability while ensuring paved surfaces aren't a nightmare.
Mud Tires
Mud tires have wider and deeper treat gaps and blocks, offering more space for mud or uneven surfaces to squeeze through. The squeeze and release of debris, such as sand, mud, or rocks, ensures that drivers leave the dirty stuff on the road and not clinging into the tire's treads. The narrow blocks and gaps on all-season or all-terrain tires may not release clumps of mud or rocks as easily, decreasing traction on uneven surfaces.
Mud tires are for drivers that often see uneven and unpaved road surfaces, but don't need rock-crawling performance. These tires will offer some protection against punctures, but will be worse on paved surfaces than all-terrain or truck tires.
Winter Tires
Similarly to car tires, winter truck tires offer improved performance in snowy or icy conditions over all-terrain tires. They offer softer rubber that won't freeze in the cold, have improved traction on snow, and can even come with studs for griping icy roads.
Winter tires are for drivers that face extreme winter weather, such as long-term or heavy snow and ice. For convenience, it's easiest to have a spare set of wheel rims for each set of tires, such as one wheel set for all-terrain tires and one wheel set for winter tires.
Heavy Duty Tires
If you're the kind of truck, SUV, or CUV owner that likes to haul trailers or max-out the payload capacity of your vehicle, then heavy duty tires are for you. These tires offer commercial vehicle reliability for everyday driving.
Heavy duty tires are for the CUV, Truck, or SUV owner who works commercially. They offer supreme durability and longevity, and are capable on highways or on the job site.
p
* * * * *
If you're shopping for your next set of truck, SUV, or CUV tires, then call or visit your local AutoNation service center and speak to one of their friendly and knowledgeable staff members!