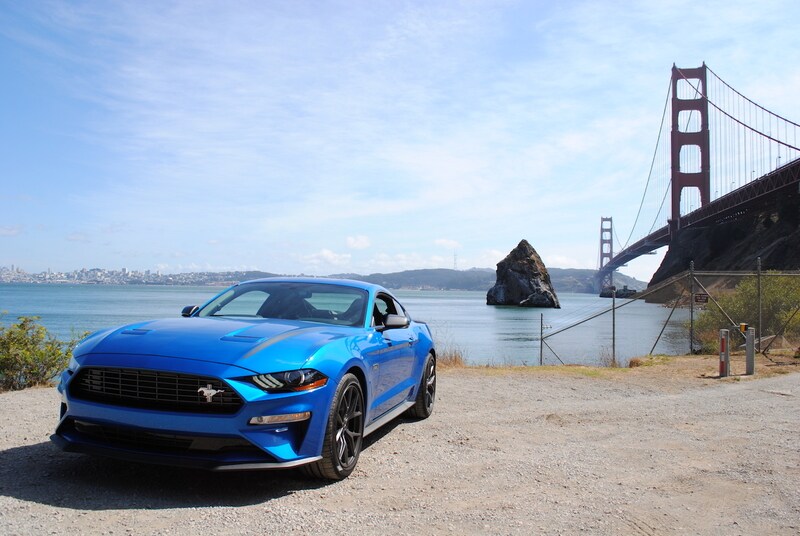 A Potent Engine, Superb Handling, and Great Brakes Make the EcoBoost a Winner
— by Mike Musto
If you haven't heard by now, the Ford Motor Company has stopped making its insane little hot-hatch, the Focus RS.
For more information on the Mustang, head to your local AutoNation Ford dealer, or check out our virtual showroom!
It was a great exercise in compact fun, but the fact is, it may have been a bit too much for the general public.
Thankfully for us, however, Ford went ahead and saved the turbocharged 2.3-liter four-cylinder that motivated the RS, and instead of shelving it, they went ahead and stuffed it underneath the hood of a Mustang to create the 2020 Mustang EcoBoost HPP (High-Performance Pack).
In Mustang spec, we're looking at a larger twin-scroll turbocharger that puts out 22 pounds of boost, a redesigned head gasket, and a larger radiator for improved cooling. It's a potent package, and while it doesn't have the ferocious power of the V8-powered GTs, drivers will find there's plenty of fun to be had with the EcoBoost Mustang.
Keep reading to learn all about it!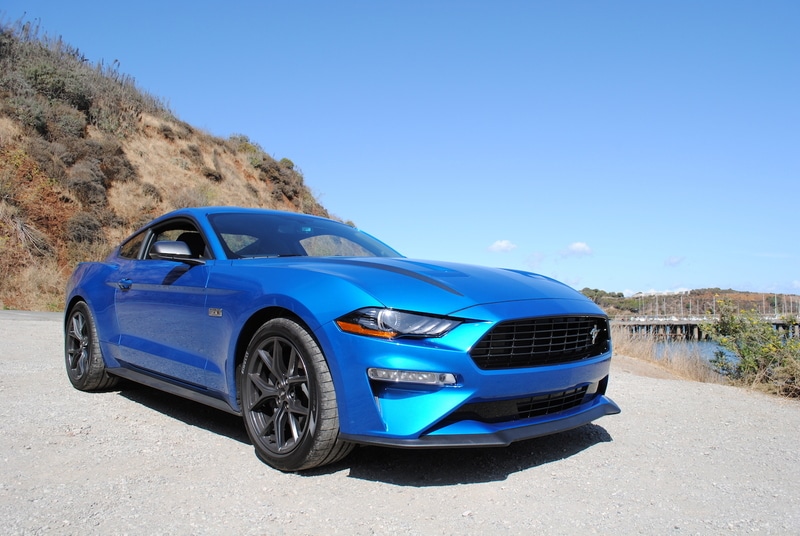 2020 Ford Mustang EcoBoost HPP Exterior
If you were to quickly glance at the EcoBoost HPP, you'd be hard-pressed to tell it apart from a naturally aspirated 5.0-liter GT, especially if it's equipped with the Level 2 Performance Package. The wheels, for instance, are the same as a PP2 GT, but instead of a 19x10.5-inch in the front, and an 11-inch in the rear, the EcoBoost HPP runs 19x9.5-inch wheels at all four corners that wear 265/40-series Pirelli PZero Corsa tires (Optional Handling Package Required). Out back there's also a quad-tipped exhaust in a blacked-out lower diffusor (like the GT), as well as a rear decklid spoiler. Thus, from a visual perspective, they are similar. Look closely however and there are a few differences a keen eye will pick out.
The brake calipers are four-piston, instead of the larger six-piston Brembo calipers found on the PP1 or PP2 GTs. The most telling sign, however, comes in the form of the High-Performance 2.3-liter badge that hangs on both sides of the front fenders. Notice that, and there's no mistaking that under the bonnet is one of the most raucous little four-bangers Ford has ever produced for road usage. Those visual differences aside, the 2020 Mustang EcoBoost HPP, and its GT and GT350 siblings, still sport some of the best styling in the business.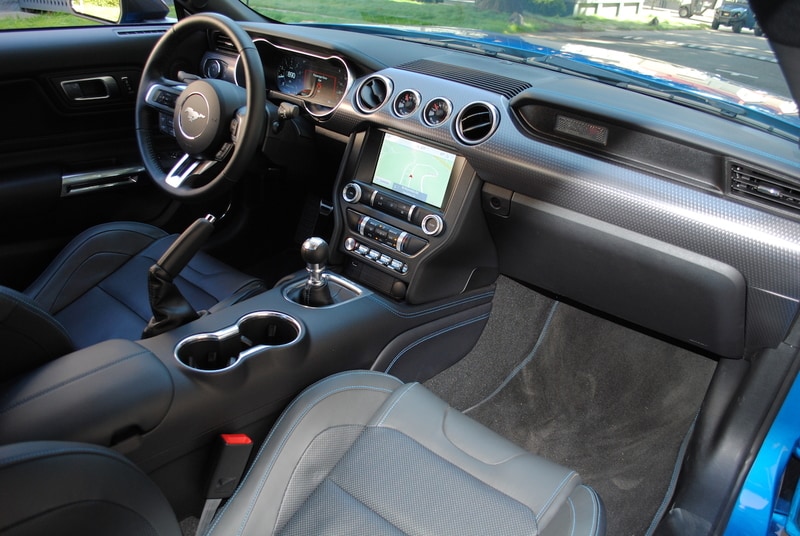 2020 Ford Mustang EcoBoost HPP Interior
Our 2020 Mustang HPP was pretty maxed out with such features as a multi-configurable 12-inch LCD digital instrument cluster, a heated steering wheel, dual-zone automatic temperature controls, and voice-activated navigation. Luckily we were also treated to leather Recaro seats with contrasting stitching. Not only were they comfortable, but also the amount of lateral and lumbar support offered was downright outstanding. Rear seating was tight for all but the smallest of stature with trunk space coming in at 13.5 cubic-feet.
Ford's MyMode application lets one configure the dash for different layouts based on the vehicles driving mode (Normal, Sport+, Track, Drag Strip, Wet/Snow). Simulated analog gauges can be had, or if placed in Sport+ or Track mode, you'll find a sweeping tachometer that runs to the cars 6,500-rpm redline. Steering wheel mounted controls also give further access to things like fuel economy, tire pressure, exhaust presets and other vehicle functions, and are displayed in the LCD cluster. The turned aluminum dash panel houses ancillary gauges for vacuum and oil pressure and includes a special plaque insert with the chassis number. Lastly, you'll notice that six-speed shifter and those three pedals that lurk under the steering wheel. And while a ten-speed automatic is available, trust us when we say that the manual is the one to get.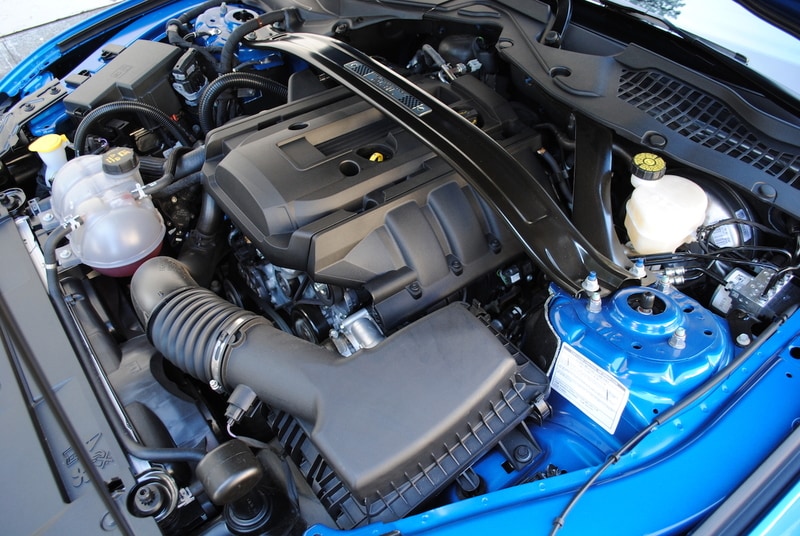 2020 Ford Mustang EcoBoost HPP Performance
As I said previously, the 2020 Ford EcoBoost HPP Mustang comes to us with the same (sort of) 2.3-liter turbocharged four-banger that lived under the hood of the 2018 Focus RS. After some tweaks, the final figures are 332 horsepower and a whopping 350 lb-ft of torque. Buyers also have the option of a six-speed manual or a ten-speed automatic. But after driving both, we'd definitely recommend the manual. It's not that the auto isn't good, it's just that with the manual, the Mustang is just so much more engaging, plus it's fast! We're talking a zero-to-60 mph time of just 4.5 seconds, and a top speed of 155 mph.
The Mustang also received some trickle-down technology from Ford Performance by way of the MagnaRide Damping System — a system that has the ability to change its dampening force within a millisecond and thus, provide improved handling. It comes as part of the $1,995.00 handling package, which not only includes larger wheels and better tires but larger sway bars as well. When combined with those sticky Pirelli PZero Corsa tires the driver/road connection was fantastic. We drove both MagnaRide and non-MagnaRide equipped cars and truth-be-told, I simply wouldn't buy a Mustang without it – it's that good.
Ford's Track Apps are also carried over to the HPP and include such items as Line-Lock, Launch Control and a host of other go-fast bits that do nothing but add another layer of fun to what's already a great car. Large four-piston calipers handle braking upfront, while a 3.55 limited-slip rear gear lives out back. In regards to fuel economy, the Mustang EcoBoost HPP is EPA rated at 20 mpg in the city, 27 mpg on the highway, and 23 mpg during combined driving.**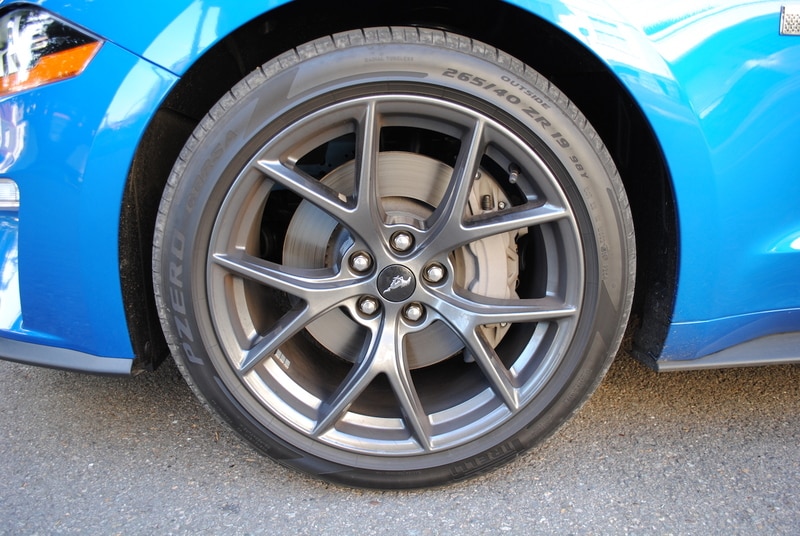 2020 Ford Mustang HPP Safety
Ford has included a host of safety features (some optional) into all 2020 Mustangs. Features such as airbags throughout the cabin, anti-lock brakes, traction and stability control, a rearview camera, lane departure warning, distance alert, and a pre-collision assist system, to name a few.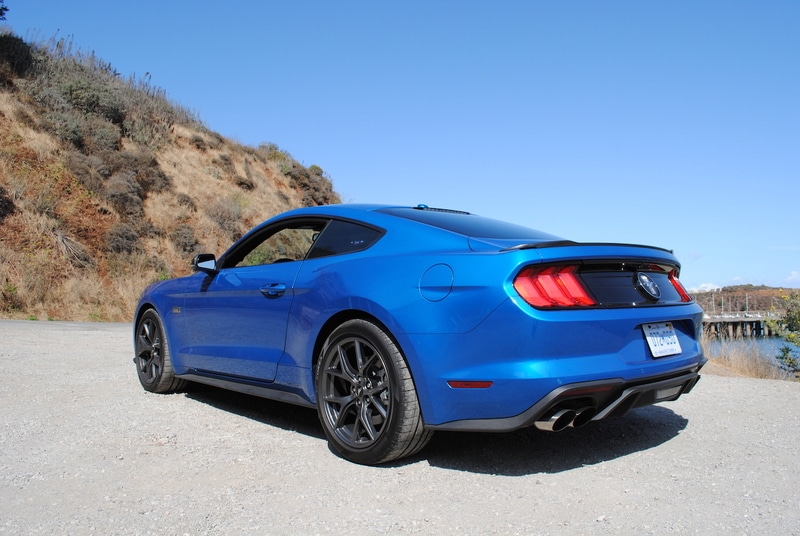 2020 Ford Mustang HPP Overall
With a curb weight of 3,632 pounds, superb handling, great brakes, and an engine that delivers 90% of its torque from 3,000-rpm up, the 2020 EcoBoost HPP Mustang is a great way to enter the performance car market. Prices start at $33,405, and depending on options, can rise to just under $40k.** And truth-be-told, that isn't all that much for the level of performance offered.
*Fuel economy values (mpg) of 20 mpg city and 27 mpg highway are EPA estimates. Actual mileage will vary and depends on several factors including driving habits and vehicle condition.
**Vehicle MSRP base price of $33,405.00 excludes taxes, title, transportation, options, and dealer fees.