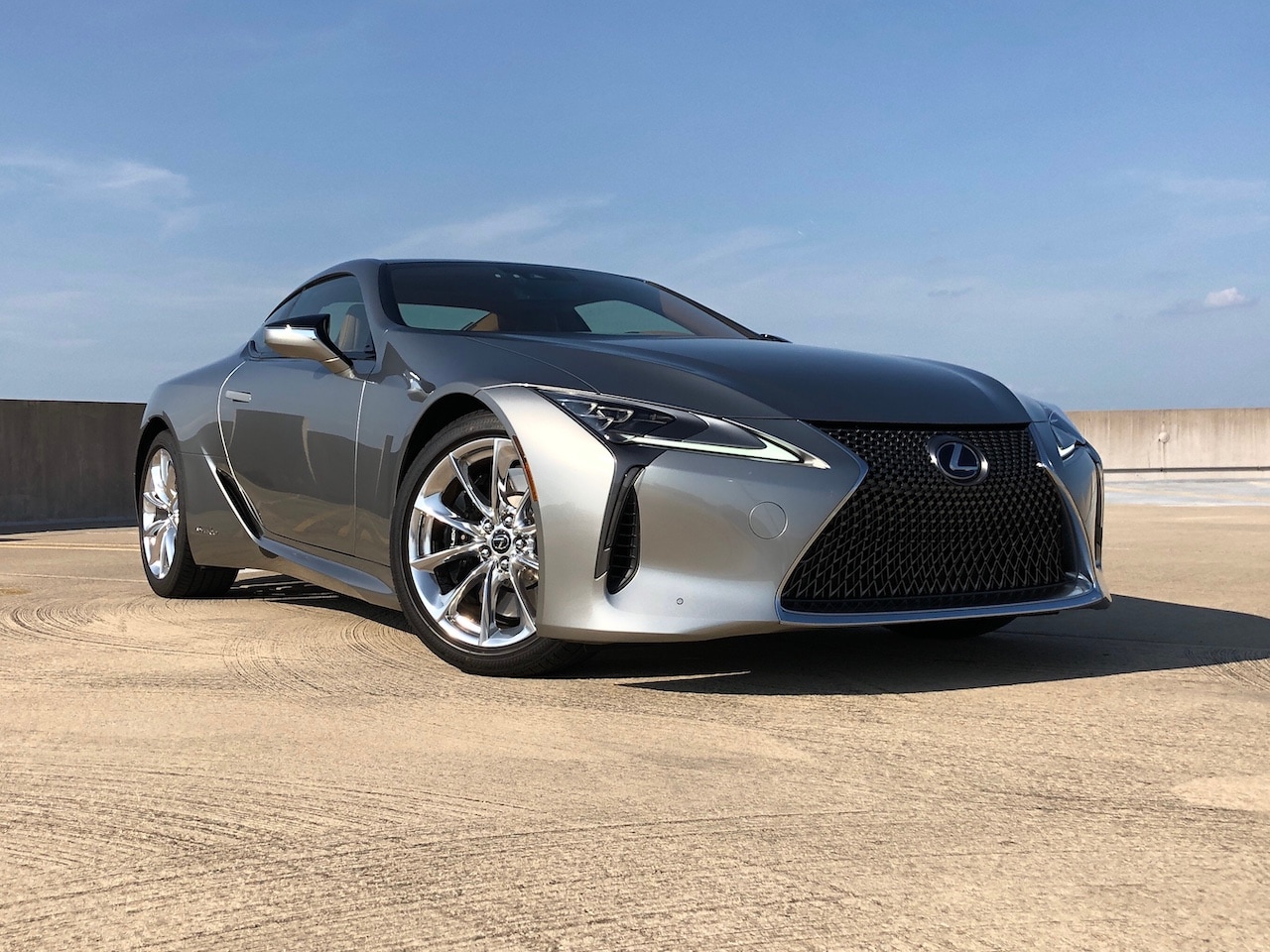 In my opinion, the Lexus LC 500h is one of the best-looking sports cars out there right now — it is really a work of art. That's not to say that its rivals or peers don't look good or in some cases better, I just appreciate the amazing balance of elegance an aggressiveness in the design of the LC.
Now, I'll talk more about the design in a bit, but let's talk about what the "h" stands for, hybrid. This is the less powerful, slower, more expensive version of the more powerful, faster, and less expensive V8-powered LC 500. Yup, you read that right - the LC 500h is more expensive than the LC 500. Of course, there are those out there that are concerned with gas mileage and may want to go for the hybrid over the gasoline model. Let's take a closer look at the 2020 Lexus LC.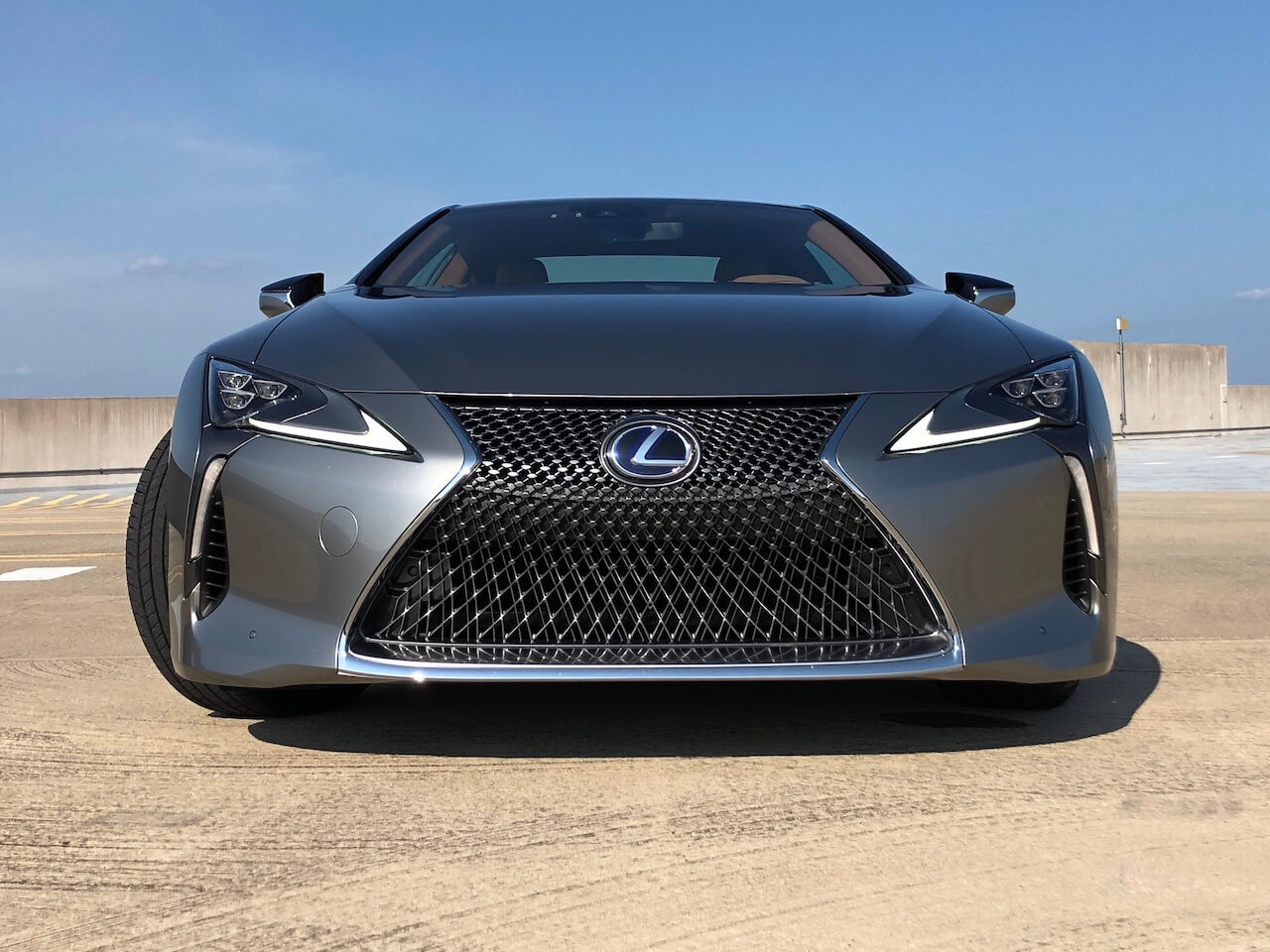 2020 Lexus LC 500h Exterior
You rarely get to see a car transition from concept form (in this case the LF-LC) to production without losing a lot of the exciting design elements. However, Lexus has managed to keep everything that we loved about the concept and brought it to the roads for us to enjoy. Overall, the design is highlighted by the giant signature spindle grille, the signature LED daytime running lights, and stylish LED taillights. Speaking of the taillights - that happens to be my favorite design element on the Lexus LC as they feature a very unique 3D design that creates an impression of a sequence of L-shaped LED lamps. The Lexus LC 500h Hybrid pictured here gets some model exclusive touches including blue Lexus emblems and some hybrid badging.
Size wise, the Lexus LC sits on a wheelbase that measures 113 inches with an overall length of 187.4 inches — slightly longer than the BMW i8. The width comes in at 75.6 inches and the height stands at 53 inches. Also, if you're a little curious, the Lexus LC 500h weighs a total of 4,435 pounds (155 lbs. more than the V8 LC 500).
Overall, the Lexus LC is one of those cars that looks marvelous from every angle and gives the impression that you're driving something really extraordinary.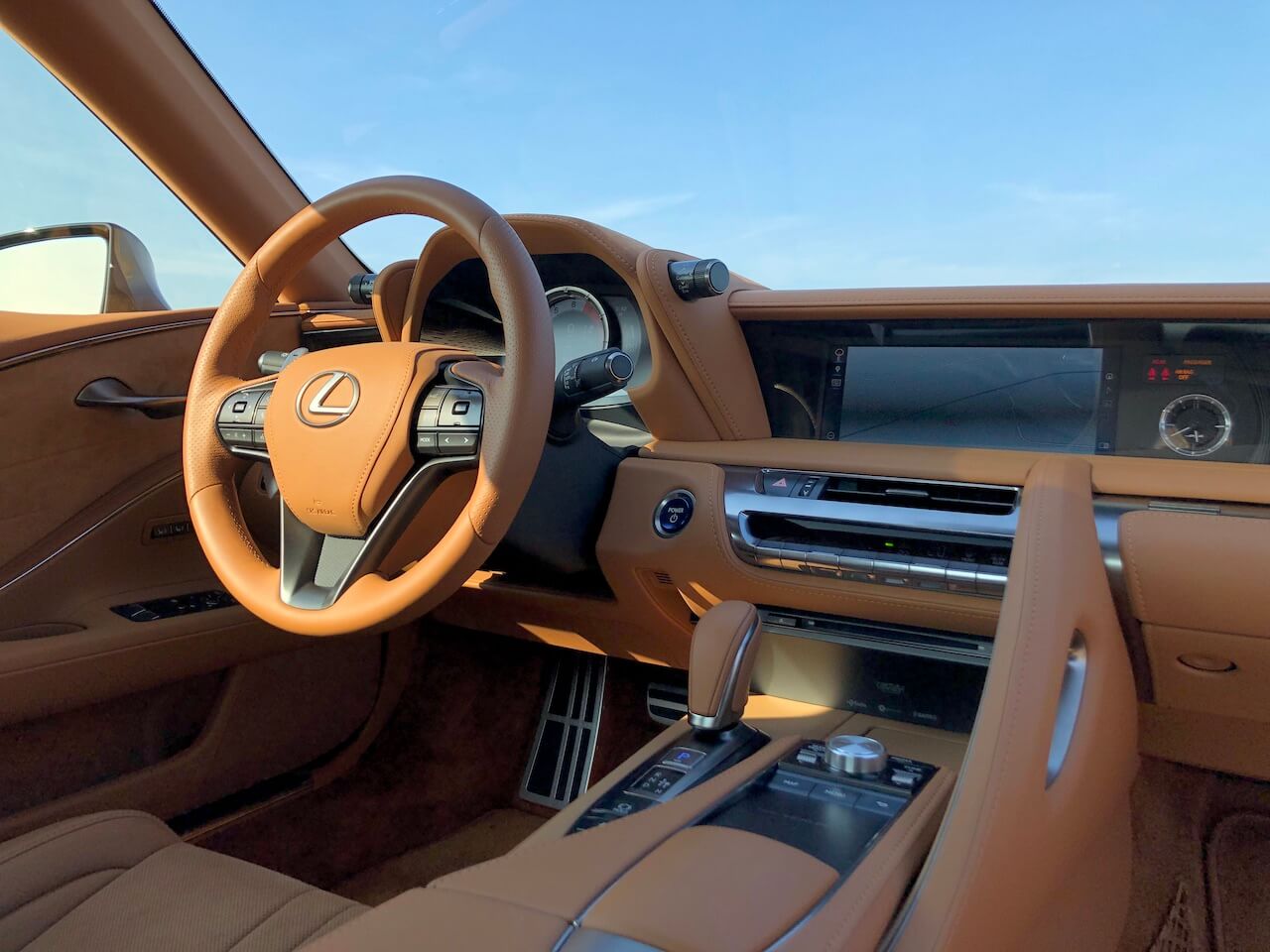 2020 Lexus LC 500h Interior
What's the most important interior comfort and/or tech feature you look for in a new car? Every time I test drive a new car I always look for the following: Apple CarPlay, a nice rearview camera (360° camera preferred), heated/cooled seats, an above-average sound system, and adaptive cruise control. Lucky for me, the 2020 Lexus LC 500h I test drove here had all those and more.
I love the interior of the Lexus LC in terms of design and quality. It is unquestionably the pinnacle of Lexus' obsession with interior quality. Every button, knob, and material is amazing to the touch. I only wish that the aluminum finish on the climate control buttons will ultimately make their way to other Lexus models. In my opinion, the interior of the Lexus LC is better than that of the Acura NSX, BMW i8, Jaguar F-Type, and the Mercedes-AMG GT.
I only have two gripes with the interior of the Lexus LC. The rear seats are non-existent. The only way a person can fit in the back-seat is if they lay down sideways. Also, there is literally one cup holder.
Tech-wise, the 2020 Lexus LC comes packed with a range of standard features. Those include a 10.3-inch touchscreen display with navigation, Apple CarPlay, Lexus Enform infotainment, the next-gen Lexus remote touchpad, LFA-inspired instrumentation cluster, Bluetooth with audio streaming, USB-ports, heated and cooled front seats, dual-zone climate control, a rearview camera, adaptive cruise control, blind-spot monitor with rear cross-traffic alert, lane keep assist, and much more.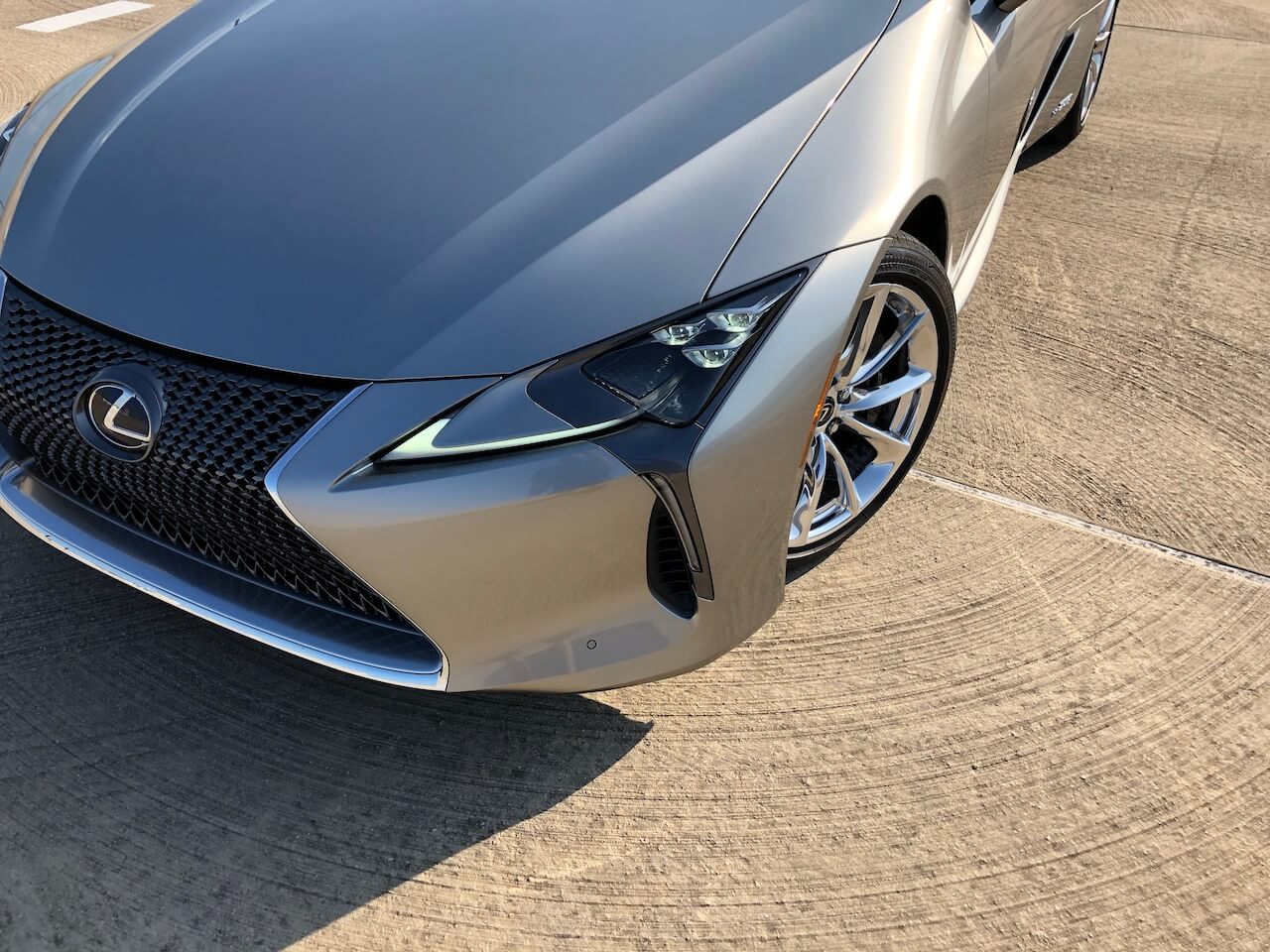 2020 Lexus LC 500h Performance
Cars like the Lexus LC come with a total of six driving modes including Normal, Eco, Comfort, Sport, Sport+, and Custom. To be honest, I only found myself using Comfort and Sport+. Comfort because I'm getting older and want to kick back and relax and Sport+ because if I'm going Sport I'm going full + and not just Sport.
Lexus is working on bringing a 600+-hp LC F to the market in 2022 which will make it a serious sports car. Currently, it's a bit difficult to pinpoint a direct competitor to the LC. Many have compared the sports car to the Acura NSX, Audi R8, Porsche 911 and some (including Lexus) have even compared it to the Aston Martin DB11. Of course, speed and performance are both relative but I must point out that the Lexus LC (especially the hybrid) isn't the quickest of the bunch. It all depends on what you're looking to achieve from your next sports car. The Lexus LC 500 does zero to 60 mph in 4.4 seconds, and the LC 500h does it in 4.7 secs. The V8-powered 471-hp LC 500 would unquestionably be my pick over the 354-horsepower LC 500h.
When it comes to fuel economy, the Lexus LC 500h averages an EPA-rated 27/35 mpg* (city/highway while the Lexus LC 500 averages 16/25 mpg*.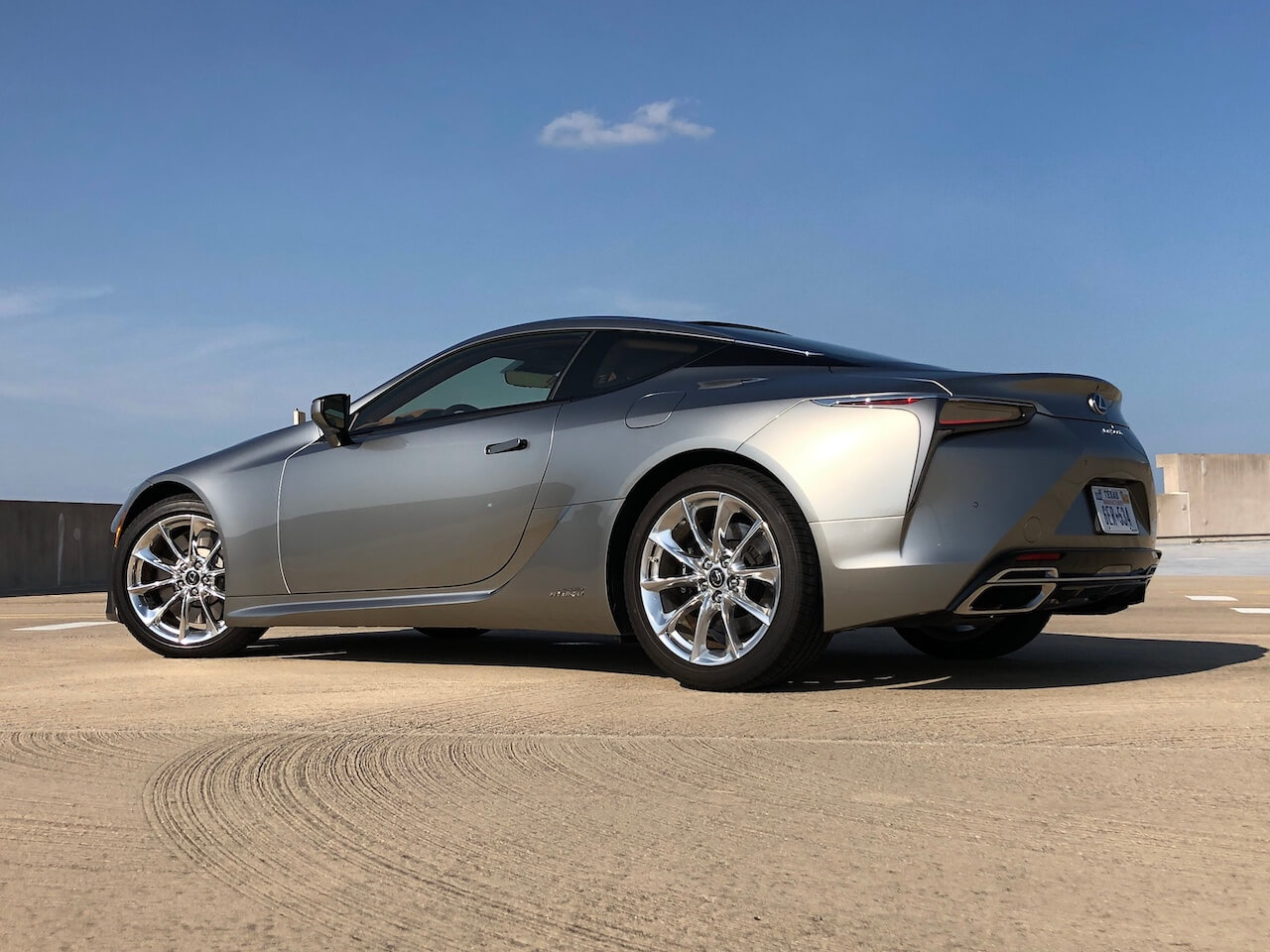 2020 Lexus LC 500h Overall
I think the Lexus LC is a pretty outstanding sports car. Of course, I would easily pick the $92,200 Lexus LC 500 V8 over the $97,460 LC 500h hybrid. It is one of the best-looking sports cars out right now, puts up respectable performance figures, and won't break the bank account like some of its rivals. Visit your local AutoNation Lexus dealership for a test drive today.
*MSRP excludes tax, license, registration, destination charge and options. Dealer prices may vary.
**Based on EPA mileage ratings. Your mileage will vary depending specific vehicle trim, how you drive and maintain your vehicle, driving conditions, and other factors.