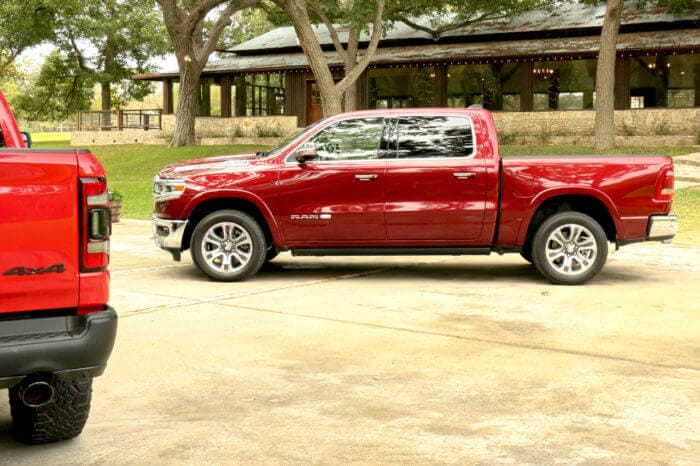 RAM was First With a Light-Duty Diesel — and it's Not Resting on its Laurels
by - Derek Shiekhi
Less than ten years ago, a light-duty pickup with a diesel engine was an alien concept. Truck makers offered a variety of six- and eight-cylinder engines, but all of those ran on gasoline. RAM changed the industry in 2014 when it debuted its EcoDiesel power plant as an option for the 1500.
The 3.0-liter V6 delivered a stout 420 lb-ft of torque and an impressive EPA-estimated highway fuel economy of 28 mpg. Back then, the EcoDiesel was ahead of its time. But these days, Ford, Chevrolet, and GMC offer diesel engines in their half-ton trucks, so RAM isn't resting on its previous accomplishments. In fact, it's one-upping itself.
The third-generation EcoDiesel is more powerful than ever, and gives the 2020 RAM 1500 impressive towing power and fuel economy. Here's what I learned about it during a Lunch and Learn event in Driftwood, Texas.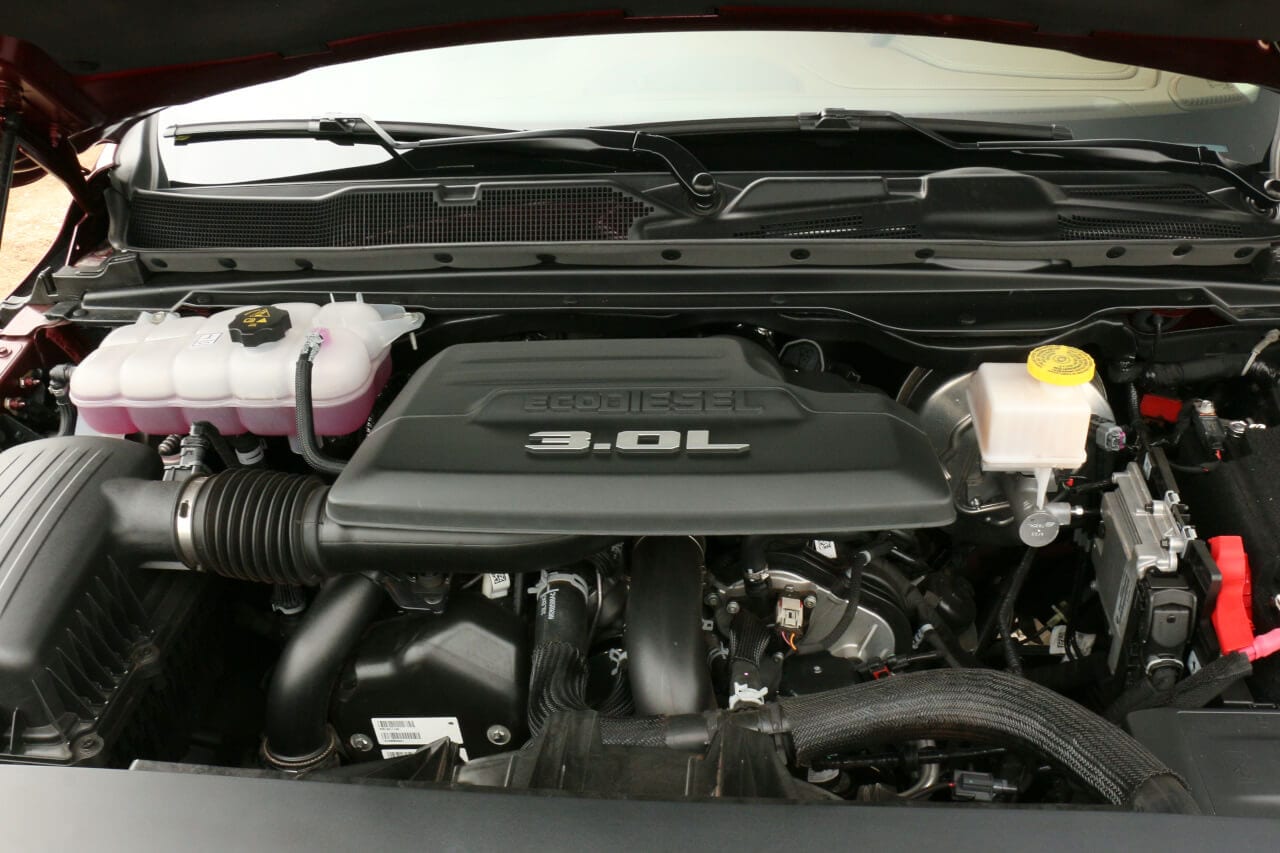 The foundation of the new 24-valve, double-overhead-cam EcoDiesel is a sturdy compacted graphite iron block. That contains a forged steel crankshaft and connecting rods. Those are attached to new aluminum alloy pistons designed to reduce internal friction and power losses. To decrease engine noise, vibration, and harshness (NVH), engineers repositioned the piston pins and fitted the EcoDiesel with heat-treated cylinder heads that have individual bearing caps. The compression ratio is up from 16.0:1 to 16.5:1.
FCA focused on the EcoDiesel's fuel injection and breathing to make it more powerful than its predecessor. Massimo Fulfaro, FCA's diesel engines platform manager, told me and my colleagues in the Texas Auto Writers Association that he and his team redesigned the 29,000-psi injector nozzles "to have a higher flow in the combustion chamber and a better … atomization of the fuel." They also altered the design of the cylinder head intake ports to improve airflow and performance, and that means better fuel economy as well.
A re-engineered exhaust gas recirculation (EGR) system also helps make the EcoDiesel more fuel efficient. One of the most significant changes Fulfaro and his crew made was opting for a new water-cooled turbo with a variable geometry turbine (VGT) that improves both its efficiency and response time.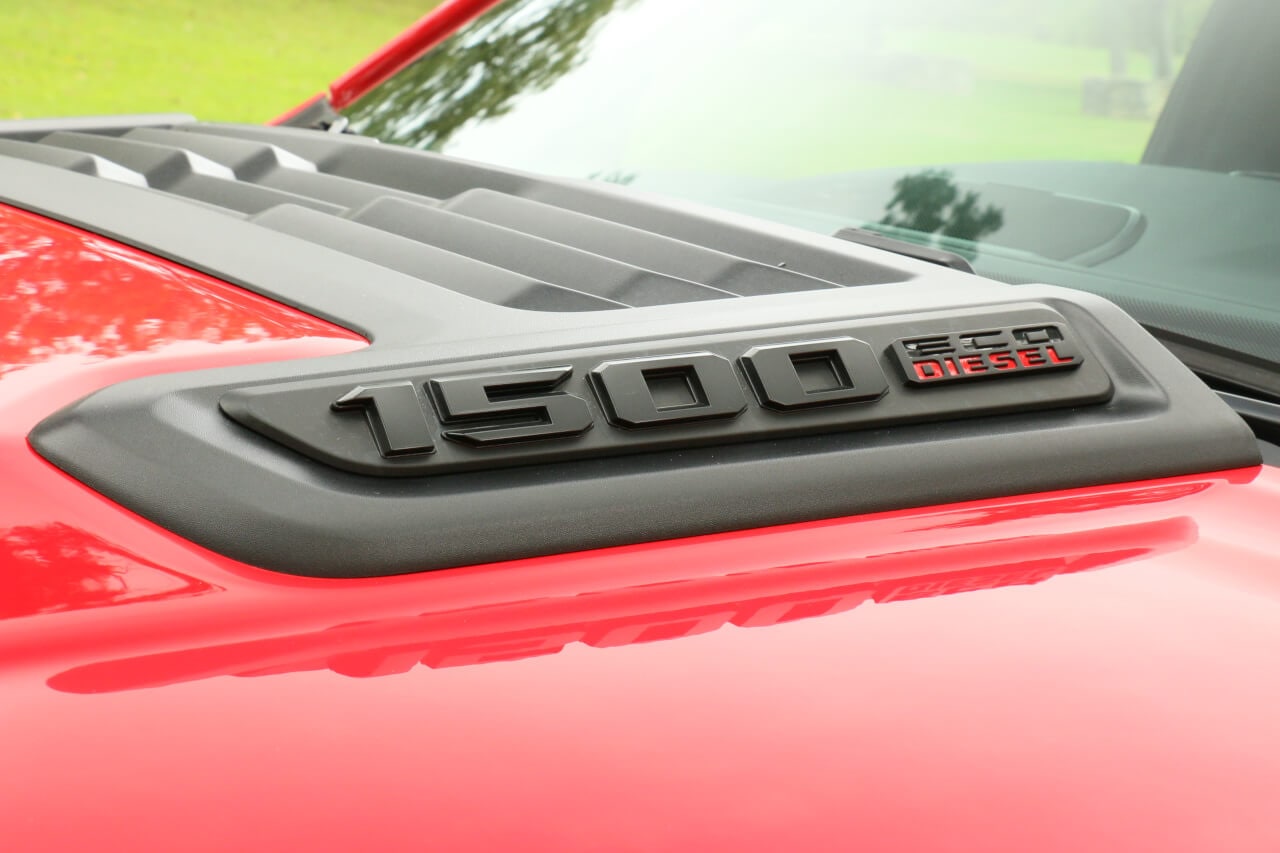 Altogether, those changes resulted in 260 horsepower at 3,600 rpm and 480 lb-ft of torque at 1,600 rpm — increases of eight and 12 percent, respectively. That grunt and the 1500's eight-speed automatic enables a properly configured 2020 RAM 1500 to tow up to 12,560 pounds. Despite that extra output and capability, the new EcoDiesel offers better fuel economy than before.
A properly configured 2020 RAM 1500 with two-wheel drive can get 22 mpg in the city and 32 mpg on the highway (26 mpg combined).* The 1500 is available with a 33-gallon fuel tank, which means it can cover more than 1,000 miles after a fill-up at the pump. Four-wheel-drive models are not far behind with respective ratings of 21, 29, and 24 mpg.* RAM will offer all of that power and efficiency in every 1500 trim level, from the Tradesman to the Limited. Off-road fans will be happy to hear that you can now get the Rebel with a diesel engine as well.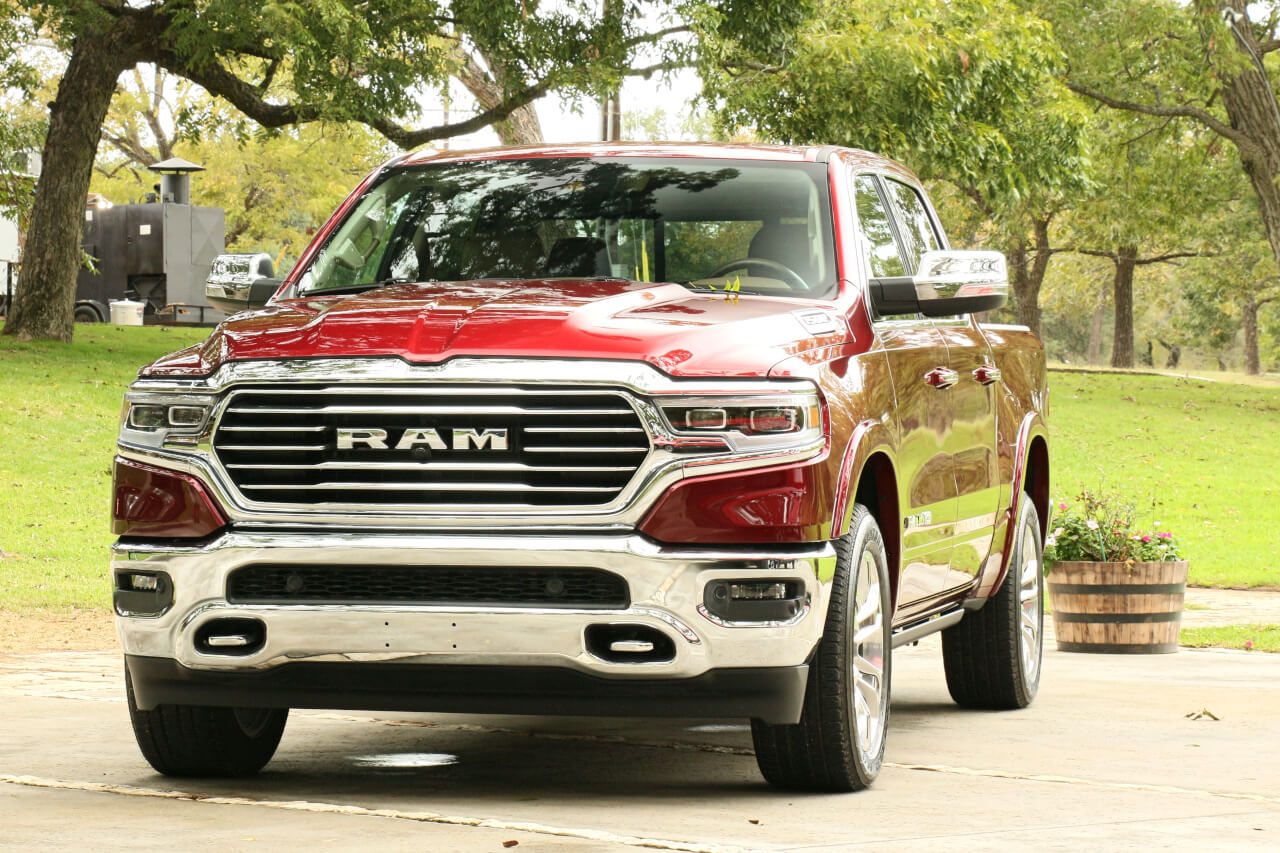 RAM brought two trucks for me and my fellow writers to drive: a Laramie Longhorn and a Rebel. The line for each one was long so I decided to let them die down while I networked and ate lunch (RAM knew its audience and had the event catered by a popular local BBQ restaurant). When the Laramie Longhorn finally became available, I wanted to see just how quiet RAM had made its engine so I squatted down near one of the truck's dual exhaust outlets and had my pal Bryan, the host of the YouTube channel New Car Spin, fire up the EcoDiesel.
Clearly, all the effort that Fulfaro and his engineering staff put into reducing its NVH levels had paid off. There was little clatter upon startup and the EcoDiesel was soft-spoken at idle.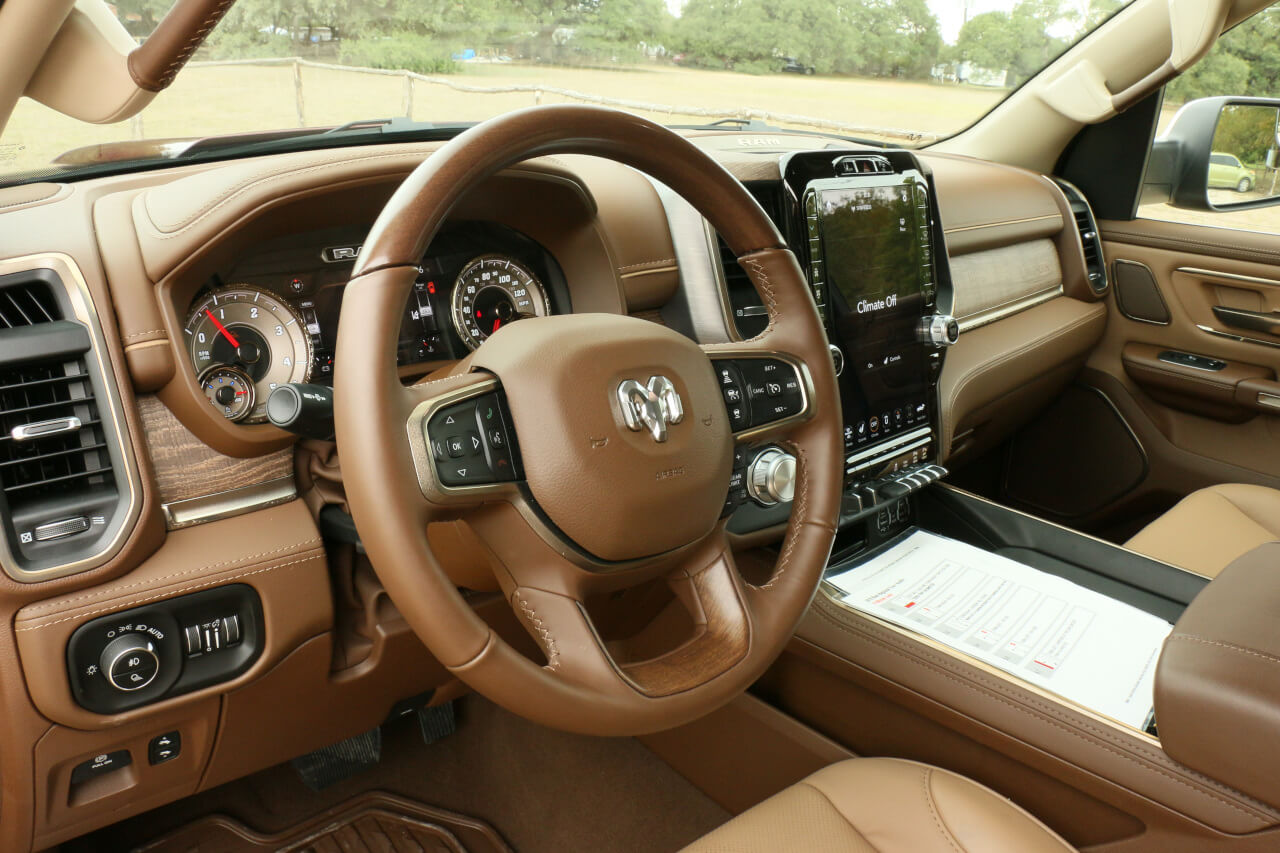 Since the newest generation of the 1500 came out for the 2019 model year, I've been fortunate to drive several versions of it, including the Laramie and Limited. But my favorite is the Laramie Longhorn, for one major reason: its interior.
I'm a sucker for its abundance of leather and genuine barn wood trim. The available 12-inch Uconnect system is another highlight. So is the sheer amount of available passenger space. I still marvel at the fact that my girlfriend's father and uncle, both of whom are roughly 6'5", were able to sit behind each other on the passenger side of the Laramie Longhorn I tested late last year.
The new EcoDiesel engine makes the Laramie Longhorn even more appealing (as if that were even possible). You can have an elaborate, luxurious interior and the freedom of more than 1,000 miles of potential cruising range. As someone who's made the round trip from Austin to El Paso numerous times, I find that especially exciting. I can't wait to fully test the EcoDiesel's fuel economy later this year.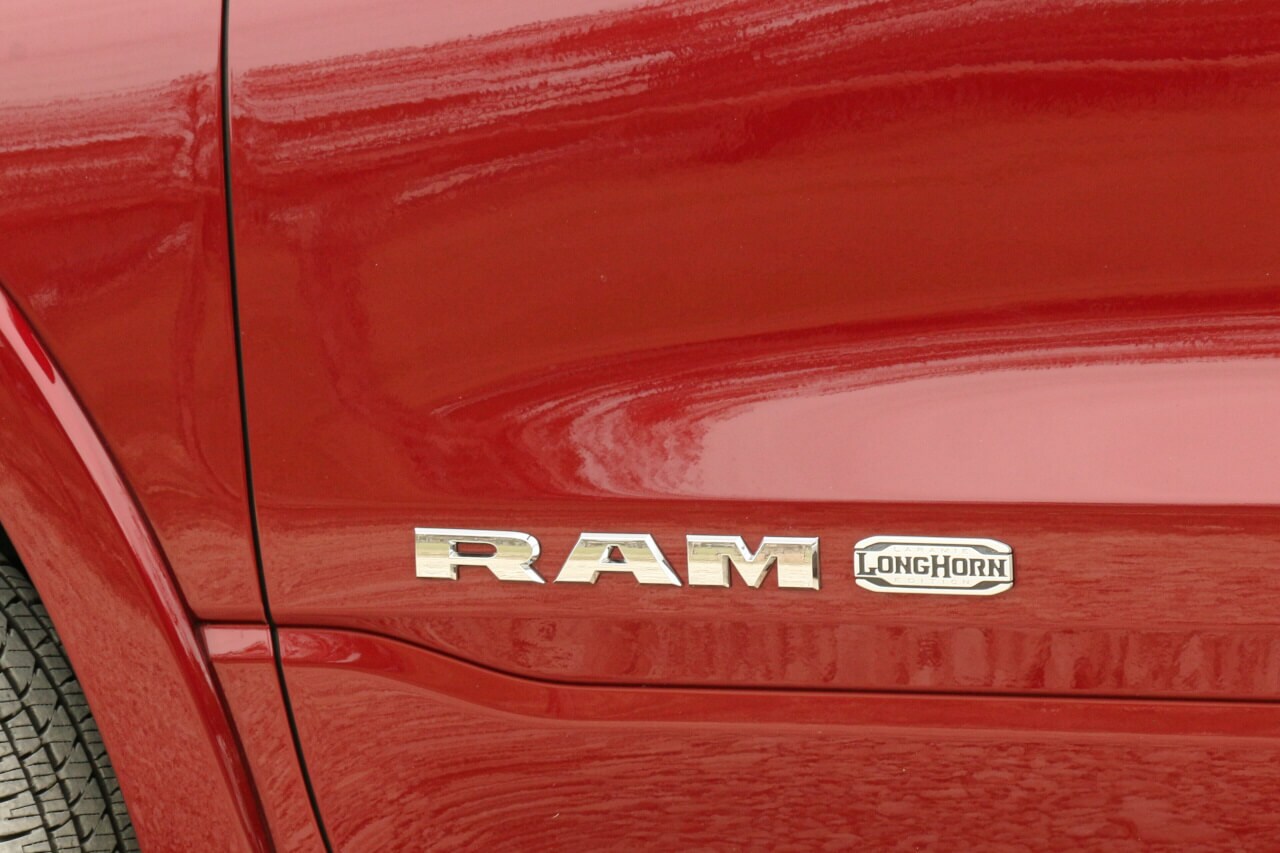 On the back roads of Driftwood, I had a few opportunities to experience the EcoDiesel's flat-out acceleration. What stood out to me the most wasn't the quickness with which it built speed, but how smoothly and linearly it did it. There was no sudden explosion of forward movement. The 1500 just sailed ahead on a thick wave of creamy torque. No matter how hard I pressed the right pedal, the EcoDiesel refused to shout. In fact, it was so quiet that it almost sounded like a gas engine.
There was no noticeable effect on the Laramie Longhorn's ride quality. Ram offers the 1500 with steel springs and a four-corner air suspension. I've driven trucks with both. Obviously, the air-ride models have an edge in terms of smoothness, but the steel-sprung trucks are shockingly close in terms of overall comfort. My test truck had the regular suspension setup and handled the bumps and dips in the road with control and composure. My kidneys were grateful for all that RAM did to make that possible.
The 1500 Rebel seemed to be the most popular of the two trucks at the event. I was the last one to drive it. It was another best-of-both-worlds experience. As great as the Wrangler is, the one thing American off-road enthusiasts have been waiting years for is a Wrangler with a diesel engine. The 2020 Wrangler Unlimited EcoDiesel gives them that kind of grunt and the trail-conquering hardware that the Wrangler is famous for. It's the same with the RAM 1500 Rebel EcoDiesel. It combines aggressive looks (check out the cool vented sport hood) with a factory lift, 33-inch all-terrain tires, locking rear differential, and enough torque to make a mountain feel like a molehill.
The one I drove had steel springs like the Laramie Longhorn, but it felt softer in the corners. The EcoDiesel also sounded more vocal under full throttle. It's a shame I had to get the Rebel back to RAM so quickly. I would've been happy to drive the Rebel out to the desert of west Texas and use every mile of its impressive cruising range.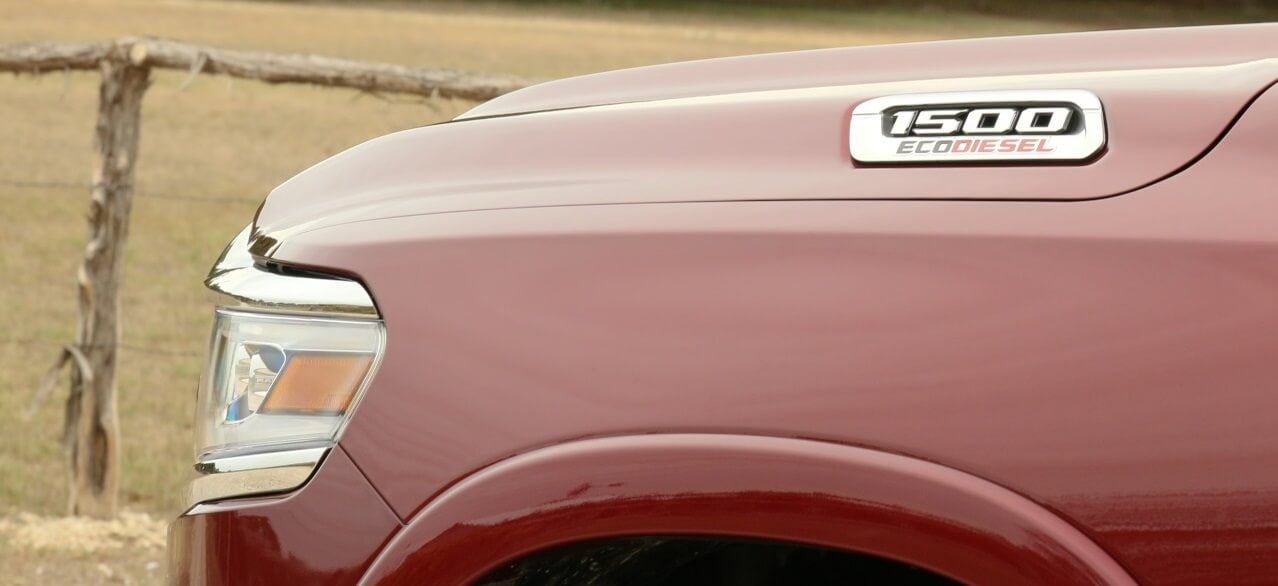 Ram has already started building 1500 EcoDiesel models at its plant in Sterling Heights, Michigan (the EcoDiesel is manufactured in FCA's Cento facility in Ferrara, Italy). You'll be able to find them in AutoNation RAM dealerships later this year. Prices start at $36,890.**
*Based on EPA mileage ratings. Your mileage will vary depending on specific vehicle trim, how you drive and maintain your vehicle, driving conditions, and other factors.**MSRP excludes tax, license, registration, destination charge and options. Dealer prices may vary.