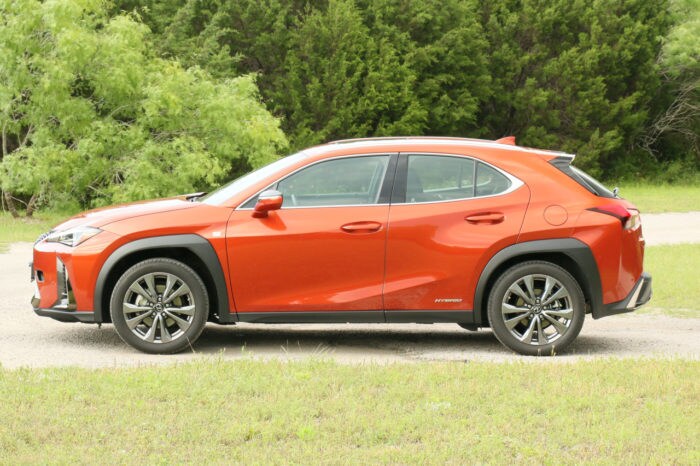 Last October, I traveled to Seattle, Washington to drive Lexus's all-new UX. Its smallest utility vehicle is available with a gas engine in UX 200 form and a gas engine, battery pack, and pair of electric motor/generators as the UX 250h. Both versions can be equipped with Lexus's popular F Sport package, which adds cosmetic and functional upgrades. During my drives through the construction zones of downtown Seattle and the natural beauty of Bainbridge Island, I discovered that Lexus had created a vehicle with the right dimensions and power to make getting around metropolitan environments more pleasant.
When I flew home back to Austin, Texas, I knew it was just a matter of time until I would be able to drive a UX for an entire week around the Lone Star State's capital city. I was eager to find out how easy it would be to thread through the streets of downtown Austin so I planned to spend an entire Saturday with my girlfriend, Eli, there. We were going to wake up early, go to a coffee shop or breakfast spot she discovered on Instagram, then drive over to a boutique that caught her eye, enjoy some refreshing drinks at a hip watering hole, eat a light lunch, do some sightseeing and people watching, then grab dinner at an upscale but casual eatery that evening. I dread going downtown because of the parking and multitude of one-way streets, but I had two major reasons to subject myself to all of that. The first was that Eli enjoys trying new places and adventuring in downtown Austin. The second was that the experience would show me how the UX performed in its intended environment.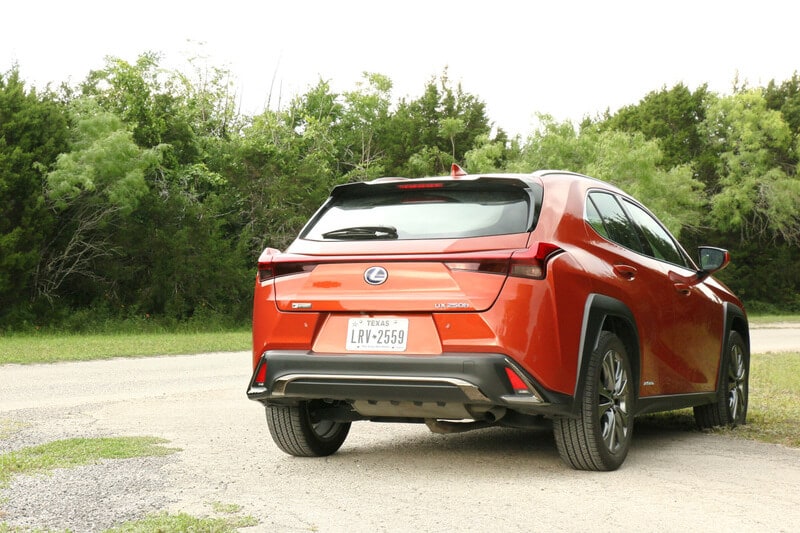 2019 Lexus UX 250h F Sport Exterior
In early May, Lexus had a 2019 UX 250h F Sport ($42,785 as tested) delivered to my house. It was immediately obvious it was going to stand out in the big city – and that's saying a lot because there are droves of Lexus vehicles zipping around Austin. Not only was the UX a new model, but it was also covered in eye-catching design elements.
The most obvious was its Cadmium Orange paint. The F Sport package added special front and rear bumpers, as well as a unique insert to the prominent spindle grille, and LED fog lights. Lexus's design team even managed to make the UX's wheel arches look cool. They started out round, but the further back they went, the more of an angle they started to show. If that sounds a bit exotic, that's because it is. Lamborghini did the same thing with the rear wheel arches on its Diablo supercar.
Those drew even more attention to another part of the F Sport treatment: 18-inch wheels wrapped in 225/50 Bridgestone tires. My test vehicle was equipped with the optional hands-free power rear liftgate. The entire width of that was covered with the UX's most distinguishing characteristic: a strip of LEDs that connect its sculpted Aero Stabilizing Blade Lights.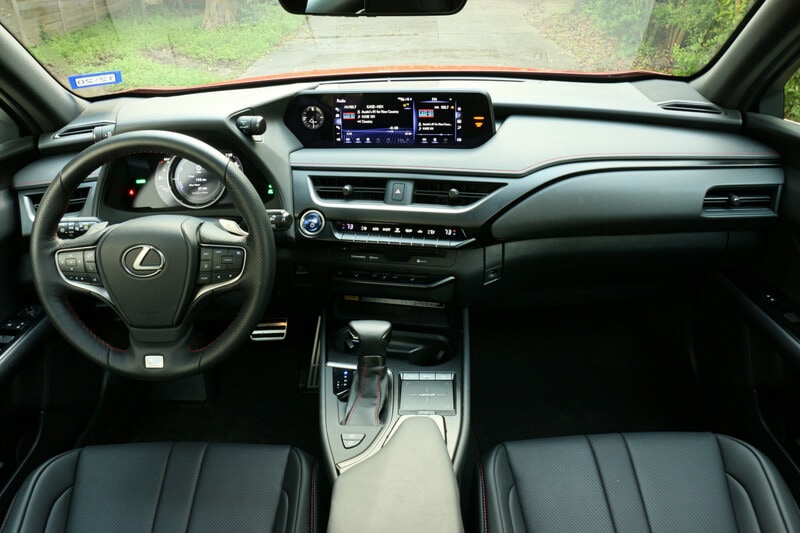 2019 Lexus UX 250h F Sport Interior
An unforeseen tragic event took place shortly before I got the keys to the UX and required me and Eli to fly to El Paso. Before driving to the airport, we attempted to load our two suitcases behind the rear seats. The 17.1 cubic feet of space back there wasn't enough to fit them, so we had to fold the back seats down to get them inside the UX. Once Eli and I were in the front row, we got an eyeful of the other features in the F Sport package. In fact, we were sitting in a couple of them: sport seats. Aside from the aluminum scuff plates, the rest of the hardware – the F Sport steering wheel, shift paddles, shift knob, and aluminum pedals – were driver-focused.
To save time, we needed to take the toll road to the airport. We weren't familiar with that particular route, so my press loaner's optional navigation system with 10.3-inch multimedia display came in handy. The included power tilt/telescope steering wheel and eight-speaker premium sound system were bonuses.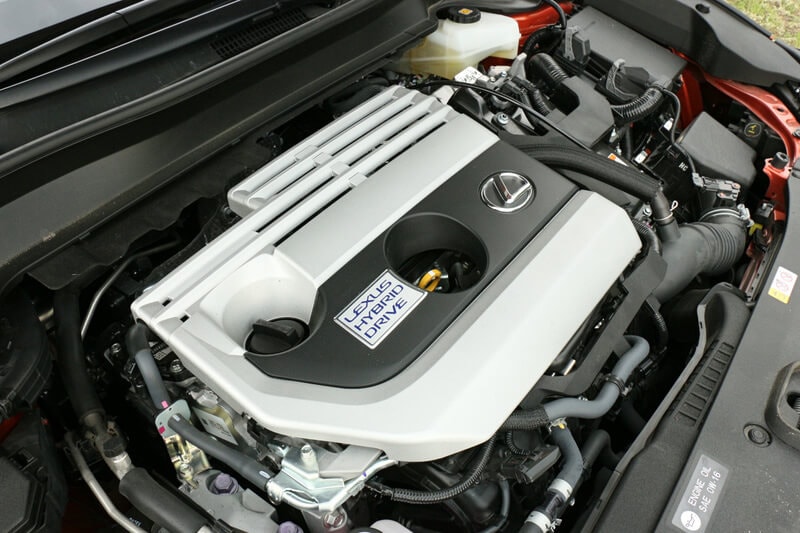 2019 Lexus UX 250h F Sport Performance
Even though Eli and I weren't able to go on our downtown Austin adventure, I was still able to learn how the UX handled quick transitions and narrow streets. Once we got to the area surrounding the Austin-Bergstrom International Airport, we stopped into a convenience store to get a couple of bottles of water. The short drive from there to a satellite parking lot required quickly navigating through a few narrow lanes. Those maneuvers showed me how easy it is to keep track of the UX's extremities and place them where they need to go.
Eli and I returned to the Austin area a few days later. One morning, I woke up early to tackle some curvy back roads in the UX 250h. The further I went, the more I appreciated its commute-friendly sport-tuned suspension, and modest power that's fully enjoyable — without worrying about going to jail… or worse. Throttle response from the UX 250h's Sport setting was impressively quick and helped me wring all 181 horsepower out of the UX 250h's 2.0-liter four-cylinder gas engine and 24-kW battery pack. Its all-wheel drive put it to the road. I could've used the paddle shifters behind the steering wheel to "change gears," but the two electric motor/generators that serve as the UX 250h's transmission did a fine job all by themselves. Despite my lead-footed antics, the UX still returned 36.5 mpg.
The testers at the Environmental Protection Agency clearly weren't throttle-crazy like me because they determined the UX 250h can get 41 mpg in the city, 38 mpg on the highway, and 39 mpg combined.*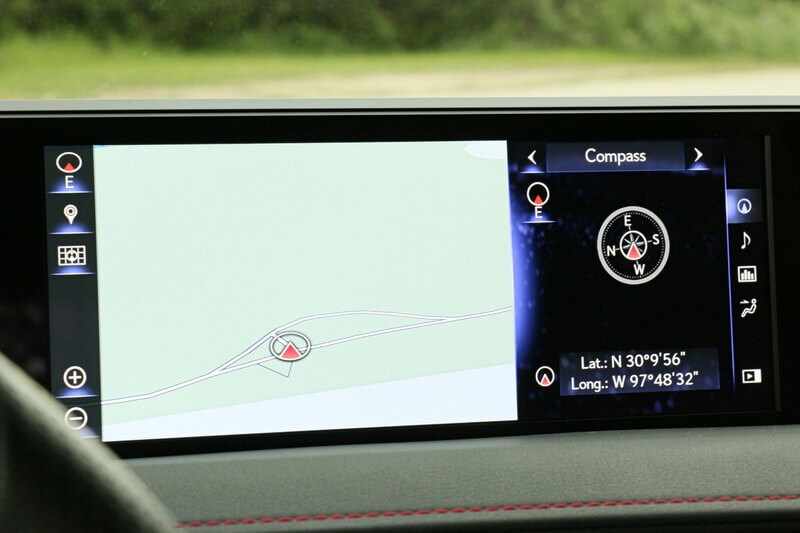 2019 Lexus UX 250h F Sport Safety
Wildlife tends to wander out into the middle of country roads so it was nice to know the UX 250h had a variety of safety features ready to protect me. In addition to 10 airbags, the UX 250h has a tire pressure monitoring system, Electronic Brakeforce Distribution, and Brake Assist. The Lexus Safety System+ 2.0, which includes a pre-collision system with pedestrian detection, dynamic radar cruise control, lane departure alert, automatic high beams, and more, is standard equipment. Lexus went a step further and added the optional Parking Assist and Rear Cross Traffic Alert with automatic braking bundle to my test vehicle.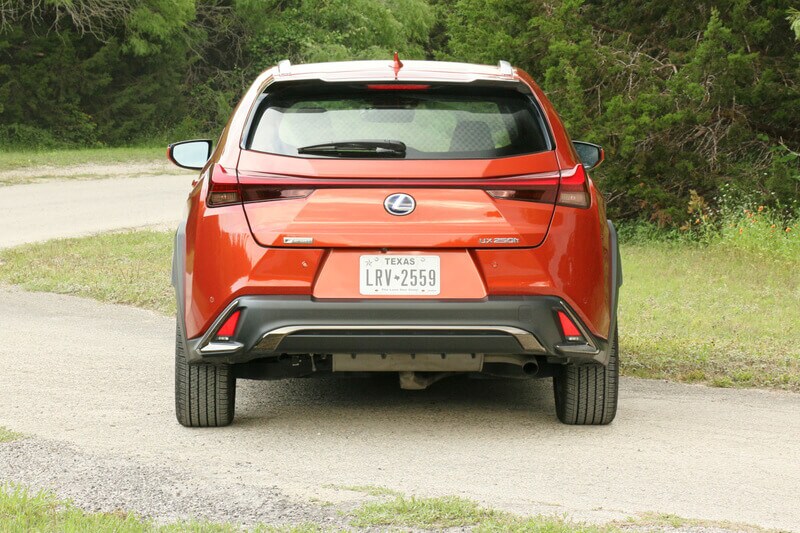 2019 Lexus UX 250h F Sport Overall
My evaluation of the 2019 Lexus UX 250h didn't exactly go according to plan, but I still ended up testing out its cargo capacity, performance, and reflexes. Aside from the quick adjustment my girlfriend and I had to make to fit our luggage in the rear cargo area, the UX 250h did well during my time with it. If you want to see how it performs in your city, head to your nearest AutoNation Lexus dealership. Prices for the 2019 UX 250h F Sport start at $36,150.**
*Based on 2019 EPA mileage ratings. Your mileage will vary depending on specific vehicle trim, how you drive and maintain your vehicle, driving conditions, and other factors.**MSRP excludes tax, license, registration, destination charge and options. Dealer prices may vary.