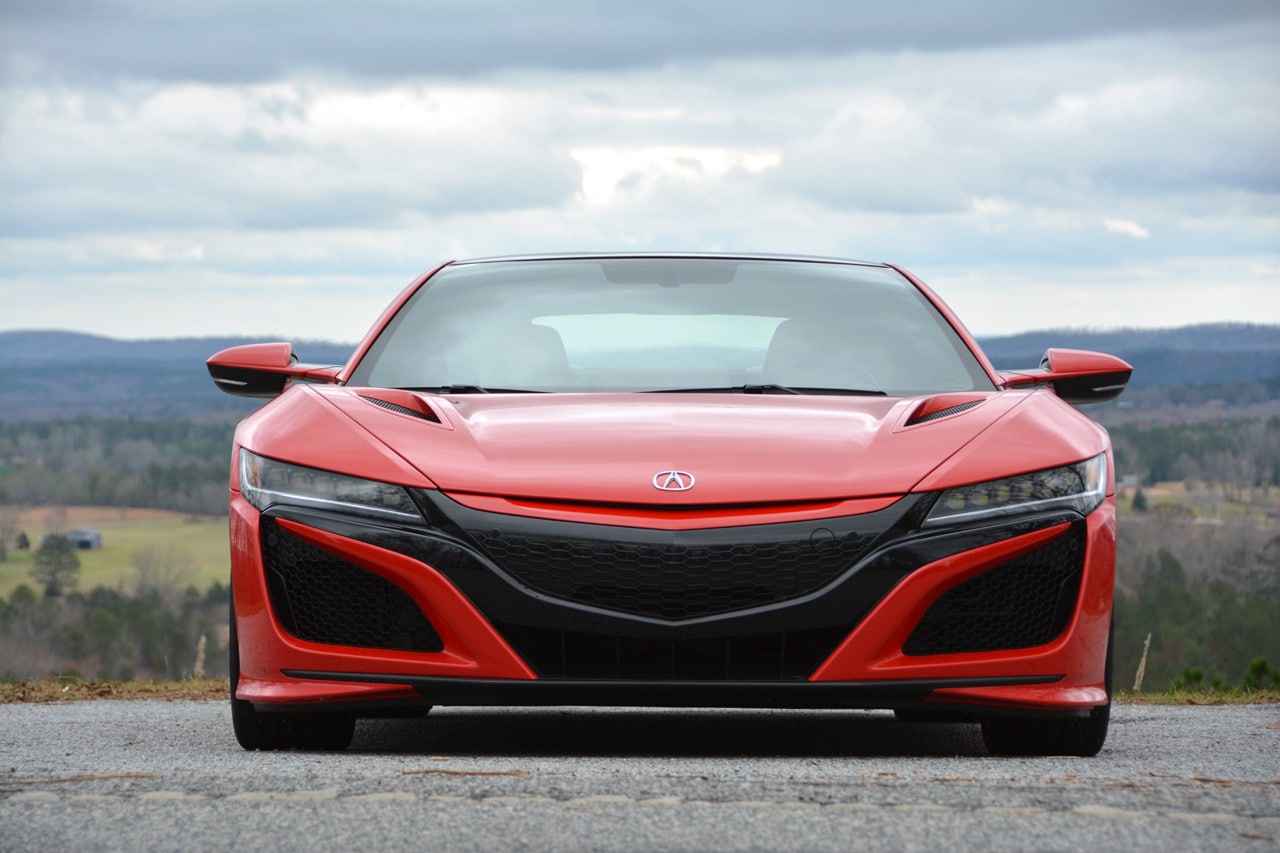 If you're a fan of high-performance vehicles, today's automotive offerings might be better than any time before – including the muscle car era. That's because you can walk into an AutoNation dealership and buy factory off-road race trucks (Ford F-150 Raptor), factory drag racers (Dodge Challenger 1320) and even factory road-racing cars, like the 2019 Acura NSX.
On the weekends, you can see the Meyer Shank Racing NSXs (including the pink-and-black AutoNation-sponsored no. 86 car) hitting race circuits around North America in the IMSA WeatherTech SportsCar Championship, but on any given day, you can also see Acura's hybrid halo supercar roaming around out on the street.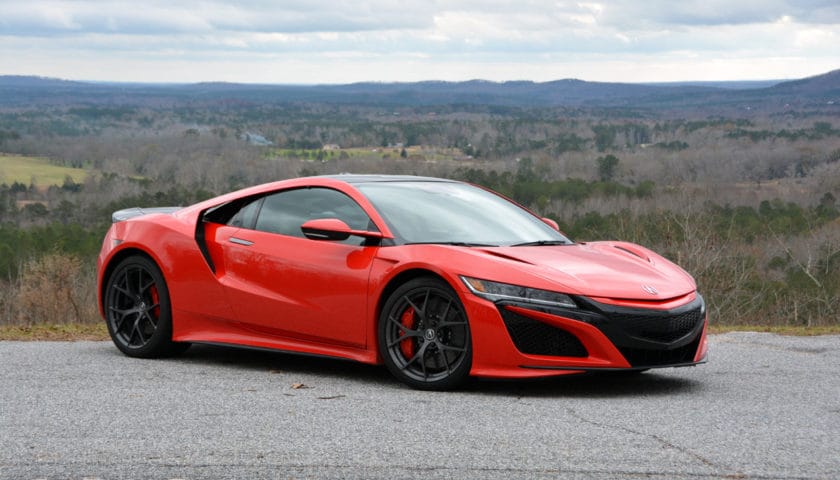 2019 Acura NSX Exterior
After almost a decade of concept car teasers, the second-generation NSX was introduced for the 2017 model year. Inspired by the 2007 Acura Advanced Sports Car Concept (and later the 2012 Acura NSX Concept), this new NSX still sports classic mid-engine proportions with a short nose and short overhangs, and this concept-like design is what really helps the NSX stand out from other supercars. The sleek and stylish body incorporates various lines, creases, intakes and vents that all serve a performance- or aerodynamic-related purpose, while elements like the pop-out door handles add an exotic touch.
Not wanting to let this new supercar get stale on the market, the 2019 model year added some slight styling tweaks. Other than a new color option (Thermal Orange), the only way to tell a 2019 NSX apart from the previous second-gen NSX models body-colored trim above the grille instead of the previous chrome strip. This particular NSX wore an attention-grabbing Curva Red paint job, and it looked even better with the dark gray, forged aluminum Y-spoke wheels, optional ($3,000) carbon fiber rear spoiler and red brake calipers (part of the $10,600 carbon ceramic brake option).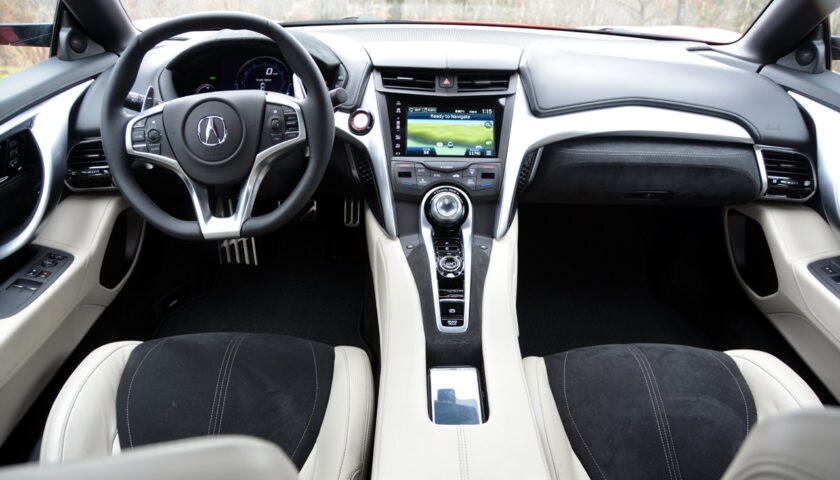 2019 Acura NSX Interior
Despite its exotic exterior design, the cabin of the 2019 Acura NSX is surprisingly manageable with a cabin design that is familiar to other Acura models. Everywhere you look or touch inside the NSX is covered in rich leather with brushed metallic accent trim, while the sport bucket seats are wrapped in a mix of semi-analine leather and Alcantara. Speaking of these seats, they are perfectly contoured for normal driving yet equally supportive to keep you in place in tight-cornering maneuvers, while the oblong-shaped steering wheel maximizes comfort and visibility while adding a racecar-like appearance. The overall comfort and passenger space add to the NSX's practicality with plenty of headroom with decent-sized door openings, and the small cargo capacity (4.4 cubic feet behind the engine) might be the only limiting factor when it comes to taking the NSX on a road trip.
As expected from a six-figure supercar (or just about any modern luxury car), the 2019 NSX comes loaded with all the tech goodies you could want. Standard equipment includes navigation, a 580-watt nine-speaker ELS Studio audio system, Apple CarPlay and Android Auto, and the only option this car added was the $500 SiriusXM satellite radio. All of these functions are controlled via the seven-inch capacitive touch screen, and the gauge cluster consists of a eight-inch, high-res TFT display that displays a wide variety of information and changes its appearance automatically with each drive mode.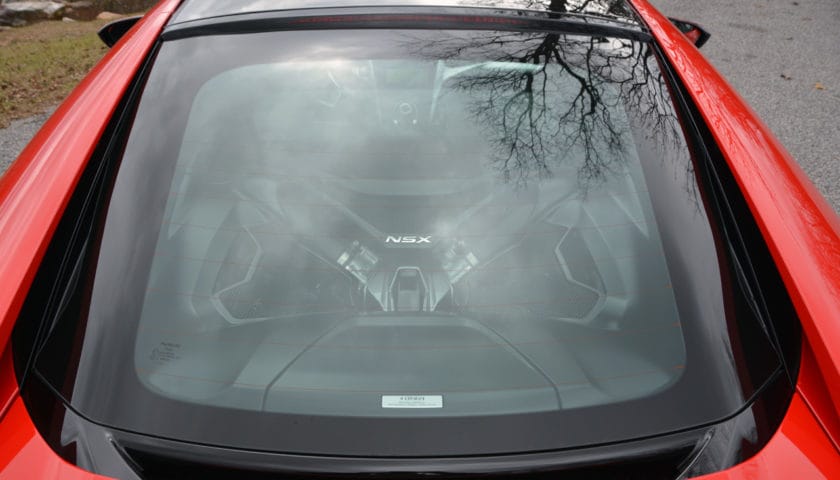 2019 Acura NSX Powertrain
Being an hybrid supercar, the 2019 Acura NSX combines a powerful gasoline engine with an advanced electric powertrain, which delivers a combined 573 horsepower and 476 lb-ft of torque helping the 3,878-pound car accelerate from 0-60 mph in about three seconds before hitting a top speed of 191 mph. Without access to a race track, we weren't able to get the NSX anywhere close to its top speed, but rest assured, this car accelerates in a hurry. Better yet, engage the Sport+ driving mode, and the NSX sounds as much like a racecar as you could expect from a law-abiding production vehicle.
The heart of the NSX is Acura's 3.5-liter twin-turbo V-6 engine that is mounted just behind the passenger compartment and combines the performance and efficiency benefits of both direct and port injection, and this engine is paired to a nine-speed dual-clutch transmission and Acura's Sport Hybrid SH-AWD system. In the NSX, SH-AWD consists of a trio of electric motors with an electric motor to power each front wheel and a third sandwiched between the engine and transmission sending power to the rear wheels; the lithium-ion battery pack is mounted inside the car just behind the seats. This hybrid system was designed to improve all elements of the NSX's performance including acceleration, braking and cornering, yet fuel economy is impressive for such a performance car with EPA-rated estimates of 21 mpg in the city and 22 mpg on the highway* – after a week of driving the NSX as much as possible, the trip computer showed 18.3 mpg.
For 2019, Acura added some improvements to the NSX's chassis and driving dynamics courtesy of stiffer stabilizer bars (26 percent stiffer in the front and 19 percent stiffer in the rear), revised software tuning, and new base-model tires – Continental SportContact 6 (245/35R19 front and 305/30R20 rear). According to Acura, these improvements help give the 2019 NSX improved performance and handling with the ability to lap Honda's Suzuka, Japan proving grounds a full two seconds faster than the 2017-18 NSX. This tester even added a $10,600 option package that added carbon ceramic two-piece rotors, but this NSX is more than just a track car. The ride quality isn't as bumpy or jerky as you might expect from a car with performance that is this good, and it can be driven around town without worrying about scraping over speed bumps.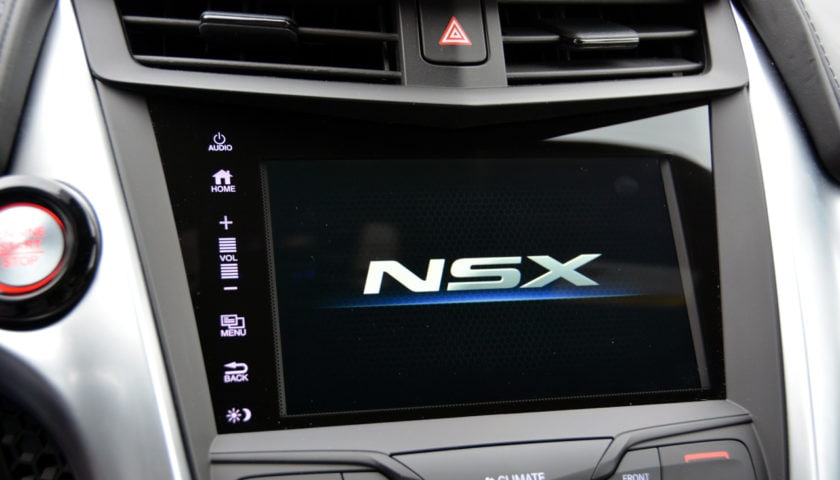 2019 Acura NSX Safety
Not surprisingly, the 2019 Acura NSX hasn't been tested by the National Highway Traffic Safety Administration. While the NSX does come with seven airbags and a rear-view camera that offers three different views for optimal parking maneuvers, but you can't get adaptive cruise control or blind-spot monitoring.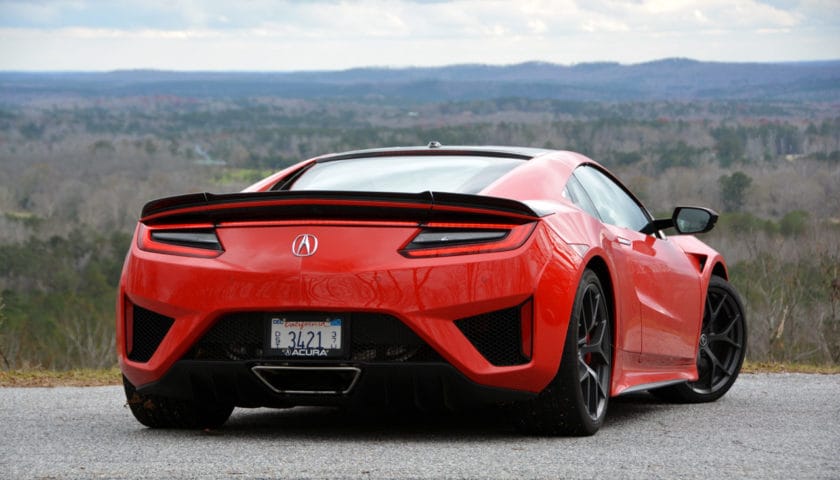 2019 Acura NSX Overall
Driving the 2019 Acura NSX is about as close as most people will ever come to piloting a racecar, and it's clear that this is one of the best performance cars on the planet – and it's produced in Marysville, Ohio! The improvements made for 2019 make the NSX an even better performance car to compete among a growing set of high-powered, mid-engine rivals that include the all-new 2020 Chevrolet Corvette Stingray, Porsche 911, Audi R8 and McLaren 570S. And as much as the 2019 NSX excels at being a true high-performance supercar, all of its attributes (interior, powertrain and overall design) make it perfectly ideal for everyday driving.
In base form, the 2019 NSX is priced starting at $157,500**, which is about the same as cars like the BMW i8 and Audi R8. Adding the handful of options (including the carbon fiber spoiler and carbon ceramic brakes) bumps up the as-tested price to $171,600 putting it in favorable company with the Porsche 911 Turbo./
Make sure to visit your local AutoNation-affiliated Acura dealership and check out the 2019 Acura NSX today. And be sure to follow AutoNation-partner Meyer Shank Racing in both the IMSA and IndyCar racing series!
* Based on 2019 EPA mileage ratings. Your mileage will vary depending on specific vehicle trim, how you drive and maintain your vehicle, driving conditions, and other factors.** MSRP excludes tax, license, registration, destination charge and options. Dealer prices may vary.