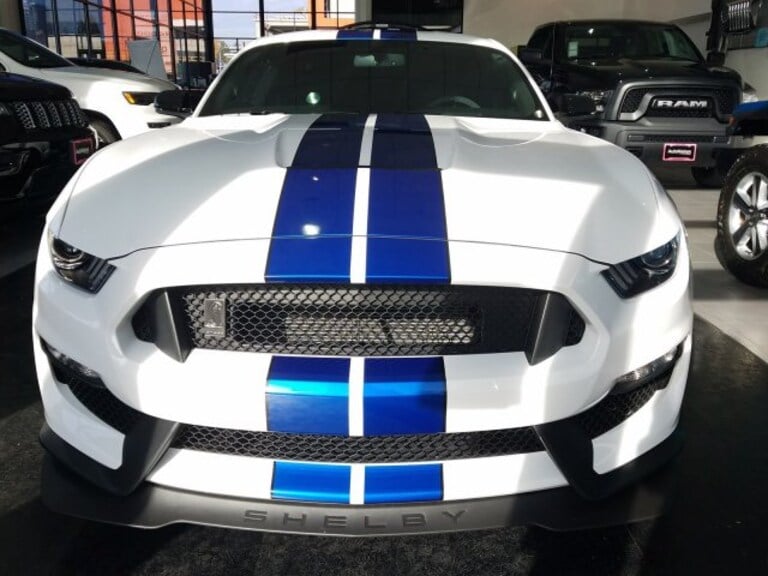 The GT350 is a Potent Sports Car That Revs to 8,250 RPM
-- by Andy Reid
With all the buzz surrounding Ford v Ferrari, I thought it'd be appropriate to pick a car from the AutoNation Drive inventory that makes a nod toward this great film. If you haven't seen it, please do, as it might be the finest racing movie ever made. The film documents the epic battle that Ford, with assistance from the great Carroll Shelby, fought to beat Ferrari at the 24 Hours of Le Mans. As a result, my pick is what many journalists, myself included, consider the greatest Mustang Ford has ever built — the 2017 Shelby GT350.
The Shelby GT350 is one of the boldest and highest performance machines ever built in the history of the Ford Motor Company. Now, when you put a name as mythic as GT350 on a Mustang, it'd better be good. Because the original 1965 model is a bona fide A-list collector car with fantastic performance, and a competition history par excellence.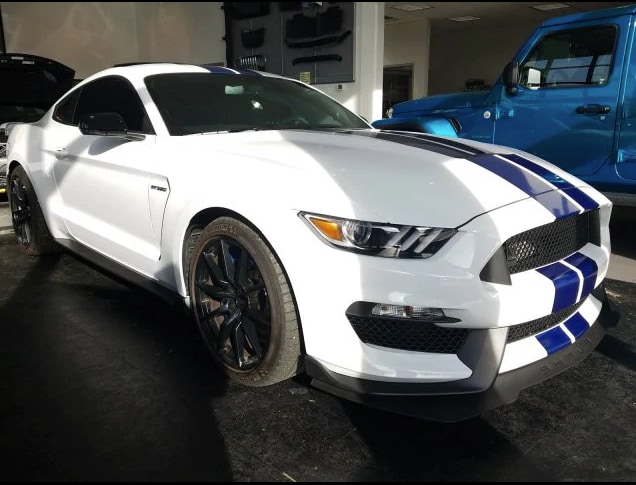 Well, I'm here to tell you that this incarnation of the GT350 definitely lives up to the name — and then some. Forget that the new car will eat any 1965 or 1966 GT350s lunch. Heck, even a standard Mustang GT will do that. But this new version is a technological tour de force in Mustang clothes.
The most impressive bit of this car is its engine. The GT350 uses Ford's first flat plane crankshaft design V8. So what's that mean? Well, let's get a little technical and explain why this engine is so cool.
Most V8 engines, especially in American cars, are what's called a cross plane engine, which attach the connecting rods at 90 degree angles. This design is fine, but a flat plane crank V8 is actually for high performance applications. In a flat plane engine, the connecting rods are attached at 180 degree angles, which allows the engine to breathe better. An additional benefit is it also allows the engine to rev to a higher rpm. In the GT350, that means a redline of 8,250 rpm.
This is the kind of limit you'd expect to see on a Ferrari engine, but not a Ford. See how this car is tied to the film?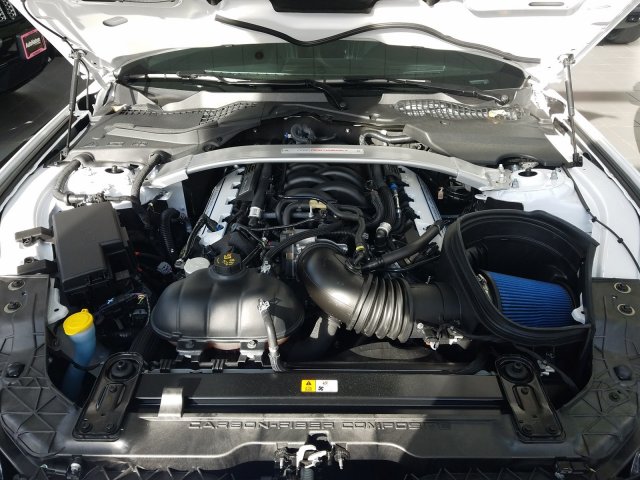 What you end up with is a 315 cubic-inch V8 that delivers 526 horsepower at 7500 rpm and 429 lb-ft of torque at 4750 rpm. On the road, this translates to a zero-to-60 time of 4.3 seconds, a quarter mile time of 12.5 seconds, and a top speed of around 175 mph. These are impressive figures, especially for a Mustang, and while there are plenty of cars that are faster in a straight line, this car was designed to be a track tool.
Now those numbers would be meaningless if the chassis was unable to make use of this glorious engine. Fortunately, I can say that the geniuses at Ford and Shelby have definitely dialed in the chassis of the GT350.
The GT350 features the magnetic suspension, cross-drilled brakes with Brembo calipers, and rides on seriously sticky Michelin tires. This gives the GT350 skidpad numbers of .98, which ranks it among the best handling cars in the world.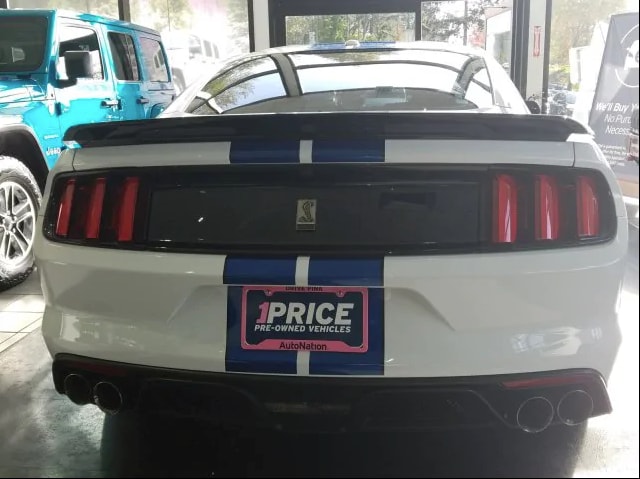 On track, the car is extremely well composed, and when the driver aids are engaged, they still allow you to really drive the car at the limit. How much at the limit? Well, in track mode you can spin the tires in the first three gears with ease.
At the time of the test, a writer at Car and Driver reckoned that you couldn't buy a more fun car for the money. He further stated he was unsure if you could buy a more fun sports car at any price. While the second is a bit of a stretch for me, the first comment is true. The GT350 bats way above its pay grade, and has the performance of an Aston Martin V8 Vantage or a Porsche 911 — and could well be faster than either. So maybe there is some truth to that comment...
The only way the GT350 falls short of the above-mentioned competitors is with the interior. What you get it standard Mustang fare, with the addition of amazingly good Recaro seats. The rest of it is a mix of plastic and typical Ford switchgear. But who cares? The car is an astounding performer, and is the first true Mustang that's an honest-to-god sports machine, and not a pony car or muscle car with some speed parts added.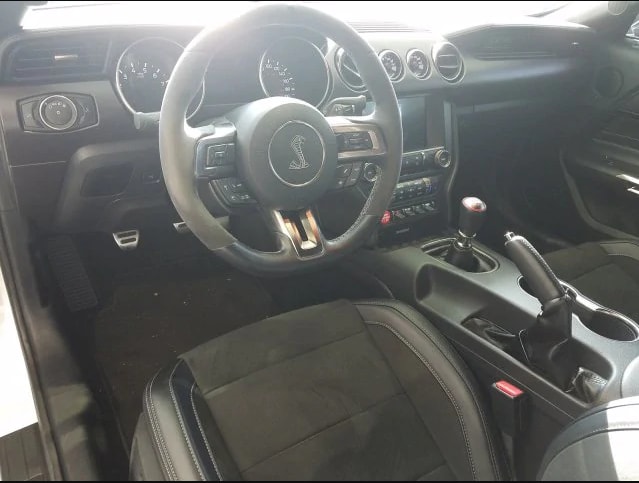 This car is a 2017 model in the classic color scheme of Oxford White with Blue Le Mans stripes. I picked this specific car from the AutoNation inventory — which included several other GT350s — due to this iconic color combo, which mirrors the original 1965 model. The car has covered only 8,300 miles from new, and looks to be in as-new condition. In my opinion, the asking price of $47,967 seems more than fair for what's effectively a new car.
So if after seeing Ford v Ferrari you feel the need to wave the American flag a bit with your sports car choice, you might want to consider this Shelby GT350. Again, if you haven't seen the movie yet, get out there and do so. Then you'll want this car more.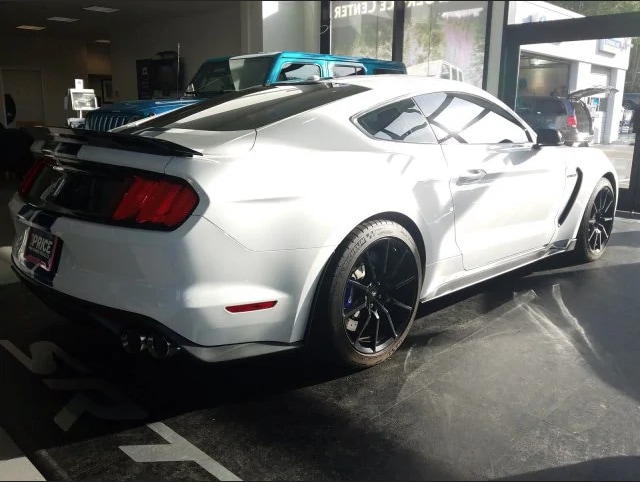 2017 Ford Shelby GT350 Shelby GT350
Price: $47,967.00
Bodystyle: Coupe
Int. Color: BLACK
Engine: V-8 cyl
Odometer: 8381
Transmission: 6-Speed M/T
Stock #: H5520440
Ext. Color: Oxford White
Vin: 1FA6P8JZXH5520440
CLICK FOR DETAILS