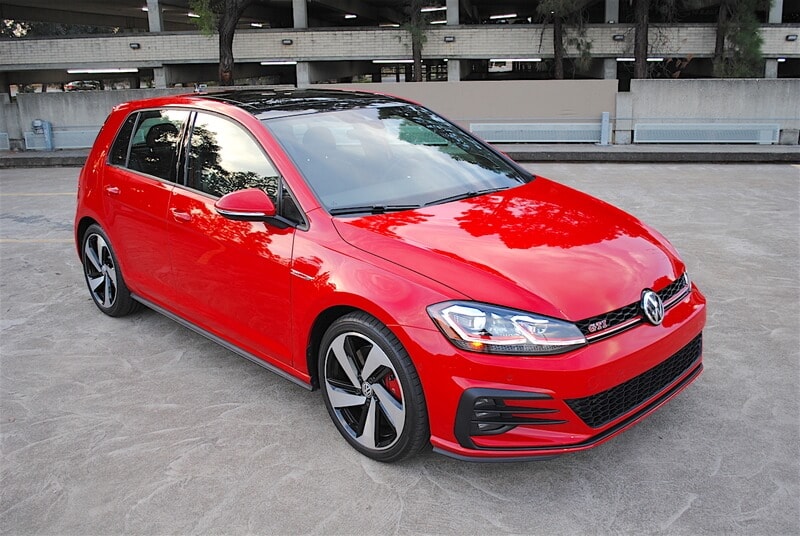 The Volkswagen GTI is an Enthusiast Favorite, and a Virtually Perfect Car
-- by Mike Musto
The Volkswagen GTI Autobahn Edition follows the same well-paced evolution that's kept the GTI current for the last four decades. Keep it small, keep it simple, keep it functional, and most of all, keep it fun. If you've ever found yourself wishing driving was more exhilarating, I have some advice for you — buy a GTI. Seriously.
The Volkswagen GTI isn't ostentatious, or covered in vents and wings. It's not overly flashy, and it's not a vehicle you choose to make a personal statement. Instead, the GTI — especially when equipped with a six-speed manual — delivers the kind of thrills that are often lacking in many modern vehicles. It's no mystery to why this hot hatch is a perpetual favorite of enthusiasts the world over.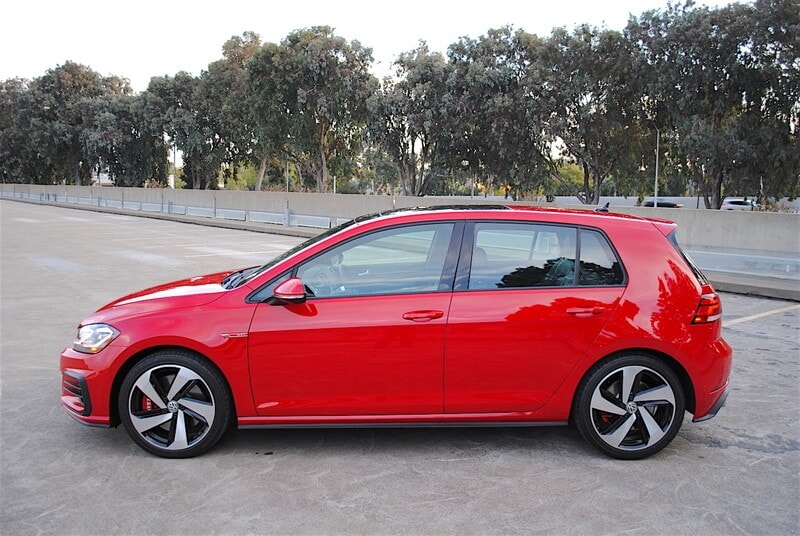 2019 Volkswagen GTI Autobahn Edition Exterior
From an exterior perspective, the GTI Autobahn Edition pretty much looks like every other MK7 GTI on the road today. That's not to say it's not special, it's just if you're one of the folks looking for affirmation on the extra $5k you just spent for the Autobahn Edition, don't, as nothing on this car will tell the public otherwise.
From an exterior perspective, the Autobahn Edition doesn't stray from a formula that made the MK7 GTI great in the first place. Because the Autobahn isn't just an upscale hot hatch, but an upscale automobile in general. From the outside, its lines are clean and polished, and overall, you can tell just by looking at it that it's a quality piece. Some of the niceties are the 18-inch five-spoke alloy wheels, the bright Tornado Red paint, and a sliding moonroof that helps to keep the cabin light and airy.
The short front-end houses LED headlights with an adaptive front-lighting system that helps to improve visibility, along with a pair of auxiliary driving lights sitting below in an aggressive front fascia. Heading towards the rear, the mirrors with their embedded turn signals, the blacked-out window trim, the twin polished exhaust tips, along with a large red GTI-badged front brake calipers on 13.4 in rotors, help to round out a nicely designed package.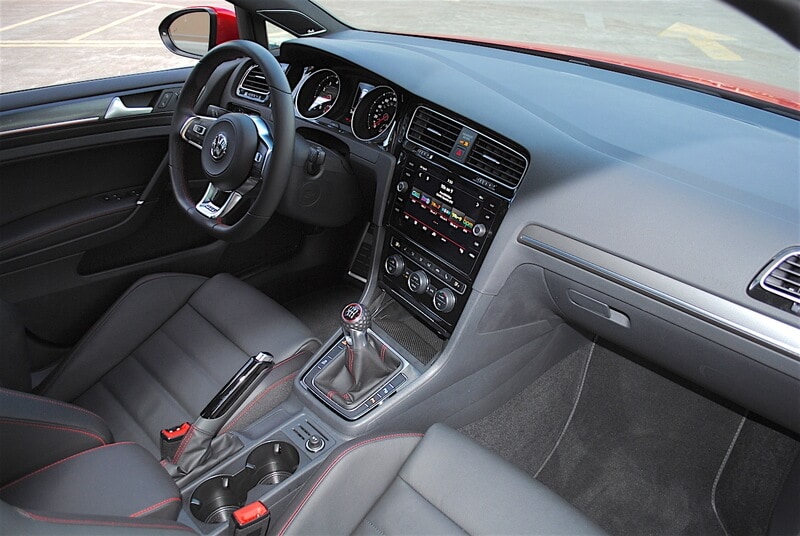 2019 Volkswagen GTI Autobahn Edition Interior
One thing that separates the Autobahn Edition from other GTI model is the price. With a base price of $35,995, and an as-tested price of $36,890, the Autobahn is not a cheap vehicle — especially when you consider a standard base model GTI starts at $27,595. So while the exterior of the GTI may not dictate where that price increase comes in, the car's interior and technology may help to justify it.
From the 12-way power-adjustable leather-covered seats with heat, to the flat-bottomed leather-wrapped steering wheel with contrasting red stitching, the interior of the GTI Autobahn feels decidedly upscale.
On the road, both drivers and passengers alike will find themselves treated to a quiet cabin with ample head, shoulder, and legroom. I initially thought the front seats, with their high bolsters, were going to be a bit uncomfortable and overly supportive. However, nothing could be further from the truth. The side and lower bolsters were soft, but still managed to keep me in place when the roads got twisty. Also, the iconic golf ball shifter for the six-speed manual feels just about perfect in my hand.
Set center dash is an eight-inch glass touchscreen that serves as the focal point for the interior, and allows drivers access to radio controls, vehicle settings, and standard Bluetooth setup. There's also navigation, a Fender premium audio system with satellite radio, and the most intuitive dual-zone HVAC system in existence. In regards to storage, there are no disappointments there either, as the GTI offers up 23 cubic-feet of storage behind the rear seats, and 53 cubic-feet with the seats folded flat. That, combined with the high roofline of a hatchback means not only is the loading and unloading of cargo a snap, but outward visibility is also great.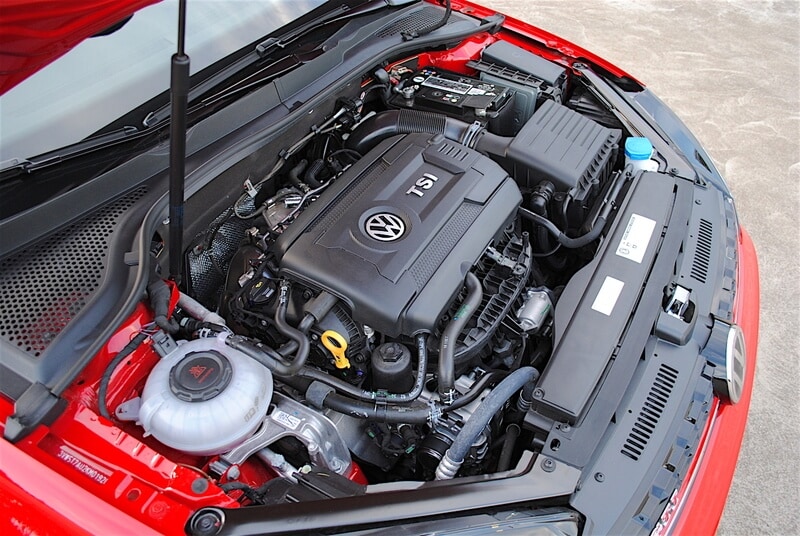 2019 Volkswagen GTI Autobahn Edition Performance
With upgrades such as adaptive cruise control, front and rear parking sensors, a self-parking feature and lane departure warning, Volkswagen is hoping that the Autobahn Edition has enough extra features to get buyers to spend an additional $4,200.00 over the GTI SE. For some, these features will no doubt be worth it, for others, not so much.
From a performance standpoint, however, the 2019 GTI is one of the best, and more importantly, more exciting cars I've driven this year. By combining a 2.0-liter turbocharged four-cylinder with a slick-shifting six-speed manual, and an adjustable five-mode adaptive suspension (Eco, Comfort, Normal, Sport, Custom), the engineers have made the 2019 GTI Autobahn exhilarating to drive in all conditions.
In regards to power output, the GTI has 228 horsepower and 258 lb-ft of torque — which may not seem like a lot. But it's the way the turbocharged mill delivers it that makes the difference. First, the engine makes all of its torque at just 1,500 rpm, meaning that when you mash the gas, the GTI just gets up and scoots. My tester was fitted with the six-speed manual transmission, and rowing through the gears while taking the engine up to its 6,ooo-rpm redline is a blast. It shifts flawlessly, and transforms the car into something truly special. Sure, there's an optional seven-speed DSG automatic, but enthusiasts will want the stick.
When it comes to handling, the GTI is surefooted. It lays flat in corners, has phenomenal steering feel, and thanks to large 13.4-inch vented discs in the front and 12.2-inch discs in the rear, it stops with authority. Stomp on the accelerator, and you'll hit 60 mph in just over 6.0 seconds. The little 2.0-liter turbo pulls hard all the way to redline, and is more than capable of getting you into trouble if you're not careful. The GTI also has a top speed of 155 mph, which isn't too shabby for a little hot hatch.
But it's the fun-to-drive factor of the GTI that makes it so special. Part of that is due to the GTIs 103.8-in wheelbase, fantastic chassis, and with a 3000-lb curb weight it's light on its feet (3,000-lb. curb weight). Whether driving through traffic, down a twisty bit of road or merging onto an expressway on-ramp, the GTI always impresses, which explains why it's a favorite amongst enthusiasts. Honestly, I can't remember when I've had more fun in a $35k car. Fun factor aside, it also boasts decent EPA fuel economy numbers of 32 mpg* on the highway, 24 mpg* in the city, and 27 mpg* during combined driving.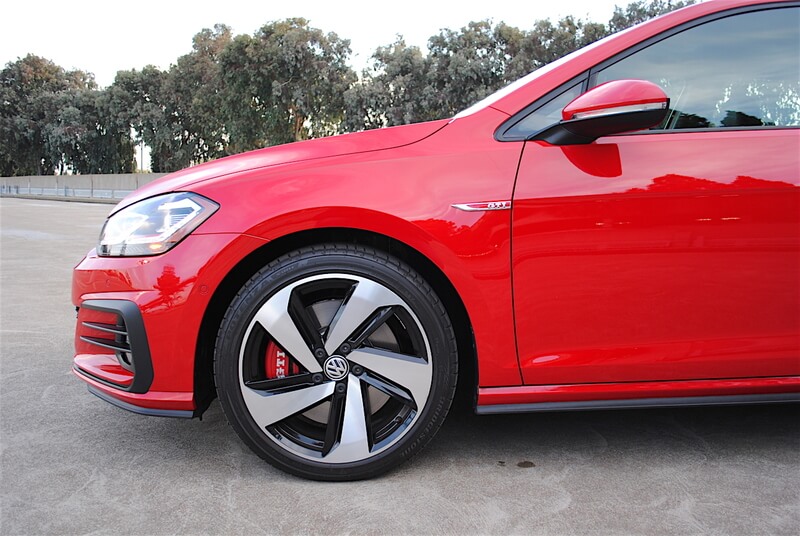 2019 Volkswagen GTI Autobahn Edition Safety
The 2019 Golf GTI Autobahn Edition comes to us with such standard safety features as anti-lock brakes, electronic stability control, electronic brake pressure distribution, airbags throughout the cabin, automatic post-collision system, forward collision warning, and emergency braking, along with a standard backup camera. It also earned a Five-Star crash test rating from the National Highway Traffic Safety Administration, and a Good rating from the Insurance Institute for Highway Safety.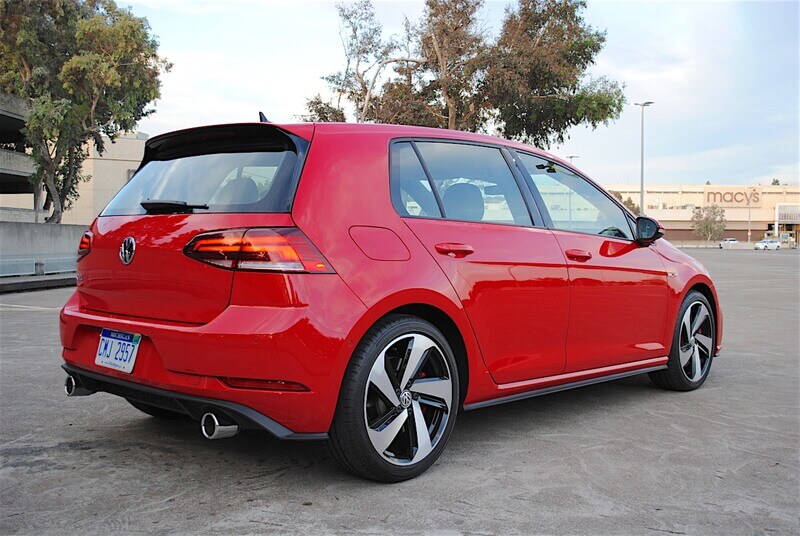 2019 Volkswagen GTI Autobahn Edition Overall
There aren't too many shortcomings in this car. It's decidedly German, which means it feels as though it's made from a block of granite. There's plenty of power, and thanks to the manual transmission, it's still very much a driver's car. Volkswagen, if you're reading this listening, please don't ever stop making this car, and please don't ever stop giving consumers the option of a manual. Seriously, it just makes an already great car that much better. Drop by your local AutoNation Volkswagen dealer today to check one out!
*Fuel economy values (mpg) are EPA estimates. Actual mileage will vary and depends on several factors including driving habits and vehicle condition.
**Vehicle MSRP of $36,890.00 excludes taxes, title, transportation, options, and dealer fees.