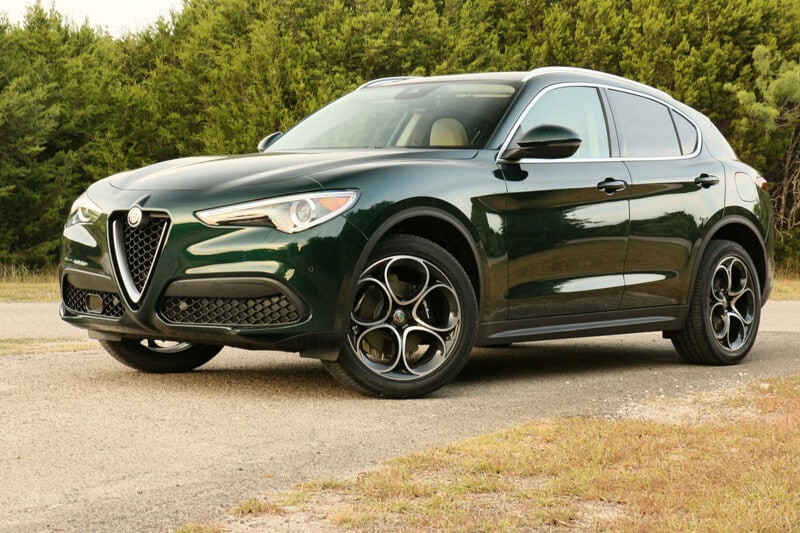 Historic Design Cues and Italian Flare Make the Stelvio Stand Out in the Crowd
-- by Derek Shiekhi
While it's been manufacturing cars for over 100 years, Alfa Romeo has a relatively small footprint in the U.S. market, and currently produces three just vehicles.
One is the 4C two-seat sports car. Another is the performance-oriented Giulia sedan. Alfa's lone SUV is the Stelvio, which is named after Stelvio Pass a serpentine mountain road in northern Italy. Although the brand doesn't have a wide array of CUVs and SUVs, the depth of its Stelvio trim levels is significant. The $42,545 base model features leather seats and keyless entry and start. The Stelvio Sport has aluminum paddle shifters as well as distinctive 19-inch wheels, and black exterior accents.
Then there's the Stelvio Ti, which comes with heated front seats and steering wheel and an 8.8-inch infotainment screen. Its Ti Lusso cousin has an interior decked out with uniquely styled seats, a premium dashboard covering, and upper door panels with contrasting stitching, along with the choice of two wood trim packages. There's also a Sport variant of the Stelvio Ti with shift paddles, glossy black exterior hardware, and 20-inch wheels. All of those models use the same turbocharged four-cylinder engine, but the performance-focused Stelvio Quadrifoglio gets a twin-turbo 2.9-liter V6 that cranks out 505 horsepower and 443 lb-ft of torque which enables it to hit 60 mph in only 3.6 seconds.
Since I enjoyed my time with the 2018 Stelvio Ti I reviewed a couple of years ago, I was eager to test out the 2019 Stelvio Ti Lusso.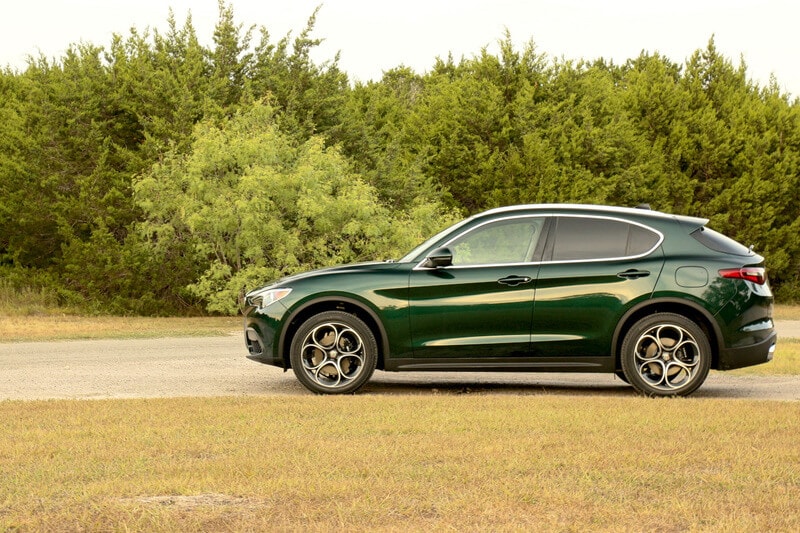 2019 Alfa Romeo Stelvio Ti Lusso Exterior
Plenty of vehicles are roughly the same size as the Stelvio — but none have the distinctive "trilobo" grille. It's a triangular opening topped by the Alfa Romeo badge, and flanked by two aggressive intakes at the bottom. The design is an Alfa signature, and it looks fantastic.
There's also a prominent styling line which starts just above the front wheel wells, extends back through the door handles, and contrasts beautifully with the Stelvio's gently curved roofline and muscular back end. Underneath it all, optional 20-inch "wine-rack" wheels provide another touch of the Alfas of yore.
My press loaner's triangular taillights wrapped around the body and flowed into the optional hands-free power liftgate (one part of a convenience package that also included a cargo rail system, cargo net, and 115-volt power outlet). A pair of prominent chrome exhaust finishers, and a sort-of faux bash plate add bits of brightwork to the black plastic lower rear fascia.
I've always been a fan of the Stelvio's design, and the Ti Lusso I tested made me even more of a fan of the color green. It's a hard color to get right, and it has to be on a certain vehicle to look its best. Clearly, Alfa chose correctly by offering Verde Visconti as an option for its recognizable crossover.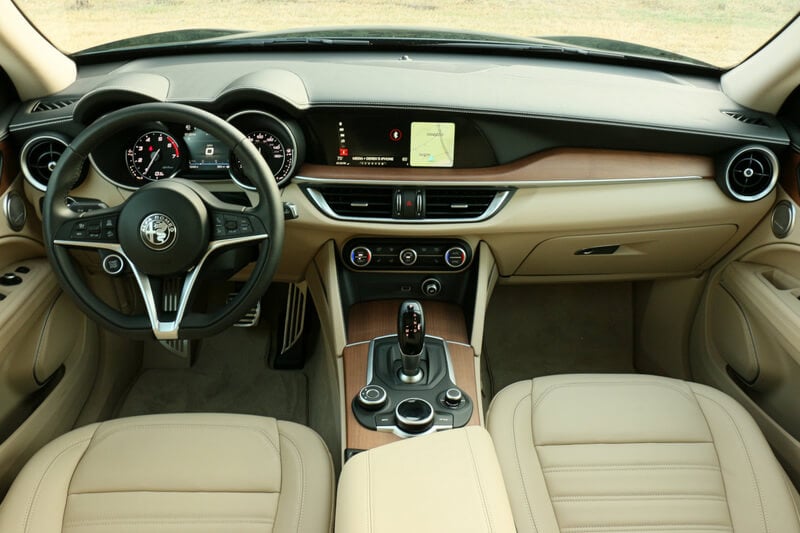 2019 Alfa Romeo Stelvio Ti Lusso Interior
In English, the word "lusso" translates to luxury. That made perfect sense when I was inside the Stelvio. Its color scheme of soft cream leather and light walnut accents, leather-wrapped dashboard, and upper door panels looked just right in an upscale European vehicle. The optional dual-pane sunroof made the interior seem more spacious, and the Harman Kardon audio system added to its premium feel.
Alfa's designers clearly incorporated Alfa's Italian heritage by fitting the Stelvio Ti Lusso with sleek, "Cannelloni Design" eight-way power front seats. Those and the steering wheel both came standard with a heating function, and my test vehicle also had optional heating in the second row.
Instead of using the Uconnect infotainment interface that you see in Dodge, RAM, Jeep, and Chrysler vehicles, the Stelvio had its own setup that consisted of an 8.8-inch screen and a rotary dial controller. That combo allowed me to pair my iPhone XR to Apple CarPlay (Android Auto is standard, too), enter an address into the navigation system, and adjust various vehicle settings.
The week I had the Stelvio was the same week my brother started cleaning his garage out so he could transform it into a man cave. So when he asked me if I could take some packaged kitchen cabinet doors and storage tubs full of LEGOs home with me, I gladly obliged. With its back seats in place, the Stelvio is was capable of holding 18.5 cubic-feet of cargo. But since I needed as much room as possible, I lowered the second row and freed up all 56.5 cubic-feet of available space. While getting everything into the Stelvio required me to pull out the rear headrests and play a bit of Tetris, I was able to get all of that stuff home in one trip.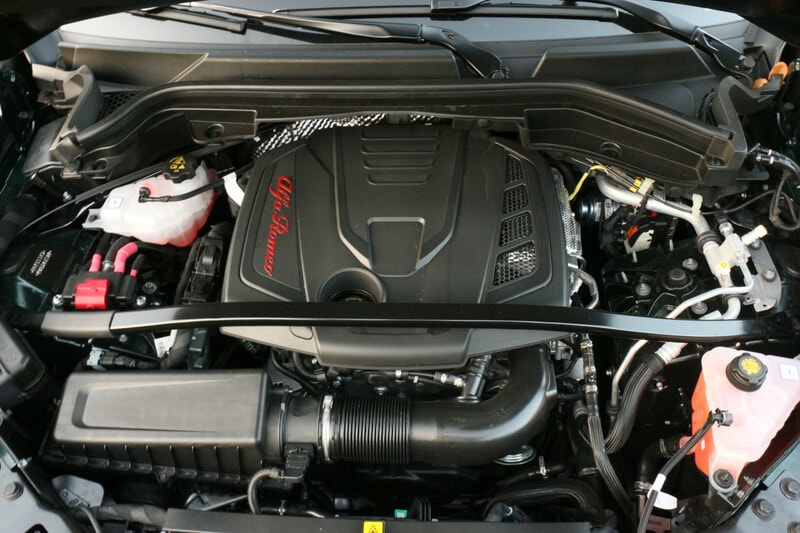 2019 Alfa Romeo Stelvio Ti Lusso Performance
Underneath the Stelvio's curvaceous hood is a turbocharged 2.0-liter four-cylinder engine. With 280 horsepower and 306 lb-ft of torque, it's small but potent. An eight-speed automatic and standard all-wheel drive helped turn that output into rapid forward motion.
By turning the dial for the DNA Drive Mode system, I could change the Stelvio's levels of throttle response, boost pressure, and suspension firmness. Advanced Efficiency was essentially a gas-saving "eco" setting. I didn't use it much, but if I did, it would've given me a better shot of achieving the EPA's fuel economy ratings of 22 city, 28 highway, and 24 combined mpg.* I put more than 350 miles on the Stelvio and only managed to average 20.7 mpg*.
Natural was a sort of "comfort" mode — and the Stelvio's comfort zone. The Dynamic mode made the Stelvio livelier, and the steering had a graceful lightness to it, but it became clear to me that the Lusso model was well-named. It wasn't made for canyon carving. It was a luxury vehicle with a relaxed and gentle suspension which made it better suited for long, comfortable drives.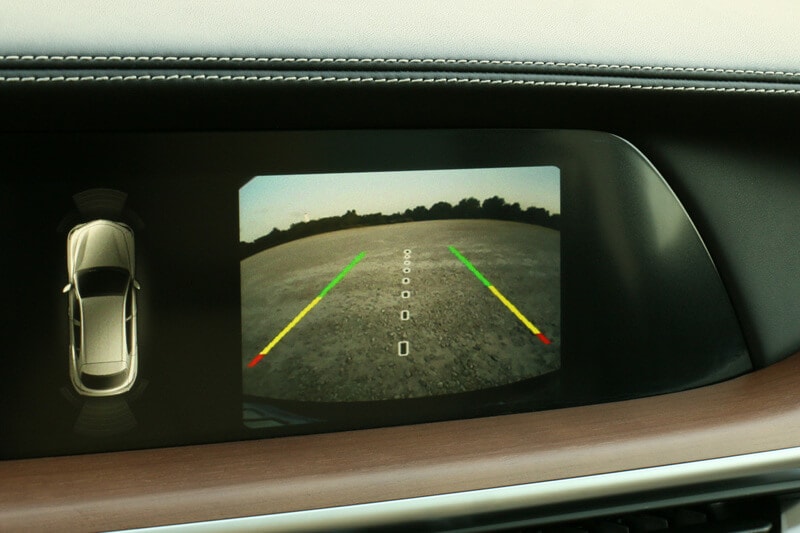 2019 Alfa Romeo Stelvio Ti Lusso Safety
A substantial portion of my media vehicle's window sticker was taken up by all of the safety features Alfa Romeo put into it. Standard equipment included front and side airbags, front and rear parking sensors, rain-sensing wipers, and a backup camera. Optional headlamp washers kept the Stelvio's eyes clear and bright. The Driver Assistance Static Package was an upgrade that added blind spot and cross-path detection as well as automatically dimming side mirrors.
All of the other enhancements — including collision warning with automatic braking, traffic-friendly adaptive cruise control, lane departure warning, an infrared windshield, and automatic high beams — were in the Driver Assistance Dynamic Plus Package.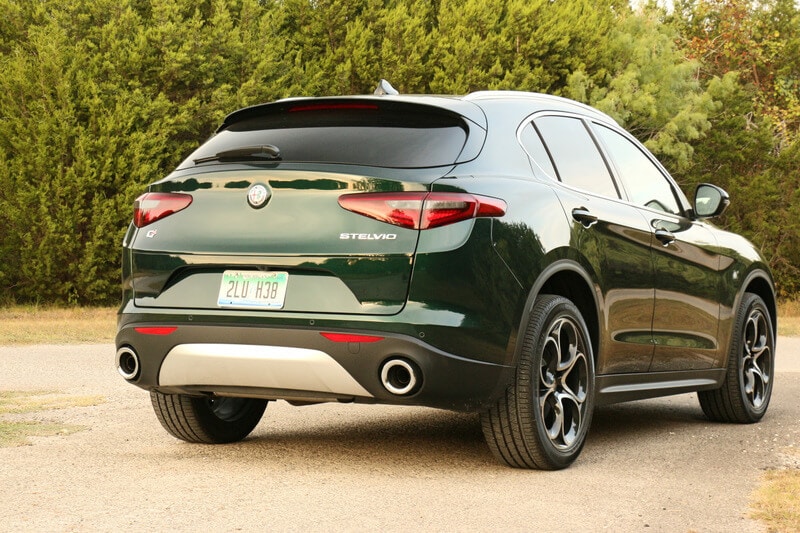 2019 Alfa Romeo Stelvio Ti Lusso Overall
As I said, there's no shortage of crossovers on the market. But if you want a stylish SUV with a renowned Italian badge, ample power, usable space, and a luxurious driving experience, take a look at the 2019 Stelvio Ti Lusso at your nearest AutoNation-affiliated Alfa Romeo dealership. Prices start at $47,245**, and for or $56,990**, you can get one as generously equipped as the my tester.
*Based on 2019 EPA mileage ratings. Your mileage will vary depending on specific vehicle trim, how you drive and maintain your vehicle, driving conditions, and other factors.
**MSRP excludes tax, license, registration, destination charge and options. Dealer prices may vary.