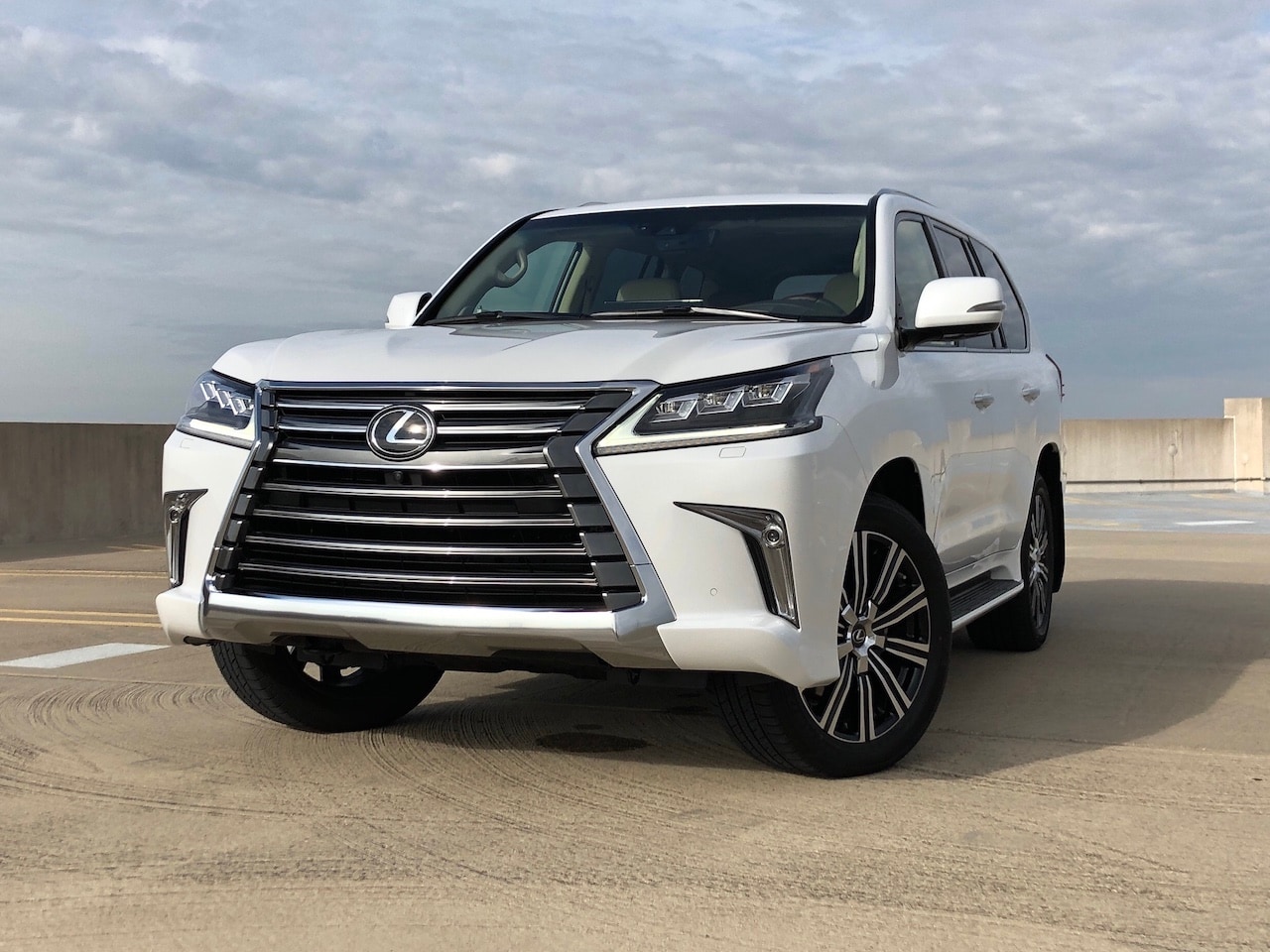 Do you think people that buy large and expensive luxury SUVs do so because of their off-road capabilities or to make a statement?
In my opinion, most people that buy SUVs like the BMW X7, Cadillac Escalade, Lincoln Navigator, Mercedes-Benz GLS in the United States are looking to make a statement about their lifestyle. However, you'll also find some shoppers in this segment not only desires luxury but wants to make sure that the expensive SUV they're buying has substantial off-roading cred. And that's where cars like the Lexus LX, and it's less elegant sibling, the Toyota Land Cruiser come in.
At first, it may sound wild to spend near $100,000 on a Lexus LX (and depending on what you're looking for you'd be right) - but once you get to know this giant JDM beast, you might well change your mind. So let's take a closer look at the 2019 Lexus LX 570.
2019 Lexus LX 570 Exterior
Out of all the models mentioned here, the Lexus LX probably has the most polarizing look that some love and some love to hate. Personally, I'm a fan of the design. It's very bold and extremely aggressive and yes, I think it does the best job of carrying the brand's signature spindle grille. I also think it looks better than it's Toyota Land Cruiser sibling. Now, I'm not going to go through each exterior design element since it's nothing revolutionary, and cares very little for aerodynamics and sits up straight and high.
Having tested most of these full-size luxury behemoths, the Lexus LX feels exceptionally large. It has the same body-on-frame construction as the Toyota Land Cruiser and sits on a wheelbase that measures 112.2 inches. The length stretches a long 200 inches and the width spans a massive 78 inches. Not to mention, the Lexus LX is really heavy, weighing in at 6,000 lbs. for the three-row model, which is heavier than all of its rivals, including the Land Cruiser.
Another interesting point is that the Lexus LX is that it has a lower approach and departure angle than the Land Cruiser. The Lexus LX has an approach angle of 25 degrees while the Land Cruiser has 32 degrees. Departure angle comes in at 20 degrees for the Lexus LX and 24 for the Land Cruiser.
2019 Lexus LX 570 Interior
To me, the interior is the most crucial factor when buying a new vehicle, because that's where you'll spend most of your time. When it comes to the interior, the Lexus LX 570 doesn't disappoint, and it's everything you'd expect at this price range. All the textures (real wood trim), quality, fit and finish, leather and stitching give the vibe of a very elegant cabin. Also, I do have to point out that Lexus seats are some of the most comfortable in the luxury segment.
My test model, the three-row Lexus LX 570, came with all the bells and whistles including heated/cooled seats (driver, passenger, and second row), heated steering, a rear entertainment system, a refrigerator in the center armrest, four-zone climate control, a Mark Levinson sound system, heads-up display, a wireless charger, Bluetooth and much more. The navigation and the Lexus Enform infotainment system is housed in a beautiful 12.3-inch display that is operated via the familiar Lexus mouse.
As tested, my Lexus LX 570 three-row model cost just under $100k,* and some of the things that I thought that were missing at this price point were massaging seats (front and second row), Apple CarPlay, Android Auto, and a perfume aroma system — because that seems to be the cool thing to do these days.
Space wise, the Lexus LX offers 43 inches of legroom in the front, 34.4 inches for the second row, and 28.3-inches for the third row. Cargo capacity comes in at 9 cubic-feet with all rows in user position the, 32 cubic-feet with the third row folded, and 83.1 cubic-feet with the second and third rows folded.
2019 Lexus LX 570 Performance
I'm guessing that folks shopping in the large luxury SUV segment don't really care about how fast these yachts go from zero to 60. I mean come on, no one's taking these expensive mobile Godzillas to the track. But in case you really want to know, here are the numbers. Power for the Lexus LX 570 comes from a 5.7-liter V8 engine pumping out 383 horsepower and 403 lb-ft of torque. The engine is mated to an eight-speed automatic transmission that allows it go from zero to 60 mph in 7.3 seconds, and hit a top speed of 137 mph. Fuel economy wise, the 2019 Lexus LX 570 gets an EPA-rated 13/18 mpg* (city/highway).
Honestly, there wasn't one day where I did any kind of off-roading during my week with the LX. Since the LX is based on the Toyota Land Cruiser this beast feels extremely heavy and big on the road. Nonetheless, Lexus has done an exceptional job of making it one of the smoothest riding full-size SUVs out there. During my week, I constantly found myself driving it in Comfort mode, which makes it feel like you're flying on a cloud.
That being said, I don't think the majority of those that buy the LX will ever use the off-road controls in the center console. Of course, the full-time 4WD will come in handy during adverse weather conditions, but I don't see many owners using it the rest of the year.
2019 Lexus LX 570 Overall
The large luxury SUV segment has some outstanding choices for the new car shopper and the decision can be pretty tough to make. You can either pick one up for between $65,000 to $75,000 or you can go all the way up to $85,000 — and even more than $100,000. Of course, at the end of the day, the decision is yours.
If you're in the market for just a comfortable large luxury SUV that fits your family then cars like the BMW X7, Cadillac Escalade, Infiniti Q80, Lincoln Navigator, and Mercedes-Benz GLS are perfect. However, if you need a large luxury SUV to carry your large family and go off-roading, then you may want to consider the Lexus LX, Range Rover, or the Toyota Land Cruiser. The thing you'll notice is the off-roading models will cost you quite a bit more. Prices for the 2019 Lexus LX 570 start at $86,080**. Visit your local AutoNation Lexus dealership for a test drive today.
*MSRP excludes tax, license, registration, destination charge and options. Dealer prices may vary.
**Based on EPA mileage ratings. Your mileage will vary depending specific vehicle trim, how you drive and maintain your vehicle, driving conditions, and other factors.