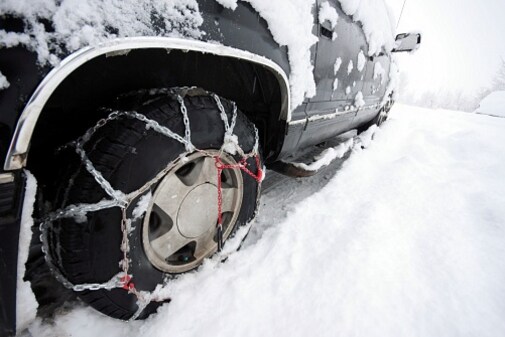 Not every time there's snow on the ground or in the air is the right time to put snow chains on. January is often the pernicious month of incredible downfalls of lovely, but dangerous, snowflakes. This winter season,
know when and when not to use snow chains
. Some roads may require chains during certain weather, but for the rest of the time, learn when you need them and when you don't.
Do and Do Not
Study up before you hit the great outdoors will your all-wheel drive. Here are a
few quick tips
to remember as you navigate your winter wonderland.
Do: use chains when there is a layer of fully compacted snow or ice
Do: practice taking them on and off before you go
Do: have the right chains for your wheel size
Do: stop to adjust if they become loose
Do Not: use chains where roads have been cleared
Do Not: go over 30-mph when driving with chains
Do Not: use chains when you don't absolutely have to
Chains are a tremendous boon when it comes to traversing snowy landscapes, but they can also cause a good deal of damage to your car when not used properly.
Snow Chain Types
To protect your car from aforementioned damage,
consult your owner's manual
for the type of chains you need and how many pairs of them you will have to have. There are many different kinds of snow chains with different designs and materials, and you don't want to go in blind when you are looking to purchase your own set. A few of these include: traction cables, link chains, socks, and spider chains.
Safe Driving with Chains
Be extremely mindful when you are driving with your chains on. Avoid driving too fast and keep your eyes peeled for spots on the road that aren't covered in compact ice or snow.
Drive slowly, carefully, and with your full attention on the road.
Also know that your handling will feel slightly different with the chains on. Consult your
nearby AutoNation dealership technicians
to figure out which snow chains are right for your car and to pick a set up for this winter season.