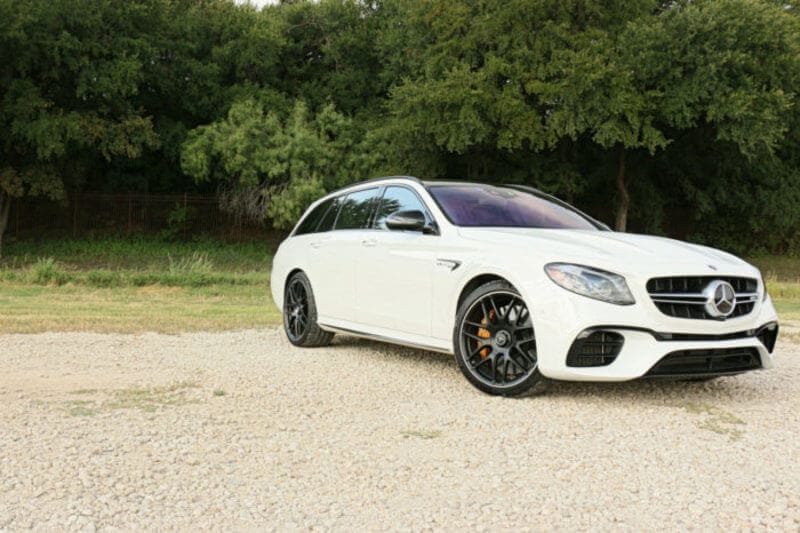 This Wagon is Visually Graceful, Inherently Practical, and Immensely Powerful
— by Derek Shiekhi
I have a confession to make: I've been a car enthusiast my whole life, but I didn't get into wagons until a few years ago.
When I was a kid, station wagons were completely different vehicles than they are now. My parents owned a few of them. They were dependable ways of getting me, my folks, and my older brother where we needed to go, but they certainly didn't fuel my love of automobiles. They were blocky, boring, and slow.
That's not the case any more. Jaguar, Audi, Volvo, and Mercedes have made "longroofs" downright beautiful. Depending on how you option them, their wagons can also be as fast as some dedicated sports cars. For example, Mercedes-Benz offers two wildly different versions of its 2019 E-Class wagon. You can get the $64,200* E 450 with a 362-horsepower twin-turbo V6 and 4MATIC all-wheel drive or the $108,850* E 63 S, which has a hand-built twin-turbo V8 with more than 600 horses under its hood. There's no in-between E 43 model or a regular E 63 without the S and the extra output that comes with that letter.
It's an odd approach, but I'm just happy that Mercedes sells wagons at all, as they aren't exactly a widely available body style. And I'm especially glad that Mercedes decided to apply its most aggressive AMG treatment to the E wagon — because the E 63 S is lovably over the top. I should know. I spent a week driving it, and enjoyed every minute.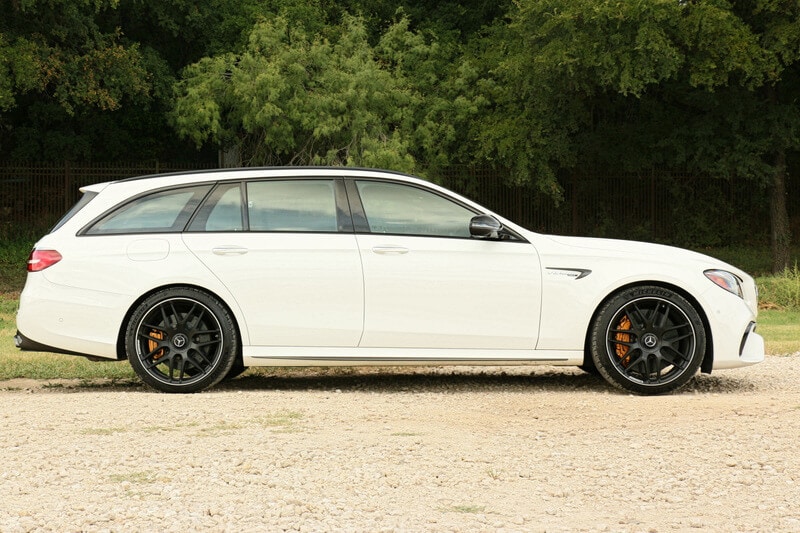 2019 Mercedes-AMG E 63 S Wagon Exterior
I'm not exaggerating when I say that my E 63 S wagon press loaner was one of the most attractive vehicles I've ever tested. Fundamentally, the E longroof is a visually graceful machine, especially in profile. Its wheels perfectly fill their wheel wells, and the roof line slopes downward just enough to add a dramatic flair. The proportions are perfect.
Mercedes-AMG configured my test car in a way that enhanced its already attractive design. They went with a high-contrast color scheme of Polar White paint and a combination of dark accents. The AMG Night Package cloaked parts such as the front air inlet surrounds, window trim, exhaust finishers, and diffuser in High-Gloss Black. The forged 20-inch AMG wheels were also black and wrapped in Michelin Pilot Sport 4 S tires (265/35 ZR 20 in the front, 295/30 ZR 20 in the rear). The AMG Exterior Carbon Fiber Package swapped out the regular splitter, front fender vent trim, and lower rear fascia for the lightweight, exotic material. Carbon fiber mirror caps were a standalone upgrade. The only parts of the E 63 S that weren't white, black, or carbon fiber were the brake calipers. Those were bronze, and they clamped down on massive 15.8-inch front and 14.2-inch rear AMG carbon ceramic discs.
If you look at this particular E 63 S and think "Storm Trooper", I can't blame you. I had my own nickname for it: "Dragon Wagon" (and I have 603 reasons why, which I'll get to in the Performance section below).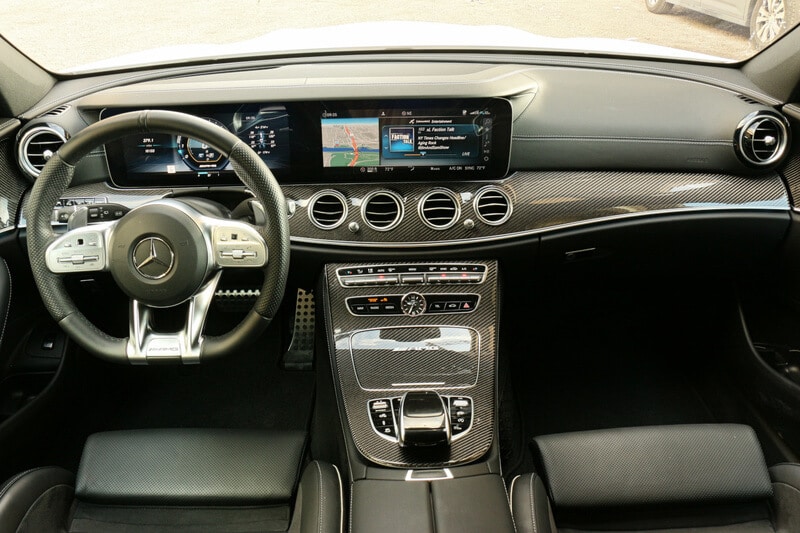 2019 Mercedes-AMG E 63 S Wagon Interior
I didn't need the Mercedes-Benz star or AMG engraving on the Nappa leather performance steering wheel to tell me I was sitting in something special. Carbon fiber extended from the driver's door panel, across the entire width of the dashboard, down to the center console, and back up to the passenger's door panel. A pair of 12.3-inch widescreens told me vital information. The left one displayed the main gauges such as the tachometer, speedometer, and other readouts and the one on the right served the COMAND (Cockpit Management and Data) infotainment system. I could use a rotary controller to enter an address into the navigation module, adjust the balance and fade of the 590-watt, 13-speaker Burmester surround sound system, choose one of the 64 available LED ambient lighting colors, and more.
There was no real trade-off for the E 63 S's performance in terms of creature comforts. Both of the form-fitting AMG performance front seats were heated and ventilated. I'm 5'10" and found the back seat to be perfectly spacious. My press loaner was even fitted with an optional Acoustic Comfort Package that includes sound- and heat-absorbing material in the windshield and side windows.
Before I hit the back roads of the Texas Hill Country and discovered how athletic the E 63 S can be, I made sure to use it as, you know, a station wagon. Doing that, I discovered the 35-cubic-foot cargo bay behind the rear seats was more than capable of holding my briefcase, hard-sided camera case, partially extended tripod...and a large pizza box. Let's just say I got it home in 30 minutes or less. Way less.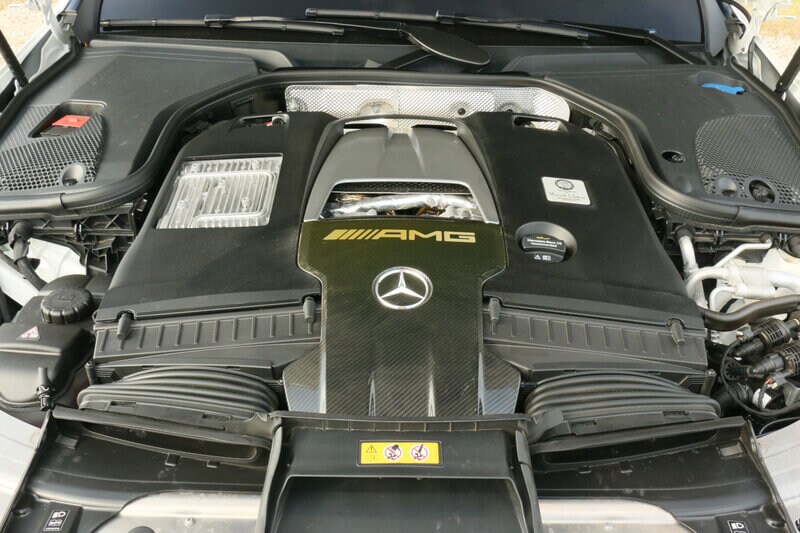 2019 Mercedes-AMG E 63 S Wagon Performance
High-performance cars can be a bit frustrating. On one hand, you get the satisfaction of knowing your vehicle has X horsepower, Y lb-ft of torque, and can hit 60 mph in Z seconds. On the other hand, you don't get to unload all of that power on public roads unless you're driving like an absolute maniac with no regard for the safety of others or your license.
Although I obviously didn't fully wring out the E 63 S's twin-turbo 4.0-liter V8 and use every one of its 603 horsepower and 627 lb-ft of torque, I didn't come away feeling as if I had let the engine go to waste. I completely enjoyed my time behind the wheel. The E 63 S's 4MATIC+ all-wheel drive put that firepower to the road with startling efficiency. When full power hit, the nose lifted, the back end squatted, and the car rushed forward as if pushed by a giant invisible hand.
The E 63 S was a joy on twisty roads, too. The steering was heavy and substantial, and its rock-solid stability gave me confidence. Shifts from the nine-speed automatic gearbox were quick and well-timed, and there was very little noise from the carbon ceramic brakes. I expected them to be overly eager to do their important job, but they were surprisingly easy to modulate and well behaved. I, on the other hand, was not. I freely indulged my right foot with heavy doses of throttle and my ears with the roar-on-demand from the AMG performance exhaust, which made the overrun after a high-speed blast into an addictive sound.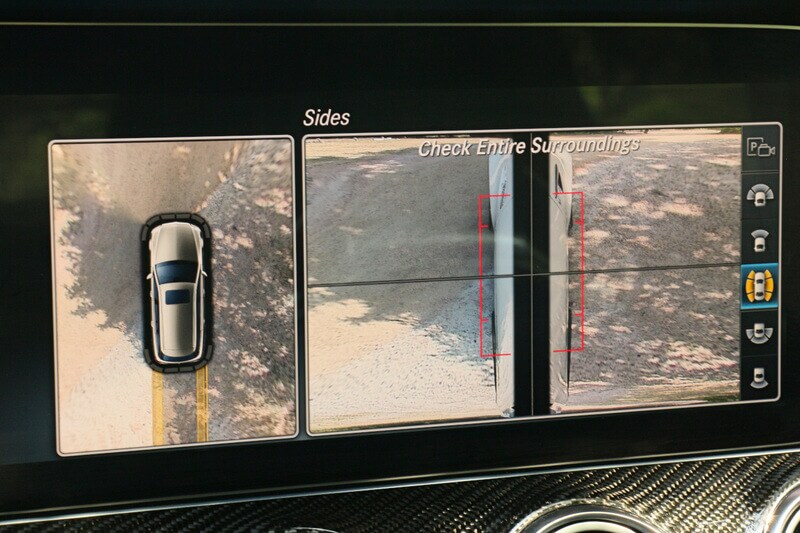 2019 Mercedes-AMG E 63 S Wagon Safety
Mercedes-AMG did a good job of balancing out the types of options on my E 63 S tester. It had cosmetic upgrades (including a carbon fiber engine cover) and mechanical enhancements, as well as a substantial safety equipment bundle. There were several features in the Driver Assistance Package for AMG Performance Seats package, ranging from adaptive cruise control to Active Lane Change Assist to Active Brake Assist with Cross-Traffic Function to Active Blind Spot Assist. Those were layered on top of the E 63 S's standard safety technologies, such as its seven airbags, LED headlights and taillights, 360-degree camera system, and PRE-SAFE Predictive Occupant-Protection System.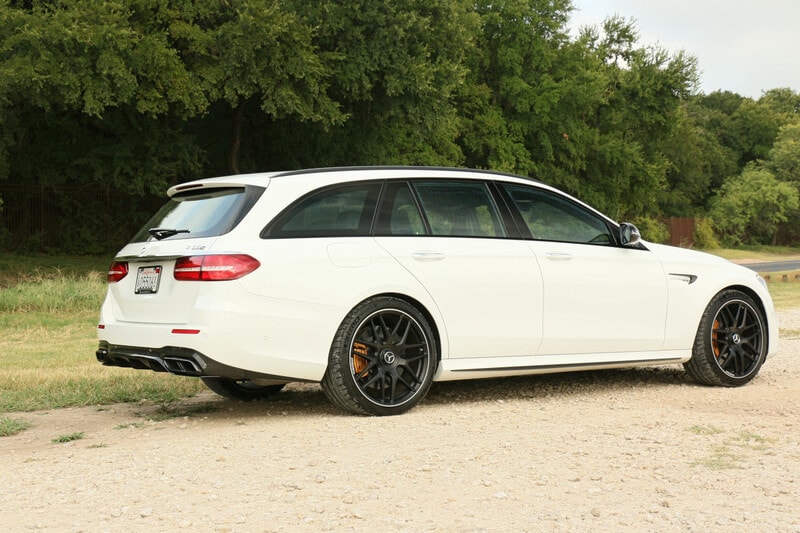 2019 Mercedes-AMG E 63 S Wagon Overall
Wagons are a rare enough sight on American roads these days. You're even less likely to see a longroof like the unusual 2019 Mercedes-AMG E 63 S, unless you go to an AutoNation Mercedes-Benz dealership. That's where you'll be able to get the E 63 S wagon that's spec'ed just the way you want. If you want yours to be configured just like the one you see here, expect to sign on the dotted line for $138,750.*
*MSRP excludes tax, license, registration, destination charge and options. Dealer prices may vary.