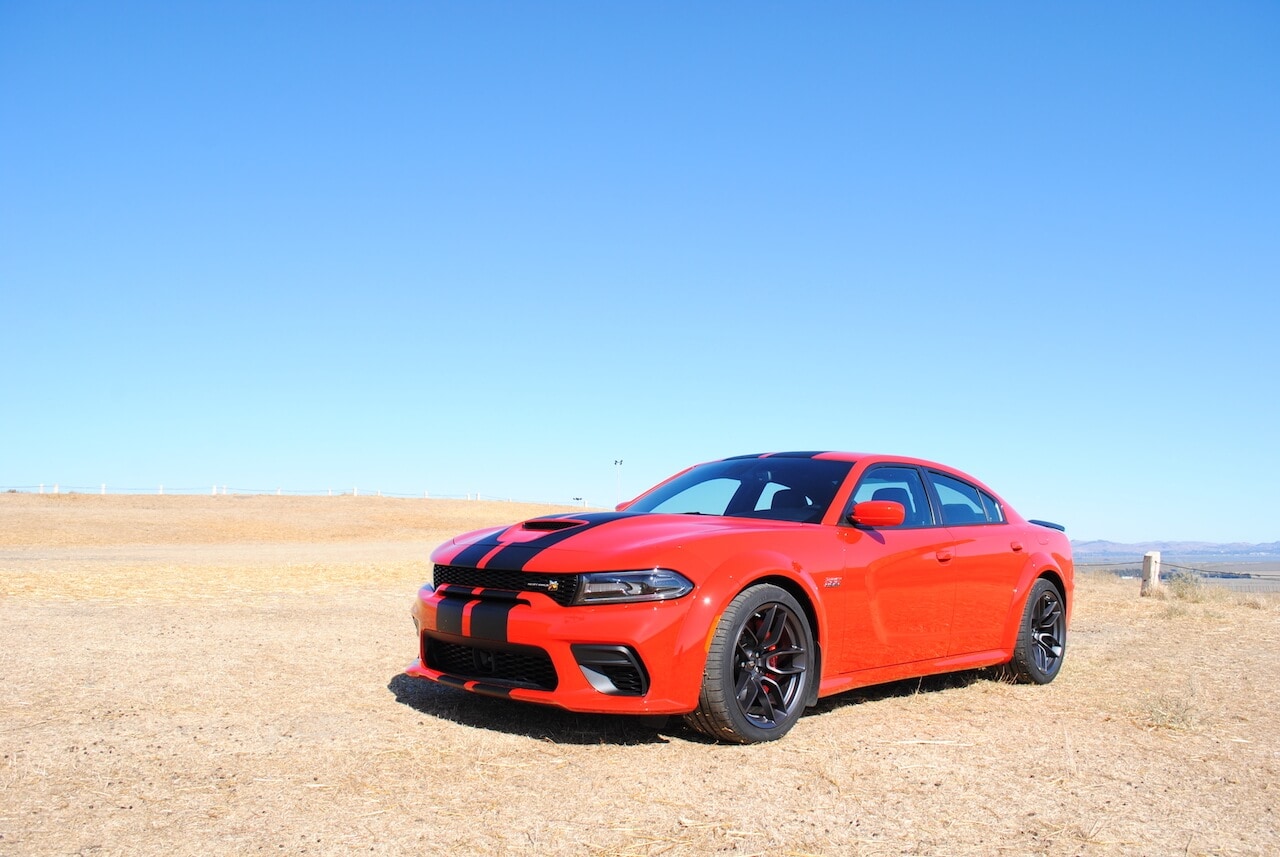 The Scat Pack Widebody is a Perfect Blend of Power, Practicality, and Comfort
— by Mike Musto
Fourteen years ago, Dodge reintroduced the Charger nameplate to the public after a 31-year absence. At first, folks were upset, because unlike the original Chargers produced between 1966 and 1974, 2005 model came to us with four doors. Some folks took it upon themselves to hem and haw, while others began snapping up what they knew in their hearts was a great family sedan.
We're now embarking on the 2020 model year, and while some remnants of the original platform remain, let me assure you that this new 2020 Dodge Charger 392 Scat Pack Widebody, isn't just a far cry from where it started over a decade ago — it may just be one of the best sedans the company has ever created.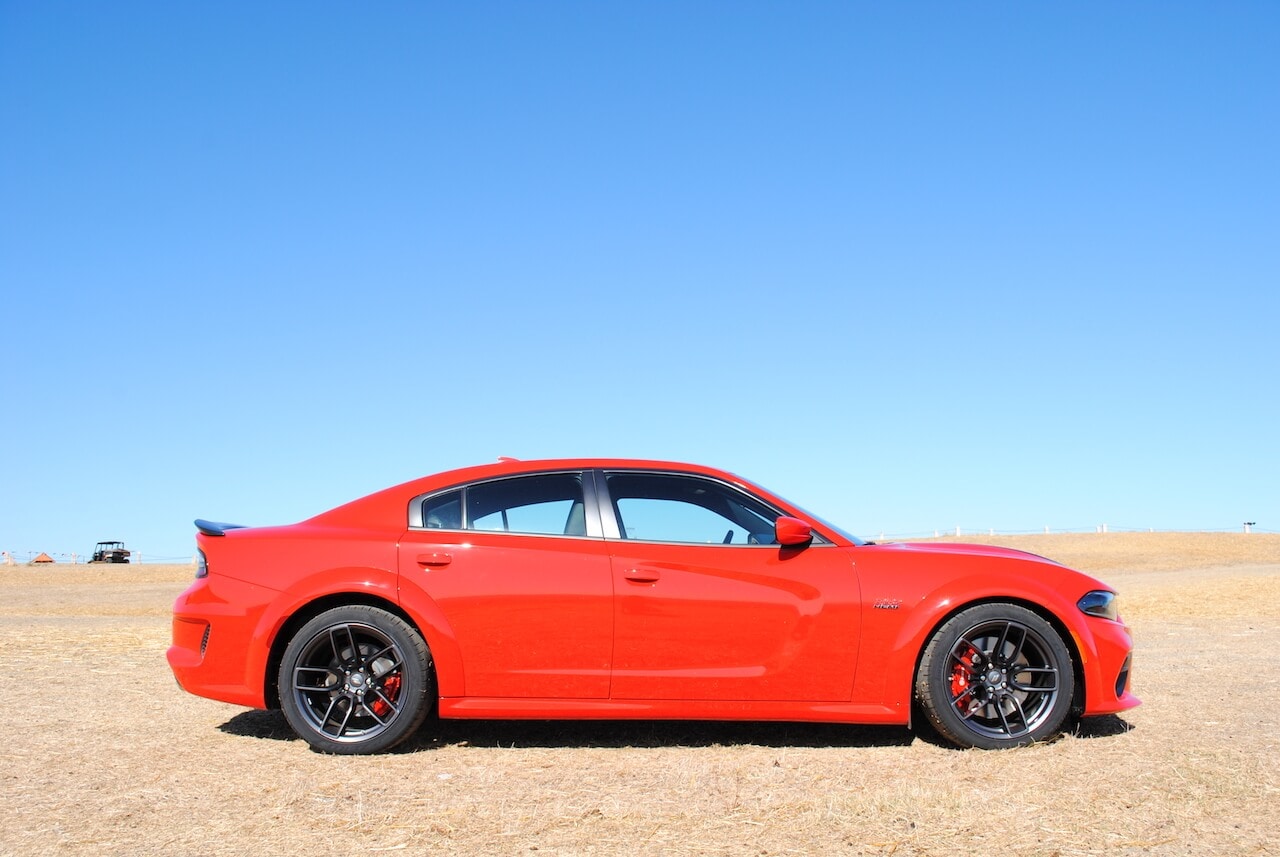 2020 Dodge Charger 392 Scat Pack Widebody Exterior
For 2020, it's all about the Widebody. With an additional 3.5 inches of width and a wider overall track, the Charger is now more menacing than ever. Like its Challenger sibling, the Charger incorporates a beautifully integrated Widebody package that flows from the restyled front fascia, over the wheel arches, down the rockers and then finally, into the rear end. A new front fascia incorporates large callouts on the outer corners, as well as a new mail slot grille that aids with engine cooling.
Visual differences between the Scat Pack and the Hellcat are few, but a keen eye will notice them. A functional Trans Am style hood scoop, as opposed to a tri-vented hood on the Hellcats helps the 392 HEMI V8 breathe. Then there are iconic Scat Pack emblems both on the upper grille and rear deck lid, along with 392 HEMI badges on the front fenders. Our car was featured in TorRed with black racing stripes, and running 20-inch rims that wear 305/35-series Pirelli tires at all four corners.
The only real problem with seeing the Charger in Widebody form is that it makes all the narrow body cars look somewhat boring. It's stunning from all angles, and although it might be too aggressive for many, those who opt for the additional $6k Widebody package will be driving one of the best-looking sedans currently on the market.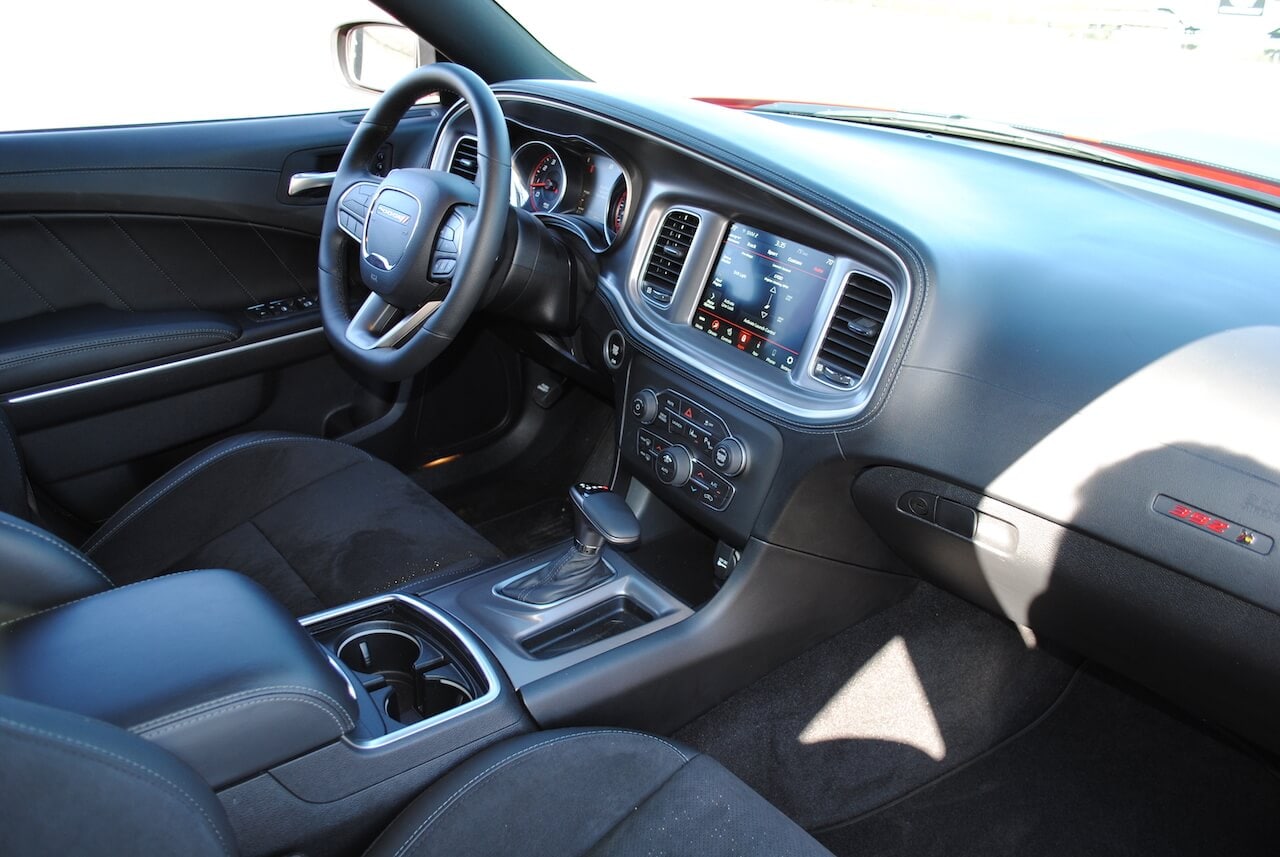 2020 Dodge Charger 392 Scat Pack Widebody Interior
Regardless of what lives under the hood, the Charger is, first and foremost, a family sedan. It will seat five adults comfortably, has a trunk that will swallow up to 17 cubic feet of cargo, along with a cabin that is not only ergonomically friendly but exceptionally comfortable for long journeys. The front seats have gone largely unchanged since the original Charger SRT8 debuted back in 2006, sans the addition of Laguna Leather, and some new updated patterns. These chairs are some of the best in the business, and offer great lateral and lumbar support, along with heat and ventilation.
A leather-wrapped flat-bottomed steering wheel offers great hand feel, and the T-handle shifter is something straight out of the 1970s. An 8.4-inch touchscreen for Uconnect 4C handles the in-car functions for navigation, climate, and audio, while also providing drivers access to the SRT Performance Pages. Here, drivers can configure the vehicle's transmission and suspension set-up, on-screen gauge layout, and steering feel, along with additional performance information.
View 2020 2020 Dodge Charger 392 Scat Pack Widebody Inventory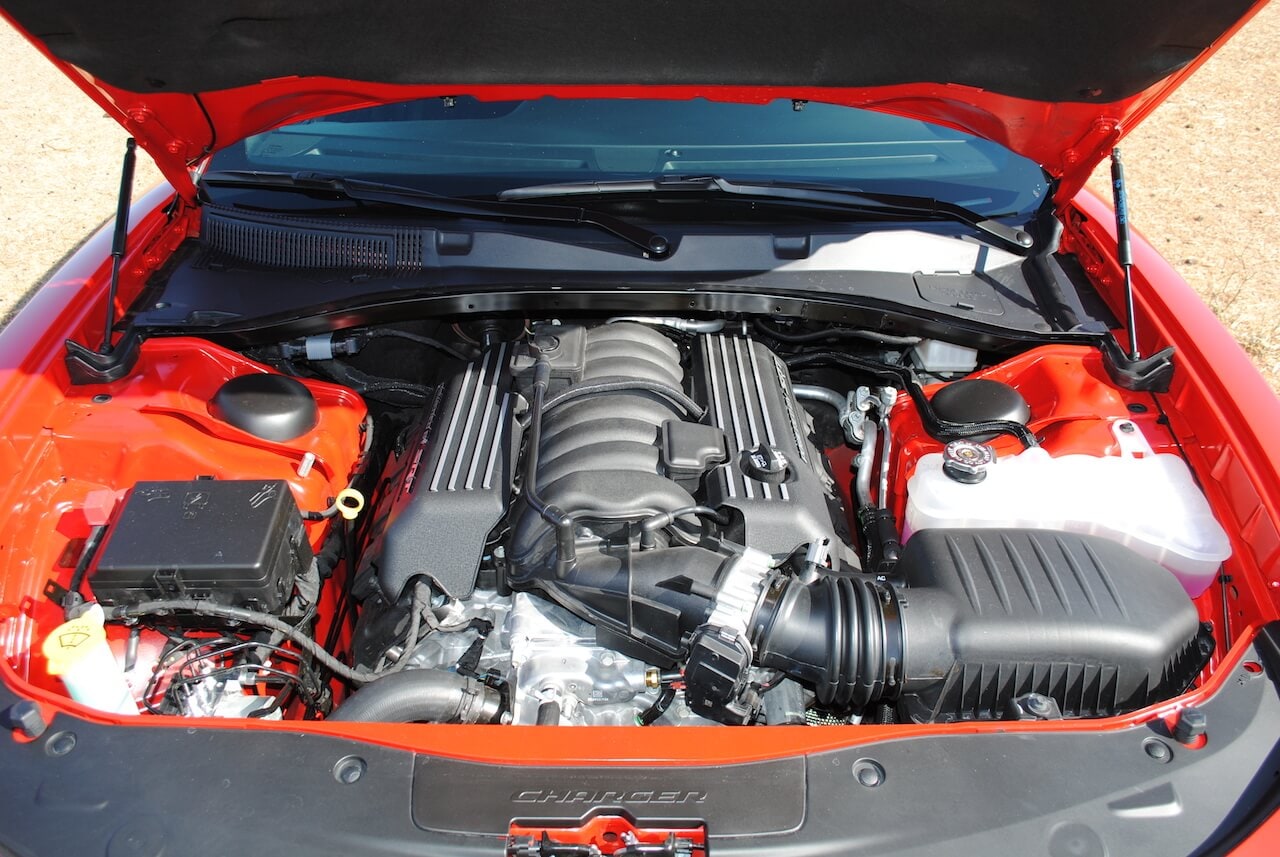 2020 Dodge Charger 392 Scat Pack Widebody Performance
Along with 3.5 inches of additional width, the 2020 Charger Widebody now sports electric power steering (EPS) for the first time. But the changes don't stop there. Underneath that new bodywork is a revised version of the SRT-tuned Bilstein three-mode adaptive damping suspension. The changes consist of modified springs, sway bars and shocks. The front spring rates are now 27 percent stiffer than before, with a rear sway bar that's expanded from 19 mm to 22 mm in diameter, along with re-tuned shocks with revised valving. This translates to improved performance across the board. The Widebody pulls 0.98 g on the skid pad, will hit 60 mph in just 4.3 seconds, and run the quarter mile in 12.4 seconds at 111 mph. Massive 15.4-inch two-piece front brake rotors with six-piston Brembo calipers and four-piston rear calipers have also improved the 60-to-zero stopping distance to 107 feet.
Get the Charger out on the open road, and you'll immediately succumb to the fact that driving this car is akin to wearing your favorite jeans. There's a familiarity about it that makes you feel at home. Until that is, you step on the throttle and realize that 485 horsepower and 475 lb-ft of torque means that it can tow your home to the next state. This car is very fast, and thanks to the larger wheels, tires, and improved suspension, there's an intensified confidence and a handling balance that didn't exist before. As a whole, the car feels more composed and is more manageable when driven aggressively.
That said, it's still a substantial vehicle with a 120-inch wheelbase and a curb weight of over 4,400 pounds. So while the handling is improved, don't go thinking that you'll be running down sports cars.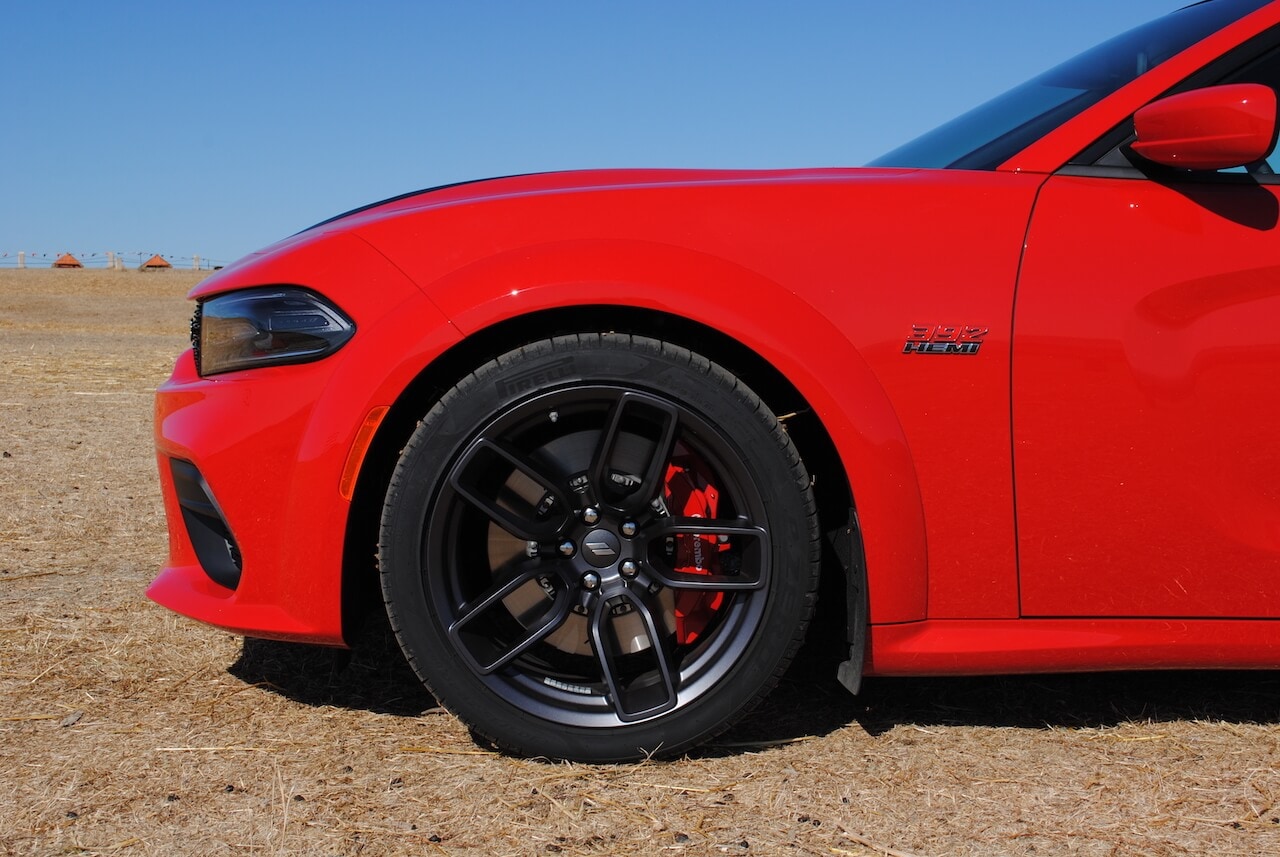 2020 Dodge Charger 392 Scat Pack Widebody Safety
With an advanced airbag system, active head restraints, anti-lock brakes, and electronic stability control, Dodge has put quite a bit of time into keeping both you and your passengers safe while traveling to wherever the road takes you.
To find out more about the safety features on the 2020 Dodge Charger 392 Scat Pack Widebody head on over to Dodge.com.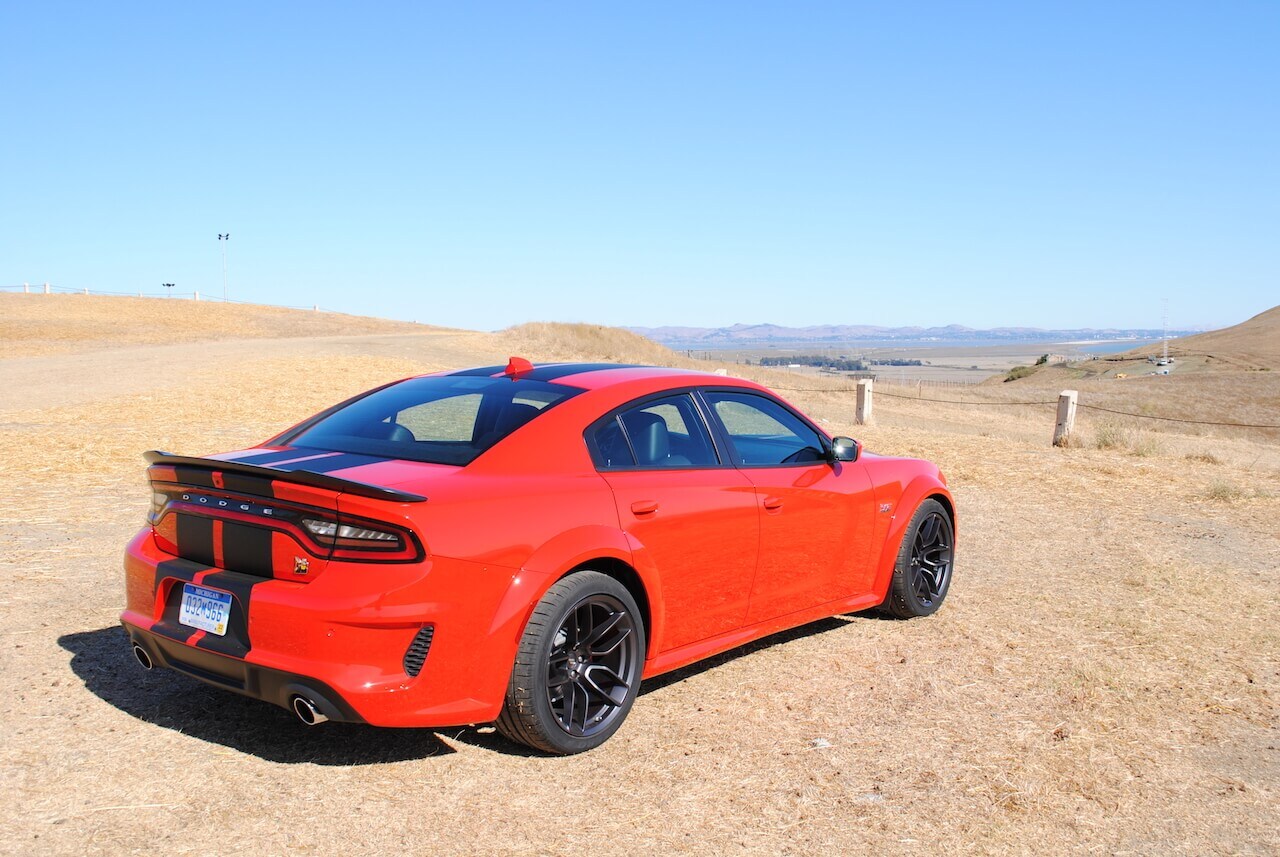 This is the one you've been waiting for. It's not 700-plus horsepower, nor does it have the title of being one of the fastest sedans in the world. Instead, the 392 Scat Pack Widebody comes to us as one of the most usable, best balanced, most fun sedans on the planet. It's a tremendous bang for your buck. It starts at $45,995, and with options will easily climb to over $50k. So while that may seem like a lot of money at first, when compared to sedans with similar performance, the 2020 Dodge Charger 392 Scat Pack Widebody turns out to be a performance bargain.
*Fuel economy values (mpg) are EPA estimates. Actual mileage will vary and depends on several factors including driving habits and vehicle condition.
**Vehicle MSRP excludes taxes, title, transportation, options, and dealer fees.