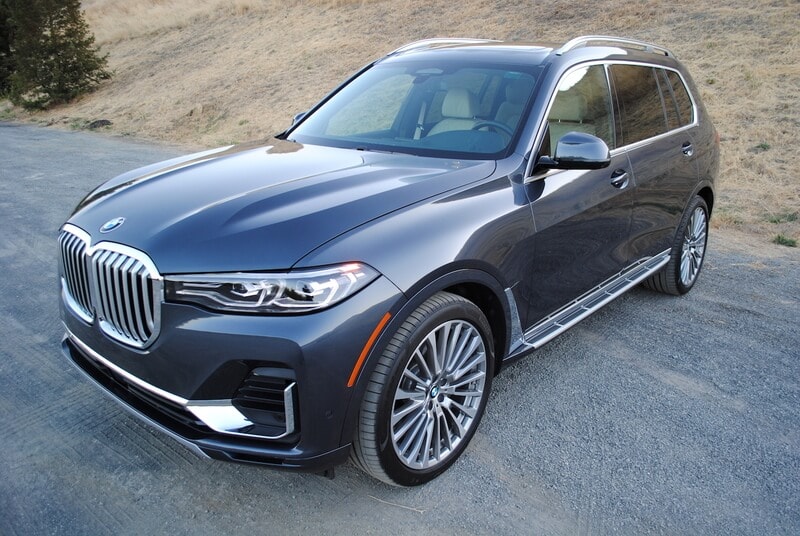 Large and in Charge: 2019 BMW X7 xDrive40i Test Drive
— by Mike Musto
It's been a long time coming, but BMW has finally delivered a proper full-size SUV for the American market. With room for seven, all the tech and luxury one could ask for, and a choice of turbocharged six or eight-cylinder power, the automaker is counting on those with deep pockets to kick the Escalades and Excursions to the side and opt for a high class, German alternative.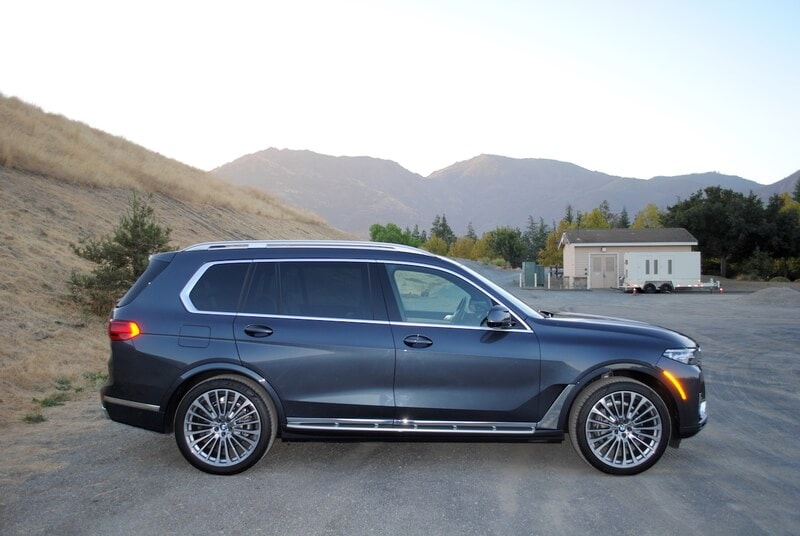 2019 BMW X7 xDrive 40i Exterior
The grille. It's the elephant in the room, so let's just address it right out of the gate. It takes up half the width of the X7, and if you flipped it vertically, it would stretch from the ground, up and over the 22-inch alloy wheels. I'm not sure when BMW decided to take what was once a stunning and understated design element and inflate it, but in my opinion, it wasn't the best choice. But aside from the grille, it's easily one of the most attractive full-size SUVs currently on sale.
With the X7, BMW has managed to infuse some much-needed elegance into the full-size SUV segment. Others, like Cadillac, Range Rover, and Toyota have tried, but the X7 is the first that I'd call a truly beautiful SUV. For a vehicle as long as it is and BMW has done a remarkable job at giving the X7 a fully organic feel. Of course, the Arctic Grey Metallic paint — it's so deep it looks wet — and the 22-inch performance alloy wheels don't hurt either.
The shape of the adaptive LED lights and the subtle use of polished and brushed accents throughout the body also help to calm your senses, instead of overpowering them. More importantly, the exterior is functional in a way that American's want. Large doors swing wide to allow for easy exit and entrance, the airbag suspension allows for a low step-in height, and thanks to the split-opening rear tailgate, the loading, and unloading of cargo is a snap. This is a great looking SUV.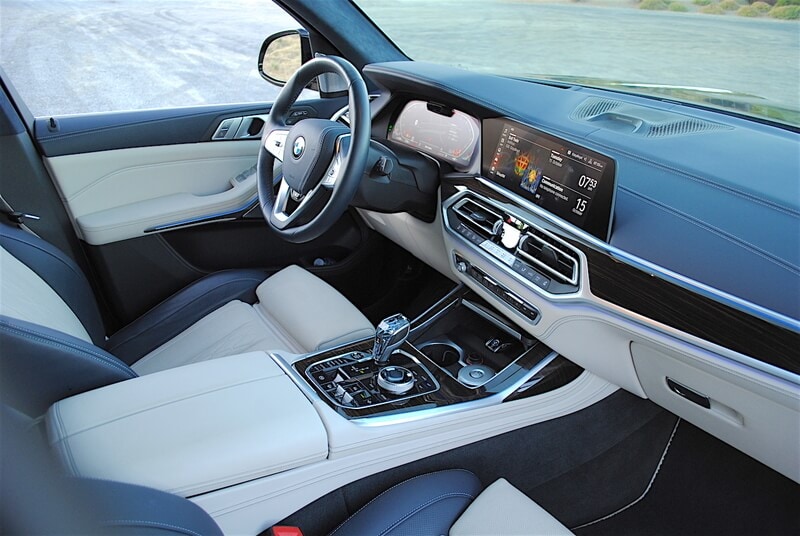 2019 BMW X7 xDrive 40i Interior
It is very rare that I get into a luxury vehicle and think, "Yup, this is definitely worth the money." However, in the case of the X7, I'm going to say I was impressed. From the anthracite Alcantara headliner and ivory white over blue leather seats, to the fact that everything —seriously, everything — is power controlled, this X7 trumps anything I've seen from an American OEM. Our test 2019 X7 xDrive 40i came to us with a base price of $73,900 and a sticker price of just over $100k*, meaning it was packing $26k in options. So was it worth it? Honestly, I've got to say yes.
Because here's the thing. From the moment you set foot in the X7, you feel special. The leather-covered 20-way adjustable front seats, for instance, offer heat, ventilation, and massage, and are simply outstanding. As is the heated steering wheel and armrests. The dash is hand-stitched leather, and the HVAC system offers five-zone control. Want music? Good, because the Harman Kardon sound system provides 12 speakers, five tweeters, five midrange speakers, and two central bass speakers under the front seats. It's not just music as much as it's a full-on theater experience. And don't worry about your passengers, because those in the rear are treated to their own individual entertainment systems.
Not to be left out, is the Gesture Control feature for the infotainment system which comes as part of the $4,100 Executive Package. This is a system that allows drivers to accept calls, reject calls, adjust the volume, and activate the 360-degree view system around the X7 by using up to five different hand gestures.
Other niceties include a split power tailgate, a great heads-up display, soft-close automatic doors, and a key fob with an integrated touchscreen that lets drivers monitor and adjust certain vehicle functions remotely.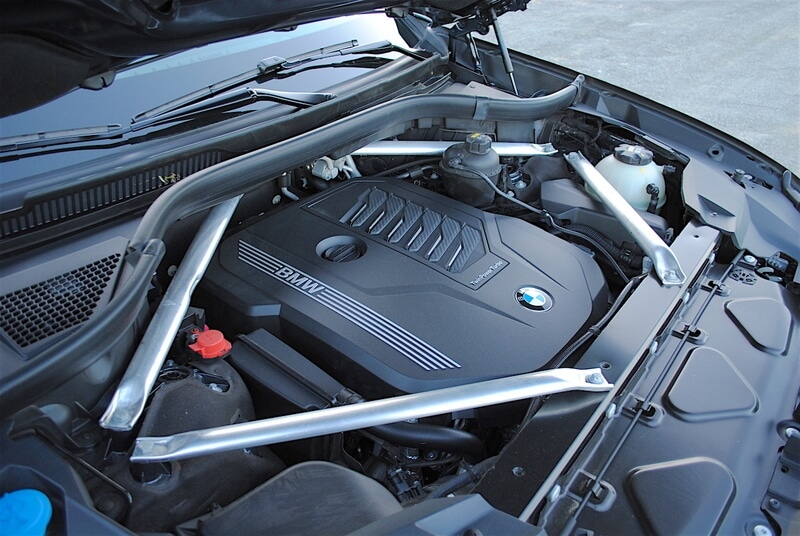 2019 BMW X7 xDrive 40i Performance
With a curb weight of over 5,300 pounds that rides on 22-inch wheels, you might expect the new X7 to be a bit of a handful. Surprisingly though, it's more nimble than anyone would have thought. Under the hood lives a TwinPower Turbo 3.0-liter inline-six that produces 335 horsepower and 332 lb-ft of torque. Now, on the the surface, those numbers don't seem that impressive. But mash the gas and the X7 will rocket to 60 mph in just 5.8 seconds, and if you keep your foot in it, run all the way up to a top speed of 130 mph.
Power is put down to BMWs all-wheel-drive system via a smooth-shifting eight-speed automatic transmission. And thanks to the adjustable air suspension that raises or lowers the X7 by 1.6 inches, the ride quality is outstanding. Bumps and road imperfections are swallowed with ease, and thanks to multiple drive modes (Sport, Comfort, Eco Pro, Adaptive, Off-Road) drivers can configure the X7 to fit their driving style.
This isn't a sport-oriented SUV though. Instead, the X7 is a full-size and luxurious people hauler that offers exceptional on-road manners, and a distinctly quiet cabin with more technology than most folks can dream about. The X7 is also EPA rated at 20 mpg in the city, 25 mpg on the highway, and 22-mpg during combined driving.**
For those suburbanites who need a little more versatility, the X7 (when properly equipped) will also tow up to 7,500 pounds.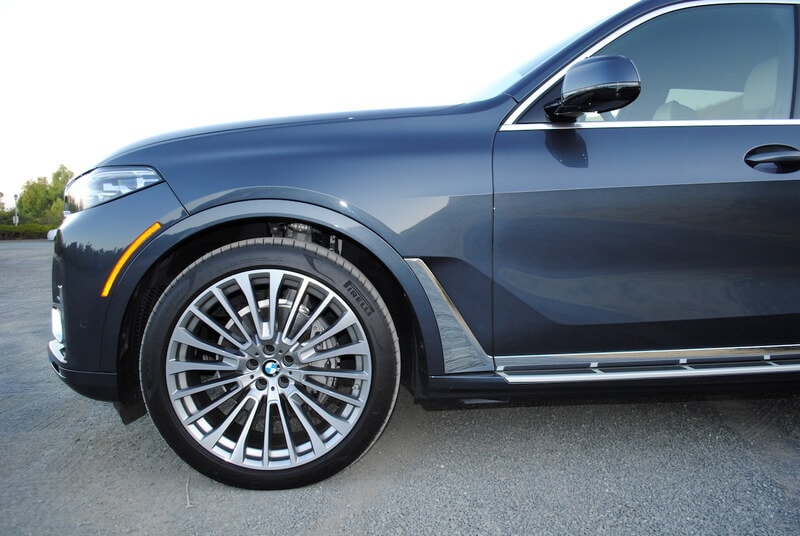 2019 BMW X7 xDrive 40i Safety:
Equipped with the latest in safety technology, the 2019 BMW X7 xDrive 40i comes equipped with such features as airbags throughout the cabin, xDrive all-wheel drive, anti-lock brakes, adaptive brake lights, electronic stability control, traction control, blind-spot monitoring, active driving assistant including daytime pedestrian protection, and a 360 surround camera.
Additional safety features can be seen at
BMWUSA.com
.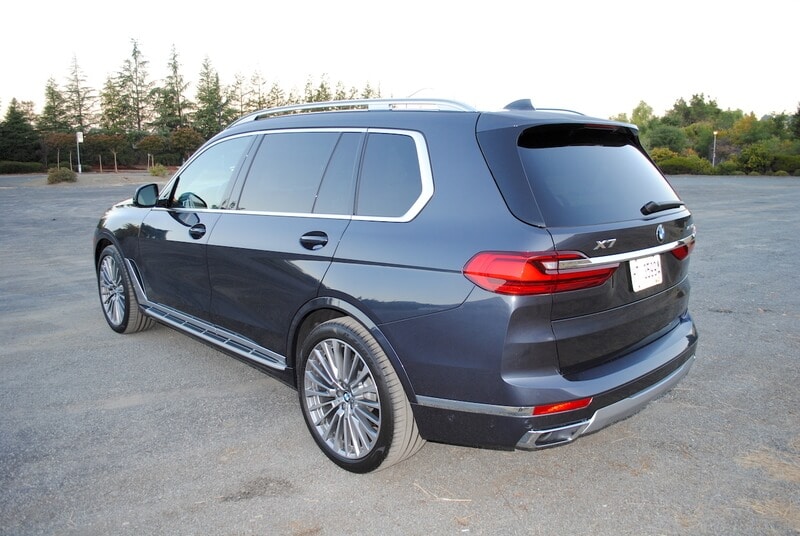 2019 BMW X4 xDrive40i Overall
The 2019 BMW X7 is about as opulent as you're going to find in a full-size SUV. At over $100k, it's not cheap, however, it's one of the few vehicles that we feel is worthy of that type of price tag. Its stunning cabin cradles you in comfort while at the same time, shielding you from the outside world. And while some may balk at the fact that there's only a turbocharged inline-six under the hood, fear not, because a turbocharged V8 is available. Overall, we were extremely impressed with the X7 and would highly recommend it for anyone looking for a seven-passenger SUV with high style, performance, and luxury.
Drop by your local AutoNation BMW dealer today to check one out!