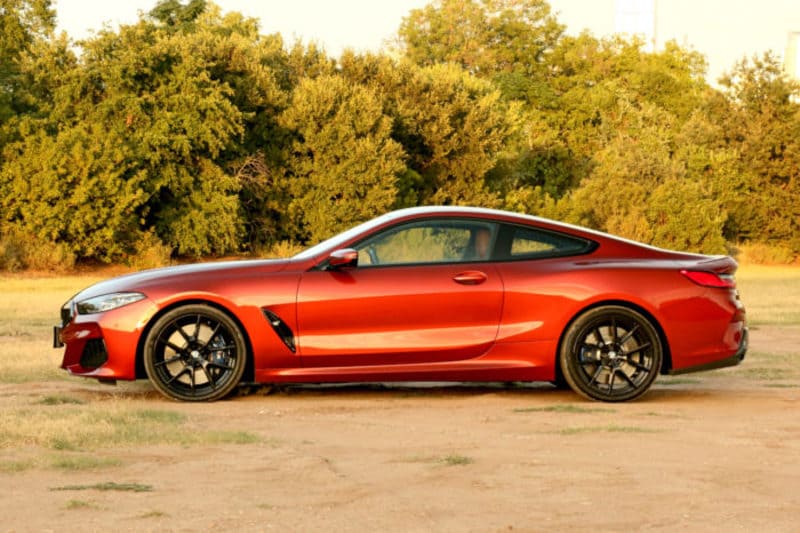 After a two-decade absence, the 8 Series is back — and it's got more power than ever
— by Derek Shiekhi
When the original BMW 8 Series went out of production in 1999, I was a car-obsessed 15-year-old kid. The shelves in my room were filled with 1:18-scale model cars and many of my daydreams starred a "New Edge" Mustang GT. I was aware of the 8 Series (I had a model of it), but even if I had managed to find one at a BMW dealership, I wouldn't have been able to drive it — because I didn't have my driver's permit.
As I got older, I gained more knowledge about BMW's flagship coupe, and just how unusual it was. With its tiny twin-kidney grille and pop-up headlights, it didn't look like any of its corporate siblings. The 8 also combined the traits of a luxury coupe and an exotic sports by offering a 12-cylinder engine and a 6-speed manual gearbox.
By the time I started my career as an automotive writer, it was well after BMW discontinued the first 8 Series. They were no longer in showrooms or even in used car lots. So when I learned that my local media fleet service had a 2019 BMW M850i xDrive coupe in its inventory, I immediately reserved it. I was finally old enough to get behind the wheel of an 8 Series. After spending a week in the M850i, I can say it was worth the wait.
View BMW M850i Inventory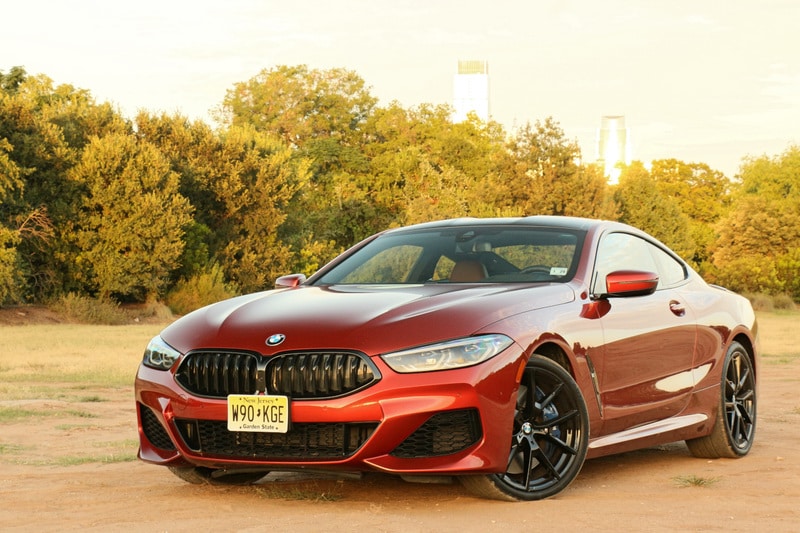 2019 BMW M850i Coupe Exterior
Right after my Sunset Orange Metallic test car arrived in my driveway, I took a walk around it. It was immediately obvious that BMW didn't just cut two doors out of a 7 Series luxury sedan, shorten it, and give it 8 Series badges. They made something completely new with presence and honed, athletic looks.
In terms of positioning, the M850i is the largest coupe BMW makes, but it has an obvious focus on performance, hence the M prefix in its name. My press loaner's black grille and daylight opening trim gave it a sleek, sporty look. A set of black 20-inch M wheels allowed plenty of air through their spokes to cool the standard M Sport brakes. A subtle spoiler topped the upswept trunk lid.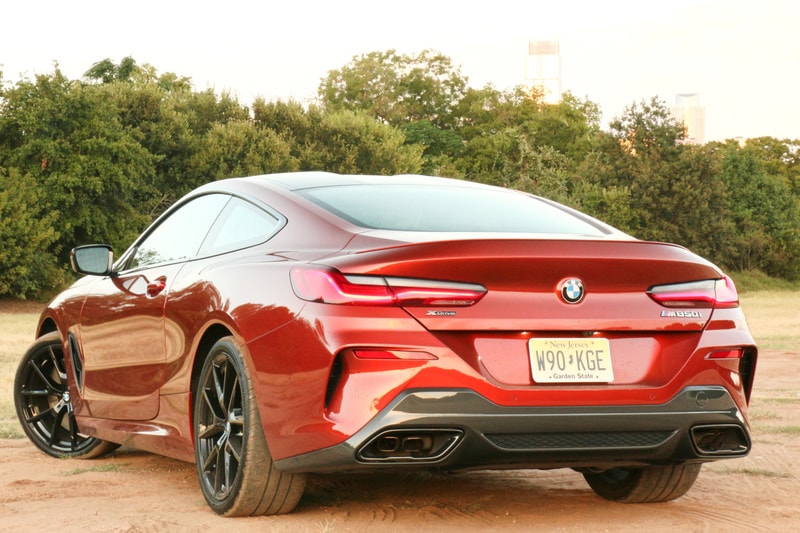 Both ends of the lower rear fascia had openings for the quad exhaust finishers. The most obvious sign that BMW's development team didn't make the M850i for slow, leisurely drives was its optional lightweight M carbon fiber reinforced plastic roof, which not only looked racy, but helped lower the car's center of gravity.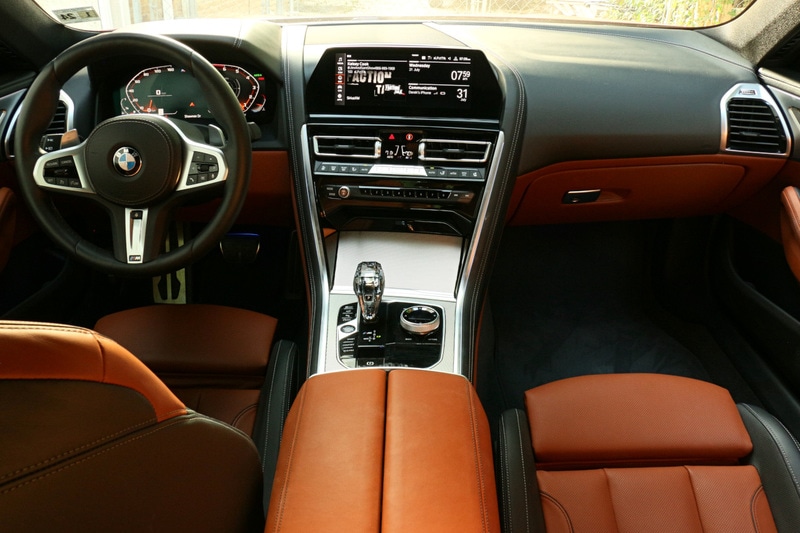 2019 BMW M850i Coupe Interior
The M850i's interior design went more toward the luxury end of the luxury/performance spectrum. The 20-way heated front seats were a blend of Tartufo (a rich shade of burnt sienna) and Black Merino leather and featured one of my favorite parts of a seat: an adjustable thigh bolster. The Comfort Seating Package made them even more accommodating by adding ventilation. It also included a heated steering wheel and armrests. I had the M850i in Central Texas in July; guess which one of those three features I used the most.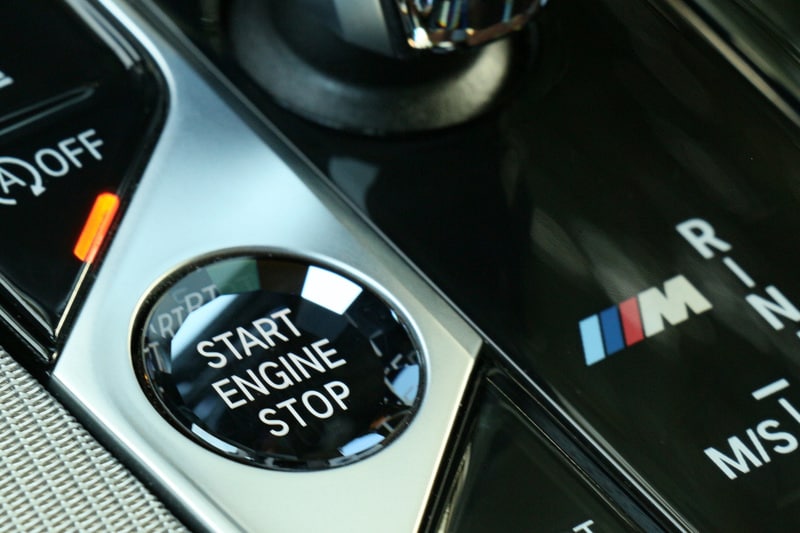 My test car was configured with BMW's Glass Controls upgrade package so every time I started the M850i or shifted it into gear or adjusted the volume knob for the Harman Kardon surround sound system or used the rotary controller for the iDrive 7.0 infotainment setup, my fingers touched hand-made diamond-cut glass. The wavy metallic trim made me think of the chain mail armor I've seen knights wear in TV shows and movies. There's a reason for that: BMW calls it "Stainless Steel Fabric."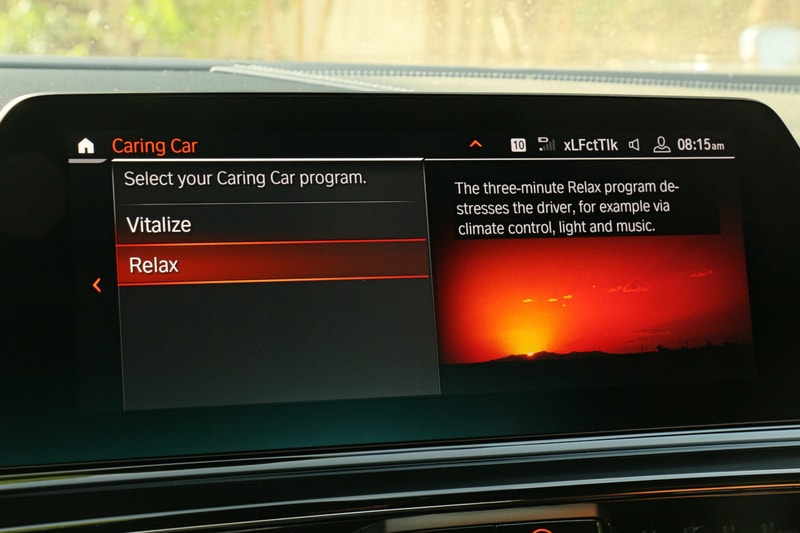 The M850i's software was just as focused on luxury as its hardware. The Caring Car program gave me the option of whether I wanted it to Vitalize or Relax me using the dual-zone climate control, ambient lighting, and audio system. Various Experience Modes — Executive, Expressive, and Wellbeing — incorporated similar functions, as well as the seat heating and ventilation.
The M850i introduced me to BMW's new style of gauges. Instead of dual round dials for the tachometer and speedometer, there were two open-ended, gently pointed gauges that ran along the left and right of the 12.3-inch screen. I could see the same information on the stock head-up display. The 10.25-inch center touchscreen showed me everything else I needed to know, including directions from the navigation system and whether or not my iPhone XR was connected to Apple CarPlay and the built-in Wi-Fi hotspot.
Visit a BMW dealership today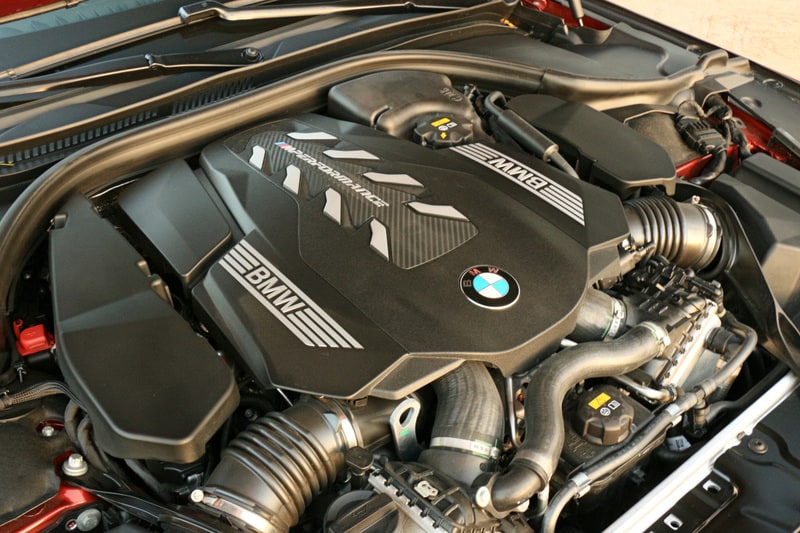 2019 BMW M850i Coupe Performance
In 2005, BMW debuted the E60 version of the M5 performance sedan. It was a jaw-dropping moment in the automotive world. Enthusiasts marveled at the fact that BMW had put a 500-horsepower V10 under the hood of a sedan.
In the years since then, manufacturers have shot well beyond that amount of power. I've been fortunate enough to drive many of them, such as the Mercedes-AMG E 63 S wagon and Dodge Challenger SRT Hellcat Redeye. I have to admit that before I put my foot down in the M850i, I discounted the fact that its twin-turbo 4.4-liter V8 generated "only" 523 horsepower and 553 lb-ft of torque. I didn't expect 500 horsepower to pack the punch that it once did.
Boy, was I wrong. The M850i had more than enough grunt to put a smile on my face. An eight-speed automatic and xDrive all-wheel drive helped put that power to the road as quickly and effectively as possible.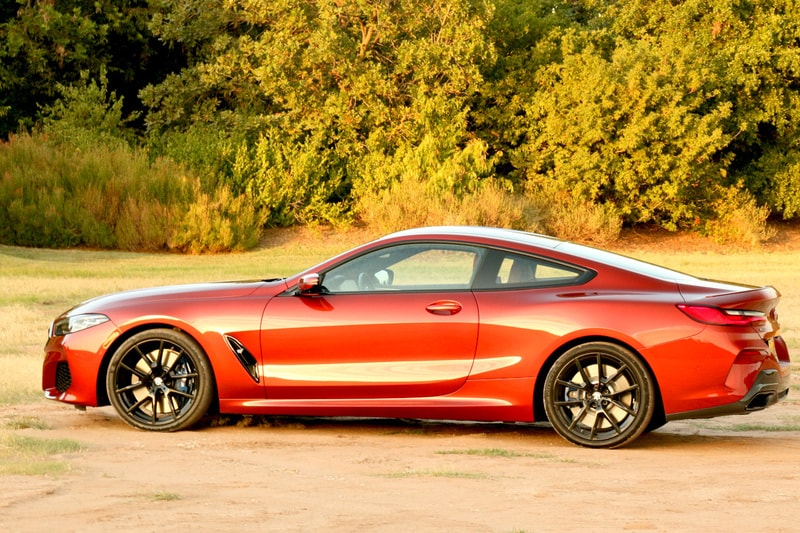 The Driving Dynamics Control system let me choose just how lively the M850i and its various other components (suspension, transmission, etc.) were. I could select Eco Pro, Adaptive, Comfort, Sport, or Sport+. Comfort was well named. For performance driving, my go-to setting was Sport, which offered a great mix of ride quality, performance, and exhaust roar. On curvy roads, the M850i's steering loaded up with the right amount of weight, much like the rack in the current Mustang GT. Handling from the M adaptive suspension was composed, although there was no denying the weight it was holding up. The M850i hunkered down in curves, as if it were a mine cart loaded with ore moving down rails. It was easy to scrub off speed with confidence because the M850i's brakes were so well tuned and progressive.
The M850i is a flagship coupe that weighs nearly 4,500 pounds so it's not a sports car by any means, but it's definitely a driver's car.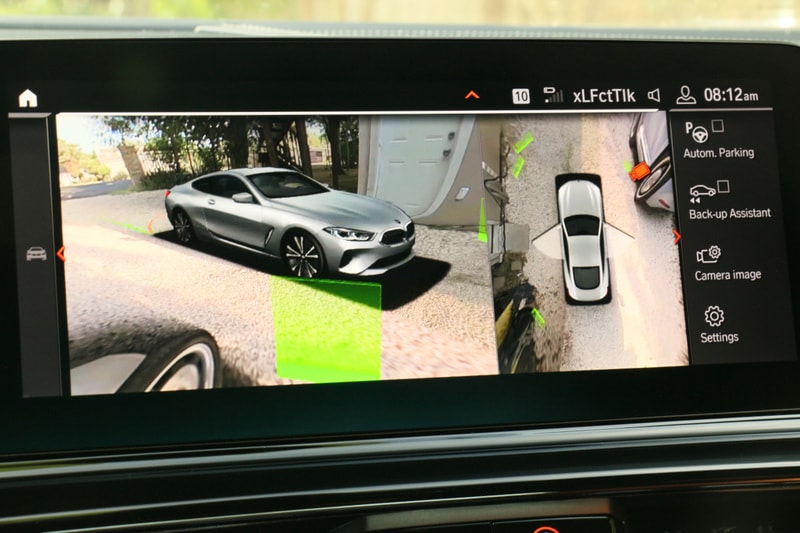 2019 BMW M850i Coupe Safety
Modern safety features are impressive feats of engineering. The M850i has a long list of them; stability and traction control, Cornering Brake Control, Frontal Collision Warning, Lane Departure Warning, and Active Blind Spot Detection are just some of the items on it.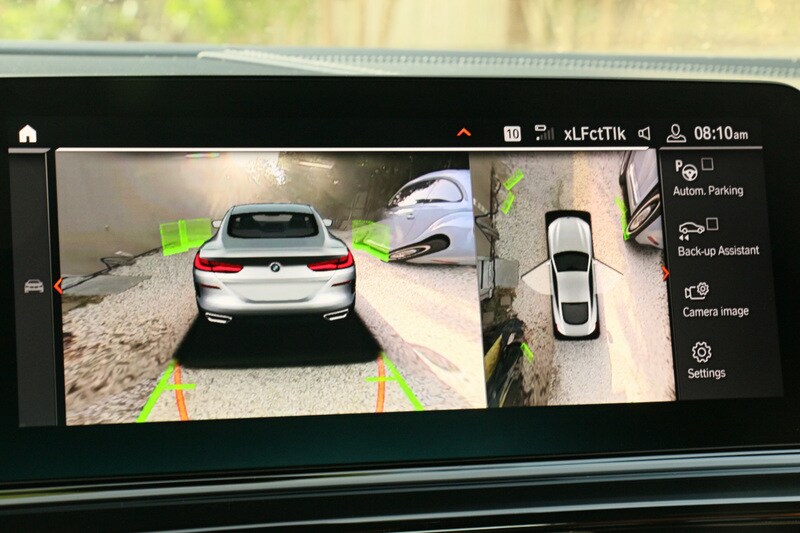 But the new 8 is also available with safety tech that's downright cool. My press loaner had more exterior camera angles than a bank and adaptive LED headlights with BMW LaserLight. Lasers! Need I say more?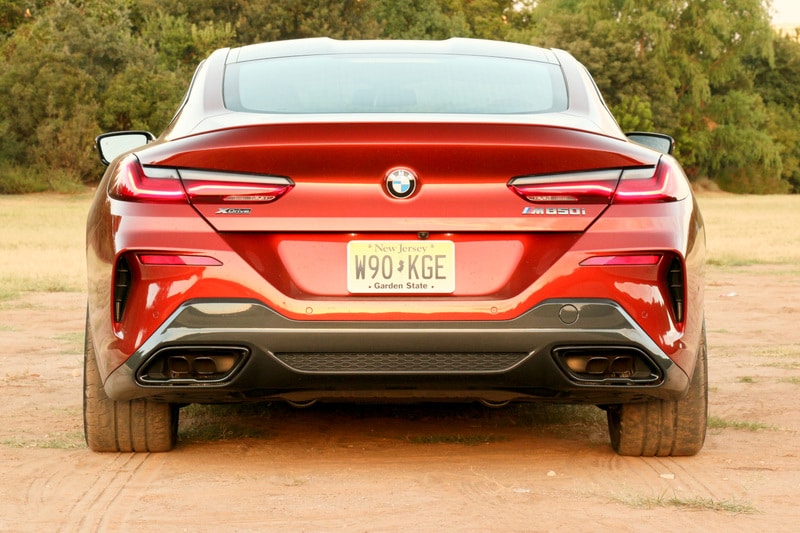 2019 BMW M850i Coupe Overall
After a two-decade absence, the BMW 8 Series is back with bold new looks, a posh tech-filled cabin, and more power than ever. To welcome it back in person, go to your closest AutoNation BMW dealership. The 2019 M850i xDrive coupe starts at $111,900*; my media car had a $119,295 price tag on it.
*MSRP excludes tax, license, registration, destination charge and options. Dealer prices may vary