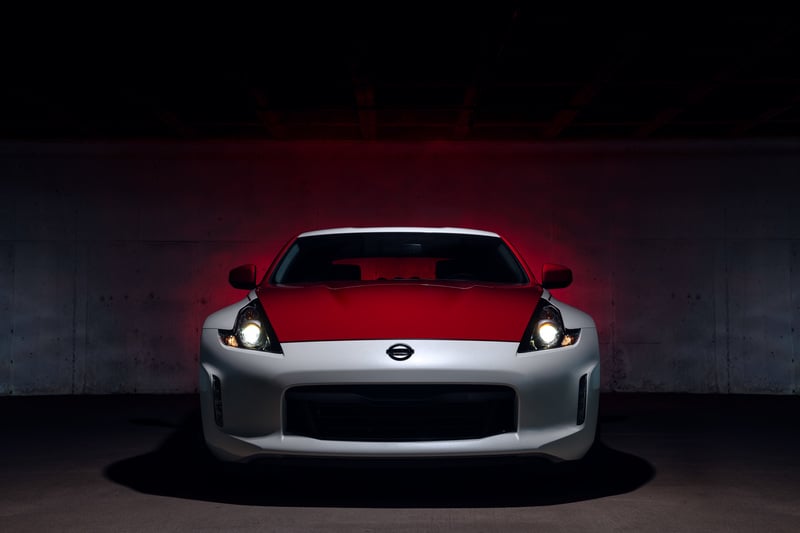 Photos of the 2020 Nissan 370Z 50th Anniversary Edition have just been released, and along with some go-fast bits, it's sporting a livery inspired by the #46 BRE (Brock Racing Enterprises) 240Z, which put Nissan on the motorsport map in the 1970s.
With driver John Morton at the helm, the legendary car brought home numerous Sports Car Club of America championships, and it remains a legendary vehicle to this day.
Up front, the suspension has been upgraded with aluminum arms and cradle, and a hollow stabilizer bar. Weight-saving measures have also been applied at the rear, which Nissan says is stiffer and lighter than previous models. High-performance shocks sit at all four corners, and all Anniversary Editions will come with a limited-slip differential. The forged-aluminum RAYS wheels with be shod with super-sticky Bridgestone Potenza S007 rubber, so drivers will relish hitting their favorite twisty roads.
AutoNation Drive's Andrew Chen got to sample the 370Z Heritage Edition a couple months back, and while the model is getting a little long in the tooth, he came away impressed with what a dialed-in drivers car it is, saying:
When carving through twisting roads, the 370Z Heritage Edition stays flat and delivers impressive levels of grip thanks to a lightweight, sport-tuned suspension. The independent multi-link rear suspension is stiffer than previous years, but "high response" shock absorbers on all four corners offer a ride that's more comfortable than ever before. It's an incredible feat of engineering to simultaneously enhance grip and comfort without major compromises.
While the 50th Anniversary Edition will be available with a seven-speed automatic, we'd suggest opting for the six-speed manual gearbox, as it has a great feel, and the rev-matching feature makes sure you'll nail downshifts perfectly every time.
In a era when we're seeing fewer and fewer cars available with a traditional stick, the enthusiasts this car is aimed at will surely appreciate the ability to row their own.
At this point, we're not sure exactly when the 2020 Nissan 370Z 50th Anniversary Edition will be arriving at your local AutoNation Nissan dealer. But given the wicked livery, you won't be able to miss them when they do!
We'll have more info when the car makes it's official debut at the New York Auto Show later this week, so stay tuned for coverage from the Big Apple, and check out all the pictures below!