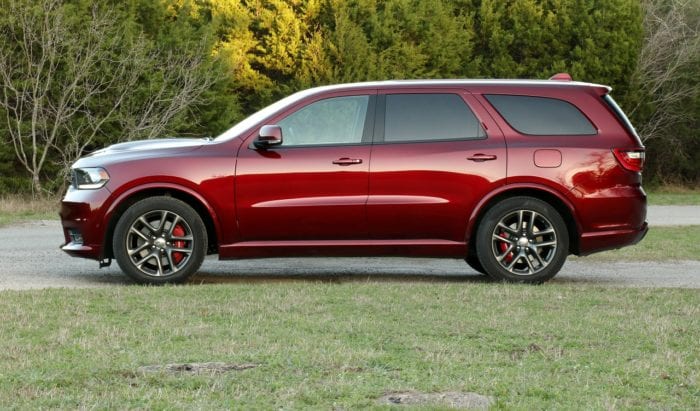 Movies are full of familiar stories. There's the classic boy-meets-girl. Then there's the monster-wreaks-havoc-on-a-city. And let's not forget the underdog-overcomes-great-odds-to-achieve-victory.
So is the automotive enthusiast world. We've all met at least one person who fell in love with a particular car when they were a kid and saved up enough money to buy one when they were an adult. Unfortunately, the story for a lot of muscle cars ends the same way: Someone gets one, enjoys it for several years, gets married, then ends up having to sell it because they start a family. An American performance car may be fast, but it's not the best vehicle for transporting two adults, a couple of car seats, a big stroller, and a diaper bag. In most cases, muscle cars and families just don't go together.
The Dodge Durango SRT offers the best of both worlds. It has eight cylinders, 475 horsepower, three rows of seats, and usable cargo space. And it's available with a variety of upgrades for the 2019 model year, including high-performance Brembo brakes, 20-inch wheels in two different finishes, and a 19-speaker Harman Kardon audio system.
2019 Dodge Durango SRT Exterior
I had been wanting to get my hands on a 2019 Durango SRT for a while. It was worth the wait. Dodge nailed the styling and made what I would call a "muscle SUV." That scoop on the bulging hood isn't just there for show. It's functional. So are the heat extractors on both sides of it. Most of the front end is filled with mesh so the big Hemi behind it can get enough cool air.
As cool as the Durango SRT's optional 20-inch Matte Vapor wheels looked, I was even more impressed by the chunky P295/45ZR20 Pirellis around them. They made the Durango SRT look even brawnier. A pair of sterling silver racing stripes and large-bore exhaust tips completed the hoss family hauler look.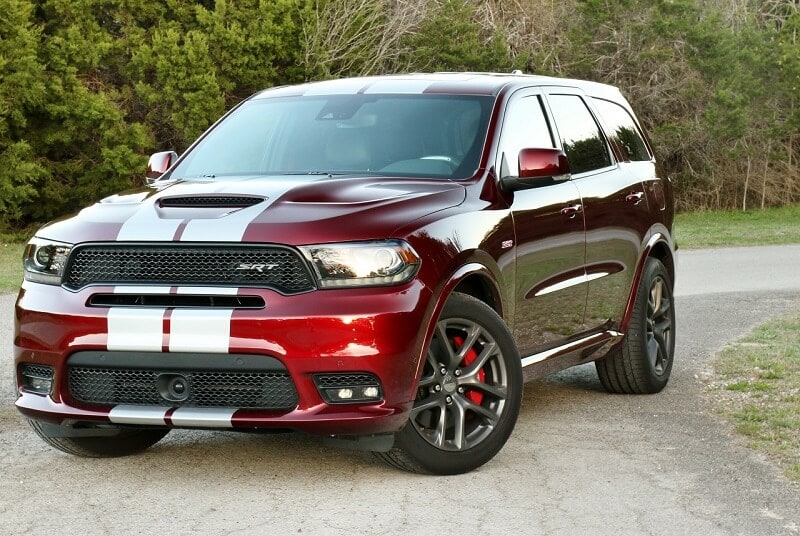 2019 Dodge Durango SRT Interior
Inside, the Durango featured everything I loved about the Durango R/T and more. The front seats were heated and ventilated. Uconnect was a breeze to use and immediately responsive to my inputs on the 8.4-inch touchscreen. The second row's captain's chairs could be folded and tumbled forward and offered just enough legroom for all 5'10" of me. Legroom in the third row was also adequate, but headroom wasn't as abundant.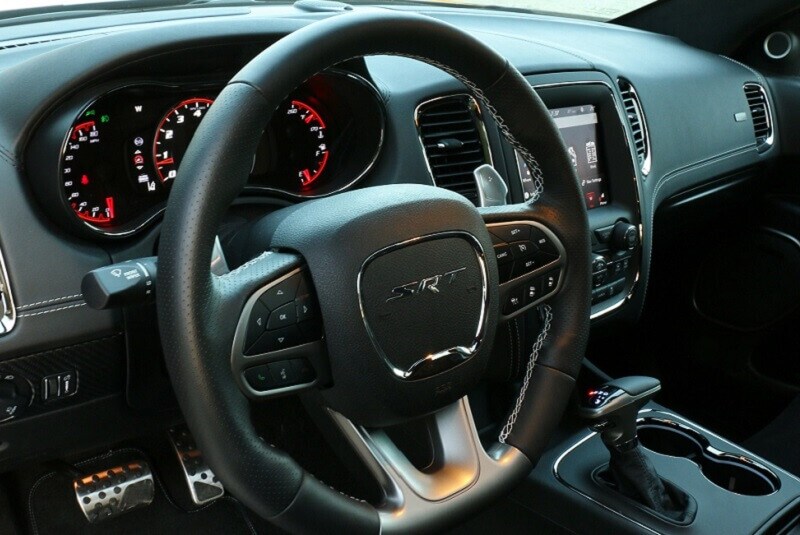 With all three rows of seats up, the Durango SRT provided 17.2 cubic- feet of cargo space. That increased to 43.3 when I lowered the third row. With all of its rear seats folded flat, the Durango was capable of hauling 85.1 cubic-feet of luggage and gear.
Dodge equipped my test vehicle with a few options to make its cabin even more pleasant. The Premium Interior Group added a hand-wrapped dashboard and real carbon fiber accents. The back rows already had their own HVAC controls, but thanks to one particular upgrade, the second row got its own console with a 12-volt outlet, a USB charging port, and illuminated cup holders.
Dodge didn't stop there. They also installed an entertainment system in the second row that included a pair of screens behind the front headrests, a DVD and Blu-Ray player, a remote, and two pairs of wireless headphones. People in all three rows could jam out to the 19-speaker Harman Kardon audio system.
2019 Dodge Durango SRT Performance
No stereo could beat the sound of the Durango SRT's naturally aspirated 6.4-liter HEMI V8. Firing up the 475-horsepower, 470-lb-ft monster was like rousing a wounded dragon from its sleep. Every time I awakened it, it was angry and made sure everyone around knew it.
The performance mongers at SRT paired that bestial V8 with an eight-speed automatic, a high-performance suspension with adaptive damping, and a full-time all-wheel drive system. A variety of drive modes allowed me to experience different settings for the Durango SRT's steering, suspension, transmission, and other systems. In the process, they changed how the all-wheel drive setup distributed torque. In Auto mode, the Hemi sent 40 percent of engine torque to the front wheels and 60 percent to the rear. That split changed to 50/50 in the Snow and Tow modes. Sport mode delivered 65 percent of the HEMI's grunt the rear wheels. In Track, that figure climbed to 70 percent.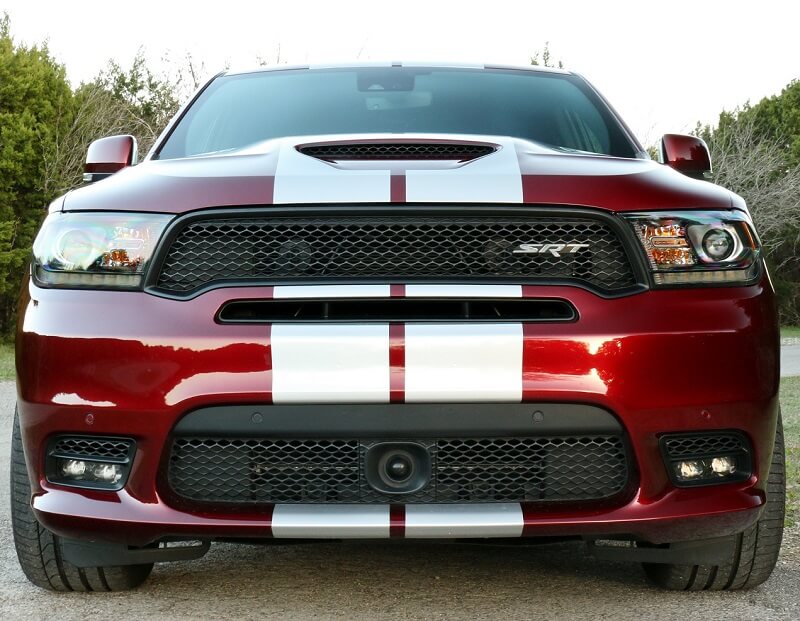 My ideal configuration was Sport everything except for the steering, which I set to Track. The HEMI let out a loud and raspy BRRRRRRAAAPPPP! as if it were furiously ripping through the air around it. Shifts were quick and the steering had just the right amount of weight to it keep me engaged and informed during a blast through Central Texas back roads.
If I had needed to tow a trailer, the Durango SRT's giant engine, 3.70 gears, and optional Trailer-Tow Group IV package would've allowed me to pull up to 8,700 pounds.
That HEMI was just as thirsty as it was wrathful. According to the EPA, it gets 13 mpg in the city, 19 on the highway, and 15 combined.** Over the course of my week with the Durango SRT, I only managed to get 13 mpg.
2019 Dodge Durango SRT Safety
Whether I was cruising through the suburbs or blazing down country roads, I had peace of mind knowing there were a variety of standard and optional safety features around me. Those ranged from front and side-curtain airbags to 15-inch vented front and 14-inch rear disc brakes with Brembo calipers to the Technology Group's Adaptive Cruise Control with stopping capability, Advanced Brake Assist, Full-Speed Forward Collision Warning Plus (which also had stopping capability), and Lane Departure Warning Plus with corrective steering.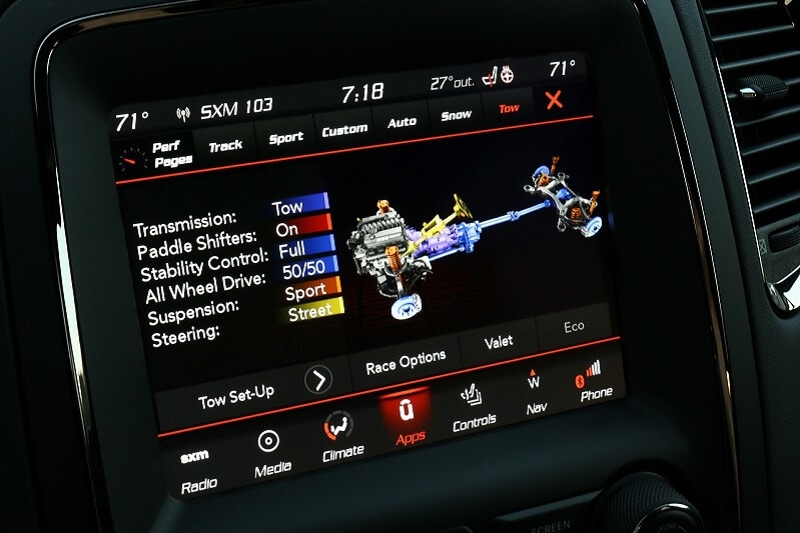 2019 Dodge Durango SRT Overall
You really can have it all in the 2019 Durango SRT. It can carry six people when you need it to and haul, well, you know, when you want it to. You can find it at an AutoNation Dodge dealership. Prices start at $62,995*; one just like my well-equipped press loaner will have a final price of $79,530.
*MSRP excludes tax, license, registration, destination charge and options. Dealer prices may vary.
**Based on EPA mileage ratings. Your mileage will vary depending specific vehicle trim, how you drive and maintain your vehicle, driving conditions, and other factors.