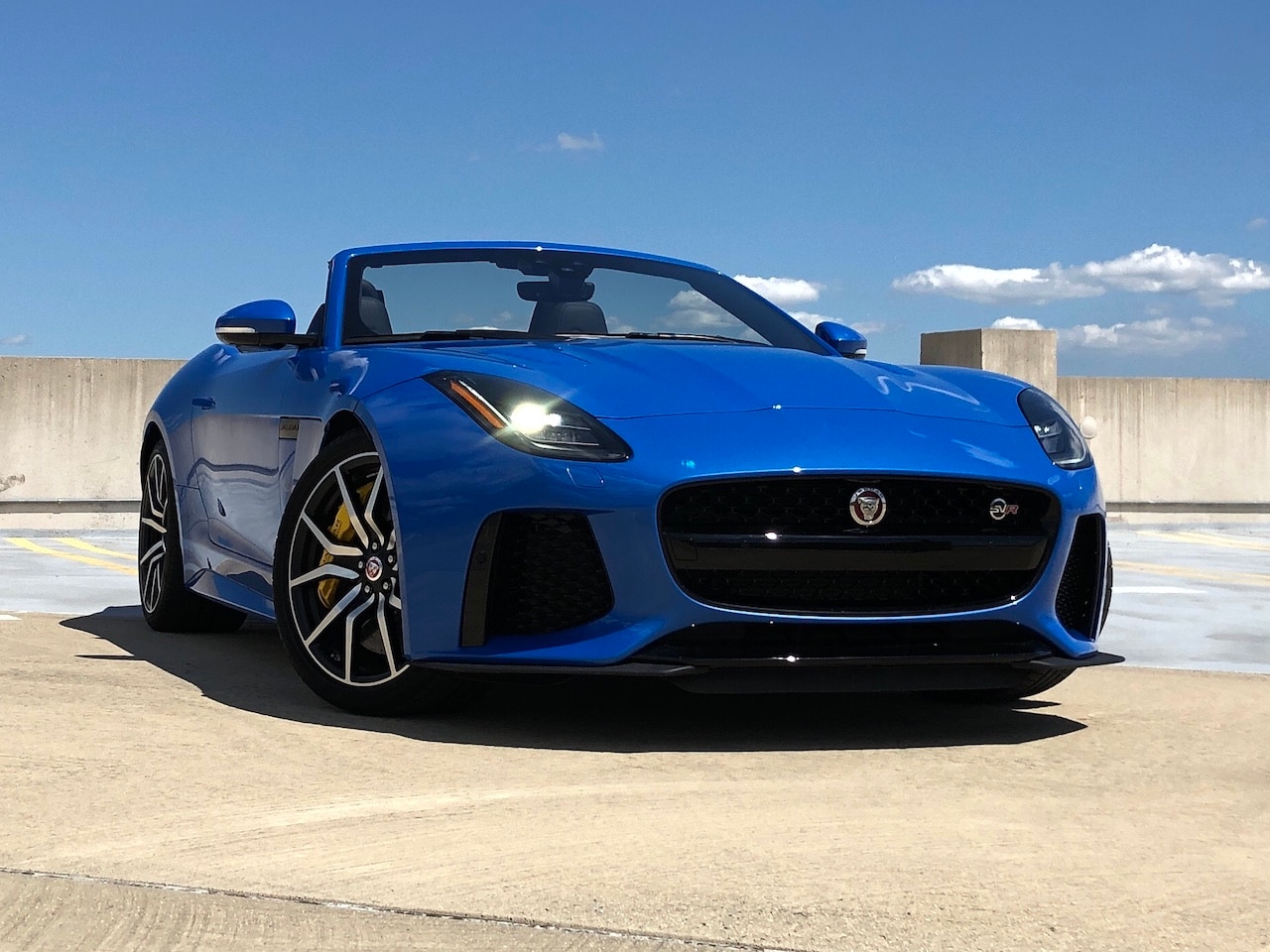 Generally, I prefer coupes. There's no technical reason behind it, it's just personal preference. That said, I thoroughly enjoyed my time with the Jaguar F-Type SVR Convertible. Beyond the sheer power of this thing, I actually enjoyed letting down the top since you can hear that amazing exhaust note on the F-Type SVR — and man is it loud!
Not only is the Jaguar F-Type SVR Convertible a really good looking car, it performs unquestionably well. The F-Type SVR is a more hardcore version of the $104,900 F-Type R, and is available for a $21,800 premium. The structure is similar to the way an Audi RS is a more hardcore version of an S. It's turned up a notch in terms of aerodynamics, horsepower, handling, and braking.
When compared to its rivals, the F-Type SVR Convertible is more about theatrics and raw power. Yes, it is luxurious, but it seems to focus more on pushing the limits. There's almost a feeling of American muscle rowdiness hidden beneath its sleek sheet metal and luxury badge.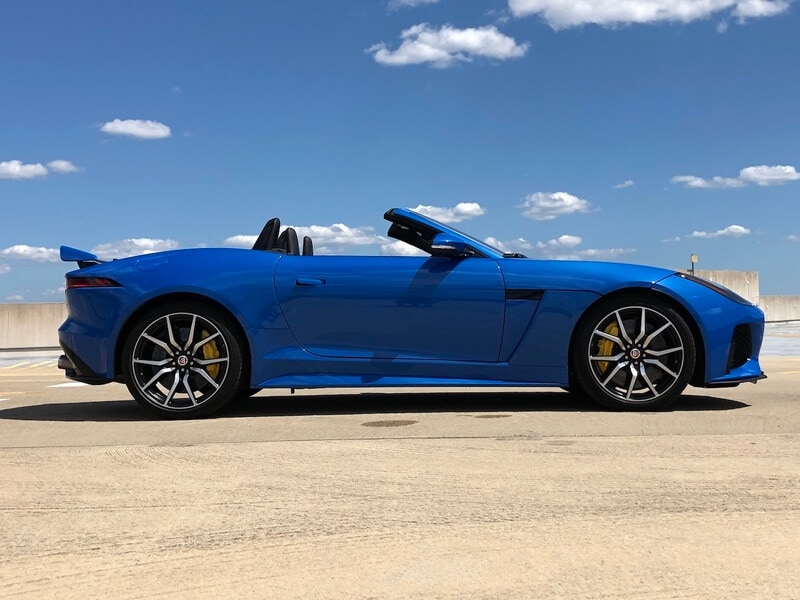 2020 Jaguar F-Type SVR Convertible Exterior
I honestly love Jaguar's exterior design language and in my opinion, the F-Type is the pinnacle of their exterior styling. To me, the Jaguar F-Type is one of the timeless sports cars in terms of design, like the Audi R8 and the Porsche 911. While I'd love to see some design upgrades, the overall look and styling is something I can enjoy for years to come.
Building the F-Type R, Jaguar's Special Vehicle Operations team made some styling changes to enhance performance. There is an aerodynamics package that accentuates the front bumper and splitter, a flat underfloor, and a large carbon fiber spoiler that can be raised and lowered at your demand. Some folks — like your's truly — are fans of the giant spoiler, and some just aren't. But that's true of many aggressive styling touches. You'll also notice wider tires that are wrapped around 20-inch forged wheels.
Weight-wise, when compared to the Jaguar F-Type R - the SVR is 55 pounds lighter, and springing for the carbon ceramic brakes (a $12,240 option) increases the weight savings to 110 pounds. Speaking of price, the color seen here is called Ultra Blue, which costs $710, though there are paint options which cost far more. Colors from the SVO Premium Palette and can hit $8,500 if requested in a matte finish.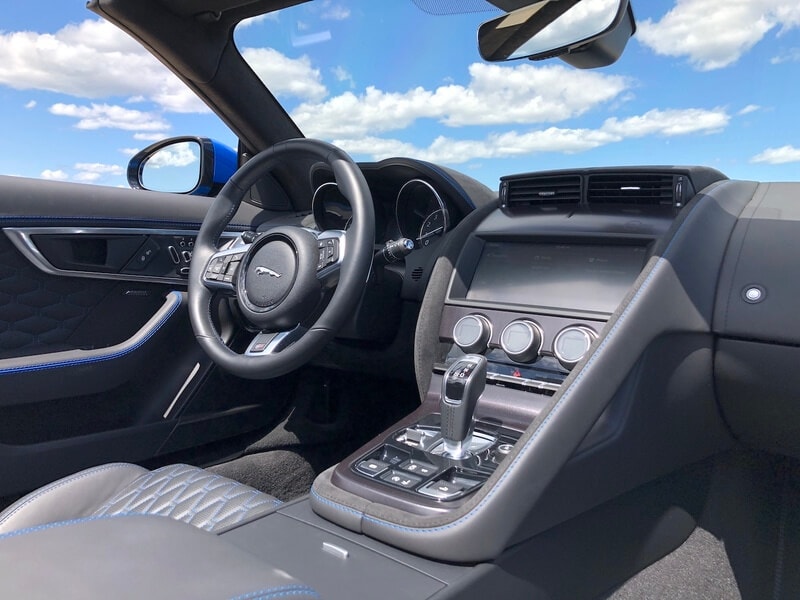 2020 Jaguar F-Type SVR Convertible Interior
Now, there is no doubt that Jaguars have some of the sexiest exteriors in the luxury segment. To me, their design language is an ideal balance of chic styling and elegance. The interior, on the other hand, is a bit more simplistic. That's not to say the interior is cheap or lacks quality — actually the total opposite. The Jaguar F-Type SVR Convertible I tested here was packed with quality materials and panels that were wrapped in leather or suede. Each button has a consistent feel with a solid click when you press them. Nevertheless, I do wish the design was a little more voguish.
The most vicious Jaguar F-Type comes with 14-way SVR Performance seats finished in black leather with a quilted pattern, contrast stitching, piping, and a bunch of SVR logos. Buyers can also choose between two other interior colors including Siena Tan or Red leather for an extra $2,550. Heated/cooled seats and dual-zone climate are part of an $875 package — options that I feel should be standard at this price point. Carbon-fiber trim costs $765 and a special SVR steering wheel will run you $715.
I was never a big fan of the Jaguar Land Rover infotainment systems, but the one I experienced on this 2020 Jaguar F-Type SVR Convertible seems to have upgraded a lot in terms of performance, as it's quicker and smoother than the ones on the outgoing models. Apple CarPlay and Android Auto are standard with the InControl Touch infotainment system, as is a 10-inch touchscreen.
Overall, the interior of the Jaguar F-Type SVR is a pleasant place, though it could be a bit more fashionable.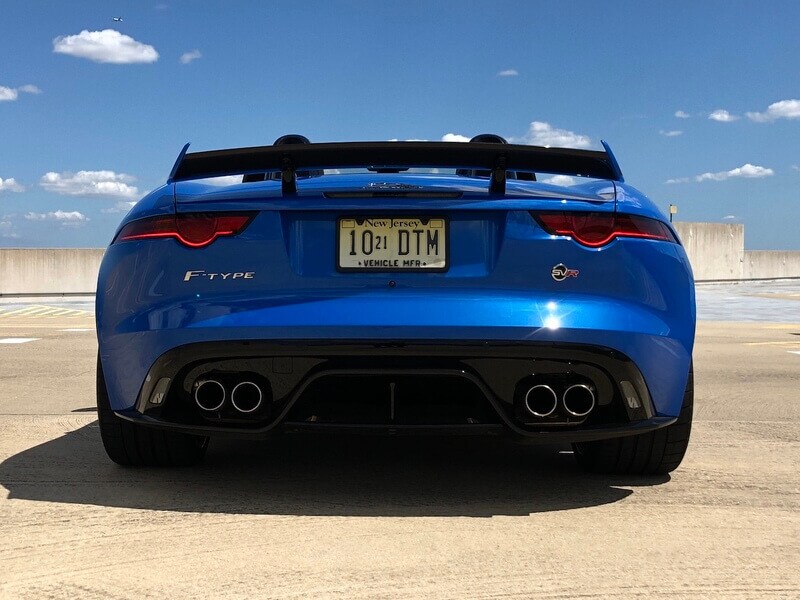 2020 Jaguar F-Type SVR Convertible Performance
With a powerful V8, a 3.5-second zero-to-60 time, a 195-mph hour top speed, and an extremely loud exhaust, the 575-horsepower the Jaguar F-Type SVR checks a lot of performance boxes. Jaguar calls it "a 200 mph all-weather supercar," and while I don't think it's quite a supercar, the Jaguar F-Type SVR is unquestionably one of the few outright track monsters that can also be your daily driver. That's something few supercars can do, and makes it amazing in its own right.
Based on the already-impressive F-Type R, the SVO team at Jaguar took what was already a great sports car and made it sharper, lighter, and faster. The steering is remarkably precise and the ZF 8-speed Quickshift has been recalibrated for faster gear shifts which you really feel in Dynamic or Track mode. Braking on this F-Type was shockingly strong, due to the optional carbon-ceramic brakes that my test car was fitted with.
The SVR's exhaust is also even louder and more theatrical than the F-Type R's. Plus, its titanium exhaust system is 35 pounds lighter.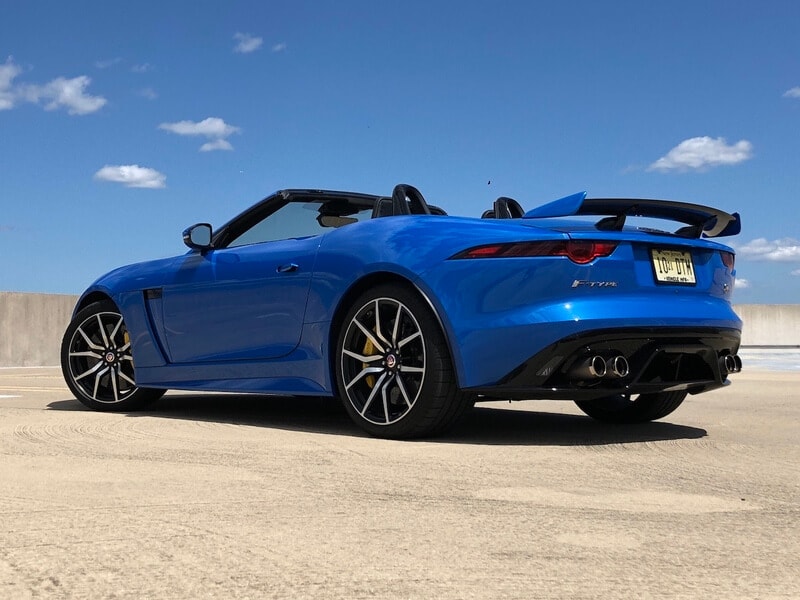 2020 Jaguar F-Type SVR Convertible Overall
Overall, Jaguar's SVO team made so many improvements from the standard R that you can you can somehow justify the $20k premium, instead of writing off the SVR as an F-Type R with 25 more horses. While the F-Type SVR will probably be a rare sighting, its breathtaking good looks and marvelous exhaust sounds will make those sightings memorable.
The 2020 Jaguar F-Type SVR Coupe starts at $123,600 and $126,700 for the Convertible*. Visit your local AutoNation-affiliated Jaguar dealership for a test drive today!
*MSRP excludes tax, license, registration, destination charge and options. Dealer prices may vary.
**Based on EPA mileage ratings. Your mileage will vary depending specific vehicle trim, how you drive and maintain your vehicle, driving conditions, and other factors.