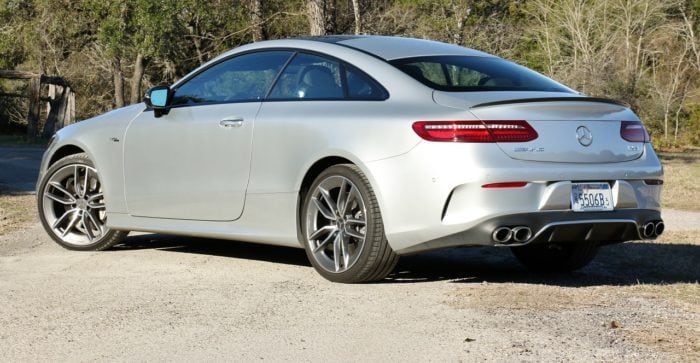 There are three basic levels of Mercedes-AMG performance. The 45 and 43 models are on the first level and tear up the road with small turbocharged I4 and V6 engines, respectively. At the top, you have the potent twin-turbo-V8-powered 63 and 63 S models, and the S65s, which run on 12 cylinders and loads of turbo boost.
The 53 models are right in the middle and offer a unique blend of power. Mercedes-AMG equips them with a turbocharged 3.0-liter I6 that's connected to an electric auxiliary compressor and a starter/alternator combo. Mercedes-AMG calls that piece of hardware "EQ Boost" for good reason. It adds quick bursts of additional horsepower and torque to the gas engine. It also generates power for the supplemental 48-volt battery pack and electrical system (the regular 12-volt electrical system provides juice for certain features such as the lights, cabin, and infotainment displays).
My first exposure to Mercedes-AMG's brand of fast was behind the wheel of the C 63 S Coupe. Earlier this year, I tested the GLC 63 S Coupe. Both models had the now-signature twin-turbo 4.0-liter V8 under their hood. So when I learned my media fleet service had a 2019 Mercedes-AMG E 53 Coupe in its inventory, I didn't hesitate to reserve it. I was curious to find out what it was like. It certainly wasn't as aggressive or loud as either of the 63 S siblings. I didn't mind. It was more approachable and satisfying in different ways than the V8 models.
2019 Mercedes-AMG E 53 Exterior
Mercedes-AMG had to be careful designing the E 53. It needed to make it look bold and sporty, but not go as far they would with a V8 model. After taking one long glance at the E 53, I was convinced Mercedes-AMG hit the sweet spot with it. The E 53 was a perfect blend of luxury and performance. You know that expression "That person looks straight out of central casting for <insert role here)"? With its midsize proportions and softly sloped roofline, the E 53 seemed as if it was made specifically to play the role of a high-end luxury coupe in a movie.
Everything else about the E 53 made it clear it was a faster breed of E Class. The large front intakes looked hungry for cool air. The whole car sat at the perfect height above its set of 20-inch AMG wheels wrapped in summer tires. The optional AMG Exterior Carbon Fiber Package added its own sporty touches in the form of carbon fiber mirror caps and a matching trunk-mounted spoiler. A quartet of chrome finishers pumped out the sound from the AMG performance exhaust system.
2019 Mercedes-AMG E 53 Interior
I am not exaggerating when I tell you that the E 53 had doors like a bank vault. They were the heaviest ones I've ever experienced on a vehicle – and I've been lucky enough to test Rolls-Royces. Shutting them was easier than opening them because all I had to do was bring them to the door jam and the optional soft-close feature finished the work for me.
There were even more convenience and tech features inside. A pair of high-definition 12.3-inch screens for the main gauges and infotainment system functions took up most of the dashboard's width. I could change what they displayed with the swipe of a thumb on the Nappa leather/DINAMICA steering wheel's smartphone-like left and right touch pads. On the door panels, glossy carbon fiber trim surrounded the controls for the heated, ventilated, and massaging front seats. Those panels connected to a broad ribbon of carbon fiber that nearly spanned the entire width of the lower half of the dashboard.
One of my favorite design elements, the new E Class's beautiful air vents, were connected to the Energizing Comfort Package. One half of that was an air purification and fragrance system (think of that little bottle in the glove compartment as car cologne). The other half was the Energizing Comfort System itself. That altered the settings of various features, such as the air conditioning, the front seats' climate control and massage functions, the Warmth and Comfort Package's heated steering wheel and armrests, the fragrance system, the 64-color ambient lighting setup, and even the audio system to pump me up or help me relax.
I was totally comfortable in the driver's seat, but I wondered how comfortable someone would be seated behind me. I found out one Saturday afternoon when I went to lunch with my pal Bryan and his father Bob. I was genuinely shocked to find out Bob, who's 5'10", had plenty of legroom and headroom back there, especially when I considered how swoopy the E 53's roofline was.
2019 Mercedes-AMG E 53 Performance
Given my experience with Mercedes-AMG's V8 models, it took me a while to adjust to and understand the E 53. It might wear AMG badges, but it's completely different from those cars. It's smoother, less hardcore, less intimidating.
EQ Boost can add quick bursts of up to 21 horsepower and 184 lb-ft of torque; total output from the turbocharged and compressor-enhanced 3.0-liter I6 is 429 horsepower and 384 lb-ft. A nine-speed automatic processes it all and with help from the 4MATIC+ all-wheel drive system, which offers fully variable front/rear torque distribution, applies it to the road. The AMG Dynamic Select system allowed me to adjust the E 53's throttle response, adaptive dampers, air suspension firmness, and other systems with the flip of a switch and put them into Eco, Comfort, Sport, or Sport+ mode.
Around town, the Comfort setting had a sporty firmness that I attributed to the low-profile tires. That made the more aggressive settings easier to live with. While I was out with Bryan and Bob, I engaged Sport and Sport+. With all four wheels hooking up, acceleration was smooth and rapid. The steering was nicely weighted in turns. I felt as if I could fully enjoy the E 53's power without worrying about attracting unwanted attention or quickly getting into a dangerous situation.
I had mixed emotions about the AMG performance exhaust. When I had my right foot down hard, it let out a nice bassy squelch with each upshift, but I wanted more sound out of it, especially in Sport+ mode.
2019 Mercedes-AMG E 53 Safety
I was completely satisfied with the amount of safety features Mercedes-AMG put into the E 53, though. Its long list of standard tech includes the Brake Assist System, which can sense a panic stop and apply maximum available braking power, Blind Spot Assist, and the PRE-SAFE predictive occupant protection system. If that senses an imminent collision, it tightens the front seat belts, adjusts the front passenger seat, and closes the windows and sunroof to maximize the safety of everyone inside.
My test vehicle was equipped with two helpful bundles of options. The Parking Assist Package added an automatic parking aid and a 360-degree camera system. Engineers packed the Driver Assistance Package full of potentially life-saving tech features. Many of those were assist features: Active Lane Change, Evasive Steering, Active Blind Spot, and Active Lane Keeping Assist.
2019 Mercedes-AMG E 53 Overall
Mercedes-AMG changed things up when they created the E 53, but the end result of their efforts is equal parts posh and performance car. You can experience both sides of the 2019 E 53 Coupe at
an AutoNation Mercedes-Benz dealership
. Prices start at $73,700.* My well-equipped review vehicle had a final price of $99,535.
*MSRP excludes tax, license, registration, destination charge and options. Dealer prices may vary.
**Based on EPA mileage ratings. Your mileage will vary depending specific vehicle trim, how you drive and maintain your vehicle, driving conditions, and other factors.